Did you know that one-out-of-four Americans work from home? Well, that represents 25 percent of the population, and so you are not the only one looking for ways to make extra money from home.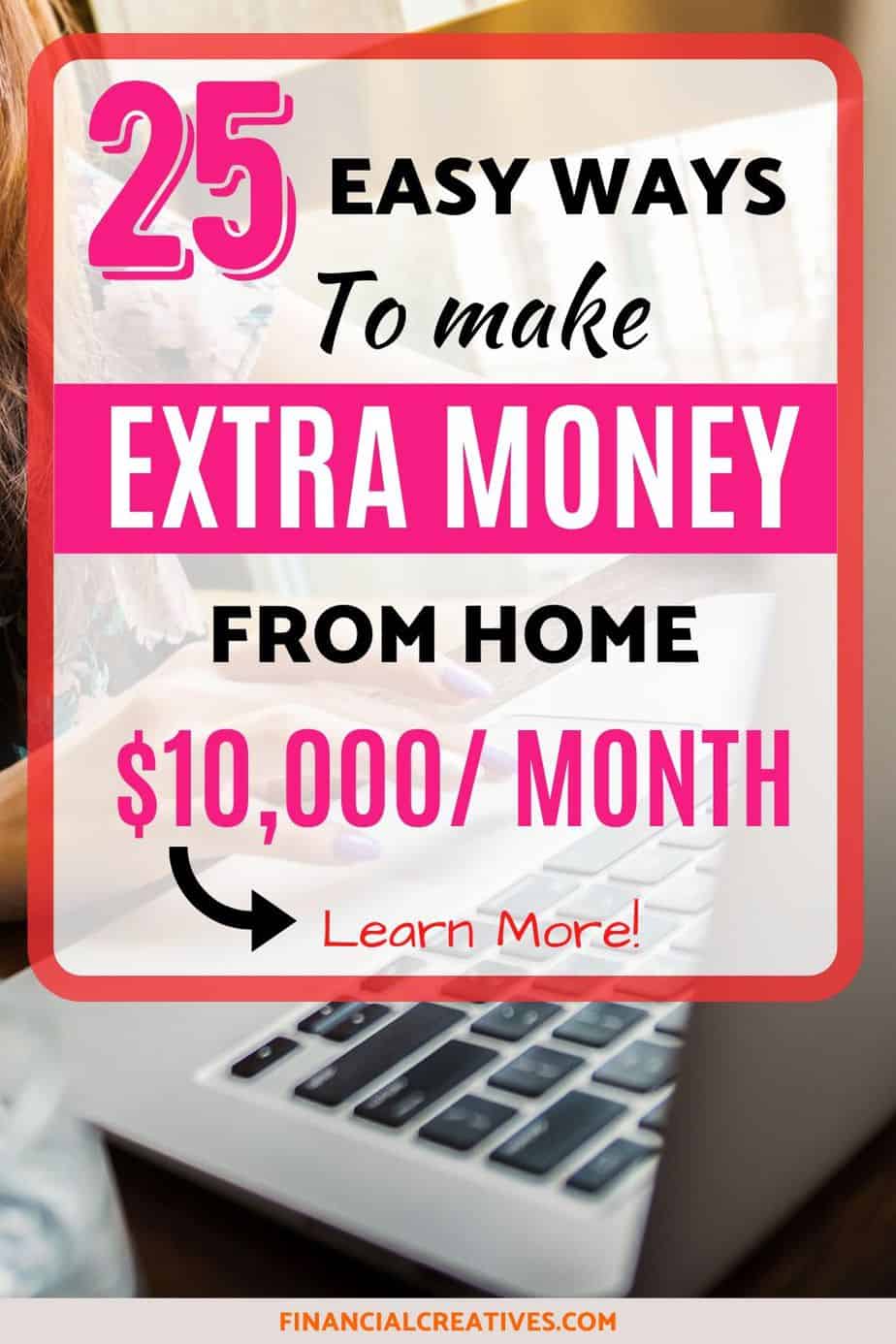 But why should you even consider the idea of working from home? Here are a few convincing reasons:
Make money to save up
Make money to clear debts
Stop relying on a paycheck
Invest in your kids' college and trust fund
Make enough money to take your much-needed vacation
Become your own boss – Relish flexible work schedule
Save on commuting expenses
I could go on and on listing the reasons why working from home is the new norm, but that can get boring. I trust, however, that you are more than convinced to look for a side hustle.
Whether you are a stay-at-home mom, a dad on a small paycheck or a college student with a small allowance, most of the ideas on my list will suit you. They require minimal investment, and the time input depends on how much you want to earn.
We are going to look in two subdivisions 25 legitimate ways to make money online:
Real ways to make money from home online
Real ways to make money from home offline
Real Ways to Make Money from Home Online.
1. Launch a Blog with Bluehost
Potential Earning: $500-$10K/month
A blog is not just a platform for sharing your thoughts. It can also be a source of passive income if you understand how to monetize it.
Here's a step-to-step blogging guide that I recommend for that. Additionally, consider checking out this SEO course that has been my biggest inspiration as a blogger.
Are you wondering what niches are profitable for blogging? You'll get the answers from the course.
So, yes, blogging does pay, and I'm living proof of that. I make over $3K a month on my blogs, and I'm hopeful of seeing the number rise after learning a few new things from Income School.
It's at this point that I would like to introduce Bluehost to you. By signing up using my link, you only pay $3.95 per month for the hosting in your first year. The icing on the cake is that you get a free domain from them.
Bluehost is generally amazing for beginner blogs, especially those with average traffic. Once you grow your traffic exponentially, then you should consider switching to A2 Hosting. The hosting service can handle massive traffic and enjoys excellent uptime and customer support.
In any case, as soon as you'll start getting some visits on your website, the best way to get this passive income is to monetize your blog with EzoicAds, as they will put in competition all possible advertisers, including AdSense, to bid for ad spaces on your website, thus getting you the highest paying ads on your website(s).

2. Take Paid Online Surveys
Potential Earning: $0.50-$50/survey
How does selling your opinions sound? That's the kind of job you do when you take paid surveys. They are effortless to do and guarantee you easy money.
Depending on the survey type and the company, you can make $0.50-$50 per contribution. If you are looking to earn money from home through paid surveys, here are your options:
3. Find Freelance Writing Gigs
Potential Earning: $10-$50/hour
Freelance writing is something special to me. It's the motivation behind my blog, and so I'll always be a freelance writer. The beauty of it is that you are in full control of your schedule, and you set your rates.
It's at this point that I endorse Fiverr. Depending on project type and experience, you can make $10-$50 as a freelance writer on the platform.
Other amazing freelance writing platforms are:
4. Search for Online Proofreading Jobs
Potential Earning: $10-$30/hour
Online proofreading is all about selling your excellent grammatical skills. So, if you can correct punctuation faults and grammar slipups, consider looking for proofreading jobs online.
Depending on your skill, you can make $10-$30 per hour in these places:
But what if you don't have any proofreading training and the job requires you to have it? Consider checking out this free proofreading module or more professional paid course. It should give you the basics on how to make money from home as a proofreader.

Also, read this post to get legit no experience proofreading work-from-home jobs.
5. Become a Virtual Assistant
Potential Earning: Starting from $10/hour
Let's first start with the primary duties of a virtual assistant, and they are as follows:
Screening and taking calls
Replying to client emails and messages
Scheduling appointments
Compiling reports
Managing online content
So, are those things you can do? The jobs ideally suit individuals with clerical and secretarial experience. If you don't have any, get some basic from this Gina Horkey's virtual assistant training.
Generally, you can make $10 or more an hour as a virtual assistant on these sites:
6. Apply for Online Translation Jobs
Potential Earning: $10-$50/hour
There's no doubt that translation programs are threatening to render human translators extinct in some places. But still, some key industries prefer to hire human translators over translation software, and they include:
Tourism sector
Travel sector
Legal sector
Banking and finance
So, can you speak at least two languages fluently? Then it's the perfect time to work from home as a translator. You can earn anything between $10 and $50 an hour in any of these sites:
Fiverr (our personal favorite!)
7. Do Data Entry
Potential Earning: $15/hour
Businesses often need employees to help them to input data into computers. Such jobs are what we call data entry, and they are the perfect online jobs for stay at home moms and college students.
The tasks include the following:
Filling forms
Online surveys
Copy and paste jobs
Captioning tasks
Editing tasks
Image to text jobs
Audio to text (transcription) jobs
So, your typing speed needs to be unquestionable to do data entry. The advantage is that experience is not a must for data entry jobs, and you can earn $15 an hour averagely. But still, the pay could be less as depicted in my data entry jobs post.
Here are some places you can find legit data entry jobs:
8. Shop with Cashback Apps
Potential Earning: Up to 40% Money Back
Unless you are using cashback apps to shop online, you are losing money that you shouldn't be losing. The money, no matter how small, should help you meet a few expenses.
If you are looking to claim some money back from retailers, here are some cashback apps to consider:
Other amazing cashback apps include Shopkick, Checkout51, Dosh, Drop, and Fetch Rewards.
9. Save Up with Trim
Potential Earning: Up to $1K/month

Trim is just as effective as cashback apps when it comes to saving. The difference is that Trim saves you not only on online purchases but also on monthly bills.
Trim can even negotiate for cheaper subscriptions and bills on your behalf, and you don't have to do anything. That includes cable TV cost, phone bills and energy costs.
What's more, Trim helps you to discover ghost bills and expenses you are paying for unaware. So, if you are not using Trim, it's time you get it from here.
10. Declutter for Cash
Potential Earning: Depends on what you sell
Nowadays, decluttering is the new money-making norm. You have to ask yourself this if you've never decluttered – why keep things you don't need? After all, they can earn you money while making you more organized at home.
The pay typically depends on what you sell. Here are ways to make extra money from home through decluttering:
11. Rent Out Stuff You Are Not using
Potential Earning: Up to $3K/month
If you are not buying the idea of selling things you are not using, perhaps you should consider renting them out.
It's also decluttering, but you retain the ownership and make money as long as the items are in people's hands.
Depending on the value of the item, you can make up $3K monthly renting stuff. Here are easy ways to make money from home renting things you are not using:
Fat Llama – You can list everyday use items like TVs, scooters, bikes, and music systems.
Rentah – You can rent out party items, sport gears, electronics, power tools, and many more.
Loanables – You can list appliances, tents, furniture, games, projectors, music instruments, and many more.
12. Become a Virtual Teacher
Potential Earning: $20/hour
Are you a native English speaker with a degree? Then you are perfect for teaching ESL (English as a second language). Most ESL platforms pay $20 an hour averagely, and they include the following:
Other than ESL, you can also tutor academic subjects online if you are a trained teacher. One of the best tutoring sites for that is Chegg, where tutors earn $20 an hour averagely.
Other academic tutoring sites where you can make extra money from home legitimately are: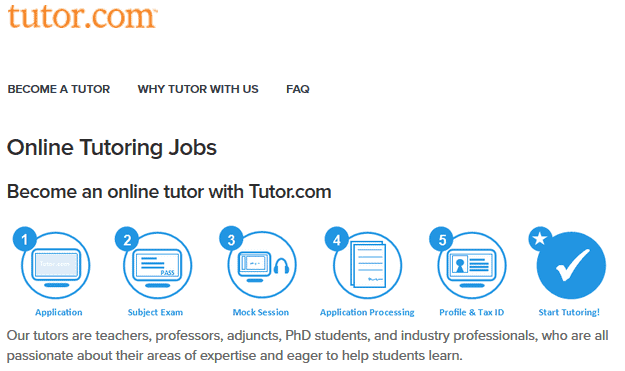 13. Sign Up as a Paid Expert
Potential Earning: Up to $40/hour
Are you looking to master how to make money with a computer? Then join the online expert community.
Nowadays, experts are making a kill answering questions online. Whether you are a doctor, a researcher, a lawyer, a tech expert or a financial advisor, so many people are ready to pay you to answer their concerns.
I find these platforms to be among the best payers (and very legit):
JustAnswer – JustAnswer pays you up to $35 per hour for answering just about any question in your area of expertise. You just need a degree to sign up.
Wonder – Unlike JustAnswer, Wonder doesn't ask for formal credentials, and you can earn up to $40 per question. The site is also open to all expert categories.
14. Install the Nielsen App
Potential Earning: $50/year plus giveaways
This is what happens on Nielsen:
All you have to do to get $50 for free is to install and retain the Nielsen app for a year.
Cool, right? That's not all. Nielsen has a $10K monthly giveaway that you are eligible for provided that the app is installed in your device.
So, Nielsen can be your solution to how to make extra money at home without working for it.
If you are lucky, the $50 is not the only money that you'll get from Nielsen. It could even be in thousands at the end of the year if you get a slice of the monthly giveaway.
15. Invest in Real Estate
Potential Earning: Up to 12% in annual returns
The real estate sector is growing explosively all around the world, and you don't have to invest millions.
Fundrise, for example, allows you to invest just $500, and you get to enjoy 8-12% annual returns. It is the perfect way to learn how to make money online from home as a real estate investor.
Another platform, Roofstock, only allows you to buy a property by paying just 20% of its price and the rest in installment. It's a great option when you cannot afford to pay the property's full price.
Another vital consideration is Acorns, which is known to invest your spare changes in real estate, corporate bonds, among other ETFs (Exchange Traded Funds).
Use this link to claim your $10 Acorns signup bonus.
16. Master the Art of Buying-Low Selling-High
Potential Earning: Up to $5K/month
Are you skillful in buying and selling? Can you source items for cheap and sell them at a massive profit? Then you should leverage the opportunities that the online marketplaces present.
In particular, consider these two ways to make extra money from home:
FBA selling – FBA (fulfilled by Amazon) is an Amazon service that provides you with warehousing and packaging assistance for items that you send to them (Amazon), waiting to sell.
17. Sign Up for Usability Testing
Potential Earning: $10/test
How do you feel about trying out websites or mobile apps and giving feedback? It's that simple when it comes to usability testing, and you don't need experience for that.
With a laptop and some good noise cancellation headphones for transcription like any on this list, you can do usability testing.
I like Userlytics since the site is legit, and the starting pay for their tests is $10. But still, some projects attract more compensation. Read the comprehensive Userlytics review here.
Other legit usability testing sites are:
Real Ways to Make Money from Home Offline.
18. Take Odd Jobs
Potential Earning: $25 or more/hour
If you are the DIY type, consider doing odd jobs around your neighborhood. You'll find most of these jobs online, but working has nothing to do with the internet.
Some of the best odd job platforms are:

TaskRabbit – You can make $25 or more per hour doing handy jobs like mowing, cleaning, and plumbing on TaskRabbit.
Thumbtack – Thumbtack allows you to make money as a handyman, housecleaner, and photographer, just to name a few.
Handy – Handy is more like TaskRabbit. It allows you to sign up as a handyman or a professional cleaner.
19. Become a Babysitter
Potential Earning: $20/hour
Are you a stay-at-home mom, and your kids appear to be taking most of your time? Consider getting them some company and get paid for it.
I'm suggesting you babysit for cash and you can make up to $20 an hour in any of these places:
Generally, babysitting gigs are among the best work from home jobs for stay at home moms. Moreover, having experience dealing with kids, more so those with special needs, makes you marketable as a babysitter.
And if you can transform your home into an in-home daycare, you can make much more. Just ensure you comply with the laid regulations.
20. Become a House Sitter
Potential Earning: $25-$45/day
These days, homeowners don't have to postpone or cancel their trips just because they don't have anyone to look after their homes. That's because most of them are aware of housesitting companies.
These companies hire you to take care of people's houses and pets when they are away. Interestingly, such easy jobs pay you as much as $25-$45 per day.
Here are the websites you should try out for a decent pay:
21. Become a Dog Walker or Pet Sitter
Potential Earning: $20-$30/hour
Just like there are babysitters, there are also pet sitters who also double up as dog walkers.
Generally, these are the best side hustles for introverts since they involve being in the company of our animal friends and not people.
The exciting thing about the jobs is that you don't need any experience and there are no investments. Everything is provided by the pet owner, and the only thing that you invest is time.
Overall, the motivating factor is the cash as you can make $20-$30 an hour as a dog walker or pet sitter.
Some of the best places to find the jobs are:
22. Drive for a Ride-Sharing Service
Potential Earning: $12-$20/hour
Do you own a decent car? It can earn you some good cash in your free time if you can sign up with any of these ride-sharing services:
Lyft – Available in the U.S and Canada. On average, Lyft drivers make $17.50 an hour. You are expected to pass a background check, be 21 years, and have a valid driving license.
Uber – Available globally in at least 63 countries. On average, Uber drivers make $13.50 an hour. So, Uber takes a more significant commission than Lyft. The requirements for listing your car are similar to those of Lyft.
Note – You can still sign up with both Uber and Lyft if you are hoping to learn how to make money from home fast.
23. Rent Out Your Car
Potential Earning: Up to $50/day
Maybe you are not comfortable driving people around town, but you have a car that you rarely drive. You should thus consider renting it out to a trusted car rental service.
Doing so allows you to make $30-$50 a day passively. Two of the most reputable car rental services that you can sign up with are:
GetAround – GetAround claims that most car owners make as much as $6K-$10K a year. You can sign up with them to find out. The service is available in the U.S.
TURO – TURO is available in the U.S, Canada, U.K, and Germany. According to the ride service, you earn 65-85% of what you make on trips.
24. Do Food Delivery
Potential Earning: $10-$25/hour
If you don't like the idea of renting out your car or driving people around, then you should consider signing up as a food delivery driver. The jobs are amongst the best paying for drivers, and you can earn $10-$25 an hour depending on location.
Here are some of the best food delivery services that you can consider:
The advantage of these jobs is that you work during your free hours and there are tips involved. More to it, you can decide to take orders or not.
Check out this post for a detailed list of the best food delivery jobs and other delivery driver jobs.
25.Rent Out Your Extra Space
Potential Earning: Up to $50/night
Lastly, it's about time we accept that the sharing economy is taking over our lifestyles. Nowadays, you can rent out an extra room, a parking spot, a garage or a store and get to make money daily.
You can make as much as $50 a day and here are your options:
Conclusion
No doubt, there are exciting ways to make extra money from home and you can do it online or offline. So, what's your favorite work-from-home job? You can share it in the comment section.
And if you can, consider signing up for the job immediately to start making money on the side.
Want To Remember This Post? Save It To Your Favorite Pinterest Board!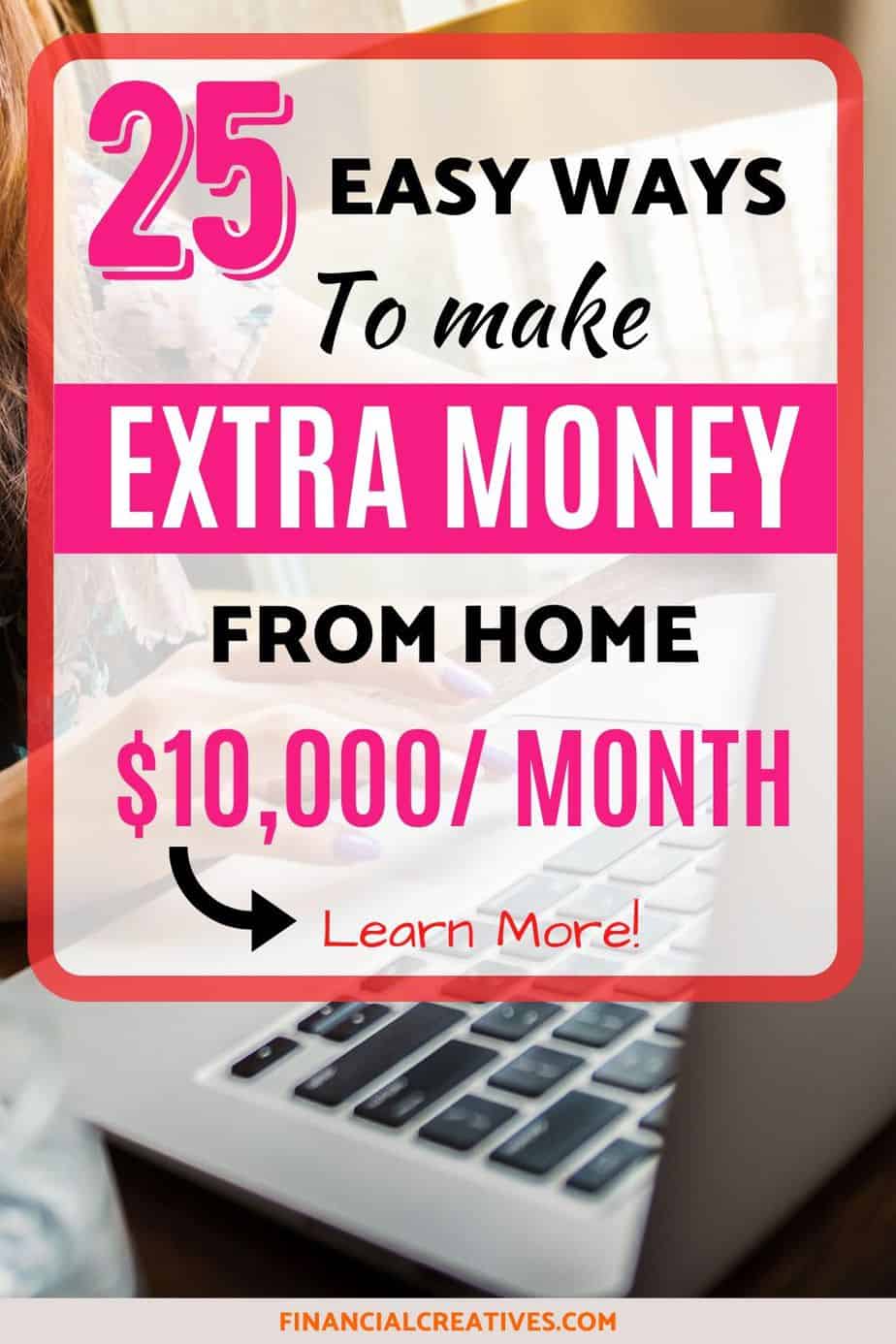 How to make an extra 10000 a month?
There are ways to make that extra money, but be prepared to put in a lot of effort. First, choose a direction that you like and that you can do well.
Who is PrepNow tutoring jobs suitable for?
PrepNow tutoring jobs are suitable for individuals who have a passion for teaching and helping students achieve their academic goals. The company primarily hires tutors who have experience in teaching or tutoring students in specific subjects, such as math, science, and English, and who hold a bachelor's degree or higher.