Are you wondering if online proofreading jobs are legitimate? Do you fear that lack of experience locks you out of doing online proofreading? I am here to tell you that there are legit proofreading jobs online no experience required, and I have assembled a list to get you started.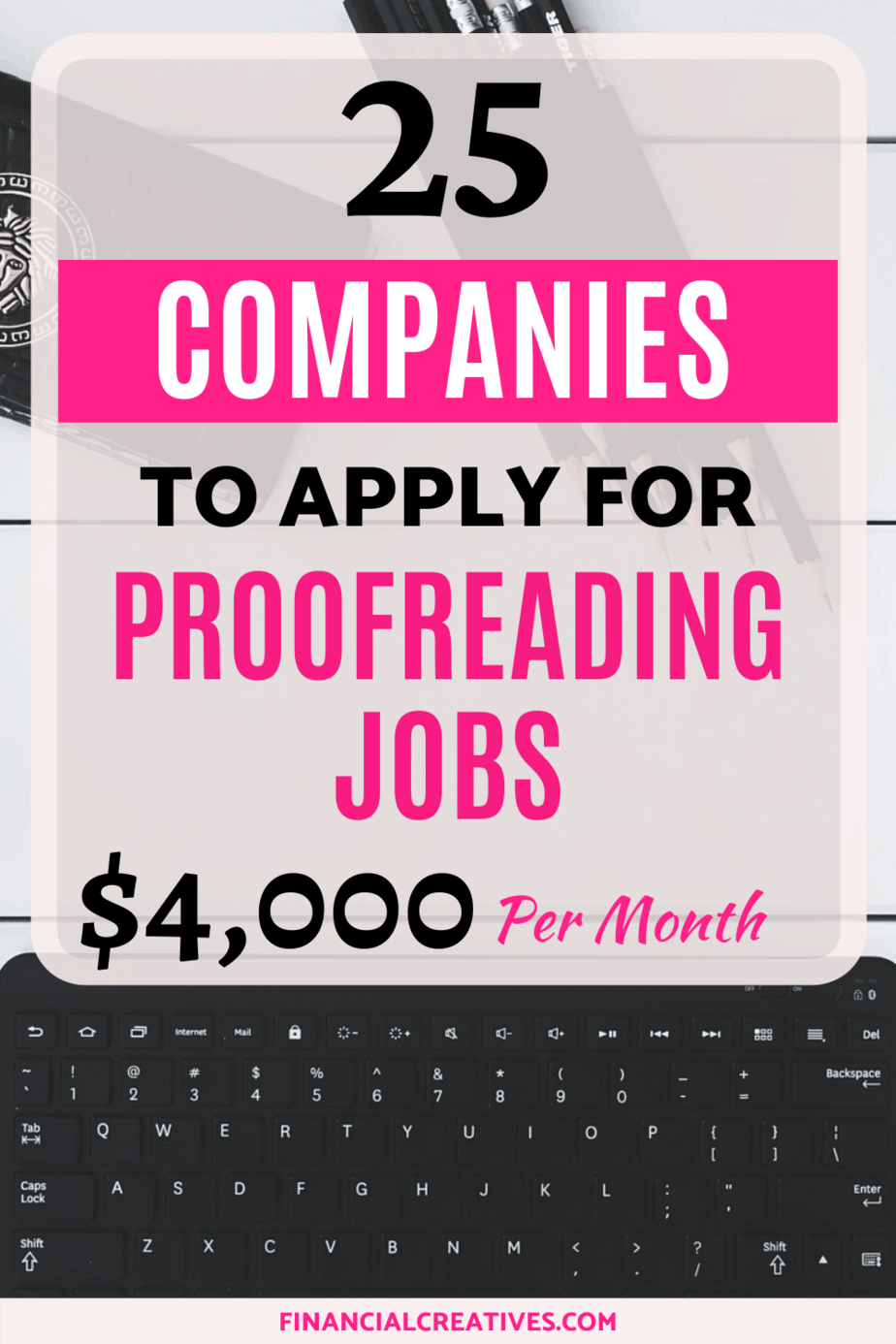 Nowadays, everyone wants perfect content. Bloggers, novelists, journalists, and everyone in the writing sector want flawless writings.
But since most of them either do not have the time or are just not familiar with proofreading, they have to hire someone for the job.
What I am trying to say is that the role of online proofreaders cannot be overlooked. In as much as there are proofreading applications like Grammarly, Hemingway Editor, or ProWritingAid, they cannot replace human readers, and the reasons are apparent.
For one, proofreading software often misses critical errors. They also cannot guarantee flow and consistency throughout an article, something that human proofreaders do well.
Now let's get to the reasons why we do online proofreading. If you are looking to save up, invest, pay a debt, or clear a bill, you can get the money quickly by working as a proofreader. Glassdoor estimates online proofreaders to make about $36,000 yearly.
In addition to the pay, online proofreading jobs allow you to work from home, hence no commuting. You also work flexible hours, which means you can have enough time for your family and other jobs.
What's Proofreading Exactly?
Proofreading is the act of finding errors in a written document and fixing them. Such errors include grammatical inaccuracies, punctuation mistakes, misspellings, and typos.
Most people confuse proofreading with editing. So, what is the difference?
Editing is what you do to a written draft. You have to check if the paragraphs are well organized, if there is a transition, and if the structure is correct.
Once you are done with that, what follows before you can submit or publish the content is what we call proofreading.  As mentioned, it involves checking for typographical errors, misspells, and punctuation mistakes.
What Do I Need to Be a Proofreader?
It's a plus when you have proofreading experience, but it is not the primary determining factor for all proofreading jobs. Here are the basic requirements for online proofreading jobs for beginners:
Mastery of the English language – You should effortlessly identify mistakes in written documents and fix them quickly.
For example, you need to understand where to put various punctuations. So, being an avid reader can help you polish your proofreading skills.
Relevant degree – A degree in English is the most preferred by most employers. But still, some companies don't mind the field as long as you are a graduate and you can deliver.
Proofreading training – If you don't have a relevant degree, then having proofreading training is acceptable.
To get such training, try udemy.com or Skillshare.com. They have free proofreading courses.
Be familiar with standard proofreading tools -Are you familiar with Grammarly? It is one of the most used online proofreaders, and it's available in free and premium (paid) tiers.
Its alternatives are ProWritingAid and Hemingway Editor. You also need to be familiar with Google Docs. The application allows you to store documents, edit them on the go, and share a clean work with your employer.
Where Can I Get Proofreading Jobs?
Now that you know that you don't have to be experienced to be a proofreader, I'm going to share with you 25 legitimate companies and agencies with proofreading jobs online no experience required.
25 Legitimate Proofreading Jobs Online No Experience:
1.  Fiverr Proofreading Jobs
Fiverr is a general freelancing site that allows you to sell just about any work-from-home service. I like the fact that I am allowed to show the client (the buyer) what I can do as a proofreader.
The selling point on the platform is the gig, which is more like a sales pitch. That's what wins you jobs.
There are no significant restrictions on Fiverr, and it is not just about experience. There are also no academic restrictions. So, you don't need a degree in English or a proofreading certificate to set up a seller's account on Fiverr.
The pay for most proofreading jobs starts at $5, but you can always ask for more depending on the nature of work. Sign up here to create a seller's profile and start proofreading on Fiver.
2.  Upwork Proofreading Jobs
Upwork is another top freelancing site where you can find proofreading jobs from home no experience. Unlike Fiverr, you have to bid for published gigs on Upwork. And for that reason, the platform is highly competitive.
But still, there are a few clients who don't have a problem hiring newbies provided they can do the job. You may have to settle for a low budget, though. The good news is that doing a few low-budget jobs earns you reviews that you need to get better-paying ones.
Overall, the secret to landing a job on Upwork is to craft an eye-catching profile and be convincing when you send the cover letter.
The pay for most proofreading jobs starts at $10 per hour and improves with experience. If interested, sign up for an Upwork proofreader's account here to join the leading freelance platform.
3.   Freelancer Proofreading
Freelancer is another open market place that allows you to bid for proofreading jobs. Like Upwork, Freelancer is free, and you don't need experience or a degree to set up a profile.
The only significant difference between the two marketplaces is that Freelancer is more overcrowded.
Most proofreading jobs on Freelancer that pay well ($12/hour and above) attract so many applicants. So, it may be hard to beat the competition when you are a newbie. But still, there's hope for inexperienced proofreaders like you.
Like on Upwork, the secret to beating the competition is to have an eyeball-grabbing profile and to write a killer application letter. Try it when you sign up for a Freelancer account.
4.  Indeed Proofreading Jobs
Indeed is known to post remote proofreading jobs from top clients. The site is a great choice not just for proofreaders but also for all other freelancers. I routinely consider Indeed for some of my proofreading gigs.
The beautiful thing about it is that I don't have to visit the website every day. Indeed allows me to set custom proofreading alerts that I can update at will. Whenever a proofreading job is available, Indeed always notifies me. That saves me time and allows me to respond to job posts as soon as they are published.
5.  FlexJobs Proofreading

FlexJobs is an online job board with a dedicated section on its website for proofreading jobs. Here, you can get proofreading jobs directly from clients. Thus, it is easy to negotiate the terms.
One thing that scares most people, nevertheless, is their membership plan, which currently stands at $15/month. Paying the fee, however, comes with the advantage of accessing the remotest proofreading jobs from legit clients.
You can also access other online jobs if you prefer to once you pay for the membership. The beauty of it is that you can cancel the subscription at will. That is important for me whenever I get a stream of long-term entry level proofreading jobs online.
6. Proofreading Services
If you are looking to make more money than what the average proofreader in the U.S makes, consider joining Proofreading Services. The company pays $19-$46 hourly, and it doesn't matter if you have experience or not.
The only catch is that you have to go through a 20-minute test and pass it before you can join the team.
Proofreading Services never run out of assignments, and they allow you to work remotely. What's more, you can decide to work fulltime if you wish to.
I hope this brief Proofreading Services review can convince you to click here to apply as a proofreader.
7.  Scribbr Proofreading
Scribbr is a reputable Netherlands-based proofreading and editing company that accepts English natives who can do academic and editorial work. So, if you can handle student papers, Scribbr is a great company to work for part-time.
So many freelancers like you handle proofreading jobs on Scribbr, making about $20-$25/hour. To join the team, however, you need to be familiar with the various referencing styles and should detect and fix plagiarism.
Does it sound like a side hustle you can try? Then check the application requirements for joining the team.
8.  Scribendi Proofreading Jobs
Having been offering proofreading and editing services since 1997, Scribendi has grown to be one of the best companies for proofreading jobs online no experience. It currently has 400 professionals on board, and they are all freelancing. Scribendi pays via PayPal.
Seeing that the online working community is made of a small team, there are a few strict requirements you need to meet.
For starters, you need an undergraduate degree at a minimum. So, having a postgraduate degree gives you an advantage over those who don't have it.
You also need to be an English native and should be able to proofread at least 1000 words in an hour. So, speed, without compromising quality, is of the essence.
Apply here and get the freedom to choose your rates.
9.  Proofreading Pal
Proofreading Pal is a trusted proofreading and editing company with high professional standards.
Though they do accept qualified proofreaders with little or no experience, you have to prove to them that you can meet their standards. As a result, they have put a questionnaire structure in place to assess your eligibility.
Overall, it may take up to 10 days to hear from Proofreading Pal, something I consider a letdown when you want money fast.
But still, I like the fact that they guarantee payments at the end of the month, which starts at $500.  Of course, you can earn more if you are more competent and can take more orders.
Are you ready to join Proofreading Pal? Then click here.
10. Babbletype Proofreading Jobs

Babbletype pays you $0.13-$0.18 for every word that you edit. So, you are assured at least $130 for a 1000 word document while working from home.
To my understanding, Babbletype jobs are the best paying proofreading jobs online. They pay weekly through PayPal.
Babbletype doesn't only hire proofreaders and editors but also translators, writers, and transcribers. They post positions every day, and you are given a 22-hour turnaround time when assigned an order.
What are you waiting for? Apply for proofreading today at Babbletype and be among the best-paid proofreaders in the world today.
Also Related Reads:
11.  Reedsy Proofreading Jobs
Reedsy is a marketplace like Fiverr that lets you create a seller's profile to showcase your proofreading skills. So, if you have any kind of proofreading training or previous works, Reedsy allows you to promote them on your profile.
I like the fact that it is free to sign up on Reedsy, and there are no academic restrictions. Interestingly, Reedsy provides you with a rare opportunity to make a quick $1000 just by proofreading 60,000 words. Would you want that? Then join Reedsy today.
Note that the company only takes 10% of your earnings as commission, and you get to keep 90%.
12.  Sibia Proofreading
Sibia Proofreading is not known to hire proofreaders regularly but is among the best-paying proofreading company when they do. So, you should always check on their site to see if they are taking new applicants.
You can even send them an email to inquire when they hire next if there are no open slots at the time of visiting the website.
Ideally, you have to be an expert, not necessarily a proofreading expert but a science expert. So, if you have a postgraduate degree in any science field, you should consider applying. It gives you an upper hand over other applicants who don't have such qualifications.
Apply here to join the team and get the best online proofreading jobs for beginners.
13. Polished Paper Proofreading.

Polished Paper is a top editing company that hires the most exceptional editors and proofreaders. To be considered for a proofreading position, you need to sign up for a user account.
You also need to upload your resume and wait to attempt the editor's test. Though the test is not easy, you are allowed to refer to outside resources.
Mostly, they test referencing and citations. You can prepare for it by signing up for this referencing guide.
You can join the proofreading team here to start accessing legitimate proofreading jobs online.
14.  Scribe Writing Jobs
Can you fix errors on manuscripts and guarantee the cleanest copy? Then Scribe Writing is looking for your services. The company enjoys an impressive reputation, and it's known only to hire the most proficient freelancers.
One thing I noticed about Scribe Writing is that it provides you with the opportunity to interact with the best authors in the world.
So, if you are also looking to master the art of manuscript writing, Scribe Writing is the site visit.
15.  Editor World Proofreading Jobs
If you can do minor edits and are quick in identifying minor errors in documents, Editor World is worth a try. You need to have a degree to apply and should be an English native.
Editor World is always looking for the most proficient proofreaders who can work remotely. The only obstacle for newbies is the short mandatory test that you have to pass before joining the company.
Since the test is not easy when you don't have proofreading experience, I recommend you enroll for the Udemy.com and Skillshare.com proofreading courses. They'll equip you with the necessary skills to pass the test and become a better proofreader.
Register here to get started on Editor World and find the best online editing jobs.
16.  Kibin Proofreading Jobs

Kibin is a proofreading and copyediting company that has some of the best proofreading projects. Their hourly pay starts at $15 for new proofreaders, and experienced hands can earn up to $50/hour.
So, if you are looking to make some excellent cash working part-time, Kibin is the company to join.
They mostly deal with dissertations and essays, but you can also find several white paper projects on site. You can find proofreading opportunities at Kibin here.
17.  Cactus Communications Proofreading Gigs
Are you a medical expert? Can you commit two to three hours a day to proofread medical content? Then consider making some money on the side with Cactus Communications.
Overall, you can make as much as $4,000 per month working from home. Surely, there is no better side hustle for medics than this. Cactus Communications also guarantee you consistent work if you can meet their proofreading standards.
I also like the idea of the company offering bonuses up to 20% of your earnings for delivering quality work.
Click here to see available editing and proofreading jobs on Cactus Communications.
18.  Edit Fast Proofreading.
Edit Fast allows you to sign up for free as a proofreader or editor. The only issue is that they take 40% of your earning once you complete a project. So, I must confess that the cut is enormous but they are legit and expose you to many proofreading projects.
But before you can start working, Edit Fast expects you to sit for and pass an editing test. The test can be tough for someone with no experience, and that is why it is a good idea to take an editing course like Proofread Anywhere or a proofreading course.
Edit Fast guarantees payments at the end of the month via PayPal. Click here to get started on your search for a proofreading job at Edit Fast.
19.  Edit 911 Proofreading Jobs
Edit 911 is a U.S proofreading and editing company that hires experts in English and related fields. You need a PhD to land a proofreading job here.
What I like most about Edit 911 is that they never run out of proofreading projects. You'll find academic works like theses and dissertations as well as nonacademic tasks like website copies, business proposals, and manuscripts.
By and large, if you are looking for proofreading freedom and the possibility of better pay, don't hesitate to visit Edit 911 to apply for entry level proofreading jobs online.
20. Wordvice Proofreading Jobs
The first time I learned about Wordvice was when I was looking for freelance writing gigs. Well, they also offer proofreading and editing jobs, among many others.
Wordvice has built a reputation of only hiring the best freelancers and so they are always ready to employ competent and dedicated proofreaders. They have no fixed rates as it depends on the client turnaround and the total word count.
Wordvice allows you to proofread essays, theses, research articles, and other kinds of academic articles. Hence, you may need to be familiar with common referencing styles. When ready, visit Wordvice to identify available freelance proofreading jobs.
21. Gramlee Proofreading Jobs

Gramlee is another proofreading and editing service with high professional standards. Your grammar must be impeccable to get a job on Gramlee.
You also need to be a super-fast proofreader. Gramlee expects you typically to proofread and submit a 3,000-word document within 24 hours.
What I like about the company, nonetheless, is its reliability. Gramlee guarantees jobs for all its members at all times. So, you don't have to look for any other side hustle once you join Gramlee.
Join Gramlee today to start making reasonable cash from online editing jobs from home.
22.  English Trackers Proofreading Jobs
English Trackers only accept the most proficient proofreaders to join their platform. They now take proofreaders and editors in the academic field and pay once a month via PayPal.
Ideally, English Trackers expect you to possess a relevant PhD qualification if you have no verifiable professional experience. That is in addition to being an English native.
But still, they occasionally offer proofreading gigs to college students. So don't be discouraged if you have no PHD or prior editorial experience. Just try visiting the website to see what freelance proofreading jobs from home suit you.
23.  Proofreading 247 Jobs
Proofreading247 is another proofreading company that hires you to handle academic papers. Also, they occasionally have business copies that you can work on.
Seeing Proofreading 247 work for students and businesses around the world, they are always willing to accept new applications. Just ensure you have your resume ready when you inquire.
If you have the necessary academic qualifications and a proofreading certificate to back up your application, you can land work from home proofreading jobs on Proofreading 247.
24. Cambridge Proofreading
Cambridge Proofreading is one of the most reputable proofreading companies globally. Most of their proofreaders are from the U.S and the U.K. It pays about $20-$30/hour.
They mostly deal with research papers and dissertations in academic fields like business, social sciences, economics, and engineering.
So, they expect you to be an expert in this field even if you have no editing experience. Check their website to get familiar with the application requirements.
25.Domainite Proofreading Jobs
Domainite pays the lowest on my list, but it's a beautiful place to start when in need of proofreading experience. It pays about $2.5 per 1000 words, and you receive the money via PayPal at the end of the week.
There are a few signup restrictions, and you don't even need a college degree to start working. All you have to do is pass their editing test to get approved and start working.
Conclusion
I hope that the above proofreading jobs online no experience can help you get started on your proofreading career.
Different companies have different requirements, and so it's essential to apply where you are most qualified. Of course, you have to consider the pay as it is the biggest motivation.
Liked this post? Share it on Pinterest!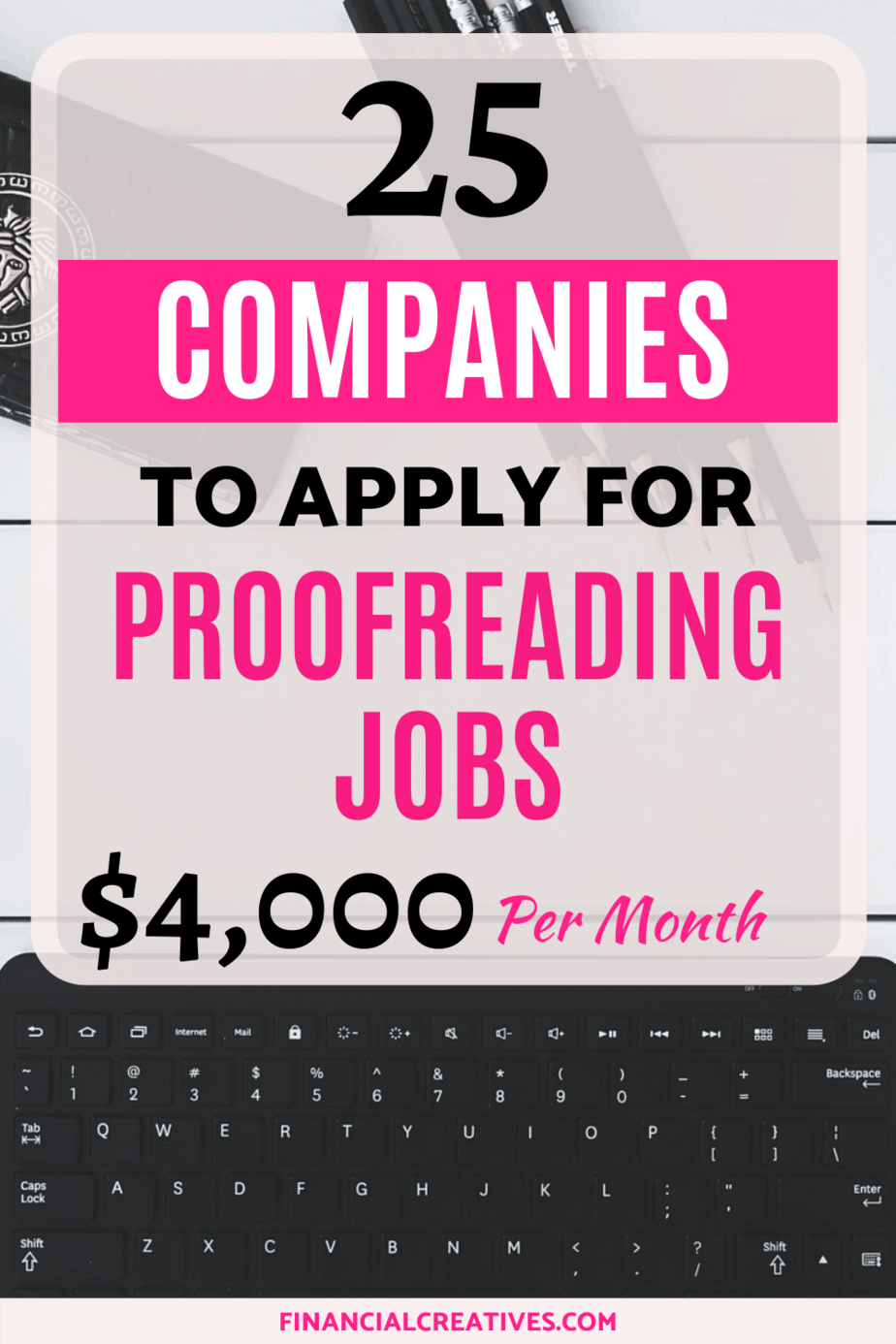 What is important for proofreading jobs without experience?
The most important thing for this job is the level of English proficiency, because you must easily find errors in written documents and correct them quickly.
What are the requirements for online paper editing jobs?
To work as an online paper editor, the requirements typically include a strong command of the English language, proficiency in grammar and punctuation, excellent writing skills, and the ability to meet deadlines. A degree in English, journalism, or a related field may also be beneficial, as well as previous editing experience or certification.