There is no doubt that transcription is a lucrative side hustle. With most transcription jobs paying as much as $20 an hour, anyone with excellent listening and typing skills should do transcription.
And as I describe in this post, some transcription jobs do not require work experience. What you'll need are some training (and I advocate for this transcription course) and the right equipment.
Speaking of equipment, you need the best transcription headphones, and I'm here to help you find them.
We'll look at why you should invest in these headphones and not any other. We'll also look at the top 10 best options on the market, matching different budgets.
Why Do You Need the Best Transcription Headphones?
When you look at the price of some of the transcription headphones on my list, you may be tempted to go for regular audio headphones just to save on money. But before you do it; ask yourself the following questions:
Can they block off noises when I am working?
Can they guarantee the best sound quality?
If the answer is No or that you are not sure, then don't hesitate to invest in the best noise cancelling headphones.
The headsets block out noises that could distract you from concentrating on your transcription job. They also ensure that you receive the best audio quality to avoid making costly mistakes when transcribing.
What's more, the best noise cancelling headphones for transcription can be used for other functions other than transcription. For example, you can use them to chat and listen to music, among other applications.
How Do You Choose the Best Transcription Headphones?
Before I share with you my best noise cancelling transcription headphones, I must share the factors that I considered before arriving at the list. Here are the primary ones:
Ear Comfort – Most transcription jobs require you to work for long hours. As a result, you need to look for headphones that are comfortable to wear.
They should come with cushioned earpads and headband and should also be lightweight not to tire you down quickly.

Sound Control – The best transcribing headphones need to guarantee a quality sound, and one way to do it is through their in-line volume control function.
So, identify the feature when shopping for these headsets. The headsets should also allow you to switch between stereo and mono sounds.
Cable vs. No Cable (Wireless) – Wireless transcription headsets are the way to go these days. They make it easy to continue working while moving around.
They, however, can be too expensive, and so you may have to consider the cable type if you are on a budget.
Cord Length – If you opt for cabled headphones, then you have to factor in the cord length.
Generally, a long cable makes it easy for you to move around the house without removing the headphones. So, you should consider it.
Connection Type – How would you prefer to connect the noise cancelation headphones? Ideally, you need to choose between a jack pin and a USB connection.
A jack pin uses your computer's sound card while a USN connector uses the headphone's sound card.
What Are The Best Headphones For Transcription? – 10 Best Transcription Headphones Reviewed
The Bose QuietComfort 35 Wireless Bluetooth Noise-Cancelling Headphones for transcription are expensive for a reason. They are a workhorse that you can use all day long without recharging.
So, don't worry if you have no power the whole day as the battery life of The Bose QuietComfort 35 is fantastic.
Their sound quality, comfort, and noise cancelation are unmatched, and so you get actual value for your money.

What I Like About the Bose QuietComfort 35
Bose Connect App: The Application allows you to remotely control the headsets and access the latest Boss software updates.
Three-Level Noise Cancelation: The technology ensures you work undistracted and that your listening experience improves.
Hands-Free Bluetooth Pairing: The feature enables you to pair the headphones with your mobile phone to allow you to answer calls hands-free.
Noise-Rejecting Built-in Mic: The microphone picks up clear voices and audio information when using the headphones.
Alexa-Enabled: The capability lets you issue voice commands to Alexa (a virtual assistant) to enable you to get news updates, weather reports, and live scores, among other information.
20-Hour Battery Life: The battery can run the whole day without recharging.
What I Don't Like About the Bose QuietComfort 35
I have read reviews where a few users are complaining of the Bluetooth disconnecting. The solution to this, however, is to test the headsets immediately after purchase and return them once you notice something amiss.
There are so many things to like about the Audio-Technica ATH-M50x Professional Headphones.
Their audio quality is fantastic, and their earcups are among the most comfortable on the market.
The headsets also come in amazing color choices and sturdy construction. Due to their acclaimed sonic performance, these headsets are endorsed by the top professional audio reviewers.

What I Like About the Audio-Technica ATH-M50x
Detachable Cable: You can unplug the cable for easy storage.
Collapsible Earcups: It also saves on storage space.
Extended Frequency Range: Ensures that you get exceptional audio quality when using the headsets.
Noise Isolation: The earcups have a swiveling design that enables them to curve around your ears. The feature ensures that you don't get distracted by noises.
Comfortable Fit: Both the headband and the earpads are densely padded to give you the maximum comfort when wearing the headsets.
What I Don't Like About the Audio-Technica ATH-M50x
I find the transcriptionist headphones to be slightly larger, thus not fabulous for using on the go. They are, however, decent picks for home transcription.
If you are looking for a pocket-friendly headphone from a reputable brand, consider the Sony MDR7506 Professional Large Diaphragm Headphone.
Despite its budget-friendly price tag, the headset has terrific noise cancellation and audio properties.
The transcription equipment is also heavily padded to guarantee the comfort when wearing.
The Sony MDR7506 headset is generally a fantastic companion if you like listening to music on the go.

What I Like About the Sony MDR7506
8 ft. Cord – The cord is long enough to allow you to move about when using the headphone.
Closed-Ear Design: Ensures that the audio is directed to your ears to promote the utmost clarity when transcribing.
Fold-Up Design: Makes it easy to store the headphone after use. It generally saves on storage space, thus great for travelers.
Generous Ear Padding: Promotes utmost comfort when transcribing with the headphone.
UniMatch Plug: Allows both the 1/8 inch and ¼ inch stereo applications.
Protective Carrying Case: It makes it easy to carry the headphone on the go safely.
What I Don't Like About the Sony MDR7506
Compared to most noise cancelation headsets on my list, the Sony MDR7506 headphones are slightly bulky.
They weigh 8.1 oz. Other than that, they are the best headset for transcription for someone on a budget.
The best transcription headphones need to be comfortable, potent in blocking out noises, and should guarantee quality audio. That's what you get from Cowin E7 Active Bluetooth Noise Cancelling Headphones.

What I Like About the Cowin E7
Wireless Capability: The Cowin E7 uses Bluetooth connectivity, which means you can answer calls from your clients while wearing them.
30 Hours Playtime: The inbuilt 600mAh battery only takes a few minutes to charge, and it can run for 30 hours.
Easy Audio Control: You can pause, play, and jump audio conveniently with the headphones.
90-Degree Swiveling Earbuds: The earbuds come cushioned to make the headphones feel comfortable resting on your ears. They also allow up to 90-degree rotation.
Noise Cancellation: The cheap noise cancelling headphones blocks out noises in your background to boost audio clarity.
High-Quality Inbuilt Mic: Guarantees quality audio when taking calls hands-free.
What I Don't Like About the Cowin E7
Everything about the Cowin E7 is exceptional for the price. However, I think the design needs some improvement to be more appealing.
Sony has another set of transcription headsets that cost a fortune, but the price is nothing compared to what the transcription equipment brings on the table.
These transcription headphones noise cancelling devices enjoy a long battery life and promise quality and ear-safe audio.
They come in an elegant design and allow volume control using a virtual assistant like Alexa.

>>Buy it On Amazon<<
What I Like About the Sony WHXB900N
Alexa Built-in: You can control the audio just by speaking to the Alexa virtual assistant.
Touch Sensor Controls: Provide you with another smart way of controlling the volume and pausing audio when transcribing.
30 Hour Battery Life: You can use the headsets wirelessly for at least 30 hours before charging.
Quick Charge: It only takes 10 minutes to quickly charge the battery and be able to enjoy up to 60-minute playback.
Digital Noise Cancelation: You can use these headsets in a noise prone zone undistracted.
Sony Connect App: Provides you with a means to control the headphones remotely.
What I Don't Like About the Sony WHXB900N
The price of the Sony WHXB900N is the major put off. Perhaps the other concern is the touch sensor controls, which can be set on or off by accident.
Coming with a 2-year warranty, the Beyerdynamic DT 770 Pro 80 Professional Headphones are the perfect headsets for transcription, gaming, and studio duties. They are built to last, and their solid construction shows this.
Performance-wise, you can count on the Beyerdynamic DT 770 Pro 80 for noise cancelation and enhanced audio quality.

What I Like About the Beyerdynamic DT 770 Pro 80
Hard-wearing construction – You can count on these headphones for long-term use.
Custom Built Diaphragm: Promises to deliver the best audio quality when wearing the headphones.
Closed Over-Ear Design: Gives the headphones the most excellent noise cancelation performance.
Adjustable, Cushioned Earcups: Promotes the utmost ear comfort, and this makes the headsets great for transcribing for long hours.
Single-Sided Cord: Makes it easy for you to take off the headsets without getting obstructed by the cable.
Sound Reproduction: Regardless of the frequency range, these headsets guarantee unmatched sound reproduction.
What I Don't Like About the Beyerdynamic DT 770 Pro 80
Other than them being overpriced, given that there are cheaper versions, I can't find any other put-off on these best noise cancelling headphones.
If you thought that the Cowin E8 was the best headphone from Cowin (the manufacturer), you'd think again once you see the Cowin 8 Active Noise Cancelling Headphones. The over-the-ear noise cancelation headsets are expensive for a reason.
Their noise isolation ability is unmatched, and they come in a stylish and comfortable design. The headsets are not just the best headphones for transcription work but also for music listening and answering calls.

What I Like About the Cowin 8
Active Noise Cancelling (ANC): The technology cancels distracting noises like engine sounds, moving vehicle noises, and machine noises.
Quality Built-in MIc: Makes it easy to respond to calls hands-free.
Mobile Compatibility: Suits both iOS and Android devices.
Easy Audio Controls: They enable you to control the volume and answer calls hands-free.
Soft Around-Ear Cushions: Ensure the headsets fit comfortably around your ears. Overall, they enable you to use the headsets longer.
20 Hour Battery Life: The battery runs for at least 20 hours, and it only takes 2-3 hours to charge it.
What I Don't Like About the Cowin 8
Compared to Cowin 7, the Cowin 8 headsets are slightly bulky.
The Philips Audio Fidelio X2HR Over-Ear Open-Air Headphone is another type of transcription headset from a reputable brand.
This headphone promises to give you value for money in performance, and this is outlined by its fantastic fit, comfort, and audio quality.
The headphone is also lightweight to make it easy for you to listen to audio on the go.

What I Like About the Philips Audio Fidelio X2HR
Acoustic Open-Air Design: The feature eliminated the buildup of air pressure, which is likely to interfere with the audio quality.
Double-Layered Ear Shells: They create a shell that dampens exaggerated audio frequencies. They generally promote sound quality.
Leather Headband: Boosts the longevity of the headsets. Hence, you don't have to worry about replacing the headphone any time soon.
Pre-Tilted Ear Shells: They allow you to fit the headphone over your ears comfortably.
Breathable Hammock: Makes the headsets more comfortable when wearing them.
Replaceable Memory Foam: Once the foam on the earpads wears out, you only need to replace it, and the headphone will be as good as new.
What I Don't Like About the Philips Audio Fidelio X2HR
According to some users, these headsets can produce unbearable sound when listening to music. So, they may not be the best transcription headphones for users with highly sensitive ears.
Are you looking for the best wireless noise cancelling headphones that you can use for about two days without charging? Then all you have been searching for are the Beats Solo3 Wireless On-Ear Headphones.
They are elegant in appearance and powerful in performance. You'll find the headphones in stylish colors like rose gold, club navy, club white, and club yellow.

>>Buy it On Amazon<<
What I Like About the Beats Solo3
40 Hour Battery Life: The battery allows you to listen to audio files for at least 40 hours. And to make things exciting, it takes 3 hours to charge it fully.
Cushioned and Adjustable Earcups: They are meant to give you the maximum comfort when wearing the headsets.
Foldable Design: It makes it easy to store the headsets.
Mobile Compatibility: Whether you have an iOS or an Android device, they are all compatible with the Beats Solo3.
On-Ear Controls: They allow you to take calls hands-free and control audio on the go.
What I Don't Like About the Beats Solo3
The primary issue with the Beats Solo3 is that they are slightly heavy (1.15 pounds). So, they may not be ideal for listening to the audio on the go.
Lastly, do not let the low price tag of the ECS WordSlinger USB Overhead Transcription Headset make you confuse them for regular audio headsets.
They are one of the best noise cancelling headphones under 100 out there.
The volume control and the audio clarity, for example, are more excellent than that of most standard headsets.

What I Like About the ECS WordSlinger
Built-in Volume Control: You can easily change the audio to suit your transcription needs.
USB Plugin: All you need is to plug the headsets into a USB port, and you can start listening to your audio files.
Built-in Sound Card: The feature promotes accurate audio transcription.
Adjustable Earpads and Headband: Give you the utmost comfort when listening to audio using the headphone.
Fortified Design: The headsets have a strong built to promote longevity.
7-Foot Cord: This ensures that you move around your workspace without removing the headsets.
What I Don't Like About the ECS WordSlinger
The ECS WordSlinger headsets are the best budget noise cancelling headphones for vocals. So, you'll have a better transcription experience.
The downside, however, is that you'll have an unsatisfactory music listening experience.
Conclusion
Generally, if you are a transcriber looking to do transcription effortlessly, pick any of the best transcription headphones on my list.
They have amazing qualities which make them more suitable for the job. Plus, they come in different budgets to suit different buyers.
Liked this post? Share it on Pinterest!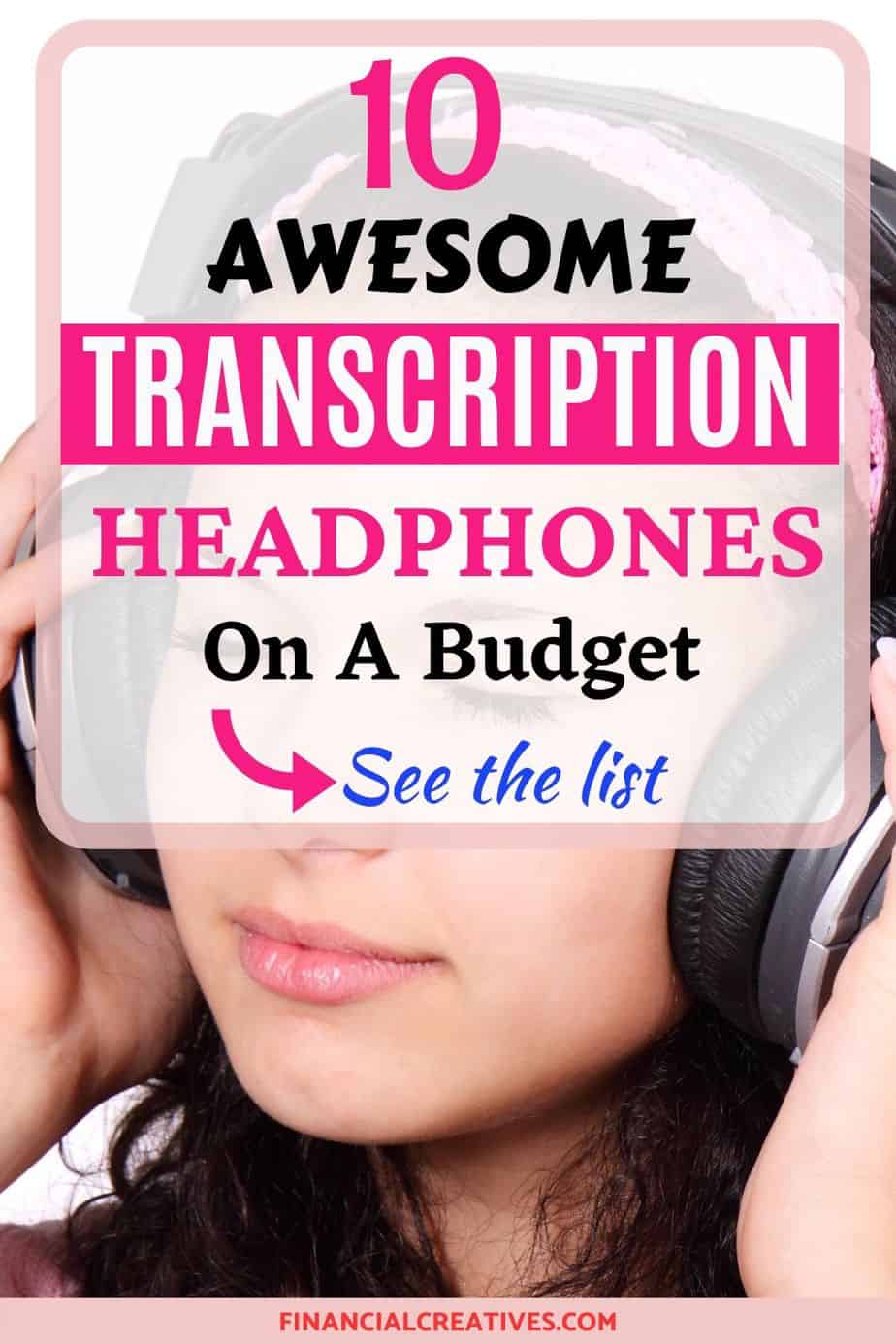 What are the criteria for choosing transcription headsets?
In order to choose the best transcription headsets, it is necessary to pay attention to ear comfort, sound control, communication cables, cords and connection types.
What are reliable brands for transcription headset with microphone?
Some reliable brands for transcription headsets with a microphone include Philips, Sennheiser, Sony, Bose, Cowin, Beats, and Olympus.