Are there legitimate online jobs for stay at home moms? Can I make some decent pay working online? Those are the two major concerns that every mom would have if she stopped working to stay at home to take care of her kids.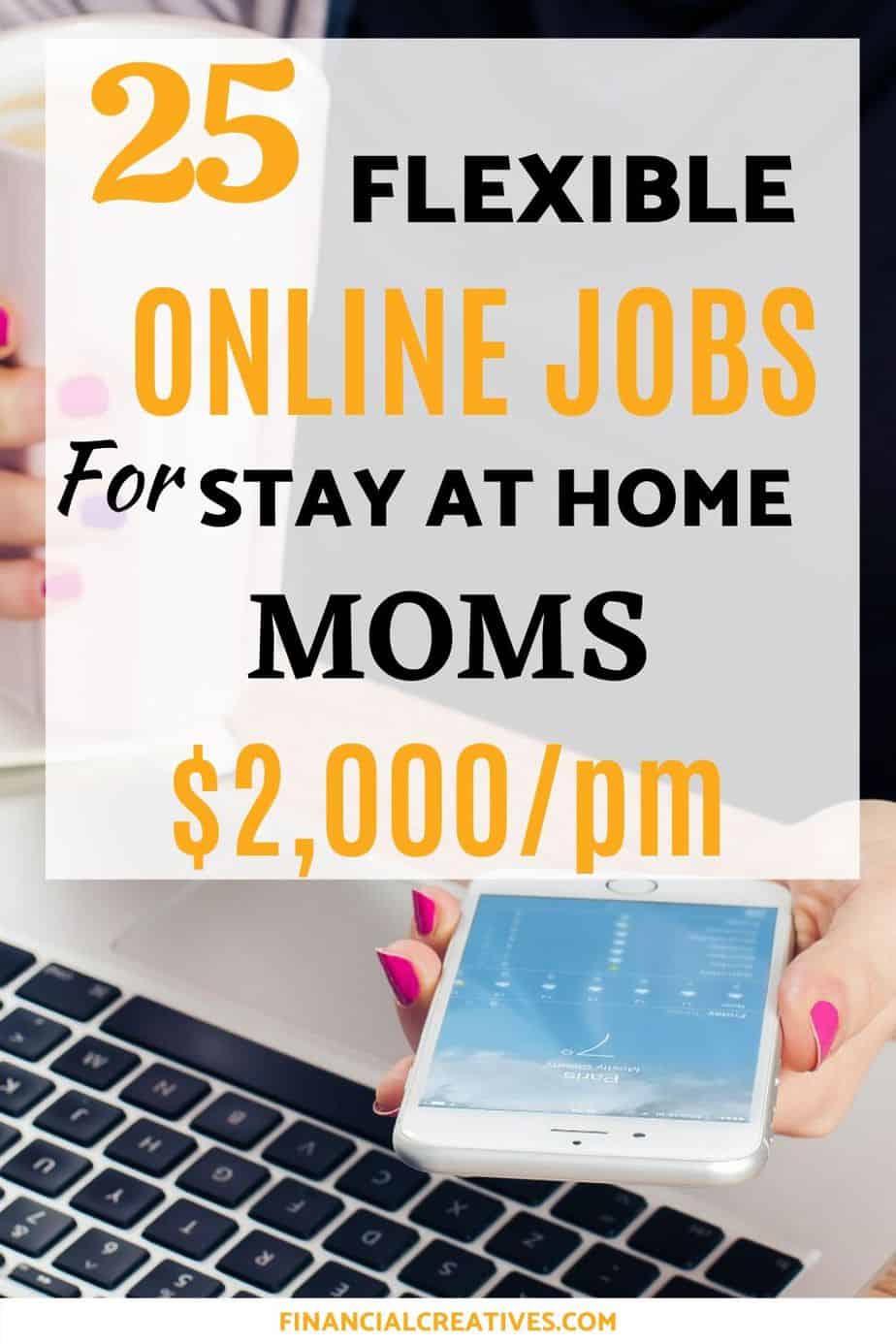 The quick answer is yes, and I'll point you to the jobs you should be hunting.
I know that motherhood is demanding and taking care of the kids is work by itself. But still, it can help a lot if you earn some cash on the side just by working from home.
Online jobs are flexible. You decide when to work and how many hours to spare.
What's more, there are no commuting expenses.  Most times, what you need is a computer and a phone. Would you want that? …
Then stay tuned as I take you through 25 legitimate online jobs for  stay-at-home moms. I'll also highlight the potential earnings and the pros and cons of each job.
1. Start Blogging
(Potential Earning -$100-$10,000/month)
All moms have an interesting or inspiring story to share. What you need is the right platform. How about you share your story with a larger audience? That is the kind of opportunity that blogging offers you.
You can write just about anything, from parenting to housekeeping. It starts with opening a blog, which is simply a personal website where you post the articles you write.
Here is a detailed guide on how to start a successful blog and start making $1,000 per month.
Are you wondering how you can make money? Bloggers earn through posting ads on the blogs,  product subscriptions, and affiliate marketing (pointing site visitors to specific stores to make purchases or subscriptions).
The advantage is that you don't need to be a techie or an expert writer. All you need is a passion for writing engaging content. You also work remotely, which means more time for motherly duties.
To get started, it is advisable first to take a blogging course to understand the basics.
Here is one of my favorite blogging course by income school Project 24 Course that will give you practical steps to follow in order to succeed online blogging.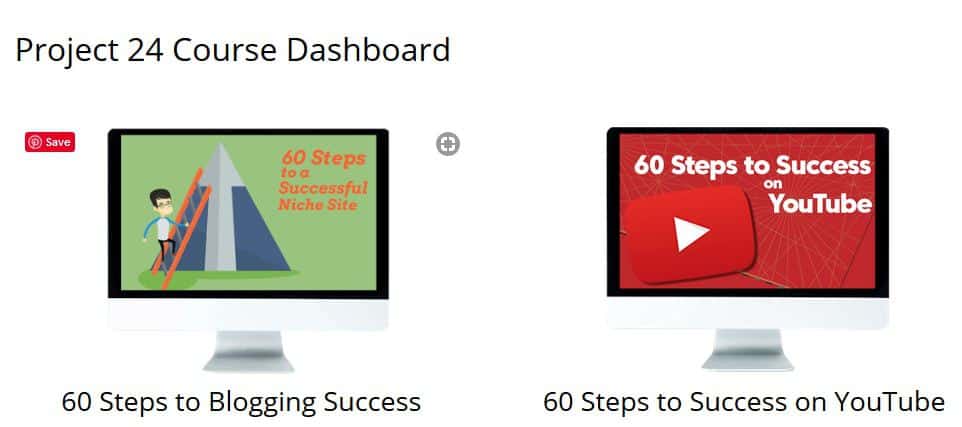 2.   Start Online Tutoring Job
(Potential Earning – $19.65/hour)
Teaching has always been a passion for me. The chance to impart knowledge to young minds and help them prepare for exams is such a joy.
With the internet, it is now possible for me to help more students, and it comes with an incentive – they get to pay.
Can you teach English, history, arithmetic or any other discipline? You don't have to be a trained teacher to land online tutoring jobs.
Sometimes, a bachelor's degree in a specific discipline is enough. The pay for these online jobs for moms is decent, and the working hours are flexible. My favorite site for teaching English is VIPKid. It is legit and pays well.
The major setback I have identified in online tutoring is unsystematic trainees. Some students don't give online tutoring the seriousness it deserves, and so they may end up frustrating you.
3. Start an Online Coaching Job
(Potential Earning – $32-$53/hour)
Are your interpersonal skills excellent? Can you motivate people to attain specific goals? Then you should try online coaching. You may need some certification, however, before getting started.
The fantastic online business opportunity allows you to offer practical advice to mothers and other groups of people and get paid. Top legitimate coaching opportunities you can try include:
Life coaching
Health and fitness coaching
Parenting coaching
Business coaching
The jobs pay well, and you work flexible hours. Like most online jobs, however, it may be hard to find an online coaching job when you are new. You generally need referrals and reviews to get well-paying clients.
4.   Online Music Tutorial Job
(Potential Earning – $29.99/hour)
How does a $29.99/hour sound? That is what Payscale estimates to be the average earning for online music tutors. If you are passionate about music and have some professional qualifications in the discipline, you can try offering music lessons online.
From singing to playing the guitar, the piano, and other musical instruments, so many students are looking for tutors. You can offer lessons through Skype, which is so convenient for a stay-at-home mom.
My favourite site for such work from home jobs for moms is Musictoyourhome, but you can also try Livemusictutor.
Other than the pay being high, you also pursue something you are passionate about. The biggest challenge is the technical disruptions.
5.  Become A Freelance Writer
(Potential Earning –  $11.00 – 100.00/hr)
So many companies are looking for fresh and sales-converting content. From social media posts to newsletters, you can join millions of writers who do freelance writing and get paid  as per your experience level.
My favorite freelance writing site is Writer Access because of job consistency. You can also try Upwork, ProBlogger, Fiverr (our top selection!), HireWriters, and Textbroker.

Freelance writing allows you to work at convenient times and pays well. Of course, the more experience you are, the likelier you are to earn more. The major downfall, however, is that it takes time to get a job when you are a newbie.
6. Freelance Proofreading Jobs
(Potential Earning –  $16-$67/hour)
Proofreading jobs suit stay-at-home moms with an eye for details. You are required to identify grammatical and spelling errors in text and fix them.
If that sounds like you, then you should look for such online jobs for stay at home moms on Upwork, Fiverr, FlexJobs, Indeed and Scribbr.
The beautiful thing about freelance proofreading is the flexibility that comes with the job. I also cannot forget to mention the earnings.
The job pays more when you are more experienced and enjoys impressive feedback. The shortcoming, however, is that the jobs don't come easy for newbies.
7. Virtual Assistance Job
(Potential Earning –  $15-$70/hour)
Maybe you used to be an administrator before motherhood tied you down. Perhaps you were a secretary, a receptionist, a clerk or a personal assistant.
Such jobs make you a perfect candidate for a virtual assistant (VA) job.
You can find VA jobs on Upwork, FlexJobs, Fiverr, and Indeed and some of its responsibilities are:
Answering calls
Work scheduling
Basic bookkeeping
Email management
Making appointments
I like the fact that one can work remotely. Moreover, VA jobs make you more organized, and you can decide how many hours to work.
The most significant disadvantage is that you need some clerical or administrative skills to get started.
8. Virtual Bookkeeping Jobs
(Potential Earning –  $28/hour)
Are you good with numbers and possess an exceptional eye for detail? If yes, virtual bookkeeping may be the perfect job for you. You may need to do the following duties as a virtual bookkeeper:
Prepare financial statements and reports
File tax returns
Reconcile account statements
Issue invoice etc.
Since you do it remotely, the hours are flexible, and you don't incur any commuting expenses.
The major con is that you have to procure the latest bookkeeping software and this is often expensive. There are also fears for liability issues as you handle sensitive financial data for clients.
9. Online Transcription Jobs
(Potential Earning –  $16.72-$27.48/hour)
Are you a good listener and can write down exactly what you hear? Then you can earn extra cash as a transcriber. You can get the online jobs from home for moms on Scribie, Rev, and TranscribeMe.

The pay for transcription is, without a doubt, reasonable, and you can sign up without experience.
The downside is that you have to be an exceptional listener, and your typing speed should be above average. Consequently, it might be hard if you have an infant around.
Check out more transcription jobs for beginners and experienced transcribers here
10. Graphic Design Job
(Potential Earning – $17.16/hour)
If you are passionate about design and have a creative spark, you should give graphic design a try. Graphic design is all about creating banners, brochures, business logos, and things alike.
For a start, you need to be familiar with graphic design tools like Adobe Photoshop, Corel Draw and Illustrator. You can find such jobs on Upwork as well as Fiverr.
Graphic design is fun and pays reasonably. It also allows you to work remotely. The main setback is that newbies have a rare shot at the jobs. You also need to stay updated with the latest graphic design software to remain relevant.
Also Related Reads:
11. Online Data Entry Jobs
(Potential Earning – $16.22/hour)
If you are a fast typer and are okay doing repetitive work, data entry may work for you. You'll, however, need to be good with computers as the job involves moving data using the device.
Data entry jobs are available on Indeed, FlexJobs, and Fiverr, Smart Crowd and Click Worker are also decent options.

The good thing about data entry is that it is a straightforward entry-level job. You thus do not need any professional qualifications or experience.
It, however, can be tiring and may not be ideal for moms with average typing speed.
12. Online Surveys
(Potential Earning –  $0.5-$5/survey)
If there is a quick way to earn money as a stay-at-home mom, it has to be through online surveys. No skill is required here. You only need to share your honest opinions about specific subjects and earn from participation.
My best survey sites are Survey Junkie, Springboard America, and  Swagbucks. They are legit and have more regular work.
The problem I have with online surveys is that the pay is small. You may have to do several surveys before you can make significant cash.
That brings us to another drawback for some of these work at home jobs for moms – they can be time-consuming and exhausting but you got to sacrifice for some few bucks. Right?
13. Customer Service Jobs
(Potential Earning –   $10-$18/hour)
The customer service field is one of the fastest-growing job sectors. Thus, there is always a need for customer service agents. If you have excellent communication skills and are naturally patient, you can make it as a customer service agent.
You can find such online jobs for moms' extra money at Glassdoor and FlexJobs are other legitimate options.
If you don't have prior experience, most recruiters will expect you to have at least a college diploma.
While the hours are flexible and the customer interactions are mostly fun, there are a few customers who would just mess up your day. That's why I mentioned the need for patience earlier.
14. Start Dropshipping
(Potential Earning – $100-$10,000/month)
Dropshipping involves creating a Shopify store and researching a product that you can sell.
You can use Oberlo for your research. The beauty is that the manufacturers who are normally in China handle the supply. When a customer makes an order, the manufacture has to ship it.
I think drop-shipping is an excellent gig for stay-at-home mom since it's flexible. You also get to earn handsomely. Furthermore, you don't need upfront investment or stock.
Your job is to act as an intermediary between the supplier and the consumer.
The biggest challenge is that you are never in control of the supply. Hence, you are likely to run out of stock without realizing it beforehand.
Additionally, the job market is competitive and you have to bring on your best game.
15. Search Engine Evaluation
(Potential Earning – $12-15/hour)
Whenever you search for anything online, the chances are that millions of searches will turn up in the results. The results are a product of algorithms.
Unfortunately, algorithms don't spot obvious mistakes as humans can. As a result, a site may end up on the first page despite having errors.
The job of a search engine evaluator is to find these apparent mistakes and rank sites depending on their usefulness and excellence.
Does it sound like a lot of work? You are right, and that is the job's major con. Its pros, however, include good earnings and steady work. You can get these legit work from home jobs for moms on iSoftStone and Appen.
16. Amazon FBA Selling
(Potential Earning – $0-$10,000/Month)

This is where the power of bargaining does wonders. Amazon allows you to buy products from other sellers cheaply and sell them on the platform (Amazon) at a profit.
We call it FBA selling, and it is a great money-making opportunity for stay stay-at-home moms.
Amazon takes care of storage and shipping. Your job is to wait for your cut once a sell is complete. The major con is that you may not get anything at the end of the month if your product doesn't sell.
If you are lucky, however, FBA selling is very lucrative.
17.  Items Flipping
(Potential Earning – $500-$2,500/month)
The simplest way to explain items flipping is to liken it to Amazon FBA. Unlike Amazon FBA, however, Items Flipping gives you the freedom to sell on other platforms.
Other than on Amazon, you can sell on Facebook Marketplace and eBay. Selling on multiple platforms improves your chances of earning.
Again, if you are great at bargaining and can find profitable products cheaply, you can earn handsomely as a stay-at-home mom items flipper. I know of people who have made $500-$2,500/month.
The primary challenge is competition. It is too steep, especially for beginners. As a result, it is a good idea to take up an Items Flipping course before starting.
18.  Brand Ambassadorial Jobs
(Potential Earning – $17/hour)
Can you spare a few hours to walk around to promote specific products or services and do influencer marketing? How about using social media as a tool for creating brand awareness?
If that sounds like something you can do, then can search for brand ambassadorial jobs. Such online jobs for stay at home moms are available on Indeed, but you can also try social media.
I like the idea that the job involves interacting with real people, and you also work flexible hours.
The disadvantage is that most companies set high standards and tough goals that you are expected to observe before you can earn.
19.  Photography
(Potential Earning – $0.25-$0.40/download)
Here comes the love of my life. I am passionate about photography because it allows me to capture the greatest moments of my life.
I can capture my travel exploits, family times, and awkward moments. If that also describes you, perhaps it is time to turn the passionate hobby into a business venture.
It is straightforward – shoot beautiful photos and upload them on iStock, Shutter Stock, and other legitimate stock image sites to start earning.
The advantage is that it is fun, and you can make some sensible cash if customers start downloading your pics. Since earnings usually depend on the downloads, you don't earn immediately. As a result, the job may not be ideal if you are looking to get instant cash.
20. Online Marketing
(Potential Earning – $15.42/hour)
There are so many online marketing opportunities open to stay-at-home moms. Companies are looking for content strategists, social media gurus, and SEO consultants.
All these form a part of online marketing. They are ideally the best work from home jobs for moms who are passionate about product promotion.
The advantage is that online marketing allows you to reach out to a broad audience, which means an improved chance of earning more.
The jobs are also consistent and suffer few overheads. The limitation is that it takes time for prospective customers to trust you. Additionally, the job can be a little involving.
21. Social Media Management
(Potential Earning – $1,000-$10,000/month)
The emergence of social media as a digital marketing powerhouse means the need for social media managers.
If you know your way around Instagram, Pinterest, and other social platforms and are conversant with WordPress, then social media management is worth a try.
Wondering what you'll be doing? Well, some of the duties of a social media manager are:
Scheduling social media posts
Creating and publishing social media content
Replying to inquiries and comments
Content management
Brand awareness development
The pay for social media managers is excellent and they also have flexible working hours. The challenge is that the job can be overwhelming if you are not proactive. It requires you to be on your feet most times.
22. Product Testing
(Potential Earning – $20/hour)
Did you know that you can get paid for testing products and offering honest reviews about them? You can also test the user experience of mobile applications and websites, what we call User Experience Testing.
My favorite user experience testing site is UserTesting They pay via PayPal, and you only need to be 18+. Another option is User Feel.

For general product testing, however, sites like Survey Junkie and Pinecone Research are a great choice. Other than the cash, product testing on these websites can earn you free products and gifts. The drawbacks for these jobs for stay at home moms are irregular work and hard-to-pass tests.
23.  Sell on Etsy Store
(Potential Earning – 291/month)
Think of some craft that you can make and sell online. From jewelry and handmade clothing to kids' toys and craft supplies, you can make and sell them on Etsy.
Provided that you are inventive, you cannot meet something to sell on the e-commerce site.
Etsy charges $0.20 for listing an item, and the listing stays for four months or until the item is bought. Upon selling, Etsy takes a fraction of the money as commission, and you keep the rest.
The setup process is simple, and Etsy accepts all kinds of handcrafts. Sadly, there are no guarantees for returns on Etsy. Your crafts have to sell first before you can earn.
24.  YouTube Channel
(Potential Earning – $100-$10,000/month)
YouTube provides us with an incredible opportunity to make money on the side. It all depends on the content that you create and its response.
I enjoy helping people create more income and manage their money prudently and so I once in a while post something about it on my Youtube Channel.  You too, can do the same or explore other disciplines like music, home gardening, breastfeeding, and sewing.
Once your YouTube channel gets more subscribers, you can start earning. YouTube provides you with a platform to take your videos viral, which means an opportunity to earn more.
The major drawback for this stay at home online job is that it takes time and effort to maintain a YouTube channel through content research and video creation.
You can then also leverage your YouTube video channel possibilities by importing your YouTube videos into Humix and monetizing them on other websites, while having them ranking on search engines as if they were hosted on your own website, all of this for free!
25.  Travel Consultancy
(Potential Earning – $18.61/hour)
Though motherhood comes with so much responsibility, but this should not prevent you from pursuing your passions like traveling if you like exploring new destinations and trying out new adventures.
why not try travel consultancy?
But, what exactly does a travel agent do? Basic duties include:
Arranging travels and vacations for clients
Shop for better travel deals
Offer travel advice
If you are looking to set up a travel agency from home, companies like Nexion Travel and Avoya Travel can help.
Alternatively, you can search for travel consultancy jobs at FlexJobs and American Express.
Other than the excellent pay, the job allows you to work remotely with just a phone and computer. The only primary shortfall is that it may take time before you can build a reputable name.
Closing Thought:
Hopefully, the above online jobs for stay at home moms will help you earn some extra cash. After all, there is no joy for a stay-at-home mom than having something lucrative on the side while still having the time to take care of the kids.
Liked this post? Share it on Pinterest!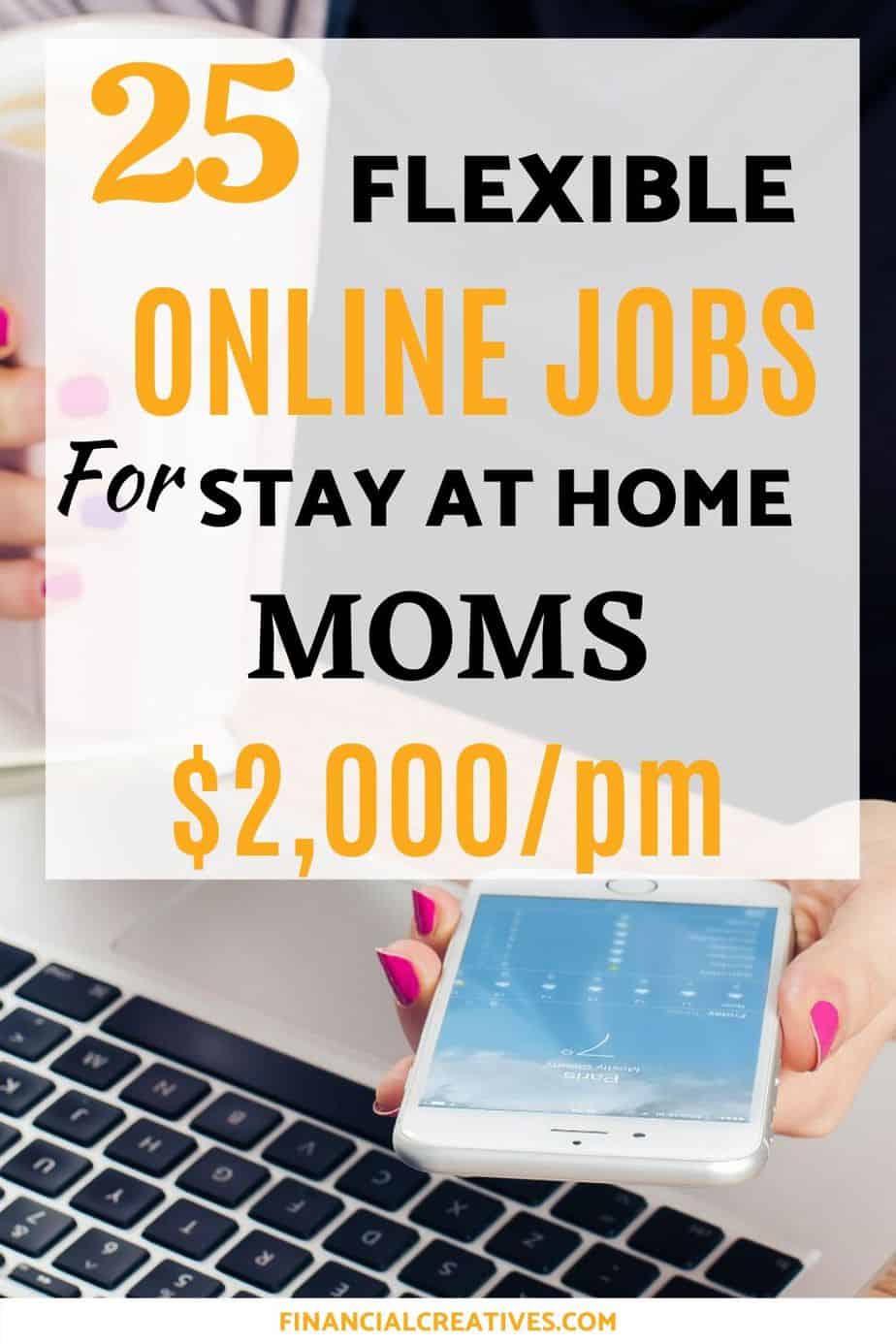 What are the best legit jobs for stay at home moms?
For mothers who stay at home, there are many job options. You need to take into account your preferences and available free time for work. Examples of such work can be maintaining your own thematic blog, tutoring, freelancing, and so on.
What are the requirements for legit jobs for stay at home moms?
Legitimate jobs for stay-at-home moms typically require a reliable internet connection, a computer or laptop, and skills such as communication, organization, and time management.