Are your bills piling up quickly, and you don't what to do? Do you owe someone, and you just can't find a way to clear the debt? If yes, then you should learn how to make 100 dollars a day. Don't worry about it as I will show you how.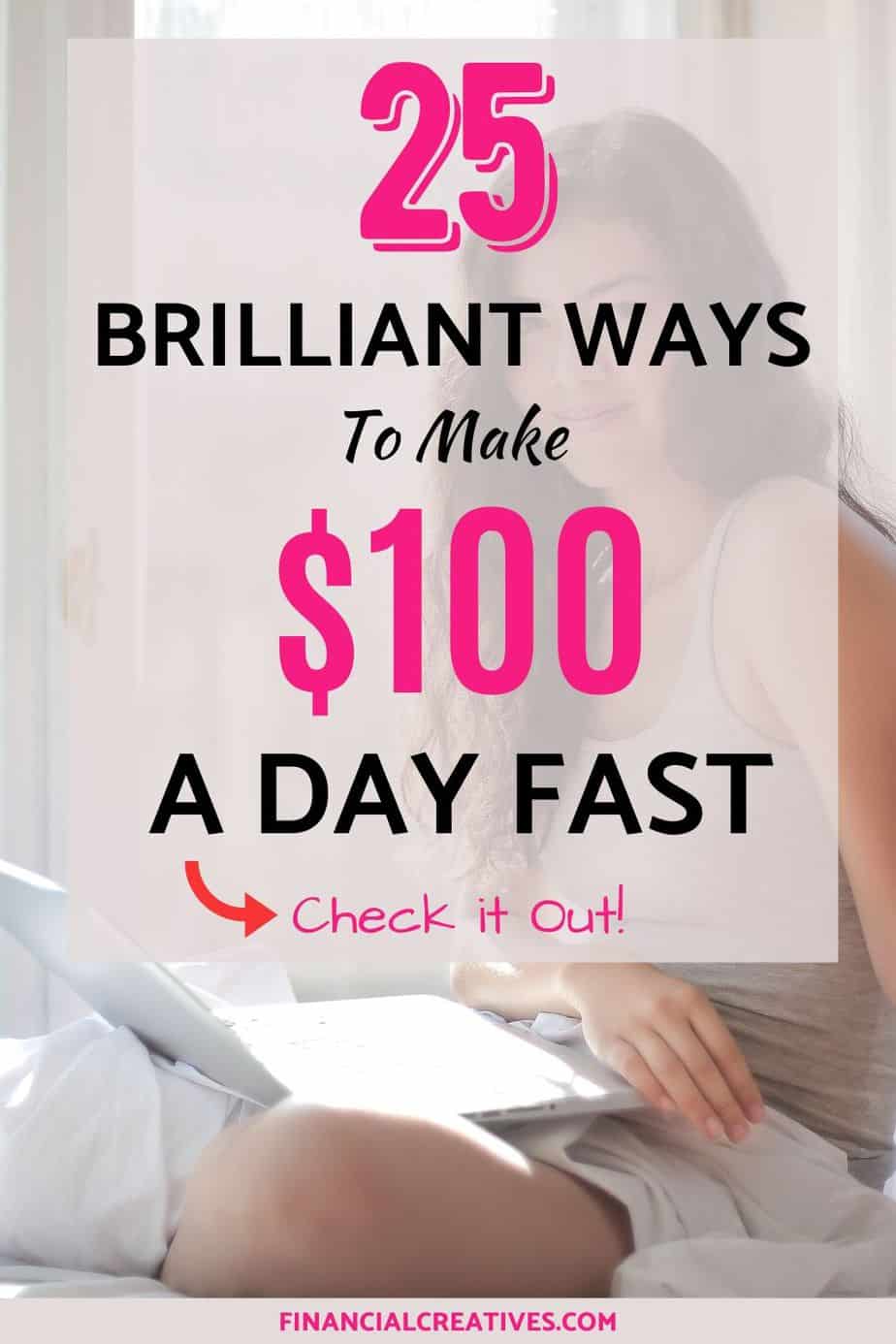 I was also in such a situation. At one point, I had stretched my paycheck, and things were rough. I had to get a quick fix, and my search for answers landed me online. The internet has enabled me to identify smart ways of earning extra cash.
Initially, the side gigs would just fetch me enough for my daily bills. Now, I'm able to make some good cash online which helps me cater for most of my needs and my family needs.
I like the fact that online jobs are flexible, and I mostly decide on my availability and pay rates. So, it gives me the absolute freedom to work under minimal pressure and guarantee the best version of my service.
Are you eager to get started? Below are:
25 ideas on how to make 100 dollars a day online.
1.  Use Paid Surveys to Make $ 100 Fast.
Answering surveys is undoubtedly one of the most effortless ways to make $100 fast. Most surveys take a maximum of 30 minutes and you can earn handsomely.
How does it work?
You need to first sign up at a legitimate survey site to receive the paid surveys. My favorite survey site is Vindale Research. You can make $100 here.

I also consider the following options to be worthy choices:
Survey Junkie – The exciting thing about this survey site is that the signup process is straightforward. Upon answering the paid surveys, Survey Junkie gives you points redeemable as cash.
Swagbucks – Swagbucks gives you a free $5 signup bonus in addition to the paid surveys. Additionally, Swagbucks also earns you cashback.
To ensure that you make $100 a day, sign up at different survey sites and take up multiple paid surveys.
2. Become a Research Respondent.
How does $150 per hour sound? That is the potential for respondent.io research respondents. Respondent.io is a research company that allows parents, students, and experts to contribute to specific studies and get paid. The exciting thing is that the earning per contribution is about $50-$250 and it is via PayPal
How do you go about it?
Click here to sign up at Respondent.io. The signup allows you to identify research studies that you can participate in. Once you identify something you can do, leave a response. Then wait for the researcher to send you an invite based on your response.
What else?
Alternatively, you can try User Interviews. It is another top-rated research company in the U.S that earns you $75-$450 per contribution. Sign up for User Interviews here.
3.  Freelance Daily on Upwork
Upwork is one of my all-time favorite freelancing websites. There, you can do just about anything. From copywriting and transcription to web design and virtual assistance, Upwork has so many gigs to try out.
How should you go about it?
Click here to sign up for a freelance account. Then create an impressive profile and wait for the approval. Upwork only allows you to start bidding after approving your account, and this may take up to 24 hours.
Provided that you have the experience to offer the services you are claiming, Upwork is an excellent place to learn how to make $100 a day. Moreover, they have an Escrow system that ensures you get paid for work done. So, it is reasonably safe.
4. Freelance Daily on Fiverr to Make $100 Fast.
Fiverr for me, is just as reliable as Upwork. It can also enable you to make 100 dollars a day online. You can use the platform to sell services like graphic design, copywriting, interior design, virtual assistance, coaching, just to name a few. Fiverr allows you to set your rates.
How should you go about it?
Use this link to sign up for a Fiverr freelance account. You'll then need to create a seller's profile before you can post your first gig. Usually, it is through the gigs that buyers (clients) can identify your expertise and contact you with an offer.
5. Contribute to Top Magazines.
If you feel like what you are making on freelance sites is not enough, the best writing gigs are in magazines. Most top magazines pay $100-$200, and you can write about the things you love. You can write about parenting, beauty, lifestyle, technology, health, spirituality, and many other fantastic subjects.
Freelance Mom, for example, allows you to earn up to $100 writing about motherly issues.Travel Writer Life, on the other hand, allows you to earn up to $200 per post. And if you can write about spirituality, you can make up to $500 per contribution with Spirituality Health Magazine.

6. Write for Listverse and Earn $100.
Listverse provides you another way to make sound cash from writing. The site accepts listicles (Top 10 Lists), and they pay $100 for every article that they accept to publish. The advantage is that you decide on what to write.
From history and music to electronics and hilarious subjects, Listverse allows you to write about anything. There are no restrictions, and if your English is excellent, it is easy for your article to be accepted and make 100 dollars in a day.
How does it work?
Write a top 10 list on the niche of your choosing
Send it to Listverse
Wait for the approval
If the article is excellent, you'll receive $100 through PayPal. You can write about hilarious, weird, and even horrific subjects. You just need to ensure the article is fact-filled.
7. Proofread Documents and Scripts.
If you can pick up punctuation and sentence structure mistakes in the text, you can make money as a proofreader. The fantastic thing about this job is that there are no travels and you can work remotely. So, it is the perfect gig for stay-at-home moms.
If you are a newbie, you should sign up for a free workshop or a more professional paid course to familiarize yourself with the basics and learn how to make 100 dollars a day doing proofreading.

You can find such jobs on Indeed. The platform is free, and you can even set customized alerts to save you time.
8. Teach English Online To Make A Quick $100.
If you are a trained English teacher or a university graduate in any field looking to make a quick $100, you should try teaching English online. It is one practical idea on how to make 100 dollars a day online without investment.
Most English tutoring sites that I have come across require you to have a college degree and be an English native. Additionally, you may need to complete aTEFLprogram to get hired.
What are your options?
I have two sites that I think are the best at the moment. The first one is Magic Ears. The site pays about $26 per hour, which means you only need to teach for 4 hours to earn your $100.
The second one is VIPKid, which pays about $26 per hour. So, you also need to work for 4 hours to make your $100 with VIPKid.
9. Launch an Online Course and Make 100 Dollars Passively.
If you are a skilled teacher who can create learning programs for college students, you should start making money from it.
Where?
I particularly like Teachable.com. Not only does the website allow you to create an online course, but it also provides you free training to help you get started (read our full Teachable review).
You can also try Udemy and Skillshare. They are legitimate and allow you to earn commissions from every program that you sell online.
Related Content:
10. List Your Space for Free on Airbnb.
Do you have an extra room or an unoccupied apartment? You can list it in Airbnb and wait for an interested tenant to call you. It is the perfect answer to how to make 100 dollars a day online for free.
Why Airbnb?
Airbnb is a safe platform. It has measures in place to allow you to screen prospective guests before you can accommodate them. Airbnb gives you the freedom to accommodate whoever you are comfortable with.
Consider Airbnb during your holiday travels. Instead of living your house unoccupied, rent it out to earn some extra cash.
11.  Drive for Lyft or Uber.
Do you have a car resting at home? If it is not road unworthy, it is time it makes you some serious cash. How about you drive people around your state and earn $100 or more a day?
How can you do it?
Try signing up with any of these ride-hailing apps:
Uber – Uber is fast growing to be a lucrative venture for car owners. It takes up to 48 hours to get approved. You can sign up for Uber here.
Lyft – Lyft earns you a $300 bonus upon completing the first 100 trips. That is in addition to the daily earnings you receive from driving people around. Sign up for Lyft here.
Generally, the idea of driving with these platforms is to make as much cash as possible. So, ensure you take the right trips to maintain your car in the best condition and save up on gas.
12. Rent Your Car for Extra Cash.
If you cannot commit to driving with Uber or Lyft, perhaps you should try Turo. The p2p ride-sharing platform allows you to make money online fast by renting your car.
How should I go about it?
Click here to list your car on Turo. The process takes about 10 minutes. Once you complete the signup, wait to be contacted by a potential renter.

What else?
I consider GetAround to be another fantastic ride-sharing alternative for your side hustle. You can list your car on GetAround using this link.
13. Sign Up for Rakuten and make Quick $100.
Rakuten is an incredible cashback site/website that you can use to make some incredible cash. They usually host daily deals and promotions that can earn you cash. You can also earn from referrals if you use their affiliate links.
How can you start earning?
You need to sign up on the website or use the Rakuten app. You should then select the stores that you want to shop and buy usually. Once you are done shopping, wait to earn cashback.
Rakuten also has a $10 welcome bonus, and you can claim it here. They currently run a special deal, scheduled to expire at the end of June, that allows you to earn $25 for every referral. So, you only need to refer four friends to make $100.
14. Save Up $ 100 with Trim
It came to my attention that there are so many subscriptions that cost us so much money for nothing. The problem is that we rarely notice them, and this is where Trim comes in. The money-saving tool tracks all your subscriptions to let you know the costliest ones that you should cancel.
Trim is like my financial manager. It helps me cut down on my daily bills, which means more money in my pocket. Through it, I have learned how to make 100 dollars a day by saving what I have. If you are looking to start saving with Trim, click here. Don't worry; the app is free.
15. Watch Videos, Play Games, and Search Online to Earn.
Ironically, you get paid nowadays for spending hours playing video games and watching movies. It is no longer seen as a waste of time, at least not when you do it for InboxDollars or Swagbucks. You can also include watching the news, searching for things online, and doing surveys in the mix.
How does it work?
You need to sign up at InboxDollars or Swagbucks to start viewing your favorite videos. You can watch via phone or computer and get rewarded with free cash.
It is that simple. But still, watching movies alone is not enough to earn you $100, and that is why I also mentioned doing surveys, online searches, and watching the news.

16. Pet-Sit or Pet-Walk for Cash.
Can you walk dogs or look after them for a few hours a day? If you can, then there's no need to worry about how to make money online fast.  Rover allows you to offer such services for cash, and you can earn up to $100 or more a day for the job.
How does Rover work?
You first need to register here and provide the necessary personal and contact information. Once you complete your profile, wait for Rover to connect you with pet owners from your area.
The beautiful thing about Rover is that it allows withdrawals after two ways of working.
17. Offer Care Services and get Paid 100 Dollars.
Are you still wondering how to get 100 dollars in PayPal fast?, Urbansitter.com provides a perfect platform for nannies and baby sitters to make money online.
How does it go?
Urbansitter.com expects you first to sign up and build a profile on their site. Once you complete your profile, search to find the care service that you can offer and apply for it. So, you must fill personal and location information accurately to enable clients to contact you.
18. Refer Friends on Social Media
I am going to list a few sites that allow you to make 100 a day with PayPal through referrals.
How?
You need to create an account on any of these sites for free to receive a unique sharable link. You are required to share the link with your friends, family, and any other person you can contact.
If you have a strong following on social media, that is the best place to promote the referral links. The more you share the link and refer people to the sites, the more the pay.
I know that there are so many scam sites out there that promise the same. For this reason, I explicitly recommend these sites:
TopCashback and InboxDollars are also legit options worth trying.
19. Walk with Sweatcoin and Get Paid for it.
How do you feel about taking long walks? I never used to like walking, but when I heard about Sweatcoin, I changed my mind. It is not often that you get paid for taking a walk. Sweatcoin, a mobile app, lets you take 10,000 steps a day and make $100 a day from home from it.
How does it work?
You first need to download the Sweatcoin app, and you can do it here. Once the app installs on your phone, use it in the outdoors when you take a walk. The app automatically tracks your steps, and once you get to 1,000, you earn from it.
Other than earning from walking, Sweatcoin earns you daily rewards for using the app and inviting friends. The motivating thing about Sweatcoin is not just money. The app challenges you to walk regularly, and this keeps you fit. It is like your trainer.
20. Deliver Food To Make $100 a Day.
If you don't mind walking around the neighborhood, making deliveries, delivering food may be a great hustle. Several companies can pay up to $100 for food deliveries.
Which ones?
My first pick is DoorDash. The food delivery company allows you to make up to $700 per week. This simply translates to $100 a day.
Postmates is also another considerable choice. The signup is free, and there are no commitments. You can also try UberEats or Instacart. They pay well and have easy signups.
21. Earn from Testing Apps and Websites.
Are you the type who always leave reviews on new apps and websites? If you didn't know, you could earn from the act. Developers nowadays pay to get feedback from a few users about apps and websites before launching them. Your job is to use the app or website briefly to determine if it is user-friendly and leave a review.
Where can you find the gigs?
Currently, BetterTesting pays $10-$20 per test. You only need to sign up and provide a few details about your device. Another reputable site is UserTesting. They pay $10 per test, and a single test takes about 20 minutes. For both sites, you should target to do at least ten tests to make $100.
22. Earn from Listening to Music
You don't just get paid for watching videos and news but also for listening to music. It is among the fast ways to make money in a day
How do I earn?
All you have to do is listen to new artists and music crews and leave a review. The more constructive your review is, even if it is criticism, the more they pay. I consider SliceThePie to be a better starting point for these gigs.
It is the largest site for paid music reviews right now, and you get your cut via PayPal. The company also has a referral program that allows you to receive bonuses from recommendations.
23. Become a Handyman.
Are you the DIY type? Can you do odd jobs like plumbing, landscaping, or electrical works? If so, you should consider using your skill to make some serious cash in your area. It is one of the jobs you can do fulltime and be guaranteed a payment at the end of the day.
Where can you get the job?
I find Handy.com to be an excellent place for all handymen. You'll find handy jobs within your area that you can apply to effortlessly. Once you are done with a particular job, you receive your pay. Of course, Handy.com takes a small percentage.
24.  Sell Stuff You Don't Need.
If you are keen, you cannot miss something at home to sell for a quick $100. It is one of the most creative ways to make money fast. From an old computer or video game to old clothes and shoes that no longer fit you, you can sell them online for some quick dollars.
But where can you sell?
I suggest Craigslist. It is easy to post your ad there, and there are always potential buyers checking the site out. I have also bought a few second-hand items on eBay, which is undoubtedly one of the largest online stores in the world.
And if you are a social media guy, try Facebook Marketplace. You can also see what to sell on Decluttr.com. They mostly buy electronics.
25. Start a Blog and Make Over $100 a Day.
Though I have tried several jobs on this list, my most significant investment is my blog. It is one way I believe one can make $100 a day consistently doing something one loves.
I am passionate about writing and sharing tips and ideas with my audience, and so my blog gives me the platform to do it naturally.
How do I make money on my blog?
While there are several ways that bloggers make money, my most reliable cash injection route is affiliate marketing. I get a small commission for referring readers like you to go to specific legitimate stores to make purchases and subscriptions. See how much I made blogging
I also earn through paid ads like the ones you can see on this page. In addition to the two, I know of bloggers who earn through subscriptions. So, if you blog about specific services, you can earn through memberships or one-time subscriptions.
Want to start a blog? Here is the best blogging course ever; project 24 course! It has helped me grow my online business and I believe you'll get this value to and launch a blog that will give you over $1,000 in one year's time.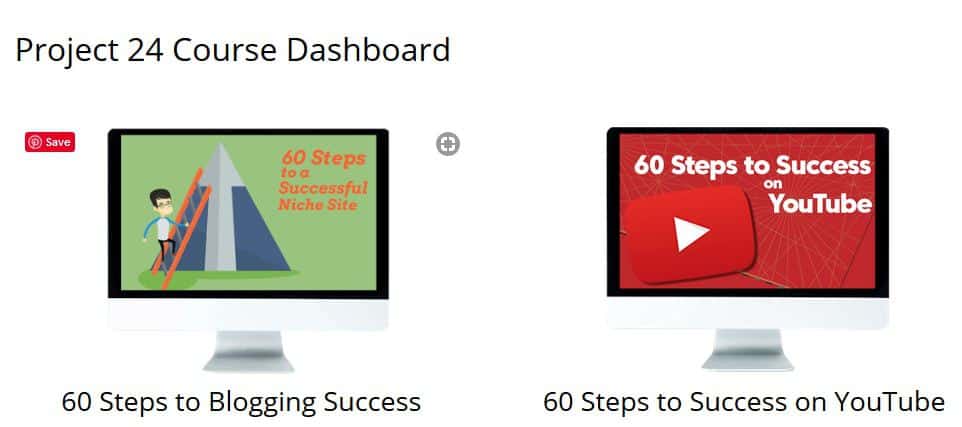 Closing Thought:
There you have 25 smart ideas on how to make 100 dollars a day. Which is your favorite? Did I miss any other important one? Kindly share your observation in the comment section below.
I hope that you don't overstretch your paycheck and that you can make enough to cater to your day-to-day bills.
How to make $100 fast?
In order to quickly earn $ 100, you need to put in a lot of effort and show your skills. Choose the option you are most confident about. For example, earning money on paid surveys, earning money with the help of freelance sites, renting your car, and so on.
What are the ways to make $100 a day guaranteed online?
Some popular methods to earn money online include freelancing, selling products or services, participating in online surveys, and starting a blog or YouTube channel.