Why online business ideas? That is the question I have to answer when I share with my friends about the internet opportunities.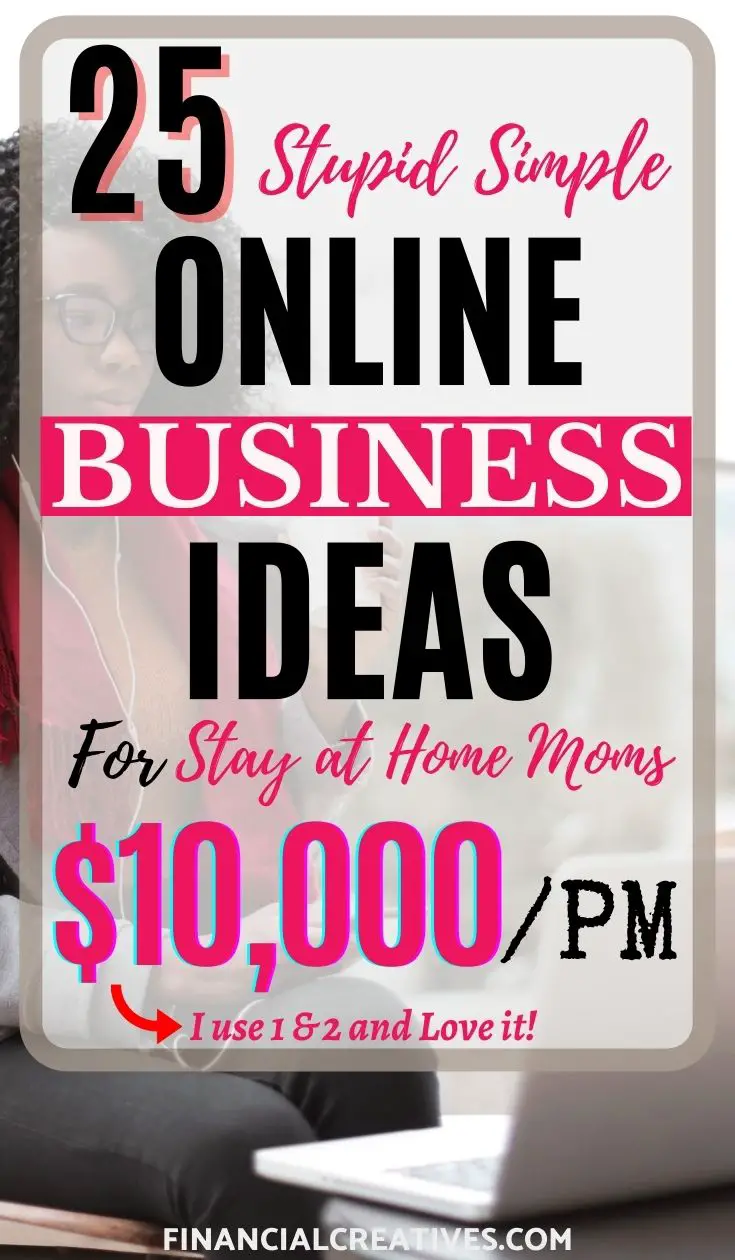 The truth is that starting an online business is a smart take. For one, it allows you to work from home, which means you don't have to pay rent for an office somewhere.
An online business also allows you to be 'your own boss.' It means that you decide on the work schedule, who to hire remotely, and what decisions to take for the business.
More importantly, you have the opportunity to make money from the comfort of your home. And as you'll notice, when we look at my list, there's little investment working online.
So, what I'm I going to cover in this post? Here are the things to expect:
25 most profitable online business ideas
What it takes to implement each online business idea
How you can get the most out of each online business idea
Let's get started with my list:
25 Online Business Opportunities To Start Today – Best Online Business Ideas
1. Start a Profitable Blog (Online Business Idea For Passive Income)
Let's start by defining a blog.
A blog is a regularly updated website that you can use to share meaningful and informative content.
For example, my blog allows me to share about online jobs and business ideas, and other different ways of making money.
So, should you start a blog?
The answer is YES, provided you first learn the basics, and here is a guide that'll teach you exactly that.
What it takes
Buy a domain and sign up with a hosting service – I recommend Bluehost here because they offer you a free domain, and you only pay $2.95 per month for the hosting in your first year.
Create and share meaningful and exciting content
Monetize your blog – You can do it with affiliate links, sponsored content, paid ads, selling merchandise, and online courses. The best way is to monetize with Ezoic Ads as they will optimize your websites with their own technologies, and your ads revenue from a global marketplace.

Getting the most
To understand more about blogging, especially the optimization and monetization part, consider signing up for this SEO training. It'll help you appreciate blogging as one of the most profitable online businesses.
2. Become an Affiliate Marketer (Online Business Idea For Passive Income)
Did you know that the affiliate marketing expenditure is projected to amount to $8.2 billion by 2022? That should convince you to become an affiliate marketer to have a share of the pie.
An affiliate marketer is a third party that promotes the products of a specific company.
Generally, you encourage your audience to click on particular links (affiliate links) that direct them to specific stores to subscribe or make purchases.
What it takes
You've to find a profitable product and sign up for its affiliate program. Some of the best affiliate programs are:
Getting the most
Once you receive the affiliate link, use it on your website or blog, social media, or even newsletters to promote it.
3. Start a YouTube Channel (Online Business Idea For Passive Income)
Did you know that the top 1000 earners on YouTube make $23K monthly on average? So, you have to try YouTube if you are looking for online business opportunities to earn you that much or even more.
In 2018, for example, the highest earner on YouTube was a 7-year boy called Ryan. Get this – Ryan made a staggering $28 million for just uploading toy reviews.
What it takes
Just do something you are passionate about on YouTube. I, for instance, give financial tips on my YouTube channel.
From cooking and music to traveling and photography, you can offer just about anything on YouTube.
Getting the most
Consider monetizing your YouTube channel with ads, product recommendations, and merchandise sales. Also consider setting up your own website to embed your videos in the articles, so your content will be indexed on both Youtube results and Google search results, and create your own video platform with Humix for free to import your videos from YouTube, and get them to rank for video results on search engines.
4. Create Online Courses (Online Business Idea For Passive Income)
According to research, the online learning sector is expected to be a $325 billion economy by 2025.
If the statistics are anything to go by, now is the right time to create and start selling online courses if teaching is your cup of tea.
According to an evaluation by Teachable, an online course can make as much as $75,000. So, very few online business ideas are as lucrative as online courses.
What it takes
Consider using Teachable, Thinkific, Udemy, or Skillshare as your platforms for creating and selling your online courses. We personally recommend creating your online academy on LearnWorlds platform as it is the easiest to use, with the most functionalities (read the guide how to create online courses).
Getting the most
To ensure that you make sales, turn to Ahrefs, Reddit, BuzzSumo, or Quora to get insights on the most talked about topics that your course can focus on.
5. Start a Drop Shipping Business
Did you know that you don't have to stock items to sell them online? That's possible with drop shipping.
You are required to receive orders from customers and pass them to the manufacturer, the wholesaler, or another retailer who will then ship the goods to the customers.
So, there are no financial storage costs or warehousing risks when you run a dropshipping business.
What it takes
Amazon and eBay are great platforms to list your products for sale as you wait for the orders.
Getting the most
You can succeed in dropshipping if you sell rare or seasonal products, and you try selling them in bundles. That should help you beat the competition.
6. Get into FBA Selling
Here's what FBA (fulfilled by Amazon) selling is all about:
Search for items to sell and list them on Amazon
Wait for an order to come in and for amazon to fulfill it
Wait to receive your cut
Cool right? Then you should sign up for FBA selling. It's among the most profitable online businesses today.
What it takes
The online business idea requires you to find the most lucrative item that you can send to Amazon.
Getting the most
Before anything, ensure you learn how about FBA selling, and here is the perfect training for that.
7. Offer Paid Coaching Services
Platforms like Skype, Google Meet, and Zoom now provides you with an easy way to offer coaching services online.
What it takes
You need to be an expert in your coaching field, and here are some profitable coaching ideas you can explore:
Life coaching
Relationship/dating/marriage coaching
Health and fitness coaching
Business coaching
Sales coaching
Confidence coaching
Getting the most
Ideally, online coaching goes well with blogging, social media platforms like, and YouTube.
Having a blog or a YouTube channel where you can share your expert knowledge allows you to build trust with your readers. As a result, it becomes easy for them to subscribe to your coaching services.
8. Write and Sell eBooks on Amazon (Online Business Idea For Passive Income)
Can you write a book about anything? It could be a cookbook, a travel guide, or a novel.
Consider putting the information in a digital format, what we call an eBook, to allow online downloading. It is one of the best ways to make passive income.
What it takes
If you have a website or blog, you can promote your eBook and sell it there.
But if you are looking to expose it to a broader audience, especially when your website is yet to pick traffic, consider Amazon or using social media platforms.
Getting the most
Through Amazon Kindle Publishing (AKP), you can publish your eBook for free, and it gets to reach the wider Amazon prime community.
AKP has a 70% royalty program that allows you to keep 70% of sales.
9. Sell Photos Online (Online Business Idea For Passive Income)
Do you have a passion for photography? It's time you start making money out of it.
From bloggers to online business owners, they are all looking for photos to buy, and they mostly land on stock photo sites.
What it takes
Consider uploading your photos on stock photo sites and get to earn royalties. iStockphoto, for example, allows you to sign up for free and get to enjoy 15%-45% royalties.
Shutterstock, on the other hand, pays you 20% of what the customers you refer to the site pay.

Getting the most
Upload as many photos as possible and try to be creative with your capture each time you do it.
More Online Business Ideas
10. Launch an Ecommerce Store
Perhaps you have tried opening a physical store, and it appears to be expensive. Then, why don't you consider launching an ecommerce store instead?
It's less costly to do so, and you can sell just about anything as an online entrepreneur.
Given that 87% of buyers start searching for products online, there is no doubt that an ecommerce store idea is lucrative.
What it takes
I recommend Shopify, SquareSpace, BigCommerce, or WooCommerce for ecommerce store building.
Getting the most
Consider the following:
Setting up an SEO-driven store
Review products to build trust among store visitors
Offer excellent customer support
Provide popular online payment options
11. Start an Online Job Board
Are you tired of job hunting? Do you always wish to help others find jobs quickly? Then you should consider creating a job board.
You probably are aware of job boards like Indeed, FlexJobs, and ZipRecruiter. That is what I'm talking about.
A job board is just a website that connects job hunters with prospective employers.
What it takes
Since there will be massive traffic, you need a host that can handle it while guaranteeing excellent server speed and uptime. I cannot think of any other than A2 Hosting
Getting the most
You can charge employers a fee for posting jobs on your job board.  And if you advertise your job board well, both the employers and job seekers will find you easily.
12. Start a Review Website
Do you always find yourself reading reviews before buying something online? How about you be the one helping other buyers find answers to products they want to buy?
I'm suggesting you start a review website.
Are you wondering if you can make money? If you take Tripadvisor as an example, the world-leading travel review website is worth at least $12 billion. So, yes, you can make money.
What it takes
You have to build a site from scratch. That means getting a domain and a host of which I recommend Bluehost.
If you have no idea about starting a website, here is a step by step guide to get you started.
Getting the most
Consider monetizing your website with affiliate marketing, sponsored content, and paid ads.
13. Start a Membership Website
Have you been looking for a way to sell subscriptions? How about you start a website where you don't rely on affiliate marketing for monetization?
Instead, you create content (videos or blog posts) and encourage your audience to subscribe.
Some fantastic passive income ideas to inspire you to create a membership website are:
Real estate learning
Fitness training
DIY tutorials
Special diet learning
Piano learning
Investment strategies
What it takes
Generally, a membership website has gated content. What this means is that your content is members-exclusive. Thus, only those who pay for the subscription get to access the content.
Getting the most
Automate your site using plugins like MemberPress and SubHub.
14. Start an Online Podcast
Are you good with words? Can you command the attention of people and influence their decision? Then you should consider starting a podcast online.
What it takes
A podcast is a series of exciting or informative audio files that listeners can subscribe to listen to. So, yes, a subscription is one way to make money podcasting.
But in case you want the subscription to be free, you can monetize your podcast using ads, sponsorships, and affiliate marketing.
Getting the most
Find interesting topics that you can discuss in your podcast. You should also consider bringing in influential guest speakers to make your podcast as interactive as possible.
15. Try Flipping Websites
Nowadays, it's possible to buy and sell websites for a profit. We call it website flipping, and it's one of the most profitable online business ideas for anyone to try out.
What it takes
You don't need experience but just the ability to do the following:
Find a cheap established website and buy it
Improve its Google ranking
Negotiate a better price for it when it comes to selling
Getting the most
Consider buying and selling websites on Flippa. Flippa allows you to access valuable resources you can use to understand the website flipping much better.
You can also try Motion Invest as they take care of everything, including the website migration to buyer's hosting service.
16. Invest in Domain Flipping
Domain registration and selling are more like real estate. You are required to register several domains, use them if you want, and wait for someone to make you an offer.
Domain flipping is undoubtedly one of the best internet business ideas.
Are you wondering what a domain name is? It's your site identity on the internet.
If you can glance at the top of this page, you'll notice the name financialcreative.com. That's my domain name.
What it takes
Like real estate, you need a lot of patience to sell a domain. You also need to invest a lot, which means registering one domain name is never enough.
Getting the most
Before you can get into the business, research widely to know how to develop the most demanded domain names. You can also flip domains on Flippa.
17. Flip Items on eBay
Items flipping simply mean buying things at a bargain and selling them somewhere else (in our case, it is eBay) for more. I like eBay because the retail giant enjoys a massive customer base.

What it takes
You should have the bargaining power – the ability to negotiate for better prices.
Getting the most
Go to local stores, garage sales, or yard sales to see what you can buy cheaply and sell higher later on eBay.
18. Sign Up as a Freelancer Writer
You can take your writing skills a step further by signing up as a freelancer. It's one of the best online business ideas when you want to get quick pay.
You can earn weekly freelancing on most websites, which means regular compensation as long as you work.
What it takes
One of the best places to freelance is Upwork, where you can write just about anything. From landing pages to blog posts, Upwork connects you with some of the best-paying clients in the world.
You can also try signing up on Fiverr or Textbroker. They are legit and among the best payers.
Getting the most
If you combine freelance writing with running your blog, you'll never run out of money as long as you can write.
19. Get Paid to Teach Online
The growth of the online learning sector means that online tutors are increasingly in demand.
While some students want help with their assignments, others want to learn English as a second language (ESL).
Some are interested in learning foreign languages, and others are interested in music.
What it takes
Consider signing up as a tutor as per this guide:
Getting the most
Sign up on as many sites as possible to get the most gigs.
Other Online Business Ideas
20. Write Resumes and Cover Letters for People
People still write cover letters and resumes when applying for jobs online and offline. If you are experienced crafting both resumes and cover letters, consider making it a business.
What it takes
Depending on preference, you can freelance online or establish an agency. Resource-wise, it's a good idea to have a website in both cases
Get the most
Showcase your portfolio and client feedback on your website to convince more clients to hire you.
21. Build a Ghostwriting Business
Ghostwriting is when you write for someone but do not take the credit. Instead, it's the person who hires you who is credited as the author of the work.
The beautiful thing about running a ghostwriting business is that you don't have to struggle to find writers as you can get them effortlessly on Fiverr, Upwork, Freelancer, and other freelancing platforms.
And if you advertise your business well online, clients will find you.
What it takes
You'll be taking client orders and passing them to your team of writers.  Once the client pays, you'll use a part of the money to pay your writers.
Getting the most
Overall, you'll need a website to run a ghostwriting business.
22. Start an SEO Agency
Do you know a few things about SEO (search engine optimization) that you can teach people? Then you should consider starting an SEO agency to allow you to sell your services.
Many websites and blogs need SEO advisors and consultants to help them rank their sites higher on search engines.
What it takes
Though you can freelance as an SEO specialist, starting an agency allows you to build a profitable online business, where clients can directly make inquiries.
Getting the most
SEO keeps on changing, which means you have to keep on learning, especially the following:
The best SEO techniques
The best keyword suggesting tools
Content marketing ideas
23. Work as a Social Media Consultant
There is no doubt that social media is taking over the digital marketing space.
We see platforms like Facebook, Instagram, and Pinterest becoming more of business networking stages than social interaction platforms.
So, if you know a few things about social media marketing, content creation, and management, it's about time you make your skill a business by working as a consultant.
What it takes
Consider starting a social media consultancy agency or offer your consultancy services on a freelance basis on sites like Fiverr, Upwork, Indeed, or FlexJobs.

Getting the most
Always learn new things, and don't be scared to apply them.
24. Sell Transcription Services
There is an increased demand for audio-to-text conversion, which we call transcription. It's a skill that you can learn quickly online.
What's more, there are even software programs like OTranscribe that you can use to make transcription effortless.
You also need a good set of noise cancellation headphones and an ergonomic seat.
What it takes
Consider signing up for the best transcription jobs on sites like Upwork, Rev, TranscribeMe, among many others.
Getting the most
Always learn and improve your skill.
25. Run a Digital Marketing Agency
Let's begin by first understanding what digital marketing is. Simply put, digital marketing is reaching out to consumers via the internet.
In this case, you use social media, Google, and other online channels to promote a product or brand before a broad audience. The skill is something you can always learn on a site like Udemy.
What it takes
Consider running a digital marketing agency to provide consultancy services related to internet marketing, and you get paid for it.
Getting the most
You need a supportive team on your side to run a digital agency.
Concluding Online Business Ideas:

So if you have been searching for the perfect money-making online business ideas, you have 25 above.
Consider an idea you have passion for, one you are skilled at, or one you are willing to learn.
Liked this post? Share it on Pinterest!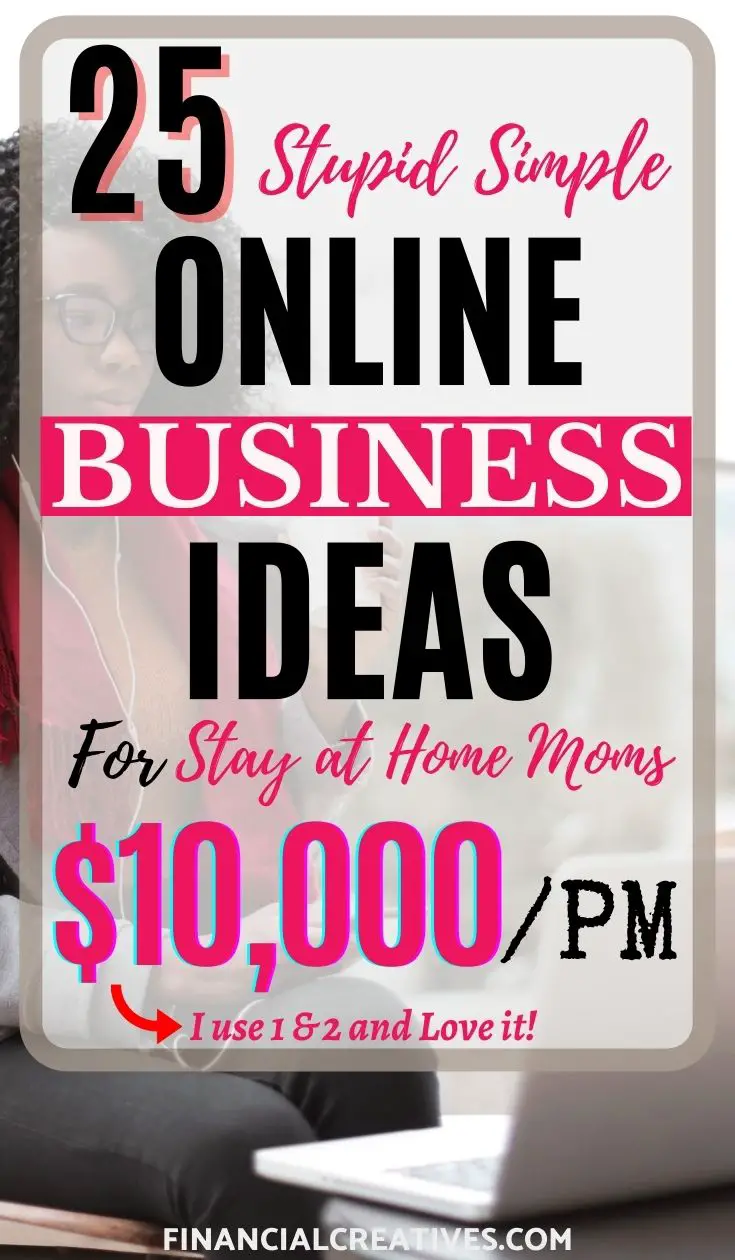 What is the best Internet business ideas for passive income?
The article above presents good options for online income. For example, you can start your YouTube channel as it is a highly paying passive income online business idea.
What is the most profitable online business to start?
The most profitable online businesses include e-commerce, affiliate marketing, digital products and services, and online education and courses. The key to success in any online business is identifying a need in the market, creating a valuable product or service, and effectively marketing it to the right audience.