Finding the best freelance writing jobs for beginners is not easy. That's the sad reality, especially when you don't know your way around the freelance writing business.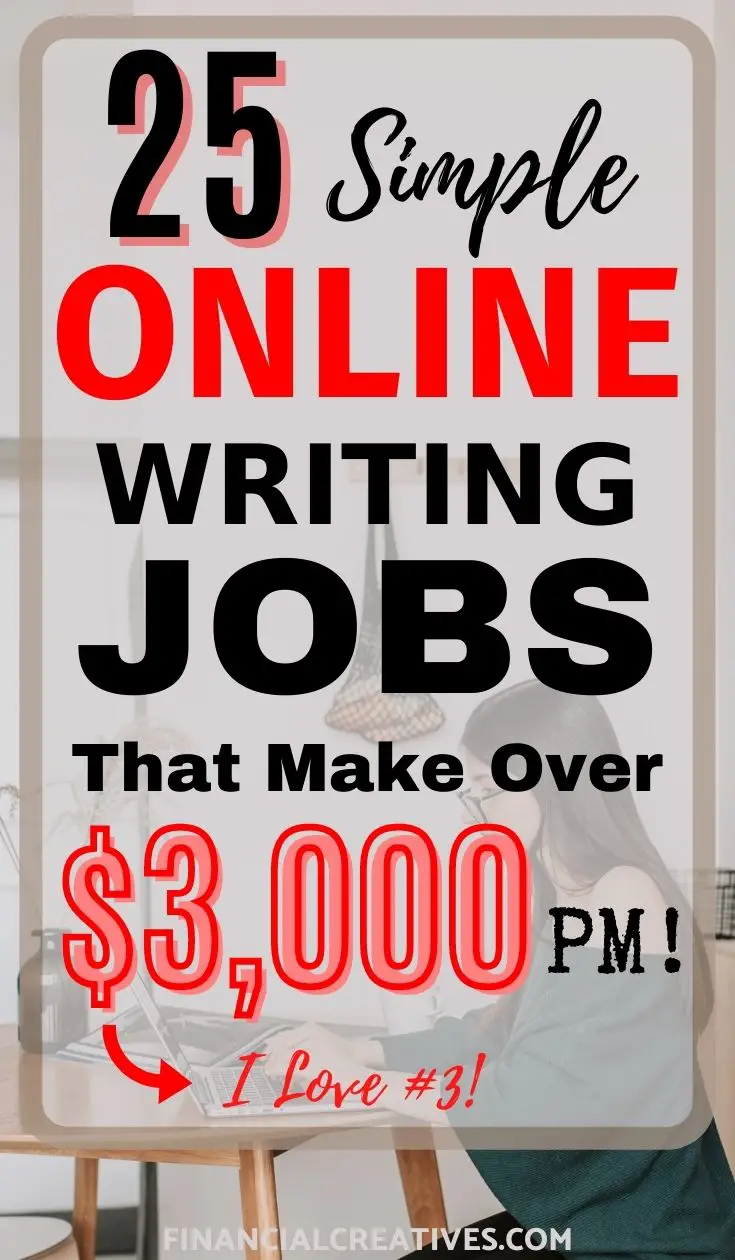 Most legit and well-paying jobs will ask you for some experience. But seriously, where can you get writing experience when no one gives you a chance to earn it?
And when you manage to get a client who's willing to hire you, the small pay becomes a put-off. More to it, some clients don't even have the decency of paying you, which is very annoying for a beginner writer.
Does that sound like something you have experienced? Well, don't worry, as I have compiled a list of 25 legit and decent-paying freelance writing jobs for your consideration.
What Do You Need To Start Freelance Writing? (Requirements For Freelance Writing Jobs For Beginners)
You need some freelance writing training for starters, and I recommend 30 Days New Freelance Writing Career by Gina Horkey.
With the training, you'll learn how to become a freelance writer with no experience and get to make money.
You also need the right freelance writing tools, and they include the following:
What Can You Write As A Beginner Freelancer? Common Freelance Writing Jobs For Beginners
Depending on the need of the client, you may be required to write any of these items:
Blog posts
News articles
Product reviews
Company reviews
Product descriptions
Reports
Business proposals and grants
Tutorials
Scripts
Newsletters
EBooks
Where To Find Freelance Writing Jobs For Beginners – 25 Best Freelance Writing Sites
We are going to look at 25 websites where you can find freelance writing jobs with no experience as follows:
Freelance marketplaces
Content mills
Online job boards
Freelance Marketplaces with Freelance Writing Jobs for Beginners
Freelance marketplaces are websites where you can search for specific freelance jobs, engage clients, and discuss the rates. Usually, you are required to apply to jobs that clients have posted.
Some of the best marketplaces with freelance writing jobs for beginners are:

Fiverr is one of the most popular freelance marketplaces. There, you can sell your writing services for as low as $5, which means it's easy to find clients.
But still, you can ask for more money if your writing skill is impressive, more so when you have some published samples to showcase.
The secret is to know how to create an eye-catching gig (more like a proposal) as that's what clients (buyers) look at.
Fiverr takes 20% of what you make per gig and allows payouts via PayPal and direct deposits.
Upwork and Fiverr are arguably the largest and most established freelance marketplaces.
There, you get paid to write web pages, news articles, blog posts, and many other things.
You are required to sign up, create a profile, and wait for the approval. So, there are no tests to sit for before you can get accepted.
The other advantage is that Upwork is global, and you get paid via PayPal, bank, and many other options anytime, provided you have some money.
Most beginner tasks pay $10, but you can make more.
Jobs are, however, not guaranteed since you have to send proposals and wait for clients to interview and hire you.
Like on Upwork, Guru allows you to sign up for free, create a freelancer's profile, and apply to jobs that you are eligible for.
So, there are also no guarantees for the posts, especially when you are a beginner.
The good thing is that you are allowed to attach a work sample in your application, which the client can look at and hire you if impressed.
The other good thing about the platform is that the writing gigs are well-paying. You can make $10 an hour or per project when you are a beginner.
Guru allows you to search for jobs based on category preference, and you can set alerts.
PeoplePerHour allows you to get paid to write online from anywhere in the world. On a good day, you can earn $10 an hour as a beginner or even more.
What I like most about the platform is that you can ask for a down payment before you can begin working. That's more important if you are taking longer projects.
But still, you have the option of requesting the complete payment once you finish a specific project.
You need to sign up and wait for the PPH team to review your application before accessing the writing projects. So, ensure you take time to create an appealing portfolio.
More Freelance Marketplaces With Freelance Writing Jobs For Beginners
Skyword is a freelance marketplace where you can also find some decent-paying writing gigs.
So many magazines, bloggers, and businesses turn to Skyword for their content. So, if you are creative and original, you are likely to make money on SkyWord.
Like on the other freelance marketplaces on my list, you need to first create a freelancer profile on Skyword to showcase your writing skills and niche preference.
So, don't worry if you don't have a website to showcase your writing proficiency as you'll be having a portfolio right there on Skyword.
Project4Hire is a freelance marketplace where you can find the best freelance writing jobs online.  Though the website is often associated with experts, you can discover beginner-friendly writing projects once you sign up.
Project4Hire allows you to find well-paying freelance gigs, and you can even make money through their affiliate programs.
To be better positioned to land a job, you should apply for recently posted jobs and be quick to respond to clients.

Freelancer is an online marketplace that's similar to Upwork and Guru. Upon signing up for free, you are required to browse for the job that you want, apply for it, and wait to get hired.
Freelancer is global and has a straightforward signup process. All you need is an email address or a Facebook account and PayPal address to receive your payment.
Unlike Upwork and Guru, however, Freelancer's writing jobs are low-paying, and there's a vast competition. Sadly, most clients prefer to hire bidders with the lowest quotes – as little as $5 per project.
Content Mills with Freelance Writing Jobs for Beginners
Content mills are websites specifically dedicated to content writing jobs. On these sites, you can find jobs that require you to write different web content for clients.
From blog posts to reviews, you can find all kinds of writing gigs on these sites.
Some of the best content mills are:
If you are looking to sign up for freelance writing for beginners on a U.S-specific website, Textbroker is a decent content mill to give a try.
The signup process is simple. All you have to do is fill a form, submit a sample, and wait for a reviewer to rate you.
Usually, the rating determines the jobs you can do and how much you can earn.
Textbroker allows you to select your jobs, and you can cash out once your account balance is $10 or more.
HireWriters allows you to start freelancing at a beginner level (level 1 to 3).
The beginner level doesn't pay much as the advanced levels (levels 4 and 5), but it's a decent starting point when you have no experience.
Of course, you should target to ascend the ranks to earn more, and you can do it by always producing quality content.
The secret to getting hired is always to attach a sample, especially published ones, when applying for writing jobs. Clients usually look at them before contracting.
HireWriters pays via PayPal on Fridays once you have made $10 or more.
If you are looking for a content mill with an assertive global presence and regular freelance writing jobs, iWriter must be among the first picks.
Today, there are at least 822 454 writers on the platform. Mark you; they all come from different parts of the world.
So, there is no doubt that the platform is one of the best freelance writing sites for launching your writing career.
The beginners' level, referred to as the standard level, allows you to make $2-$7 per article.
The good thing is that you can climb the ranks faster and get to make as much as $80 per article on the Elite Plus level.
WriterBay is a fantastic content writing platform where you don't need the experience to join the team.
You are required to sign up, fill out a form, and take a series of tests. So, you have to do well in the tests to get approved.
You'll be required to upload your certificates as the last requirements before you can become an official member of WriterBay's writing team.
Registration on WriterBay is free, and you can access jobs that pay handsomely.
WriterAccess is a highly sought after content mill with some best-paying freelance writing gigs. Not only do they hire talented writers but also translators and editors.
To apply, you need to submit an application, write a quick sample, and then wait for the approval. Once approved, you can access all available jobs on the platform.
WriterAccess currently hires from the U.S, but they are planning to expand in other regions soon. Payouts are monthly via PayPal, and you get to keep 70% of your earning.
Online Writing Jobs is another well-paying content mill for talented U.S-based freelancers. The content mill suits bloggers, SEO content creators, and copywriters.
I like the Online Writing Jobs because you get paid $10 for your sample test if it gets approved. That's a mega motivation that's lacking in most content mills.
Depending on the project size and type, you can make $10-$27. Payouts are weekly either through check or PayPal.
So, provided you work, you'll have some money every week, and as I mentioned, the compensation is decent for beginners.
Constant-Content is a beginner-friendly content writing platform where you can sign up for well-paying writing jobs online.
You are required to sign up as a freelancer, create a profile to showcase your writing skills, and afterward sit for a short test.
Generally, your account gets approved when you pass the initial test. So, you have to do your best. You can start writing and making money upon approval.
Constant-Content expects you to write unique content. The content should also be customized to suit the client's needs.
You have to be very creative and do proper research before coming up with any content on the platform.
More Content Mills With Freelance Writing Jobs For Beginners
The Content Authority is a content mill that allows you to access online writing jobs that pay from anywhere in the world.
They accept beginner writers, but you'll be put first on probation for 24 hours. Within this time, you are required to write at least five articles and have them reviewed by Content Authority editors.
Once the editors are satisfied with your articles, your probation is lifted, and you get to access freelance writing jobs for beginners.
The beautiful thing about The Content Authority is that you can take as much work as you want. What's more, payouts are every Monday via PayPal once you make $25 or more.
Verblio, originally BlogMutt, is a beginner-friendly content mill that accepts talented bloggers.
Unlike the other content mills on my list, you need first to write your post and then allow the client to choose what they like.
So, you only get paid for content that clients pick. However, it can be discouraging for some beginners since not all clients provide reasonable reasons for rejecting some posts.
The concern aside, the compensation is decent on Verblio, and you get paid via PayPal every Monday. The cashout threshold for freelance writer jobs is $20.
Crowd Content is another reputable content mill to find freelance writing jobs online for beginners. Onsite, you can write blog posts, social posts, product reviews, and product descriptions.
Some of Crowd Content clients are e-commerce store giants like Shopify and BigCommerce. So, expect to make some decent cash once you get established on the platform.
Cashouts are every second Friday of every month once you reach the $10 threshold.
In general, the secret to succeeding as a freelancer on Crowd Content is to create quality content to earn a 3-star or 4-star rating.
If you can create blog posts, newsletters, landing pages, or social media posts, then you'll enjoy working on Scripted.
The content mill allows you to claim writing jobs that you are comfortable doing, and you get paid within five days of completing.
As a beginner, you'll need first to sign up and then sit for a writing test. Once you pass the test, you can create a writer's profile that you can use to claim writing jobs.
The beautiful thing about Scripted is that you can set your prices and propose to the customers directly. However, you may need to wait for up to 15 days to get paid, and it's through Stripe.
Online Job Boards with Freelance Writing Jobs for Beginners
Job boards refer to job search engines. You'll find an array of work from home writing jobs for beginners on these platforms.
Some job boards are free, while others require you to subscribe. The free job boards' primary concern is that they are flocked with applicants, thus more competitive.
Overall, here are the best job boards with freelance writing jobs:

FlexJobs is a paid job board that costs you $14.95 monthly. This, however, should not discourage you from signing up as the company handpicks and screens the jobs to guarantee legit gigs.
FlexJobs allows you to search for writing gigs and any other remote or part-time job based on preference.
Once you sign up, the company matches you with the most relevant writing jobs. You have to keep an eye on your inbox for the latest job alerts.
Generally, if you are wondering how to get freelance writing jobs in your inbox, consider signing up on FlexJobs.
BloggingPro is a reputable job board where you get paid to write blog posts. You'll find website owners and bloggers looking for freelancers to help them create blog posts on different niches.
I like the job board because you can browse for the job listing based on the category that best describes your skill.
BloggingPro allows you to deal with the client directly and not with an intermediary.
Unlike FlexJobs, you don't pay for membership on BloggingPro. But since the clients are not screened like on FlexJobs, you have to watch out for scammers.
ProBlogger is another job board for bloggers that you can count on for well-paying blogging jobs.
You don't need to sign up or create a profile. You only need to search on the site, the writing job that matches your skill.
Just like on BloggingPro, you'll be dealing with clients directly on ProBlogger. The bonus is that you can access blogging resources and tips that you can use to improve your writing and build your blog.
Indeed is a job search engine that allows you to find writing jobs based on location. If you are looking for remote freelance writing jobs for beginners that you can do part-time, you should visit Indeed.
You also don't have to sign up or create a profile on Indeed as you can do a quick search on site. But in case you want to automate the search and get job notifications, Indeed allows you to set custom alerts.
More Job Boards With Freelance Writing Jobs For Beginners
SimplyHired is a job board with a global presence. There are at least 900 job categories on the platform, and writing happens to be among the most popular ones.
Like on Indeed, you don't need to sign up or create a profile to get writing jobs on SimplyHired.
You need to do a quick keyword search, and you'll have a wide selection of open positions to apply for.
You can apply to any job of your choice as there are no limits. In case you want to save time, remember to sign up for freelance writing job alerts.
Freelance Writing is a reliable job board where you can find legit freelance writing jobs handpicked from top job sites.
So if you are tired of hopping from one website to another looking for freelance writing jobs, visit Freelance Writing.
You don't have to sign up on Freelance Writing to find writing jobs. All you need to do is browse through the site and search for job categories that match your writing skills.
Once you find some posts that you like, go ahead and apply them.
Freelance Writing Gigs is a job board dedicated to freelance writing. There, writing gigs are posted almost every day.
The job board is global, and they handpick freelance writing jobs from other reputable sites, just like on Freelance Writing.
You can search for content writing, blogging, and other writing jobs directly from the job board. You need to do a quick keyword search to find your next freelance writing job.
Furthermore, Freelance Writing Gigs exposes you to fantastic writing resources, articles, and tools that you can use to grow your writing skills.
Related:
Wrapping Up Freelance Writing Jobs For Beginners
Above is my list of the best 25 freelance writing jobs for beginners. Thus, it's now time to apply for as many posts as you can.
Freelance writing is fun; there is no doubt about it. But more importantly, it pays well as you'll come to notice when clients start coming your way.
Liked this post? Share it on Pinterest!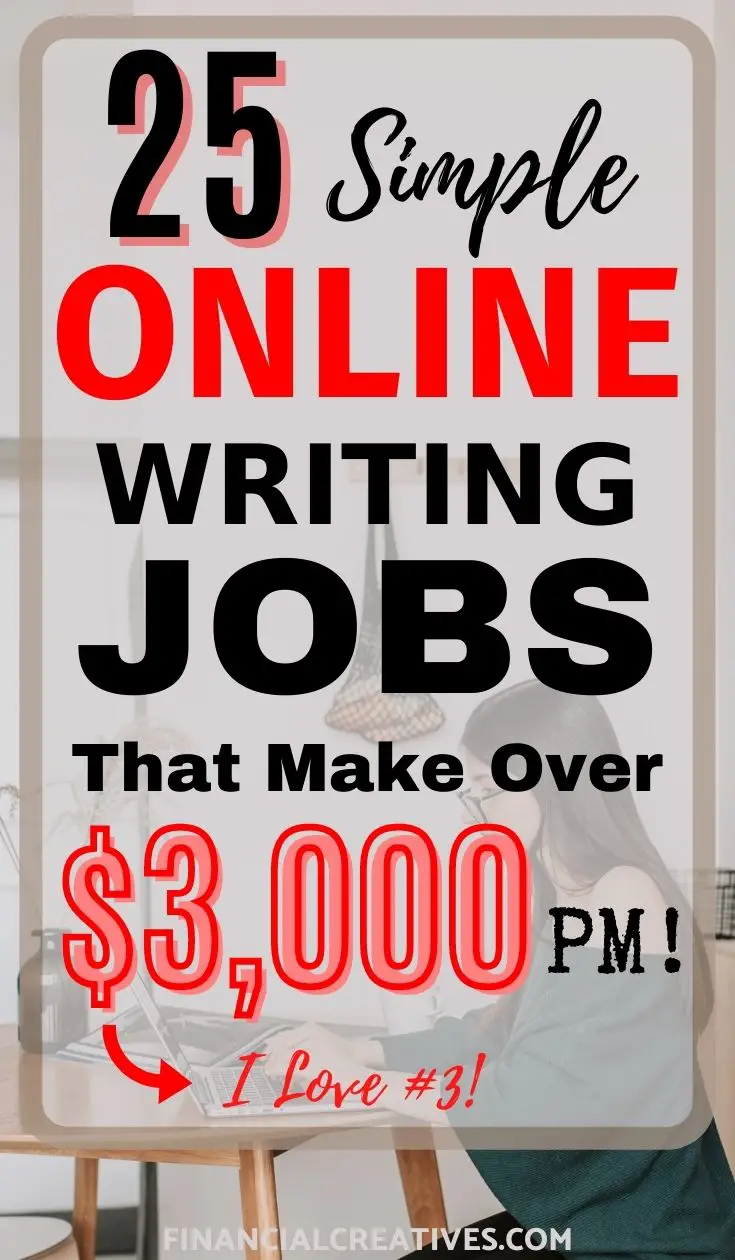 Where to look for legal and paid online writing jobs no experience?
Be prepared for the fact that this is a difficult task. But Freelance marketplaces, Content mills and Online job boards can come to your rescue.
Where can I find beginner freelance writer jobs?
There are several online platforms where you can find beginner freelance writer jobs, such as Upwork, Freelancer, Fiverr, Guru, and PeoplePerHour. Additionally, you can check job boards such as ProBlogger, Freelance Writing Jobs, and BloggingPro for freelance writing opportunities.