Are you tired of waiting until the end of the month to have your paycheck? Then, it is the right time to find weekly paying jobs for some extra cash before the main paycheck.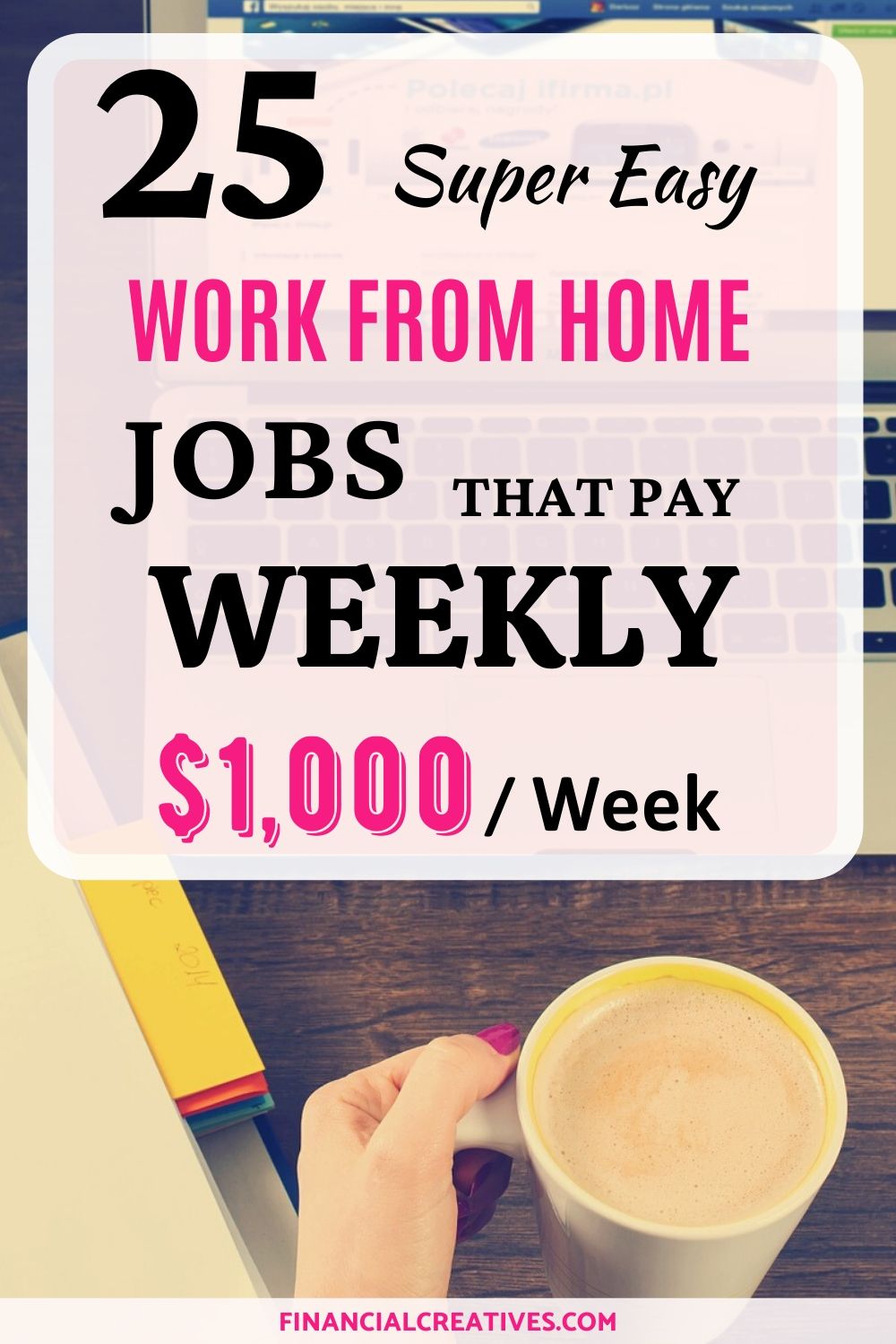 I am not saying that you should quit your current job unless you want to. What I'm suggesting are side hustles that can inject more money into your pocket.
At least, this will mean that you'll not have to stretch your salary and miss on essential bills. Furthermore, finding a weekly side hustle will ensure you have enough to save and cater for any emerging needs.
By the way, check my post on side hustles for someone with a full-time job. I share insights on some of the most lucrative jobs you can do on the side while still working full-time.
I want to build on the post by pinpointing the exact jobs that pay you weekly.  As always, my goal is to empower you financially and see you become economically independent.
Let's go straight to why you are reading this post. Here is the list of jobs that pay weekly  (plus who is hiring):
1. Become a Pet Sitter Through Rover
(Potential Pay — $25/night)
If you are a pet enthusiast, then you should consider looking after pets, more so puppies. It usually is one of the most straightforward jobs that pay weekly, and it comes with an attractive pay.
Signing up at Rover.com provides you with the opportunity to offer pet boarding services at about $25 a night. You can also pet-sit during the day and make the same amount or even more depending on the number of hours you do it.
According to Rover.com, you can make as much as $1000 or more a month as a pet sitter. Remember, you can offer the service at your home unless the pet owner insists that you do it at their place.
I like the fact that Rover.com now has a user-friendly mobile app. You can use it to find pet boarding and pet sitting jobs near you.
What's more, you can use the application to reach out to pet owners for inquiries or payment requests.
(Potential Pay — $20/hour)
Can you look at a document hawk-eyed and pick obvious and hidden mistakes? Can you fix them to ensure that the document is readable? If yes, then you should try working as a proofreader.
A good place for such a job is Proofreading Pal. They pay $20 an hour averagely and never run out of jobs. The beautiful thing about the job site is that you can cash out weekly.
What I've noticed, however, is that they tend to have a tough screening process. And for that reason, I recommend this course or more professional paid course. It'll help you prepare much better for the test.
To get started on Proofreading Pal, sign up here.
As a bonus, check out this post to find more legitimate proofreading gigs that you can do at home.
3. Become a Transcriptionist Through TranscribeMe
(Potential Pay — $20+/hour)
We continue our list with probably the one of the most popular online job right now. So many people and companies are willing to pay you to convert audio recordings and voices into text, what we call transcription.
Are you wondering if you should pursue transcription jobs? How about you take this free mini-course to find an answer to the question. It is a good program to learn the basics of transcription before joining TranscribeMe.
On TranscribeMe, proofreaders make as much as $20 an hour with some even making more. Clients are also generous on-site, and they won't hesitate to throw in a bonus if they like your work.
TranscribeMe pays on Thursdays via PayPal and never runs out of transcription jobs. Sign up here to get started with these weekly pay jobs.
4. Transcriptionist/Translator Jobs On – Rev
(Potential Pay –$45/hour)
Rev is primarily known for transcription jobs, but they also offer translation opportunities.
They are arguably the best payer online when it comes to transcription. You can make up to $45 an hour on Rev, which is double what you make on TranscribeMe.
I like the idea that Rev gives freelancers work flexibility. The platform allows you to decide on the number of hours that you can work. The other impressive thing is that you'll find hundreds of well-paying transcription jobs on site.
Rev requires you to pass their quality check exam before they can accept you. So, again, I recommend this course as a preparation tool for the exam.
Rev pays on Mondays via PayPal. Sign up here to get started on these work from home jobs that pay weekly.
5. Become an Article Writer Via Textbroker
(Potential Pay — $5 Cents/Word)
If you are an article writer looking to make some extra money at home, Textbroker provides you with an amazing platform to do so. There, you can write articles for as little as $0.007 to as much $0.05 per word. It all depends on the level that you are.
Usually, Textbroker expects you to sit for an assessment that they use to determine your writing level. The ranking starts at level 2 and go all the way to level 5. So, level  5 writers earn the most while level 2 writers collect the least.
Textbroker is generally competitive, but one thing I like about the article writing site is its consistent orders. There are always orders for freelancers to work on. Speed, however, is of utmost importance.
They pay weekly either by PayPal or check, but you need at least $10 before you can cash out. Sign up here to join Textbroker today.
6. Become a Blog Post Writer at  Verblio
(Potential Pay — $10-$72 /post)
Can you write something interesting that people can read? It could be in a niche like this in finance, or any other. Here's a guidebook to help you choose the ideal niche to pursue as a blogger.
Currently, bloggers on Verblio earn as little as $10 to as much as $72 per post. It all depends on your experience and creativity. So, Verblio is a great place to make some money when you are skilled and inventive.
They pay every Monday via PayPal, which means regular income for someone who writes blogs frequently. You can sign up here for this online job that pay well.
I like the fact that Verblio allows you to grab whatever job you want. The problem I have with them though, is that there are no guarantees. A client may choose to reject your post for whatever reason.
For this reason, I think that running your own blog may be ideal. That is if you know what you are doing. But still, even inexperienced bloggers can get started on their blogs if they have access to a blogging course like this project 24 course or this amazing SEO course.
Once you are ready to set up your blog, consider seeking hosting services from Bluehost. The hosting service suits starter blogs with low traffic. They offer you an affordable package ($3.95.month) characterized by a free domain.
Note that in case you start receiving more traffic, then you can switch to A2 Hosting. They are slightly expensive but provide you with unmatched speed, storage, and uptime.
Once your blog will start getting visits to the articles you've written, consider optimizing its speed and monetizing your website with EzoicAds to make passive income from your content
(Potential Pay — $10/hour)
Restaurant Revolution Technologies is an American company that provides off-premise assistance to different restaurants within the U.S. They handle careering services, takeout, and many other restaurant services.
Now, they are hiring virtual assistants to help them handle their incoming bulk orders. Their pay starts at about $9 an hour, and you can make $10 an hour once you complete your 90-day probation.
Generally, if you are looking for weekly paying jobs that you can do full-time, you should visit Restaurant Revolution Technologies today.
8.  At-Home Apple Advisors Jobs By AppleCare
(Potential Pay — $15-$21.hour)
How do you feel about providing technical assistance to customers via phone call? Are you naturally hospitable and a good chatter? Then you should consider making money as an AppleCare home advisor.
The job is straightforward. All you have to do is provide basic assistance to Apple customers. So, you may need first to familiarize yourself with the various Apple products.
Typically, AppleCare pays $15-$21 an hour, which is easy money if you ask me, considering that you work from home. They also pay promptly every week, which means you can have enough to cover your day-to-day expenses.

9. Become a Cold Caller Through Blue Zebra
(Potential Pay — $15.hour)
Do you know what cold calling is? Well, it is when you make unasked-for calls to people in an attempt to convince them to buy certain goods or services. So, it is generally a job that suits people with sales skills.
Blue Zebra is accepting cold callers today, and they are paying $15 an hour on average.
What I like about the company is that most cold callers double their pay after two months of working.
The company also provides you with several bonus opportunities and pay weekly via direct deposit.
Visit Blue Zebra today to leave your application for these jobs hiring that pay weekly.
10.  Phone Interviewer Jobs By MaritzCX
(Potential Pay — $10-$20/hour)
MaritzCX, a reputable research company, is regularly looking for telephone interviewers to join their team. Some of the responsibilities of a phone interviewer are:
Scheduling cold calls
Calling specific people and recording the responses
Assisting the interviewees to fill out questionnaires or forms
Depending on work experience and qualification, MaritzCX pays $10-$25 an hour, and you can cash out weekly. The beauty of it all is that you can work from home and decide the number of hours to commit.
11. Become a Call Reviewer At Humanitic
(Potential Pay — $5/hour)
Did you know that you can get paid for reviewing calls? Humanitic, a call reviewing company,  pays you for every call that you listen to and review.
On average, you can make $5 an hour. The pay is not much, but it'll at least cover a few bills at the end of the week.
What I like most about Humanitic is the freedom to choose the kinds of calls that you can listen to and review. They also give bonuses once you start earning.
Ready to start? Then sign up here to find these weekly paying jobs with no experience.
(Potential Pay –$10/hour)
Accolade Support is one of the best companies that pay every week. They have opportunities for call agents, and you get to pocket $7– $ 10 an hour.
Generally, you need to have good customer-handling and sales skills. You also need to be an excellent communicator.
The other things you need are a corded phone, quality headsets, and a quiet environment. It is that simple to get started.
13. Udertake Short Simple Tasks Through Amazon MTURK
(Potential Pay — $5-$10/hour)
Whenever it comes to ''weekly paying jobs near me'', MTURK is always an option. MTURK is a job service that connects Amazon clients with freelancers near them.
There you get paid for doing straightforward and short tasks such as research, data entry, and image identification. The jobs are so simple for you to complete a couple in an hour.
The only problem I have with MTURK is that the client can reject the work you do without a sensible reason. I think this can be unfair to an inexperienced freelancer.
14. Short Simple Tasks Jobs At Clickworker
(Potential Pay — $10/hour)
If you are looking for something close to MTURK but with slightly attractive pay, Clickworker is a worthy pick.
Like MTURK, Clickworker lets you work online from home and make money performing short and simple tasks like writing, surveys, and data entry.
Clickworker is generally one of the most flexible micro-tasking marketplaces that I know. You get to decide how much to work and when you should do it.
As a tasker on the platform, you can log into the website any time you are free to see which kind of micro-tasks you can do.
The site pays via PayPal on Wednesdays, provided you have $6 or more in your account.
15. Become an English Tutor  at NiceTalk
(Potential Pay — $10/hour)
NiceTalk is accepting applicants for those who can teach English as a foreign language (ESL).
Your job is to do a one-on-one video session with non-English natives to help them improve their English.
NiceTalk pays you $10 an hour, and you can cash out weekly through PayPal. You just need to have $20 or more in your account.
They mostly prefer applicants with teaching experience and a TEFL or TOESL certificate, but it's not a must. The primary requirement is fluency in English.
Are you ready to register as an ESL teacher on Nice Talk? Sign up here.

16. Become an Academic Tutor at Chegg
(Potential Pay — $20/hour)
Are you a trained teacher either at grade school or college level looking to earn extra cash? Chegg is a great place to hustle. There, you can make $20 an hour tutoring the subject of your choice.
Your work is to help students do their homework and prepare for their exams, something that some people call cheating. Anyway, who cares when you can pocket $20 an hour? (pun intended)
Chegg claims on their website that most of its top tutors make $1,000 or more in a month. But generally, they pay on Wednesday via PayPal.
If you are set to start working as an academic tutor at Chegg,  click here to sign up for these weekly paying jobs.
17. Academic Tutor Job at Skooli
(Potential Pay — $20+/hour)
Skooli is arguably the best paying site for academic tutors. The least many tutors get on the platform is $20 an hour. For this reason, expect a few strict requirements.
For one, Skooli requires you to have at least a teaching certificate or license or an ESL certification. Also, having a postgraduate degree gives you an advantage during the application.
Your goal is to help students better their grades, and that's why having a teaching background is preferred.
Skooli pays you via PayPal, and you can withdraw your money any time as long as you have earned $100 or more.
Sign up here to join Skooli today.
18. Make Money With Online Surveys – Swagbucks
(Potential Pay — $35/survey plus bonuses)
Here comes the mother of survey sites. Swagbucks is one of the most exciting survey sites out there.
For someone who is looking for legit online jobs that pay weekly, Swagbucks provide you with many ways to make cash.
For starters, you can start earning by claiming your $5 welcome bonus. All you have to do is sign up here.
The next thing is to do surveys which earn you up to 100 points. The points are generally known as swagbucks (S.B.). Typically a single S.B. is equivalent to 1 cent.
You can also earn points by converting Swagbucks into your search engine or using the site for the following:
Watching videos online
Playing different games
Shopping around stores
So long as you have 2500 SB (equivalent to $25), you can cash out at Swagbucks. Swagbucks pays typically within five days via PayPal.
The bonus is that you can use their mobile app to make money on the go.
19. Become a Research Respondent –  Vindale Research
(Potential Pay – Up to $50/survey plus bonuses)
Vindale Research is another top survey and research site. Like Swagbucks and MindsPay, Vindale Research earns you a welcome bonus and allows you multiple ways of making money.
They don't pay much as a welcome bonus – just $1, and you can claim it here. The biggest payouts are in the researches and referrals.
Vindale Research pays up to $50 for most research responses with a few other paying as much as $75. And to appreciate you for informing your friends about the company, you get $5 for every referral.
More to it, you can make more money reading their emails, sharing feedback, watching online videos, among many other online activities.
Vindale allows weekly cashouts via PayPal as long as you have $50 or more in your account.
20. Make Quick Cash With MindsPay Online Survey
 (Potential Pay –Up to $50-$75/survey plus bonuses)
If you are looking for a survey site that promises you similar perks as Swagbucks, then don't look further than MindsPay. MindsPay allows you to make money every day by doing surveys and referring friends.
MindsPay pays as much as $50-$75 for reviewing different products and services. Mark you; it only takes 5-15 minutes to complete most surveys.
You also earn about $0.05 for reading each promotional email that the company sends your way. Remember, the promotional emails come with coupons and other offers that you can capitalize on.
As if that is not enough, you get a $3 welcome bonus for signing up. Claim yours here.
Provided you have $50 or more in your MindsPay account, you can cash out any time.

21. Become a Music Reviewer  At SliceThePie
(Potential Pay — $5/hour)
Here comes the biggest surprise of my online working career. Do you know that you can make money just by listening to music? Fun, right? That's the case when it comes to working for SliceThePie.
The music reviewing agency pays you about 15 cents for every new song that you listen to and review. So, you are likely to make about $5 an hour. It is not much but easy money for an easy job.
SliceThePie pays on Tuesdays via PayPal.
22. Earn From Product Testing Jobs – UserTesting
(Potential Pay — $10/hour)
Today, apps and website owners prefer to first test for the user experience of their products before formally launching. So, they have to pay ordinary users like you and me to try their products and leave feedback.
Can you commit an hour or so a day to test websites and apps, what is known as user experience testing? It pays well, with my favorite site for such gigs being UserTesting.
There, you can make $10 per product test, and you only take a maximum of 20 minutes to complete a test. So, you can make as much as $30 in an hour.
Grab your device and microphone and visit UserTesting today to sign up, work online from home and get paid. They pay within seven days of completing the task, and it's via PayPal.
(Potential Pay — $12+/hour)
Are you proficient in one or two other languages besides English? If so, LanguageLine Solutions is seeking your service. They are always hiring interpreters and translators from the U.S, U.K, and other English speaking countries.
Most of the LanguageLine Solutions' clients are schools, law enforcement agencies, health organizations, and corporates.
As a result, their services are always in demand, and this means regular opportunity for the workforce.
Visit LanguageLine Solutions today to see available opportunities.
24. Engage Into General Freelancing – Upwork
(Potential Pay — $10-$100+/hour)
Are you wondering what jobs pay every week consistently? Then the answer is Upwork.
Upwork is arguably the goldmine for all freelancers. From content writers and social media managers to transcriptionists and virtual assistants, Upwork has all sorts of jobs.
You only need to sign up for a freelancer's account for free, create an eye-catching profile, and wait for your approval to start bidding for jobs.
Most clients pay reasonably. While newbies are likely to get gigs that pay $10 an hour, experienced freelancers can make as much as $50 an hour.
We also have technical disciplines like video processing, virtualization, Google experiments, and SQL, where freelancers make $100 plus an hour.
25. General Freelancing Jobs – Fiverr
(Potential Pay – $15+/hour)
Fiverr is another treasure house for freelancers that run a little different from Upwork. Unlike Upwork, freelancers on Fiverr (popularly known as sellers) set gigs to promote their services and potentially reach out to clients who can hire them.
You are allowed to start selling services for as little as $5. Most freelancers, however, make $15 plus an hour doing article writing, copywriting, virtual assistance, transcription, among many other gigs.
Fiverr allows you to cash out your money within seven days if you are a top seller. You can learn how to receive the top-sellers badge here.
Closing Thought:
There you have 25 of the best weekly paying jobs. I consider them to be reliable, something that we all expect from our side hustles.
Instead of waiting for the end of the month to squeeze your paycheck, it is time you start making extra cash weekly, and it begins with trying any of these side hustle ideas.
Loved This Post? Save It To Your Favorite Pinterest Board!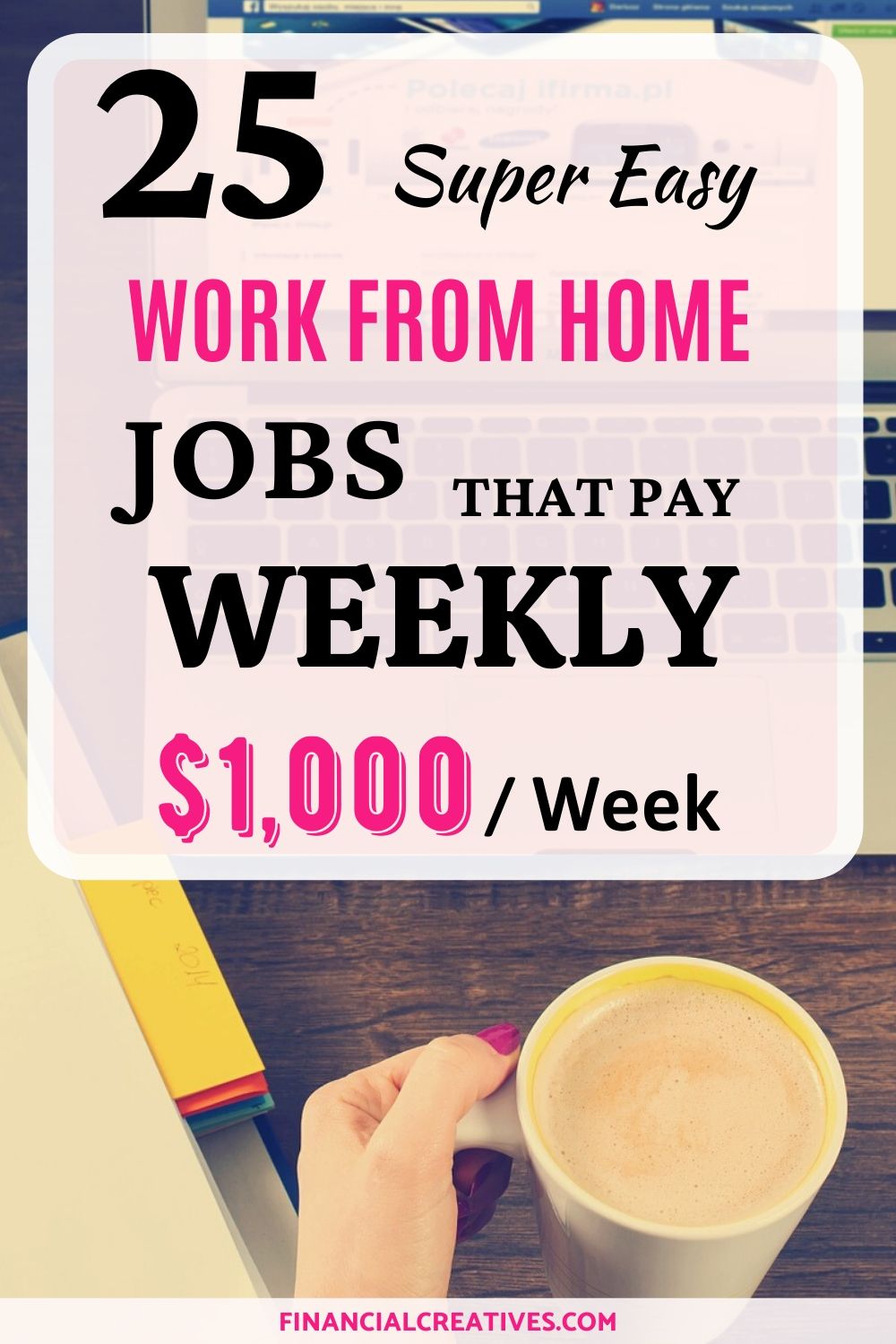 Which is better: job paying weekly or once a month?
You'll enjoy working with weekly pay if you don't like waiting until the end of the month to get paid. But if you are looking for a weekly part-time job, then this will ensure that you have enough money to save and meet any needs that arise.
What are the best online jobs that pays weekly?
There are several online jobs that pay weekly, such as freelance writing, virtual assisting, data entry, online tutoring, and website testing. However, the best online job that pays weekly would depend on an individual's skills, experience, and preferences.