Are you looking for legitimate ways to make money on the side with a full time job? You are not alone. I have been there before, and so I understand what it means to depend on take-home pay.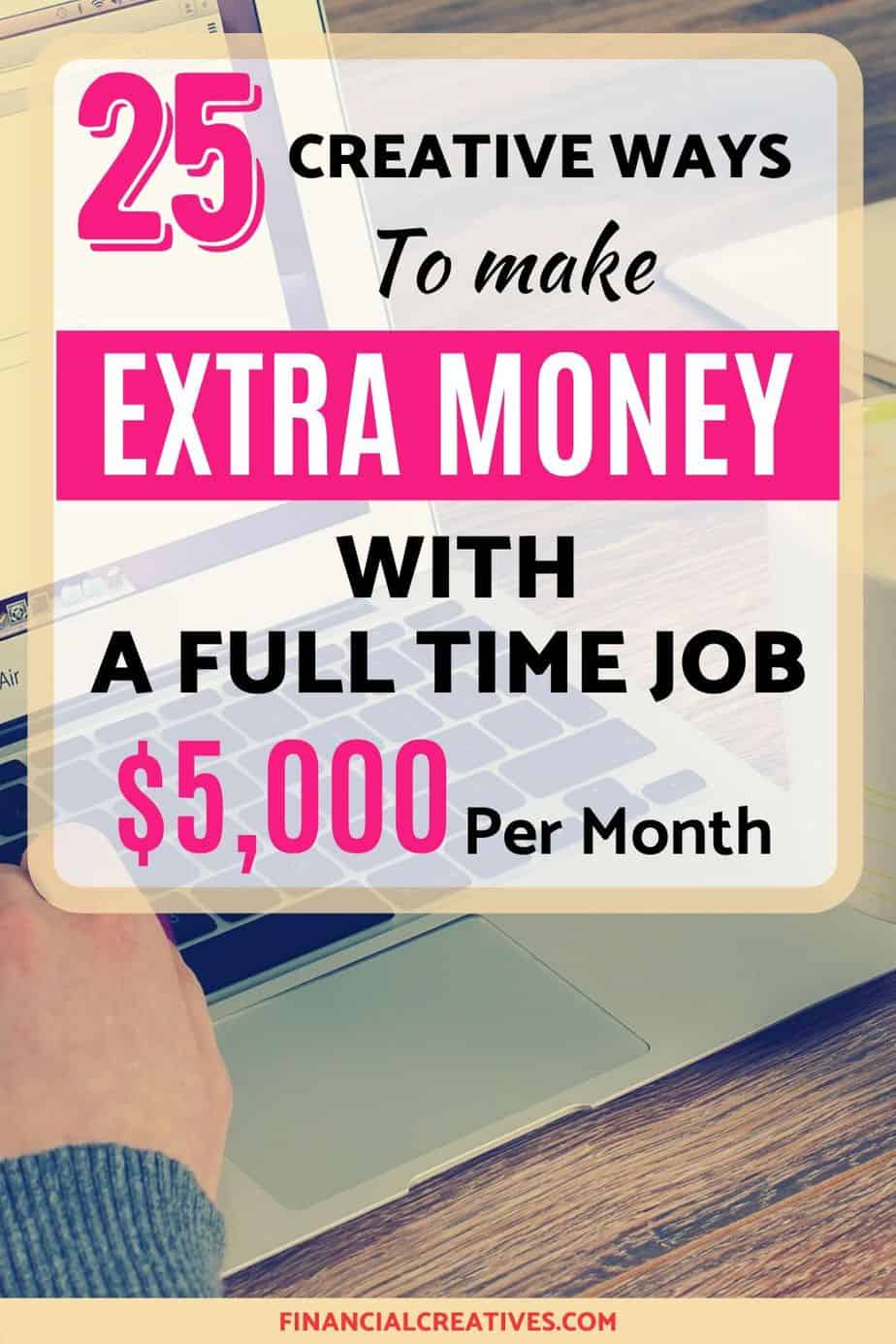 It is no secret that most Americans survive on a paycheck. What's sad, though, is that most of us get overwhelmed by stress just because our full-time jobs don't pay us enough.
That is according to an American Association Press Release, which links most national mental health issues to money stress.
With many jobs on hold and others on the blink of collapsing due to harsh financial times, the internet appears like a major solace. There, you can find jobs that pay well to do in your free time. You even have the option of deciding whether to work online or offline.
 Top 25 Ways To Make Money On The Side With A Full Time Job.
Let's start our list with the online side hustle ideas at home extra money:
14 Online Side Hustle Ideas at Home For Extra Money:
1.   Make $50 a Day From Online Surveys
Here comes one of my most favored hobby. I enjoy answering surveys because they are easy money, and I don't even have to think hard about the answers I give.
One thing I notice about most survey sites is that they offer signup bonuses that I should let you know about. Panda Research, for example, offers you a $3 signup bonus while Vindale Research gives you a $1 bonus.
Others like Swagbucks, MyPoints, and InboxDollars earns you a $5 welcome bonus. In addition to the signup bonuses, I like the fact that I can make anything between $5 and $50 answering surveys.
I also have to include Survey Junkie here that earns you cash rewards and allows you to make about $9 on a 5-minute survey.

2.   Search Anything Online and Get Paid
The online market is just crazy. Did you know that you can earn money only by searching the web? Well, that is the kind of advantage that you enjoy when you sign up at Swagbucks.
As highlighted before, Swagbucks offers you a $5 signup bonus. And once you bag it, Swagbucks pays you for using their search engine to do the following:
Shop online
Watch viral videos
Search the web.
I like the fact that Swagbucks has an app that you can use to search for anything online on the go.
Away from Swagbucks, InboxDollars is another survey site that pays you for using the internet. As seen also, InboxDollars pays you $5 for signing up. Claim it here.
3.   Make More Money on Instagram
Do you like spending time on Instagram? You may not know this, but there are several ways to make extra money with a full time job on the platform.
For starters, consider selling your Instagram pics to a market place like Foap.com. You don't need a massive Instagram following to do it.
You can also earn as an affiliate marketer on Instagram. You only need to get affiliate links from a site like PeerFly.com and share them on Instagram. Doing so will allow you to earn commissions from all your referrals.
4.  Collect $20 an Hour from Fiverr Working as a Virtual Assistant
Now that most businesses are internet-dependent, there is an increased demand for virtual assistants (VAs). We are seeing virtual assistants taking over the roles of personal assistants, receptionists, and office-based customer agents. So, if you can handle administrative functions online, it may be a good idea to look for a VA job.
I have noticed so many companies looking for virtual assistants on Fiverr. There, beginner virtual assistants earn as much as $20 an hour. So, if you have prior experience as a personal assistant or a customer agent, you can make much more.
Sign up here to start working as a VA on Fiverr.
5.  Freelance-Write On Upwork or Fiverr to Make $200 a Week
Upwork and Fiverr are among the best freelancing sites right now, and they are my favorite picks when it comes to writing side hustles from home.
Can you write down precisely what you hear? Then try doing transcription on either site. Don't worry if you have no basic training as this free transcribing course has got your back.
If you can write blog posts, landing pages, scripts, and newsletters, you should look for the gigs on the two freelancing sites. Use this free proofreading workshop or a more professional paid course to polish your writing skills or to secure proofreading jobs on the websites.
6.  Go Viral on YouTube Doing Ordinary Things Attractively
YouTube is a platform that we should all take advantage of. I am trying my luck on Financial Creatives, focusing on money-making and financial management.
The beauty of YouTube is that you can do anything from offering tutorials to entertaining people. It is one of the smartest side hustles to make money.
Here comes the question in most people's minds – How do I make money on YouTube?
As my title suggests, you only need to do ordinary things attractively to stay a step ahead of the rest. It could be offering cooking lessons, saving tips, computer hacks, or even showcasing martial art.
Primarily, I make money on YouTube through:
7.   Start Blogging with a Free Domain Name from Bluehost.
Is there a particular niche that you can talk about? How about traveling, marketing, finance, parenting, or fitness?
These are just some of the niches that you can blog about. My niche is finance.  I collect $3,000 on average on my blogs through paid ads with EzoicAds and affiliate links. Check out how you can start a blog here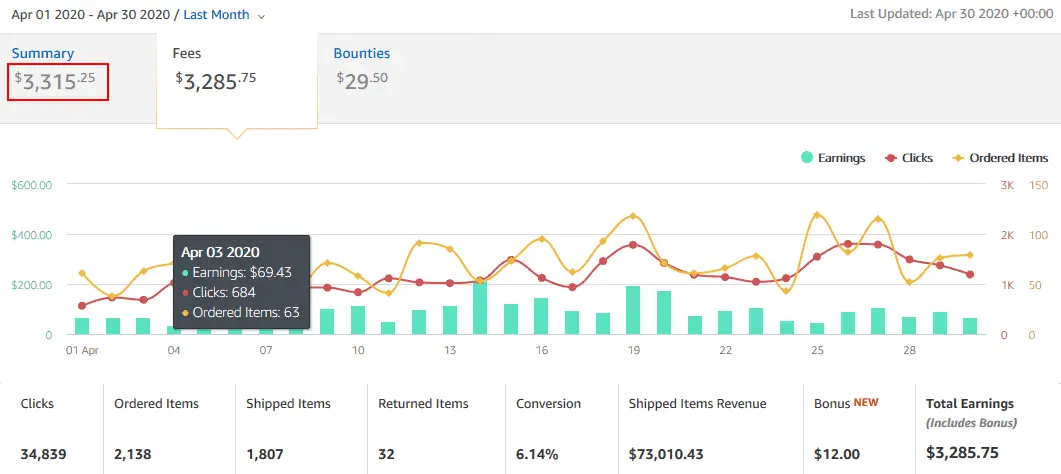 You, too, can do it in your niche of choice, but you need a good hosting service. For beginner blogs, I recommend Bluehost. They host you for $3.95 a month, and you obtain a free domain.
But when you start getting more traffic on your blog, consider switching to A2 Hosting. Their plans are slightly expensive if compared to Bluehost, but their hosting is unparalleled with great site speed and customer support.
A bonus from me to you is this course that teaches more about online blogging.
8.   Make $10 an Hour as a User Experience Tester
How do you know that your website or mobile app is user-friendly? You test it, right? Well, that is exactly how you can make money.
User experience testing is one of the easiest ways to make money on the side with a full time job.
A website like UserTesting pays user experience reviewers $10 an hour for most tests. With most tests taking about 10 minutes, user experience is something you can do on your lunch break.
Some tests on UserTesting even pay as high as $60. Does it sound like some money you would want today? Then sign up at UserTesting.
9.  Earn $25/hour or More as An Online Consultant
Whether you are a tech guru, a social media advisor, a successful entrepreneur, or a professor, you can earn extra cash offering online consultation services. It is a great hustle when looking to supplement your regular pay.
More to it, it helps you help other people who you cannot reach on a day-to-day basis.
With most sites paying $25 an hour going up, you can make as much as you want as an online consultant. I am talking about these two major sites:
Clarity – Here, you earn $60 an hour offering business consultancy services.
Maven – Here, the starting rate is $25 an hour, and you can even make double that per session. Maven accepts all kinds of consultants.
In addition to the two, you can also try JustAnswer, where you make at least $2 per question. Like Maven, JustAnswer accepts all kinds of experts.
10. Teach English for $20 an Hour
Are you an English native with a recognized degree? If yes, then you should contemplate teaching English to children in non-native English speaking countries.
A good place to sign up for such a lucrative side hustle is VIPKid. The platforms connect you with children in Asia, more so China who need English lessons.
The attractive element of teaching English at VIPKid is the pay. You can make $20 an hour on average.
Ready to start? Sign up here.
I have also identified these three training programs to be among the best for someone looking for lucrative side hustles:
11.  Launch an Online Course to Make $500 a Month
If you can teach online, how about you go a step further to create an online course and sell it? I recommend Udemy for that.
Udemy allows you to create just about any course and to charge it however you want.  If the students find the materials to be helpful, they'll buy.
An online course can help students when on break or those who require extra tuition to prepare for their exams. In turn, you get paid very well. Most online courses make $500 a month on average on Udemy.
You can also try selling your online course on any of these platforms:
12. Receive Royalties From Photo Sales
Photography is no longer a hobby. If taken seriously, it can be a very productive hustle.
Can you shoot natural photos that are just eye-ball grabbing? Do you have beautiful pics on your phone and are wondering what to do with them? Try selling them online. It is one of the easy side hustles.
In particular, consider uploading them on iStockphoto and wait to receive royalties from the stock photo site. Most bloggers, businesses, and marketers usually rush to the website to see what photos to buy.
You can also upload on Depositphotos, which I also think is one of the best paying stock image sites.
Creative photographers make about $500 a month in royalties on these two sites. So, it is worth a shot.
13. Launch a Craft Store on Etsy to Start Making $500 a Month
Etsy allows you to get the most out of your creativity. If you can make fine art, home decor, clothing, vintage good, or jewelry, Etsy is the best place to sell them. You can also sell graphic designs there and get to collect $500 a month.
It is easy to set up an Etsy store. What's more, Etsy allows you to customize it and pick your rates.
Usually, you pay $0.20 to publish a product and start selling on Etsy. And once you sell, Etsy takes 5% as transaction fee.

Are you ready to start trading? If not, then enroll for the Udemy Etsy seller's training to help you get started.
14. Make $200+ Selling Artistic Designs
Are you wondering what to do with your artistic talent? How about you upload your designs onto clothes and household items and then sell the final product online?
That is the rare opportunity that CafePress offers you. Zazzle also has a similar chance. In both sites, you make money when site visitors who like your design make an order.
Also Related Reads:
11 Offline Side Hustle Ideas with a Full Time Job.
Here are some offline ideas on how to make extra income while working full time.
15. Offer to Be a Friend and Get Paid
We all need friends, right? How about when you don't have any near you or at all? As silly as it sounds, some people pay for friends. If you are having doubts, just visit RentAFriend today.
There, you'll find people who are willing to pay up to $100 for friends. You'll find people with varying interests looking for friends to compliment them.
It could also be someone looking for a companion for an event or someone who has the same hobbies as them. Consequently, you can be the company they need and earn some money on the side.
16. Host People to Collect $100 a Day
I see two major opportunities here. One, you can list a house or an extra room on Airbnb to make money from the guests that you accommodate.
Most travelers prefer to book actual homes for their stay as opposed to hotels. So, if your property meets their expectations, they'll contact you. On average, homeowners make $500 a month on Airbnb.
The other business opportunity involves hosting dining functions. Here, the app that I have in mind is TastePlease.com It allows you to organize a dining event at home and invite people over who gets to pay you.
Overall, hosting people is one of the smartest and most effective ways to make money on the side.
17. Rent Your Storage or Parking Space for $100 a Month
It is not just your room that you can rent out. You can also rent your driveway, store, garage, or the entire basement to people around you who need it.
Technology has made it easy to find such opportunities online but are be able to do them offline. I am talking about listing your space on Neighbor.

Neighbor.com allows you to decide how much to charge. In most cases, hosts make as much as $100 a month. Surely, this is easy money for a space you are not using. It is one of the most straightforward ways to make money on the side with a full time job.
List your space here to join the Neighbor.com community.
18. Share a Ride to Make Extra Cash
Do you own a car but are too tired to drive people around once you get off work? How about you rent it out and get to make extra cash?
If you are looking for somewhere to make around $500 a month, I suggest that you start with TURO. It only takes 10minutes to list your car there, and you can do it here.
Another worthwhile ride-sharing service that you should consider is GetAround. GetAround is a new entrant that is gaining traction very fast. Use this special link to list your car on the website.
19. Make $10 an Hour Driving People Around
Why worry about how to make extra money on the side when you own a car? If you prefer to be the one driving people around instead of renting your car, consider joining the Uber or Lyft ride-sharing communities.
You can make about $10 an hour on either service after deducting expenses. So, if you can do 10 hours a week, you can make $100 on the side. Not bad at all for a side hustle.
I have also come to learn that you can also sign up at both apps at the same time. That's so cool for someone who is trying to make quick money on the side.
20. Get $20 and Hour Delivering Food
Most people who spend most of their time indoors prefer to order food from outside. So, if you have a car but are not okay with the idea of driving people around, maybe you should consider carrying food instead.
It also works if you have a speedy scooter or motorbike.
My favorite place for such hustles is Postmates. There, delivery drivers make about $20 an hour, which means you can make $100 if you manage 5 hours. Sign up here to join Postmates today.
You can also try Instacart or UberEATS.
21. Baby Sit for an Unbelievable $100
Instead of just staying indoors? Why don't you take babysitting jobs? Babysitting is not something new.
From time immemorial, stay-at-home moms have been babysitting for pay. So, it is among the most reliable ways to make extra money from home
If you work during the day, you can babysit during the evening. Given that most babies sleep early, you'll have minimal work then.
And if you work during the night, consider babysitting during the day. Doing it for 5 hours or more can easily make you $100 on Care.com.
22. Walk Dogs for Earn and Get Paid $300 a Month
Here comes one of the best side hustles for introverts. Do you know any dog owners around your place who need professional dog walkers? Don't worry if your answer is negative.
All you need is Rover. The dog walking site allows you to apply for dog walking gigs around your area.
Dog walking is a nice hustle that you can do during your free time. You can even use the Rover mobile app to save on time.
One thing I fancy about the side hustle is that it doesn't just inject extra cash, which is about $300 a month. What it also does is allow you to exercise just as much as the pet you are walking.
An alternative to Rover is Care.com. You can visit the website to identify available dog walking gigs in your neighborhood.
23. Collect Your $200 From Amazon Home Services
If you are good at cleaning, then you should find ways to make extra money from home doing it. If you are not sure where to get the jobs, consider Amazon Home Services.
It is an Amazon service that enables you to find cleaning gigs where you are. From dusting and mopping to trash removal and vacuuming, Amazon Home Services has got your covered during your free time.
They also accept handymen, fixers, and assemblers. Overall, you can potentially make $200 through the service.
24. Make $300 a Month as a Tasker
Can you spare an hour or two to run errands and do small tasks for people? Then you should consider signing up at TaskRabbit.
There, you can do simple things like delivering groceries, housecleaning, installations, and repairs. So, it is a nice marketplace for DIY types.
I like the fact that TaskRabbit never runs out of tasks. Though you get jobs online, the work is done offline.
TaskRabbit also has a mobile app you can use to answer job invites, send invoices, or sign up as a tasker.
25. Become a Secret Shopper
We all love shopping, especially when there is an incentive. We like running to stores that offer discounts and those that give us reward points. Now, there is a new way of making extra money from shopping.
I am talking about secret shopping, which is popularly known as mystery shopping. Here, you need to act as a regular customer and shop at assigned shops normally. You'll then give a review of your customer experience and get paid for it.
Do you fancy the idea? Then consider checking out these websites today:
Conclusion
There you have 25 ways to make money on the side with a full time job. I hope that you end up finding two or more suitable choices and implement them.
I cannot think of any other ways that are more practical, lucrative, and, more importantly, legit than what we have above. So, all the best as you start your side hustling today.
Liked this post? Share it on Pinterest!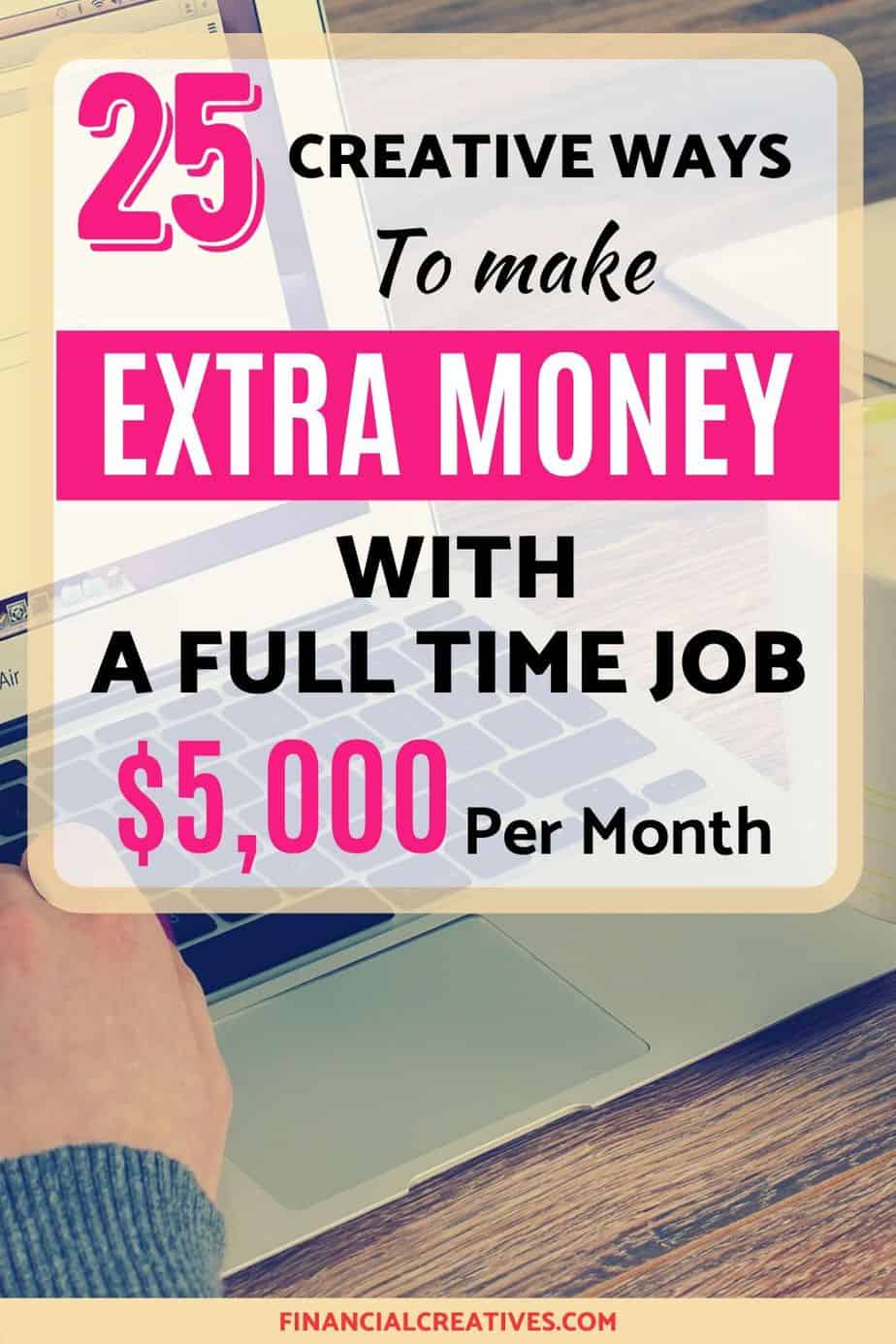 Are there many options for legitimate side jobs online?
If you are looking for legitimate part-time jobs on the Internet, then this will not be a problem for you. First of all, consider your skills and interests when choosing a job. On the web, you can find various part-time jobs, using online surveys, Instagram, Upwork, Fiverr, YouTube, etc.
What are the legal ways to make money on the side with a full time job?
There are various legal ways to make money on the side while working a full-time job, including freelancing, selling goods or services online, starting a small business, investing in stocks or real estate, and participating in paid surveys or focus groups.