In an ideal economy, we would be making enough money working day time and dedicate the evenings for resting.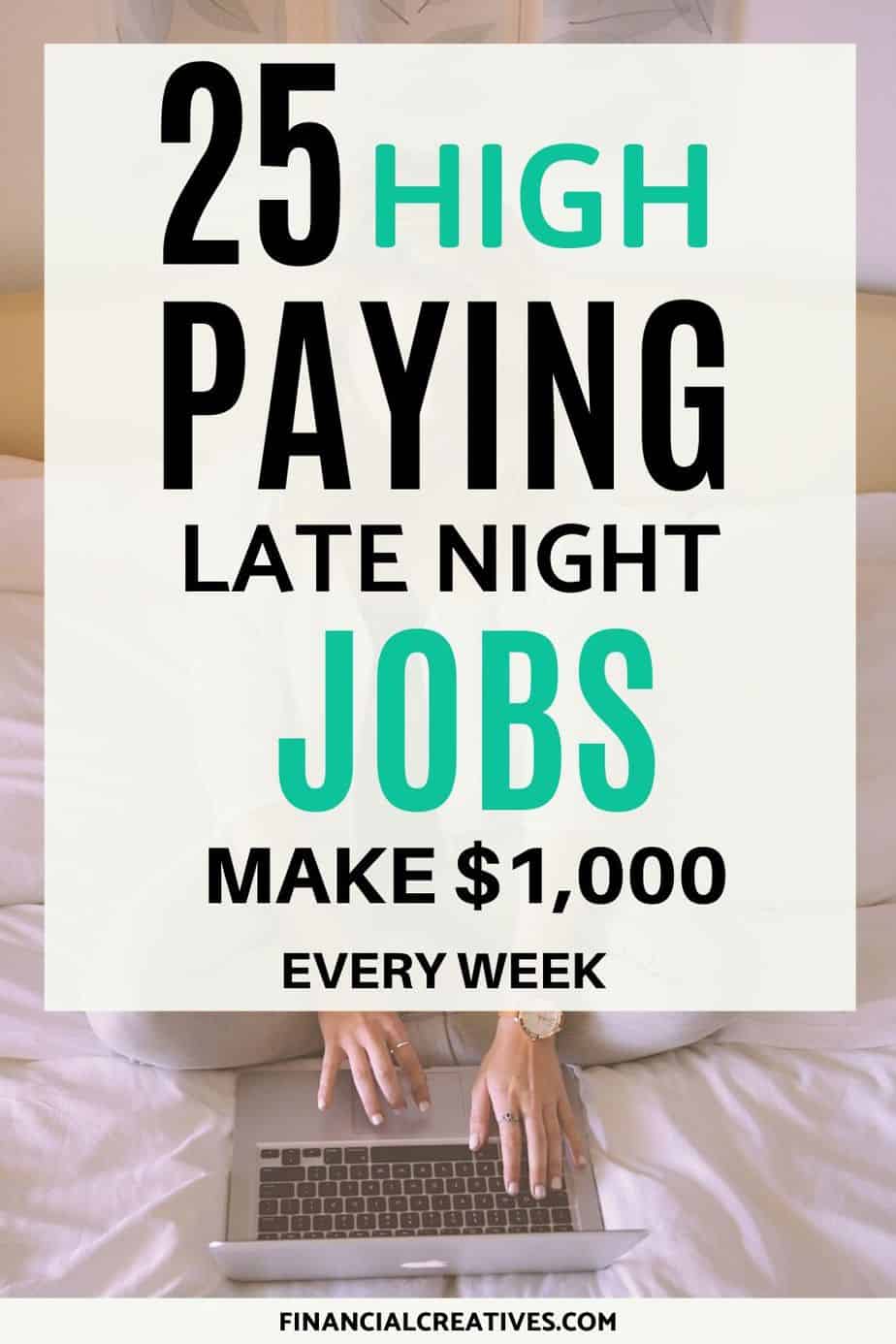 Sadly though, our economy is not an ideal one and we have so many responsibilities to meet with our not enough paycheck.
Bills have to be paid, and debts have to be stopped from mounting. It's almost impossible to do so if we are dependent on a paycheck. So, part time night jobs are something we have to give utmost consideration.
I'm going to show you some of the most flexible part time night jobs you can do in your free time. You should also check my post on  various ways you can make money on the side with a full-time job. I have covered a few extra tips you can add to what you'll learn here.
But before we can begin with the list for today's post, why exactly do I think evening part-time jobs are good for you? Here are the obvious reasons:
The chance to make extra money to support your paycheck
Most part time night jobs are sustainable
More importantly, you work flexible hours
So, can we start with the list now? Here 25 flexible jobs for night owls:
1.   Make Money On Your Blog
Before we can get to the money-making part, let's first understand who a blogger is. A blogger is simply a person who creates niche-specific content that readers find interesting.
For example, I'm a finance blogger, but we also have niches like travel, photography, health, parenting, and lifestyle that you can blog about. I recommend this guide that has 200 plus niches that you can explore.
Now that everything is clear; let's talk about money. I make over $2,000 a month passively with my blogs. I do it part-time, with my source of earnings being ads and affiliate commissions.
So, are you ready to start blogging? Learn how to do it with this project 24 beginner's course and consider Bluehost as your hosting service. You'll get a free domain from them, and you only get to pay $3.95 per month for the hosting.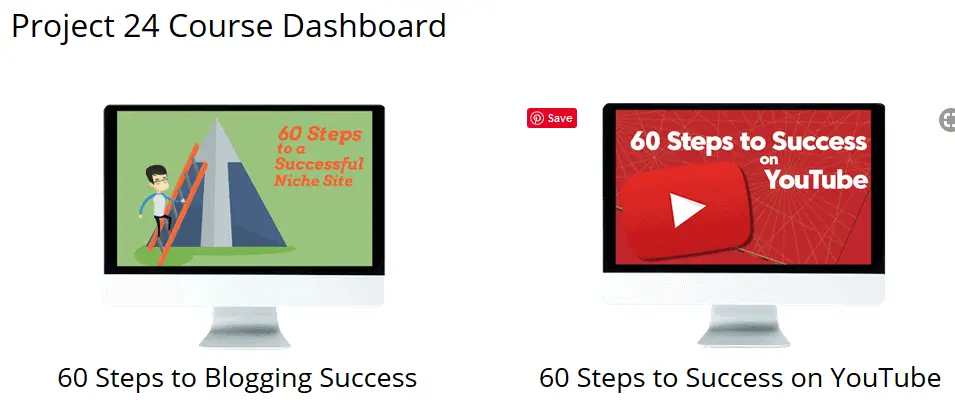 2.  Freelance on Writerdomain – Earn Up to $50 Per Page.
I'll start by explaining who a freelance writer is. A freelance writer is a skilled writer who creates market-specific content for different clients. Thus, it means you are not tied down by any client.
You also get to negotiate your rates and pick your comfortable working hours. So, freelance writing gigs are generally some of the most flexible evening part time jobs.
One of the best freelance writing sites is Writerdomain. On the site, freelance writers make $20-$50 per 1000 words.
Generally, you need 2-4 hours to a complete a 1000-word article. So if you can write an article every evening, you can make as much as $50 a day.
Are you interested? Then sign up here to join Writerdomain today.
3.  Teach English on VIPKid – Pocket $22 Per Hour
Are you a teacher on a payroll who would want to make decent cash on the side? Maybe you are a retired teacher but are still skilful. Or perhaps you are a graduate with a non-teaching degree but very proficient in English.
Why don't you consider offering English lessons on VIPKid and get to pocket about $22 an hour? Teaching gigs on the platform are among the best paying overnight work from home jobs.
The beautiful thing about working for such an online program is that you can set your working hours. You even don't have to worry about the lesson plans or the learning materials as VIPKid handles that.
Sign up here to start your online tutorial journey on VIPKid today.
4.  Freelance on Textbroker – Make Up to 5 Cents Per Word
Textbroker is another amazing freelance writing site. The minimum rate per word is 2 cents, which is what beginners (level 2 writers) make. But still, you can make as much as 5 cents per word if you get to level  5.
The advantage is that jobs are consistent on-site, and they have a supportive customer desk.
But before you can join the platform, you have to sit for a test that determines what level you'll be.
Sign up here to join Textbroker today.
5.  Evaluate Search Engines at Leapforce – Earn $13 Per Hour
As usual, let's start by understanding first who a search engine evaluator is. This is an expert who analyzes search results based on their relevancy (usefulness) and quality.
If you are interested in pursuing search engine evaluation work from home night jobs, it's a good idea to enroll first for this training. It equips you with the fundamentals of the job.
Today, you can find search engine evaluation jobs on Leapforce, and you are likely to make $13 on average. Appen allows you flexible hours, and they pay promptly every month.
6.  Proofread at Scribendi  – Collect Up to $45 Per Hour
Do you know what proofreading is? In simple terms, proofreading is the act of finding obvious mistakes (typos, misspells, and other errors in the text) and correcting them.
So, do you have time for such a job in the evening? It will only take a few hours, and you get to pocket $10-$45 an hour if you work for Scribendi.
Scribendi promises consistent proofreading job on-site, and you can work as many hours as you want.
Generally, Scribendi only accepts English natives, and you need proofreading experience. For this reason, consider signing up for this proofreading program.
Check my latest post on legitimate proofreading jobs to learn more about other genuine proofreader recruiters.
7.  Transcribe at TranscribeMe – Receive Up to $20 Per Hour
Let me begin by explaining what transcription is so that you can decide whether it is doable.
Transcription is the act of listening to audio files and typing what you hear. So, it requires you to be a good listener and at the same time, a first-rate typist.
Are you ready to start transcribing? To prepare better, consider pursuing this free short transcription course. And when it comes to finding a job, TranscribeMe is among the best-paying transcription job sites today. There, you can get up to $20 an hour.
You can sign up here to work from home at night as a transcriber on TranscribeMe.
8.  Transcribe at Scribie – Earn Up to $25 Per Hour
Scribie pays reasonably, and it's a good alternative to Rev.com. Unlike Rev.com, Scribie can accept you even without transcription experience.
They also have an efficient payment system. Upon withdrawal, Scribie always ensures that you get your money the same day.
What's more, there are no minimum working hours. As a result, you can work as long as you want. You can log into their system anytime, find available work, and start working. The work approval process is also fast.
Apply here to join Scribie.
9.  Transcribe or Translate at Rev.com – Earn Up to $45 Per Hour
Rev.com may be ten years old, but it is one of the best paying transcription sites on the market.
With the possible hourly earnings being $45, you can make an unbelievable $90 a night if you can manage to transcribe for two hours.
Rev.com also accepts translators. So, if you are bilingual and are adept in both languages, consider doing translation on Rev.com. They pay promptly every Monday.
You can sign up here for the evening jobs.
10. Edit or Transcribe at 3Play Media – Earn Up to $30 Per Hour
Can you do either transcription or editing? How about both? Then you should visit 3Play Media today. The rates are $10-$30 an hour, depending on the experience and nature of work.
For either job, you need to have excellent communication skills and should be proficient in English. You also need a stable internet connection and should be a high-speed worker.
3Play Media has been hiring editors and transcribers since its launching in 2007. I have checked it out, and I am convinced it is legit.
11. Tutor Other Subjects on Tutor.com – Earn $12 Per Hour
Tutor.com is another reliable tutoring site. Unlike VIPKid, where their focus is English, you can teach other subjects on Tutor.com. Tuto.com has listed 40+ subjects on the website, which mean are unlikely to find a discipline that you can handle comfortably.
They allow you to work at night for as many hours as you want. Interestingly, you can tutor grade school children as well as those at the college level.
Typically, Tutor.com suits active teachers. So, if you can squeeze a few hours in the evening, Tutor.com is the hustle to consider. On average, tutors make $12 an hour.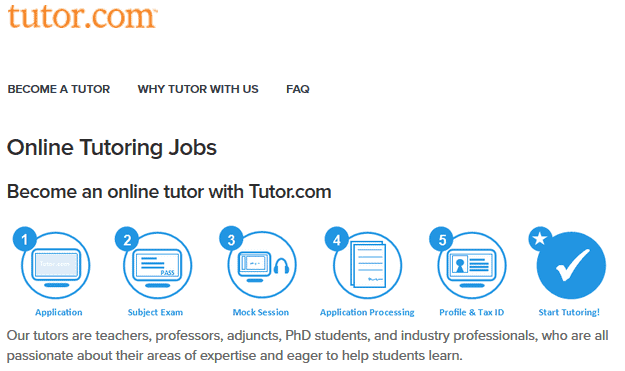 12. Teach on Brainfuse – Pocket $12 Per Hour
Brainfuse is another online tutoring program that allows you to make about $12 an hour or per session. Like every other online tutoring program, you get more money when you teach more hours.
Brainfuse pays you twice a month, either via check or bank deposit.
To get started, you need to have a college degree (not necessarily a teaching certificate). You also need to pass their background check before you can start tutoring.
I should also mention that you need to be computer literate to do these flexible works from home jobs.
13.  Amazon FBA Selling
Amazon FBA selling is one of the most lucrative businesses online today. So, what exactly is the job all about?
FBA is generally an abbreviation for Fulfilled By Amazon. It is a service that allows you to run a store on Amazon.
You only need to look for a product that you want to sell and send to Amazon. Amazon then takes care of the logistics (warehousing, packaging, shipping, etc.).
If you are interested in making over $1000 a month as an Amazon FBA Seller, start by signing up for this free course.
14. Offer Virtual Assistance for Time ETC – Make $11 Per Hour
Can you provide assistance services to clients working from home at night? Do you have personal assistance, hospitality or customer support skills? Then you can make extra cash as a virtual assistant.
One of the better-paying companies for virtual assistants that I know is Time ETC. There, you can earn $11 on average. Time ETC normally hire virtual assistants to do these kinds of tasks:
Make travel arrangements for clients
Make appointments for clients
Fill out specific forms
15.  Serve as Virtual Assistant for Fancy Hands – Earn Up To $7 Per Task
Fancy Hands is another well-paying job site for virtual assistants. Unlike Time ETC, you earn per task on Fancy Hands and not per hour.
Ideally, beginners get $3 per task going up, with more experienced virtual assistants pocketing up to $7 per task.
Generally, you need to have impeccable customer handling skills and be a good communicator.
Additionally, you need to be computer literate and should have access to a fast internet connection.
Fancy Hands pays promptly every Tuesday.
16. Earn $10 an Hour on User Testing and Userlytics
Are you familiar with what user testing experience is? Well, it is when you try an app or website and leave feedback. The good news is that you don't do the job for free.
Userlytics and UserTesting pay you for your participation. The pay for both sites starts at $10 per given task.
With most tasks running for 10-20 minutes, you can do three of these part time night jobs in an hour.
All you need is a window seven device, a webcam, and quality headsets.
17. Earn Bonuses on Survey Sites
Online surveys are probably the easiest way to make money part-time. I have gone through so many survey sites – trust me when I say they are many – but I like what InboxDollars has for the participants.
The survey site allows you to earn cash in different ways. For starters, you earn a free $5 just by signing up. You can claim your $5 welcome bonus here.
InboxDollars also allows you to make up to $5 per short surveys.
What's more, they offer you bonuses for using their search engine to shop, watch short videos, play different games, and search for things online.
If you are looking for more survey sites to boost earnings, then consider signing up with the following:
18. Sell Your Graphic Designs on 99Designs
Are you a talented graphic designer? Do you wish to showcase your design to a wider audience? 99Designs provide you with the perfect platform to do exactly that.
99Designs operates in two major ways. One, you need to create perfect designs and promote them on the platform, the same way you do on Fiverr.
Doing so allows prospective clients to find you. They can choose to buy your designs or ask for something different.
Two, you can sign up for a graphic design contest organized by a buyer (the client). The contests are generally a good choice when looking for work from home overnight jobs that promise the best pay.
19. Make $25 an Hour Freelancing on Appen
Appen is, without a doubt, one of the best job sites for night owls. So, if you are looking to make decent cash part-time freelancing, you should sign up. You can make money on Appen doing the following:
Transcription
Translation
Social media management
Sales
Marketing
Crowdsourcing
Appen is generally a company for independent contractors. They expect you to work 5 hours a week, minimally.
The average pay for tasks is $25 an hour, and you can only cash out when you make $50 and above.
20. Make Money Doing Simple Tasks on Lionbridge
Are you looking for night part-time jobs which allow you to make money doing different simple tasks? Then Lionbridge can be that perfect side hustle if you take advantage of the available opportunities.
There, you'll find the following jobs:
Content writing
Interpretation
Data entry
Lionbridge allows you to do more than one task if you can, and you get paid hourly. With beginners making $9 an hour going up, we have taskers who pocket up to $50 doing an array of tasks. Of course, work experience plays a major role when it comes to the rates.
21. Review Calls for Humanitics – Make Up to $0.10 Per Call
Picture this for a second – Your work is to listen to call recordings, answer the questions that ensue, and then get paid. That's the job description of a call reviewer.
At Humanitic, you make about $0.06-$0.10 on every call that you review. So, the more the work, the higher the pay.
I like the fact that the signup is free and direct and you can pick the number of hours that you want to work.
What's more, you can cash out your earnings weekly via PayPal once you make $10.
22. Do Short Tasks on MTURK
Amazon has a new crowdsourcing marketplace that allows you to do short tasks in your free time and get to earn. I am talking about MTURK, which stands for Amazon Mechanical Turk.
The short tasks in question include the following:
Writing
Surveys
Transcription
Data entry
Compared to most part time evening work from home jobs on my list, the MTURK rates are not much. You make $6-$10 an hour. The advantage, though,  is that the tasks are short and simple.
23. Make $12-$20 as an Interpreter or Translator on LanguageLine Solutions
LanguageLine Solutions, a Californian-based company, is hiring interpreters and translators today.
They are known to work with schools, businesses, legal firms, and health organizations around the globe. Therefore, they are always accepting eligible applicants.
If you are an expert translator or interpreter, visit LanguageLine Solutions today to submit your application. As a member of the company, you can make $12-$20 depending on skill and job experience.
What I like most about their payment structure is that you can cash out weekly or biweekly.
24. Make $10-$50 Freelancing on Upwork
Whether you are a creative writer, a web designer, a proofreader, a project manager or an online coach, Upwork is a site where you can find all sort of freelancing jobs.
The jobs are consistent, and the pay is decent.
Most jobs pay $10-$50 an hour, depending on work experience and skill. What I like most about it is that Upwork allows you to set your rates, and you can get bonuses from clients upon exceeding their expectations.
Upwork offers its best freelancers a top-rated badge that provides them with the following perks:
24/7 access to customer support
Freedom to remove bad client feedback
Exclusive job invites
So, are you interested in joining the top-rated crew? It starts by signing up here.
You can also check my post on how to make $100 a day, where I cover Upwork freelancing and other jobs for night owls.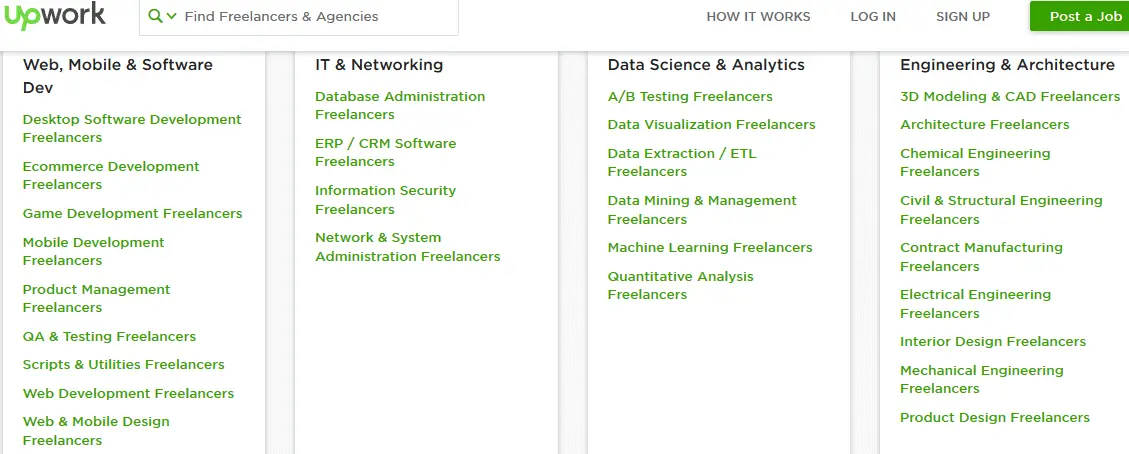 25.Set Gigs Starting at $5 on Fiverr
Here comes the moneymaker for most freelancers. Fiverr is a marketplace where anyone can sell any online service for as low as $5. But still, most experienced sellers make about $50 an hour doing web design, project management, graphic design, and translation.
I cannot exhaust everything as Fiverr is a giant marketplace. So, consider visiting the site today to see what to sell.
How Do I Find Part-Time Night Jobs Near Me?
Are you looking to find part time night jobs near you? I have identified a few job sites that collect most of the jobs discussed above. So, it might save you time to go directly to these sites and apply for the jobs. Here they are:
1.      Indeed
Just type a job title and your location on Indeed, and you'll find if the job is available near you. That's how effective the job site is when it comes to finding part time night jobs.
You can create email alerts for specific jobs on Indeed to save time. Use this link to check some of the discussed jobs on Indeed.
2.      Glassdoor
Glassdoor offers more than earnings estimations and company reviews. It's also an awesome job search engine. Just like Indeed, Glassdoor allows you to set notifications for part-time night jobs.
You can check some of the discussed night shift home based jobs on Glassdoor using this link.
3.      Flex Jobs
FlexJobs is a job service that gives you access to remote jobs. They have listings for part-time, at-home, and freelance jobs.
You can check some of the discussed jobs on FlexJobs using this link.
4.     ZipRecruiter
ZipRecruiter is a powerful search engine that allows me to find night jobs near me with one click. It also allows me to set job notifications.
You can check some of the discussed jobs on ZipRecruiter using this link.
5.      Monster
Monster is another job search engine with a great selection of evening part-time jobs. The good thing about it is that it allows you to block off your current employers.
You can check some of the discussed jobs on Monster using this link.
6.      LinkedIn
LinkedIn is not just a networking platform but also a great job search engine. You can set up your user account for free and use it to set custom alerts for specific jobs.
You can find just about any part time night jobs.
7.      Craigslist
Craigslist is the modern version of a newspaper. It has jobs from all around the world, but you can always customize your search to find evening jobs that suit you.
CareerBuilder is a job board that allows you to search evening part-time jobs near you based on keywords. Just type any of the discussed job titles and wait to see what turns out.
Here's a quick link to use.
Closing Thought:
I understand that different circumstances may force you to seek part time night jobs. From an optimist standpoint, this is actually good since it saves you from overstretching your paycheck.
The secret is to find side hustles that you can do consistently. That's the only you can enjoy a steady income.
Liked this post? Share it on Pinterest!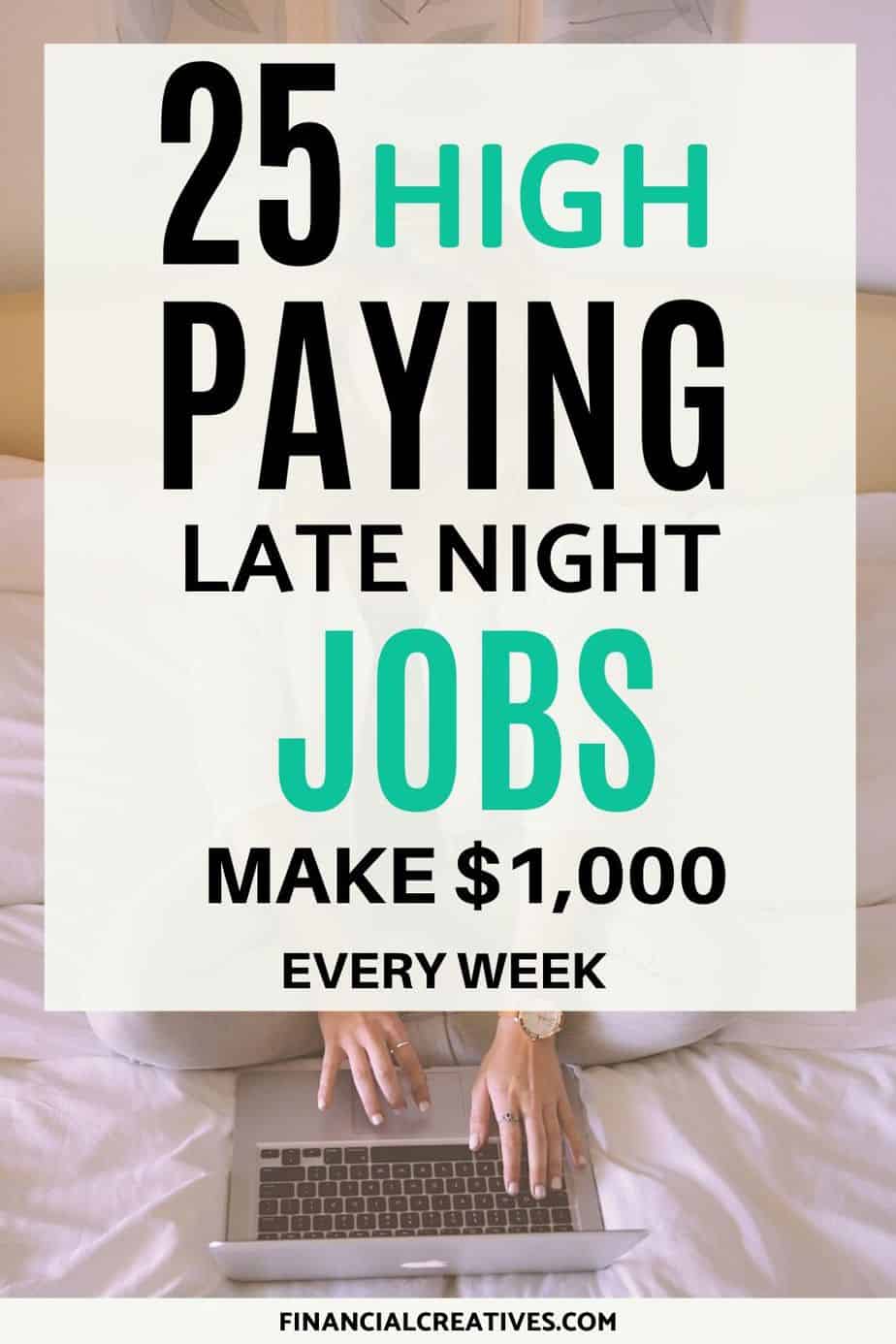 What are some examples of working with the part time night chart?
If you are interested in working with a part-time night schedule, then you should pay attention to creating and maintaining a blog, working on freelance sites, transcribing, tutoring, working as a virtual assistant, and more. Choose what brings you pleasure.
What are the legal overnight high paying jobs?
Some jobs in industries such as healthcare, transportation, and security may offer overnight shifts and higher salaries. These jobs require proper education, training, and licensing, and their availability and pay may vary depending on the location and specific requirements.