Looking for the best online jobs without investment and registration fee? You'll definitely get one here! Let's get started.
With the U.S job sector getting competitive by the day, it makes sense to try searching for alternative opportunities online.
Sadly, most of us get discouraged along the way with the notion that we have to pay a small fee to get a job online.
I am here to correct the misconception and confirm that there are several online jobs without investment and registration fee.
What's more, most of them pay well and are reliable. Hence, these jobs are a legitimate way to earn extra cash and boost your income.
As long as you have access to an internet-enabled device, you cannot miss something productive to do online.
In addition to paying nothing upfront, I like the fact that I can work flexible hours. I also don't have to commute, and so I end up saving money on transport.
After researching comprehensively online, I now present you with 30 ideas on how to earn money from home without any investment.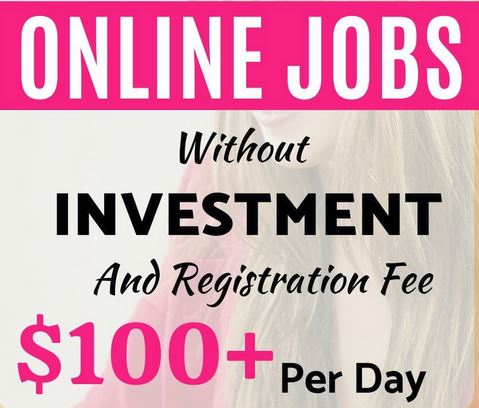 30 Ways To Make Money Online Without Investment.
1. Become an Online Coach
(Potential Pay – $47/hour)
Are you an SEO expert? Can you offer health and fitness consultation? Do you have the experience of helping people attain specific goals?
If the answer to any of the three questions is a bold YES, then you can make money online without investment working as a coach.
You can use emails, phone calls, Skype, or zoom to coach your students.
Upwork offers some of the best rates to online coaches. So, try setting up a profile there.
You can also join online coaching groups on social media to identify prospective clients.
2. Become a Translator
(Potential Pay – $40/page)
It is no longer a secret that there are translation applications out there, and others are even free. But still, they can never replace human translators for the following obvious reasons:
Human translators easily put words into context during translations, something that translation apps cannot do.
It is easier for professional human translators to localize languages.
Only humans can maintain tone during a translation.
I trust you now know why people are still hiring human translators.
These free online jobs without investment and registration fees attract good remunerations, and a great site to sell your service is Fiverr. With an irresistible profile, potential clients will easily hire you.
3. Become a Graphic Designer
(Potential Pay – $25-$300/hour)
Maybe you have the notion that graphic design is not your thing because you don't have the training. Perhaps you fear for the training fee.
Before you can dismiss the idea and move on to the next job, I recommend you consider this free graphic design course. It can help you create ads and printable sheets like a real pro.
You can commercialize the skill to start earning $25 per hour going upwards on Upwork or Fiverr.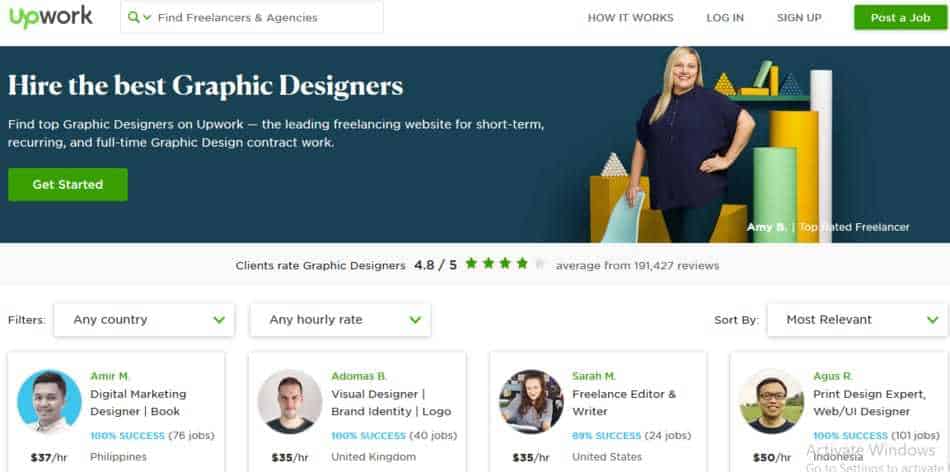 4. Video Editor Online Job
(Potential Pay – $25-$35/hour)
Do you like creating artistic and inspiring videos? Can you make clips that can go viral? If yes, then you should give video editing a try.
These video editor genuine online jobs without registration fee are picking up very fast in the U.S and come with attractive pay.
While beginners can up to $35 per hour, experienced video editors earn much more. You can offer such a service on Fiverr.
5. English Tutoring Job
(Potential Pay – $26/hour)
The international community is yearning for your English proficiency. If you are eloquent and can teach English, it is time you start making some serious cash.
VIPKid allows you to offer English lessons to Chinese students and get to make about $26 per hour.
Excitingly, you don't even have to be an English graduate teacher. You only need a degree in any recognized discipline, and the signup is free. Unlike most tutorial sites, jobs are consistent on VIPKid.
I have also checked English First, and it seems to be a decent option.
6. Become an Academic Tutor
(Potential Pay- $18-$60/hour)
It is not just English that you can teach online. You can also teach history, mathematics, computer studies, and many other disciplines and get paid hourly.
I consider Chegg to be a great site for academic tutorial jobs. Here, you can earn about $20 per hour.
Course Hero is another worthy consideration that allows you to make $3 per question.
Generally, I consider Course Hero as an extra hustle for teachers on a payroll looking for online jobs without investment and registration fee.
7. Earn Hourly as a Transcriber
(Potential Pay – $5-$39/hour)
How do you feel about converting audio into text? That is what transcription is all about.
It is one of the most popular online typing jobs without registration fee. Interestingly, some people do it full time.
Even without experience, you can land transcription gigs and get to learn on the job. But still, I always advise my audience to take on a transcription course when they are new to the field, and here is my free recommendation.
So many transcription companies are coming up, and I have even had the opportunity to try several. The main disparity is the pay, and this is where I recommend GoTranscript.com. The site pays at least $24/hour.
But considering that it can be hard to get accepted on GoTranscript.com without experience, you should also try TranscribeMe.com. They pay about $15 per hour, which is quite reasonable.
You can also try Scrbee.com, where the hourly rates are $5-$25.
8. Make $20+ An Hour As a Scopist
(Potential Pay – $20-$30/hour)
You probably are not aware of this, but scoping jobs have been in existence for at least three decades.
Maybe you are wondering what scoping is. Well, it is simply translating and editing court transcripts.
During a court session, court reporters usually write down what is said fast. So, there is always the likelihood of their transcripts having grammatical errors. The work of a Scopist is to obtain a clean copy out of the transcript.
If you are interested in these online research jobs from home without investment, you first need to get the basics from a scoping school, and the best at the moment is ScoperSchool. They have a free introductory program for Scopists.
Once you have the fundamentals, you can find scoping gigs at the Journal of Court Reporting.

9. Virtual Assistant Jobs
(Potential Pay – $20-$40/hour)
Given that most businesses are running online, it doesn't surprise that there is an increased need for virtual assistants.
From responding to inquiries to conducting research, these independent contractors handle all manner of administrative and technical duties.
With the beginner's hourly pay ranging between $20 and $40, there is always the chance of better pay. Of course, it comes with experience.
For better paying and legit virtual assistant jobs, consider Virtual Assistant USA and Boldly. Clients on the sites pay well, and there are always opportunities for long-term collaborations.
10. Customer Service Agent Hourly Gigs
(Potential Pay – $9-$21/hour)
Online businesses require the help of customer service agents just as much as they need virtual assistants.
Customer service agents' gigs are among the best online jobs for moms without investment. In most cases, you only require a high school diploma. But still, some companies will insist on having on-field experience.
According to Glassdoor.com, the best places to find such jobs is at Apple (where the pay is $13-$19/hour) and Hilton (where the fee is $10-$21/hour). Glassdoor.com also recommends Amazon.
11. Receive Money in Your PayPal from Online Survey
(Potential Pay – $5-$30/survey)
Online surveys are amongst the most popular free online jobs from home with no fees.
What makes them appealing is that they are effortless and earn you cash quickly. Some survey companies offer gifts and products in place of or in addition to cash.
Though there are several reputable survey sites in the U.S, my pick is Survey Junkie. I like the fact that their surveys are short (15-20 minutes long) and can make you $5-$30.
You can also try Swagbucks, another legit survey site. The secret is to sign up for as many survey sites as possible to boost your chances of getting more cash.
12. Contribute to Research Studies for a Pay
(Potential Pay– $10-$400/study)
If you are a good researcher, several companies are willing to pay as much as $400 per research project.
Researches are generally technical, and that is why the pay is attractive. I recommend them for college students and experts in fields like medicine, law, and business.
You can try signing up at Respondent.io if you are looking to make some good cash. The site pays $50-$400 per study.
The second option for this online work from home jobs for extra money is User Interviews. The website earns you $50-$100 per hour.
And if you find it challenging to sign up for any of the two sites, then you should try Vindale Research. The pay is about $10-$50 per study.
Here are other Great Ways to make some Extra Cash:
13. Get Inventive as a Virtual Recruiter
(Potential Pay – $20-$30/hour)
Things get more interesting when we get to virtual recruiters. Try to imagine for a second being in a position where you connect workers with their dream jobs.
While at it, you also save employers from the headache of staffing. That is the kind of work that virtual recruiters do.
Your job is to find potential employers and convince them to hire you as a recruiter. You then need to post the jobs and screen the applicants to select the most ideal.
Mark you; everything from the interview to the salary negotiation happens online. An excellent place to search for such jobs is Freelancer. It is free to sign up.
14. Let Your Voice Do the Working as Your Work as Voiceover Artist
(Potential Pay – $20/hour)
I never knew that someone could make a living as a voice artist until I saw such an ad on Upwork.
So, I have to endorse Upwork again here for these online jobs without investment and registration fee.
But who exactly is a voiceover artist?
A voiceover artist is a vocal expert who does audios for videos, movies, and audiobooks. The job involves reading a script and using your voice to make it lively.
So, it generally suits voice actors, people who can assume different voices impeccably.
15. Get Paid as an Online Bookkeeper
(Potential Pay – $17.50-$60/hour)
You have never been a fan of numbers? Imagine online bookkeeping promising up to $60 per hour, who wouldn't change their mind?
At a basic level, you need to be passionate about accounting and have a relevant certificate or qualification. If you fit the bill, let's get to the job description.
You are required to do the following among many other duties:
Monitor cash flow
Retrieve financial records
Analyze income and expenses
Prepare the basic financial statements
Observe the payroll
Don't worry if you don't have the training. Try this free bookkeeping tutorial to get the basics. As for the jobs, you can search them on LinkedIn and general freelancing sites like UpWork.
16. Do Some Freelance Writing
(Potential Pay – $10-$50/hour)
Today, most people are considering this part time work from home without investment (freelance writing) because of the easiness of making money.
I also cannot forget to mention that most freelance writing sites are free to sign up.
For general freelance writing, Upwork is the most reliable and pays better, especially for English natives. Other recommendable sites are Textbroker and HireWriters.

While studying these sites, I have noticed that most clients pay an average of $10-$50 per page. But if you want to earn more, I suggest you try contributing to magazines.
Alaska Parents Magazine, for example, pays up to $200 per parenting article. The Travel Writer Life also pays similarly to travel articles.
But if you can write spiritual matters, Spirituality Health is the site to visit. They can pay as ridiculously high as $500 per article.
17. Exploit Freelance Proofreading Opportunities
(Potential Pay – $17.50/hour)
If you are brilliant in identifying grammatical mistakes and fixing them, you can make some sound cash as you work from home without investment.
Working as an online proofreader gives you the utmost freedom to work remotely.
There are so many things you can edit as a freelance proofreader. Most clients are looking for experts to proofread web pages and academic papers. But still, you can find some requiring you to fix errors in e-books and audio transcripts.
In case you have never done freelance proofreading before, try this free course first or more professional paid course. Once you are comfortable, search for the best proofreading jobs on Upwork and Fiverr.
18. Earn Hourly as a Social Media Influencer
(Potential Pay – $20-$100/hour)
What do you do with the many followers you have on Twitter and Facebook? How about Instagram?
You might not be aware, but they provide you with a lucrative business opportunity if you can work as a social media influencer.
The idea of being a social media influencer is to convince your audience to buy a particular product or make a specific subscription.
In turn, you earn commissions from the referrals. So, the more people you refer, the higher the chance of making extra money.
Generally, being a social media influencer is not as complicated as most people assume. You only need to identify a profitable niche and advertise something related to it on your social media content.
You'll then need to engage your followers and convince them to make subscriptions or purchases.
I endorse the Amazon Influencer Program. It allows you to obtain affiliate links for free and post them on your social media pages. Generally, you earn commissions from the links when they influence sales.
19. Work as a Social Media Manager
(Potential Pay – $15-$55/hour)
Businesses nowadays know the importance of having a strong presence on social media. But since it is overwhelming to monitor all of their social accounts and still get their customers engaged, they prefer to hire someone; a social media manager.
Though the job is entirely new, it comes with attractive pay. Some clients can pay up to $55/hour to experienced social media managers.
You can find such gigs effortlessly using TheSocialButler.
20. Get Adventurous Working as an Online Moderator
(Potential Pay – $14-$17/hour)
An online moderator is more like a social media manager but with the additional obligation of managing company forums.
The best thing about the job is the flexibility that comes with it. You decide when and how to work when you are an online moderator.
I also like the exposure that comes with the job. It generally makes you a better social media manager and marketer.
I have researched several companies, but the one that stands out is The Social Element. No investment is needed for the signup, and you can earn up to $17 per hour.
21. Social Media Evaluator Jobs
(Potential Pay – $12.50-$14/hour)
A social media evaluator is an expert who rates social media apps based on their usefulness.
The job suits people who spend most of their time at home. No investment is needed, and you can decide on the schedule that suits you the most.
Unlike a social media manager, a social media evaluator doesn't have to spend so much time online or on the phone.
Most people who do social media evaluation also do search engine evaluation where they rate search results based on relevancy.
I find Lionbridge to be an excellent site for such jobs. It is easy to sign up on the site, and you can earn up to $14 per hour. You can also try Appen by signing up for free here.

22. Do Product Testing Jobs at Your Free Time
(Potential Pay – $10-$20/hour)
There are two scenarios here. One, you can earn by trying and reviewing specific products. An excellent place for such jobs is the American Consumer Opinion.
You can get at least $10 per hour there. Additionally, they offer free stuff, which includes the test product.
The other type of testing involves mobile applications and websites. We call it user experience testing, and the best place for such gigs is UserTesting.com.
You can earn as much as $60 per test onsite. A site like UsertFeel earns you about $10 per test, and so it is a worthy consideration too.
23. Do Data Entry
(Potential Pay – $10-$17)
If you are a college student and would want to earn some money on the side, you should try data entry.
Though the pay is small, no experience other than computer literacy is required. It is merely an entry-level online job. More to it, the tasks are very flexible.
You can find data entry work from home without registration fees at Clickworker, where you can make $17 per hour. You can also try DionData Solutions, another fantastic option.
Online data entry jobs without registration fees are quite diverse, but they mostly deal with data input, spreadsheets, business plans, and catalogs.
24. Make $10 an hour as a Virtual Receptionist
(Potential Pay – $10/hour)
If you are a stay at home mom who would want to earn some cash working remotely, virtual receptionist jobs are a worthy consideration.
The gigs are a great alternative to data entry jobs from home without investment.  I have seen several women handling such tasks, and they can still find the time to take care of their kids.
One of the best recruiters for virtual receptionists is Smith.ai. The company allows you to earn up to $10/hour, and they pay weekly. What is more, they even have medical and retirement benefits.
Nonetheless, Smith.ai has a few strict requirements that you need to fulfill. As a start, you need to work 20 hours a week minimally and should be a U.S citizen. You can apply for the jobs here.
25. Receive Your Pay as an Affiliate Marketer
(Potential Pay – $100/product promotion)
It is not a must to have a blog or a website to do affiliate marketing. Affiliate marketing can be a no investment venture. Hence, all you need is a platform to promote specific products or services, and it doesn't have to be a website or blog.
You can use social media, for example. The idea is to influence sales by convincing customers to go to specific stores or sites to make purchases or subscriptions.
You can find such gigs on Shopstyle Collective and Amazon. Both platforms accept you even without a blog or website.
26. Sign Up as an UpVoice Panelist
(Potential Pay – $75/engagement)
Instead of just spending time on Facebook, YouTube, and Amazon, UpVoice provides you with a rare opportunity to earn from your online involvement while working as a panelist.
This is how this no fee online job work:
Click here to sign up as a panelist.
Wait to receive a specific link that allows you to install a chrome extension.
Upon installing, the extension collects ads on Facebook, YouTube, and other sites that you frequently see on the websites that you regularly visit.
Wait to receive redeemable tokens. You can redeem them as cash, and you can earn as much as $70 per engagement.
27. Receive Video Royalties
(Potential Pay – Up to $4,000)
Are you aware that CNN, as well as Yahoo, pays thousands of dollars for video licenses?
The same thing happens with the Associated Press. Mark you; standard smartphones produce the video in questions.
If you have videos on your mobile that are quirky, hilarious or just inspiring, you should try selling them to these companies. I know of someone who managed $4,000 for selling videos to several top companies.
28. Make Money as a Stock Photographer
(Potential Pay– $0.20-$0.5/image)
Nowadays, people take stunning photos and sell them online. The money is not instant as it depends on downloads, but it is a worthy venture that requires no investment.
We call it stock photography, and it involves uploading pics to stock photo sites.
My best stock photo site is Shutterstock. The website earns you about $0.20-$0.50 per picture sold.
So, if you manage to sell a dozen or more a day, you may make $5 or more. It is not much, but it's a noteworthy side hustle to supplement other well-paying gigs.
Image uploading is free on Shutterstock, and you only need a good camera and the inspiration to take fantastic photos. Another stock photo site to consider is iStock.
If stock photo sites are not your thing, you can fetch reasonable cash on The Sun Magazine. 

29. URL Shortening Gigs
(Potential Pay- $5-$10/1000 clicks)
Do you know that you can shorten URLs and make money?
Well, you'll never make money effortlessly than this way. You don't even need a website to do such jobs, and technical skills are not necessary.
So, how does URL shortening works? For a start, you have to visit a URL shortening site to get the part times jobs from home without investment.
My recommendation is LinkZfly. The site is legit and pays reasonably for URL shortening.
You'll receive long links that you need to shorten. Upon completion, you can sit back to wait for the clicks. On average, you earn $5-$10 for every 1,000 clicks.
30. Create and Sell Online Courses
(Potential Pay – 30%-60% of the sale)
How about you teach others what you know through an online course? It is a fantastic way to earn a few quick dollars, and you can continue making as long as your course sells.
After carefully considering Skillshare, it strikes me as a great site to create your courses.
The online learning platform allows you to earn royalties each month, depending on the course subscription. Ideally, Skillshare lets you keep 30%-60% of the total sales, which is sensible.
Since there is no investment other than your learning materials, you can create as many courses as you want.
You can also consider Udemy, which is another great platform to sell your courses
Conclusion
Above are 30 online jobs without investment and registration fee. I hope you can find a few to try out and possibly start making extra cash fast.
However, It is good to understand the requirements of each job before applying.
Can I find a job as a virtual assistant without registration fee online jobs?
You can find a virtual assistant job at no extra cost and start making money with a beginner's hourly rate of $20 to $40. Therefore, you can safely apply for such a vacancy.
What are the options for part time online job without investment?
There are several part-time online jobs that don't require any investment, such as online tutoring, freelance writing or graphic design, data entry, social media management, virtual assisting, and online surveys.