Have you been searching for online jobs for college students with no experience? Don't worry. I'm going to cover some of the most lucrative work opportunities for campus goers like you in this post.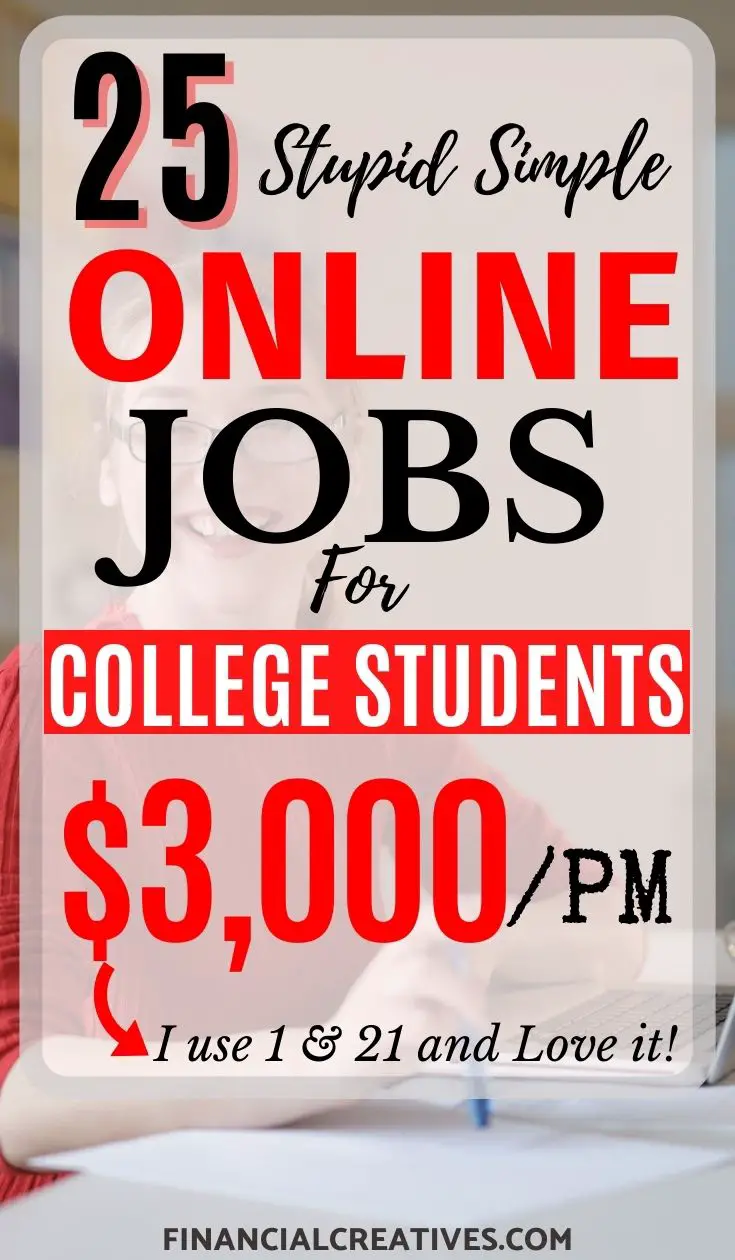 I was once in college not long ago. So, I understand how hard it is to find a job that you can do while studying.
Most of them require you to have work experience, which can be hard when you haven't even graduated.
Others require you to volunteer to gain work experience, and this may be a tall order when all you want is to make money on the side.
There are also a few others requiring you to work full time, which may mean having to stop your studies.
What if I told you that there is a solution and you don't have to be in such dilemmas?
I'm talking about lucrative online jobs you can do part-time with no experience. Such jobs don't interfere with your college and pay decently.
Well, if you had any doubts, they will have disappeared by the time you read the last job on my list.
Let's get started with the work from home jobs for college students.
1. Start A Blog
Potential Pay: Up to $10,000/month

Here comes a passion close to my heart.
The truth is that blogging is not just a vehicle for writing what's on your mind but also a lucrative venture.
It allows you to earn passively through affiliate links, paid ads, online courses, to name a few.
For instance, I make $3000 a month on my blog, but that is nothing compared to what Alexi Gardener, a college student behind Fitnacials.com, makes.
Alexi is making $10K a month, and she is barely a year old in the business.
Are you ready to give blogging a chance?
Check out this detailed tutorial first to see what it takes to build and monetize a blog.
Also, consider signing up for this Income School blogging course. I have signed up, and I'm convinced it will help me triple my earnings on this blog soon.
And if you are ready to claim your domain and find a reputable host, consider Bluehost. They'll offer you a free domain for the first year, and you only pay $3.95 a month to get started.
2. Freelance On Fiverr
Potential Pay: $5 or more/job
Fiverr is called the 'mother of all freelancing sites' for a reason. There, anyone can sell any service and make as much as they want.
If you have a skill, Fiverr is worth signing up for. Some of the services you can sell include:
Writing
Acting
Graphic design
Website design
SEO
App creation
3D expertise
Translation
The base value for setting up a gig is $5, but you can charge as high as you want. So, why don't you give it a trial?
It is perfect when looking for opportunities to earn money online without investment for students.
You can get inspired by Sean Carney, a college student who is top-rated on Fiverr. She makes a fortune on-site.
3. Proofread Online For A Pay
Potential Pay: Up to $30/hour
If you have an eye for punctuation and grammatical slipups, then you should consider doing online proofreading.
You can make up to $30 an hour as an online proofreader on sites like Scribendi and Scribbr.
Each time I think about online proofreading, the name Caitlin Pyle always comes into mind. Wondering why?
Well, Caitlin claims to be making $50K a year doing online proofreading part-time.
Today, she runs a free short online proofreading workshop to give insights on how she does it.
As a bonus, consider reading this post on online proofreading jobs you can do with no experience.
4. Transcribe In Your Free Time
Potential Pay: Up to $25/hour
Do you have a good ear and can type fast? All you need to start making money as an online transcriptionist is the right training, and you can start with the Transcribe Anywhere free mini-course.
The founder of the course, Janet Shaughnessy, breaks it down to enable you to do transcription without experience.
Your job entails converting audio (calls, interviews, and recordings) into typed information.
Two of the leading transcription websites are Scribie and Rev. You can make anything between $10 and $25 an hour there.
Other considerations are 3PlayMedia and TranscribeMe.
Here's a post that sheds light on more transcription no experience online jobs.
5. Freelance-Write Online
Potential Pay: Up to $50/article
Though I run my blog, I occasionally freelance-write on Upwork. It allows me to make some quick cash on the side. On average, I make $50 per article.
I draw most of my inspiration from Gina Horkey's freelance writing handbook. She explains how you can do freelance writing tirelessly and make a decent income. So, consider checking it.
Other best sites for freelance writing are:
For a beginner, expect to start making $10 an hour or per page on the above sites. Once you prove to do excellent jobs, you can make much more.
6. Try Online Bookkeeping
Potential Pay: Up to $60/hour
Are you taking a business or accounting related course? If so, then consider applying for online bookkeeping jobs.
The flexible jobs for students allow you to make as much as $60 with no experience. More to it, you work flexible hours.
What you need is bookkeeping training, and you can start with this bookkeeping course. And when it comes to getting your part-time online booking job, sign up at Upwork or FlexJobs.
7. Offer Virtual Assistance To Businesses
Potential Pay: Up to $40/hour
Now that most companies prefer to hire remote workers to help them run their operations, virtual assistance jobs are among the most lucrative ones.
Depending on who you are working for, you can make up to $40 an hour doing these online jobs for college students with no experience.
Are you wondering what you'll be doing as a virtual assistant?
Well, it's more of clerical duties like replying to emails, answering customer calls, and scheduling client meetings.
In case you want some inspiration to get started, check out Gina Horkey's training. The lady confirms that you can make as much as $40 an hour.
Some of the best places for such online jobs for college students with no experience are Fancy Hands, Upwork, and PeoplePerHour.
8. Claim Money Back With Apps
 Potential Pay: Up to 40% cashback
You probably are not aware of it, but you may be losing hundreds of dollars online if you do not use cashback apps.
I got annoyed when I discovered how much I was losing before realizing Rakuten.
Now, Rakuten enables me to get up to $40% cashback, and I get to shop at Walmart, BestBuy, and other leading stores.
Get the full list for Rakuten's partnering stores here.
And if you decide to sign up on Rakuten using my link, you'll receive a $10 welcome bonus.

Another app I recommend for getting cashback is Ibotta. You'll also get a $10 welcome bonus from them if you sign up using this link.
Additionally, you get $5 for referring a friend, and you can refer as many friends as possible.
9. Take Paid Surveys
Potential Pay: Up to $50/Survey
Survey jobs are easy online jobs for college students. They take the smallest amount of your time, which means you can do them during your break hours.
Don't expect to get rich from paid surveys, but you can make enough to pay some of your bills.
Companies like Survey Junkie, InboxDollars  Vindale Research, and Swagbucks allow you to make anything between $1 and $50 per survey.  So, consider signing up.
Furthermore, you'll get welcome bonuses for doing it.
10. Tutor ESL (English As A Second Language) Part-Time
Potential Pay: Up to $22/hour
You don't have to be a trained teacher to teach English as a second language (ESL). Companies like VIPKid, QKIDS, and Education First requires you to be an English native, and you can make up to $22 an hour as an ESL tutor.
You, however, need a college degree. So, they suit students taking a second degree and those on a master's program.
In case you are yet to graduate, but you have a passion for ESL tutoring, MagicEars is a fantastic job site to consider. They hire native students with no degree, and you can make $20 an hour there.
More Online Jobs For College Students With No Experience
11. Work As A Data Entry Clerk
Potential Pay: Up to $15/hour
Most college students making money online are either doing data entry or have done it at some point. The jobs are amongst the most popular ones online.
Some of the tasks you can do as a data entry clerk include:
Basic typing tasks
Form filling
Online surveys
Copy and paste jobs
Though most jobs pay as little as $5 an hour, some pay as much as $15 an hour, and you can find them on SmartCrowd, ClickWorker, and Xerox, to name a few.
Consider reading this post I wrote for more remote data entry job opportunities.
12. Take Usability Testing Jobs
Potential Pay: Up to $10/testing
Nowadays, businesses pay freelancers to test their websites and apps and compare them with their competitors.
It's called usability testing, and you can make $10 per test averagely if you sign up with either Userlytics or UserTesting.
Some tests even pay much more, and you mostly spend 20 minutes or less.
With a smartphone, you can sign up for these tasks, and you get to do them in your free time.
Generally, you don't need any experience to do usability testing and no investment if you have a computer and excellent headphones.
Thus, the gigs are the perfect part times jobs from home without investment.
13. Flip Items For Profit
Potential Pay: Up to $250 as profit
Do you know that you can make money by buying items cheaply at local stores and reselling them on eBay or Amazon?
We call it items flipping, and you can learn more about it by signing up for this items flipping course founded by Rob of the Flea Market Flipper.
Rob explains how you can buy items for as low as $50 and sell them for as high as $300, making about $250 as profit.
According to him, you can flip anything ranging from video games and record players to antiques and furniture.
What you need to start these online part time jobs for students is a small capital. You also need the bargaining power to enable you to get items for cheap.
14. Flip Websites For Profit
Potential Pay: Up to 30K/year
I have decided to discuss website flipping differently from items flipping to give it the emphasis it deserves.
As a website flipper myself, I enjoy buying and selling websites on Flippa as it pays me lucratively.
Flippa not only allows you to buy and sell websites but also ecommerce stores, mobile apps, and domains.
All it takes is getting a cheaper deal and making the necessary improvement to ensure you sell your website or app at a higher price.
If you manage to close a deal every month, you can make as much as $30 a year, like Jenn Leach, the founder of Website Flipper University.
I got most of my tips from her course. So, consider it.
15. Be A College Amazon FBA Seller
Potential Pay: Up to $5,000/month

Did you know that Amazon can store items that you send them as they await selling?
That's not all. Amazon does the packaging plus the shipping. Your only job is to source the items and send them to Amazon.
To enjoy this rare opportunity, you have to sign up as an FBA (fulfilled by Amazon) seller.
Depending on what you are selling, you can make anything between $0 and $5K per month.
For example, the Selling Family makes $5,000 a month and shares some top secrets on how they do it on this free FBA seller's course.
With FBA selling, you'll no longer have to wonder how to make money online as a college student.
16. Web Development Jobs For Beginners
Potential Pay: Up to $75/hour
With a web development course like this one from Udemy, you can find a web developer job. These jobs are amongst the best payers for college students as you can make as much as $75 an hour.
The secret is to sign up for a freelancer account on a platform like Upwork or PeoplePerHour. The sites allow you to set your price, and you get to decide when it is convenient for you to work.
17. Get Paid For Online Translation
Potential Pay: Up to $40/page
Are you bilingual? It's time you make money from your ability by working as an online translator. Some of the most sought after languages are Chinese, French, Germany, and Spanish.
So, if you can translate from English to any of these foreign languages and vice versa, consider signing up at TextMaster or Verilogue.
Though the pay differs depending on project type and skill, you can make up to $40 per page as an online translator.
The beautiful thing about online jobs for college students with no experience is that you get paid via PayPal.
18. Graphic Design Jobs For Beginners
Potential Pay: Up to $50/hour
Nowadays, you don't need a degree in Graphic Design to find a job as a graphic designer. A certificate from Udemy, Skillshare, or any other online training platform will do.
And with the right tools of work and eye for detail, you can make anything between $25 and $50 an hour.
Some of the things you can design for cash are:
Books and magazine covers
Letterheads and logos
Flyers, postcards, and brochures
Shirt, bedding, and apparent print designs
If you are looking to earn decently, consider signing up as a graphic designer on Upwork. 99Designs and Fiverr are other decent options for these jobs for college students with no experience.
19. Manage Social Media
Potential Pay: Up to $15/hour
These days, there is more to social media than networking. Some individuals and businesses can pay you to manage their social media accounts as you go on with your normal activities.
Your work as a social media manager may involve creating curated social content, driving leads, and replying to inquiries and comments.
If that is something you can do, consider applying for social media manager jobs on LiveWorld and the Social Element. The pay varies from employer to employer.
However, you can make up to $40 an hour on some of these online jobs for college students with no experience.
20. Evaluate Search Engines
Potential Pay: Up to $15/hour
Search engine evaluation jobs are flexible jobs for college students to make money in their free time. So, you don't have to interfere with your schooling.
But first, do you know what search engine evaluation is?
The job is to ensure that the results that online searchers get on search engines are spam-free.
You can find such online part time jobs for college students on Appen, Leapforce, and Lionbridge, where you can make $13-$15 an hour.
Generally, you need to be proficient in research and be computer savvy to work as a search engine evaluator.
Bonus Online Jobs For College Students With No Experience
21. Start A YouTube Channel
Potential Pay: Up to $5/1000 views
Today, millions of users make money on YouTube. So, you have no valid excuse not to join. I signed up a few months ago, and here's my channel.
I make money through views, where I get up to $5 for every thousand video views, mostly using the Humix video network and even without nearly no subscribers.
If you have a camera or smartphone that can take quality videos, consider signing up for a YouTube channel.
You can try the following:
Vlogging – It's the video version of blogging, and it is what I'm doing on my YouTube channel. From cooking to traveling, you can vlog about anything.
Gadget reviewing – If you are tech-savvy, consider reviewing the latest gadgets on YouTube.
22. Edit Videos Online For A Pay
Potential Pay: Up to $35/hour
Before a video is distributed online, it must go through a detailed editing process. So, there must be someone hired for the job that we call a video editor.
You can learn video editing online, and here are courses on Skillshare that you'll find useful.
And once you have gained adequate video editing knowledge and a good video editor, try looking for a part-time opportunity on Stage 32, SimplyHired, or Upwork.

Depending on the employer, you can make anything between $20 and $35 an hour doing these online jobs for college students with no experience.
In the digital era, editing videos online for pay has emerged as a lucrative and convenient career option for video enthusiasts and creative professionals. This dynamic field entails using advanced web-based tools and software to seamlessly edit, enhance, and transform raw video footage into compelling visual stories. As a sought-after skill in various industries, from social media to advertising and entertainment, video editing enables talented individuals to monetize their expertise while enjoying the freedom to work from any location. Online video editors contribute significantly to the fast-paced content creation landscape by refining and shaping impactful narratives that resonate with diverse audiences worldwide.
23. Online Chat Jobs
Potential Pay: Up to $15/hour
You must have noticed a chat window popping up on most websites that you visit. Interestingly, the agent that engages you is someone like you seated somewhere remotely.
If you fancy the work at home jobs for college students, apply for the opportunities at Apple.com or the Chat Shop.
You are likely to make $10-$15 an hour on either website.
Generally, you should be an excellent communicator to be a chat agent. You should also be a quick typist.
24. Book Reviewing Part-Time Jobs
Potential Pay: Up to $50/review
If you are in college, then you have no excuse not to read often. How about you read a book in your free time, review it, and then get paid?
It's that simple when you sign up at Kirkus.
Not only do they accept English book reviewers but also Spanish reviewers. If you are as proficient in Spanish as in English, translation is not the only job you can do.
By signing up as a reviewer on Kirkus, you get paid $50 for every review you submit. Mark you; you only need to write $350 words, and you have two weeks to do it.
25. Participate In Focus Groups
Potential Pay: Up to $50/participation
Lastly, if you can spare a few hours, especially over the weekend, and when you don't have classes, consider focus group participation.
So many companies are reaching out to community-based focus groups to provide them with opinions about different things.
Most of these opportunities suit college students because they are flexible and knowledgeable.
Are you wondering where to find the job?
One top website that pays decently is the Survey Club. There, you can make up to $50 per contribution. It's free to sign up, and once you do it, you'll have access to exciting opportunities.
The Wrap – Online Jobs For College Students With No Experience

With the above online jobs for college students with no experience, you'll not have to ask anyone for an allowance. What you make can even be enough to pay a part of your fees and cater for your shopping and bills.
Liked this post? Share it on Pinterest!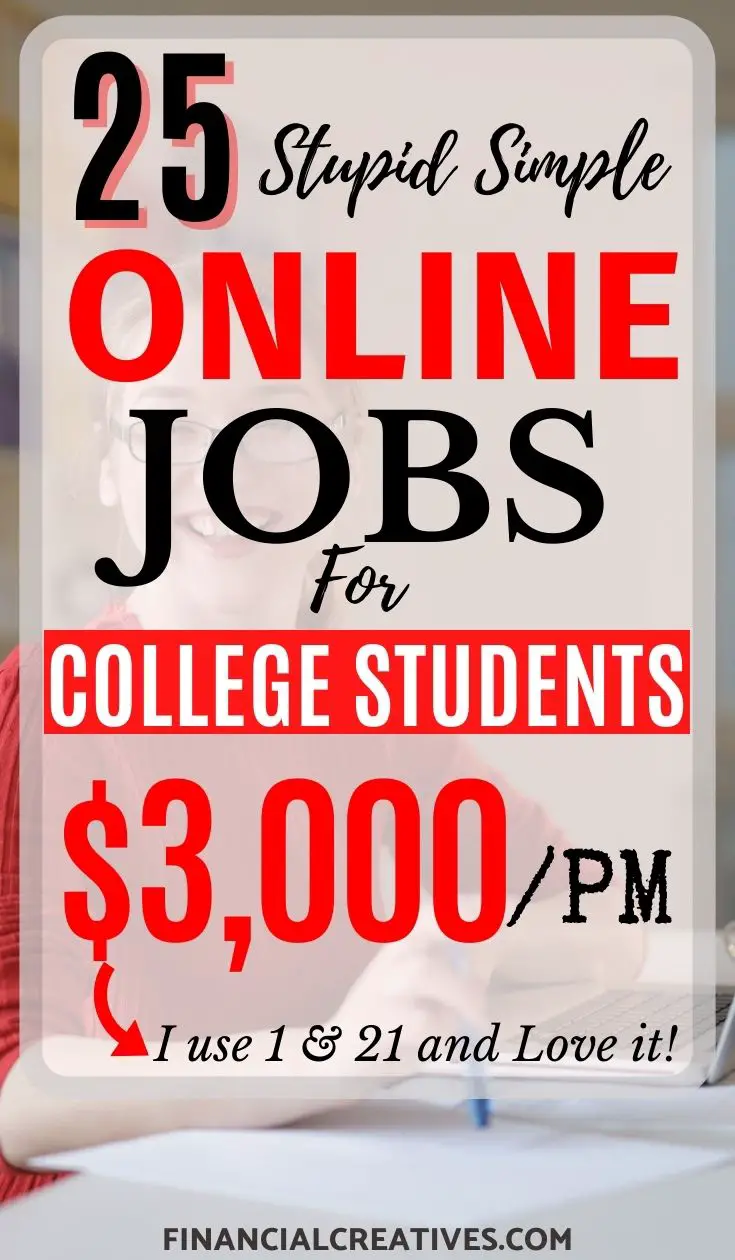 Is the Fiverr platform suitable for easy money for a student?
Fiverr is great when looking for online earning opportunities without investment for students. The site provides a lot of opportunities with any knowledge and experience.
What are the best jobs for college students with no experience?
Some of the best jobs for college students with no experience include retail sales associate, customer service representative, food service worker, tutor, and administrative assistant.