Did you know that more than half of families in the United States barely survive on a paycheck? As if that is not enough, studies show that the personal debt for the average American stands at $38,000.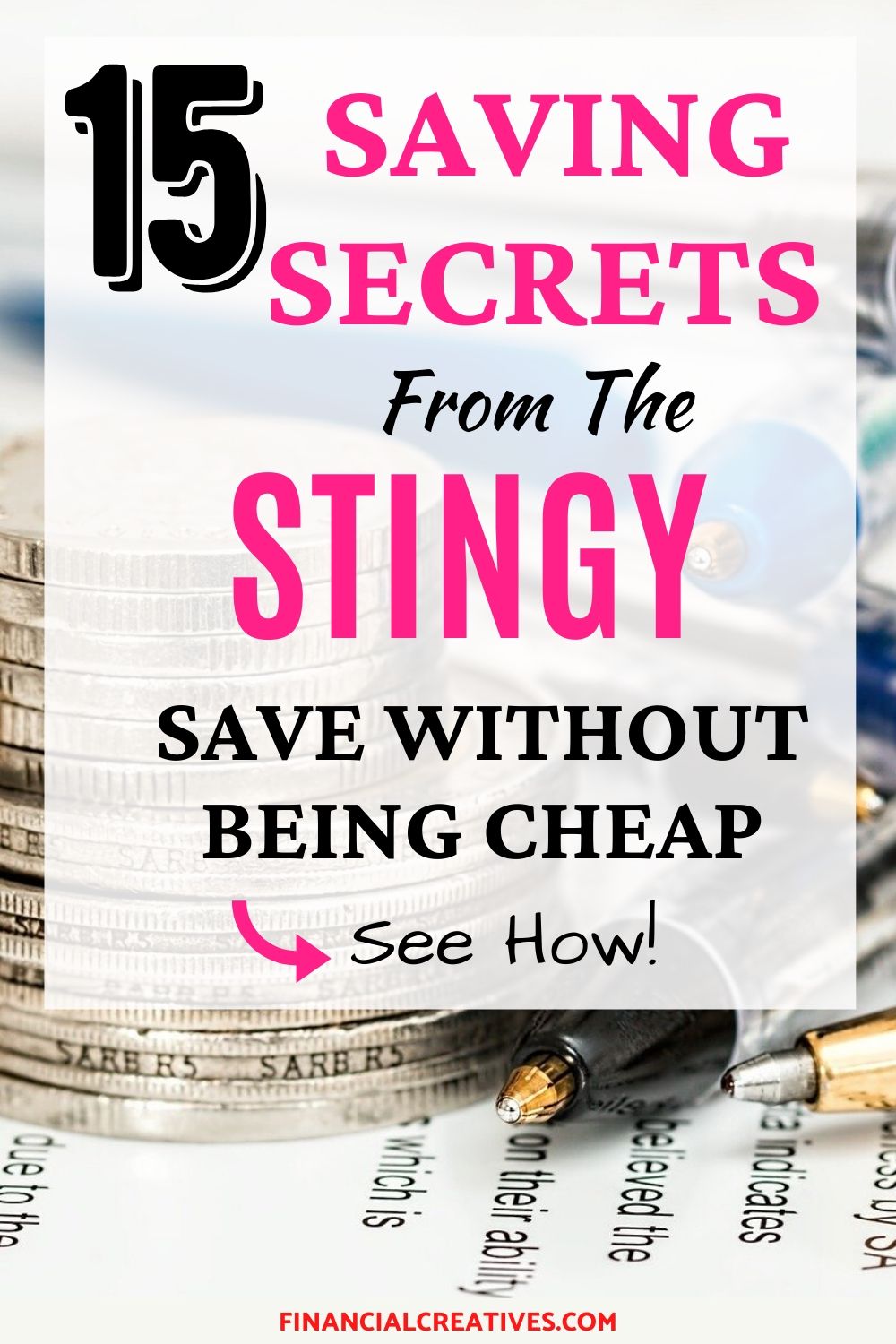 Does that alarm you? If so, then you should start thinking of living stingy. I should add, without being cheap, and I'll show you precisely what I mean.
But first, let's understand what living stingy means. We'll also look at the benefits and the shortcomings of the act to help you decide if being stingy is worth it.
What Does Being Stingy Mean?
Everyone has their definition of living stingy. For those who are living frugal (those who always look for better deals), living tight means cutting back on expensive bills and groceries.
For those living a luxurious life, living stingy means downsizing on their home, driving second-hand vehicles, and eliminating eat-outs.
So, what exactly is living stingy?
Living stingy is not being liberal with giving or spending money on things or people. Some call it being uncharitable or ungenerous. Other words like penny-pinching and tightfisted are also sometimes used to refer to stingy living.
Some of the characteristics of people living stingy are:
They prefer to take slow and steady risks instead of high risks ones.
They see tithing as giving away their hard-earned money.
In the eyes of many, they are selfish as they only spend money when it's for their interest.
Sometimes, their quality of life reduces as they treat themselves and socialize less.
Is It Worth It To Start Living Stingy?
Most people give living stingy a bad rap because of the negative terms like cheap, uncharitable, and tightfisted that are associated with it. So, are they justified?
How about we examine the pros and cons? We'll then decide which of the two wins the contest.
The Cons
Living stingy may be a bad idea for some people because of the following:
Living stingy is about making sacrifices. You've to cut on expensive lifestyles and expenses, and this often means missing out on the things you like.
In extreme cases, you may deny yourself the opportunity to enjoy life and appreciate your hard work.
Not everyone will understand your reasons for being stingy with money. Some will just see you as someone who cannot help even though you have the financial means.
Others will avoid you because you are too careful about your spending. So, you may not get as many friends as a charitable and financially liberal person.
Making Low-Quality And Sometimes Costly Purchases
Since you are too cautious not to overspend, there's always the temptation of going for cheap, which often translates to low-quality purchases. Unfortunately, sometimes the purchases cost you more.
The Pros
Despite the above concerns, living stingy may be a good idea for you because of these reasons:
Generally, stingy living saves you money. You don't spend as much as you used to, and so more money gets to stay in your pocket.
For example, instead of going for dinners and theatre dates, you find yourself cooking and watching TV at home. In the end, that translates to saving.
Saving and investing form an inseparable pair. The two go hand in hand. Once you have some money saved up, it becomes easy to invest.
Though stingy people are not huge risk-takers, it doesn't stop them from trying out new investments. It's only their approach that's calculative.
Stay Prepared For Emergencies
Life's unpredictable events like a sharp rise in fuel and food prices, medical emergencies, and repairs are things you should always prepare for. One way to do it is by living stingy. Since it allows you to save up, you can have some money ready for financial emergencies.
An Easy Way To Pay All Outstanding Bills
Most Americans who survive on a paycheck find it hard to pay their bills because of the temptation of living ostentatiously.
By living stingy, however, it becomes easy not to touch money set aside for rent, electricity bills, gas, and other bills.
A Source Of Healthy Living
So many Americans are weighed down with debts because they cannot resist the temptation of borrowing. Alarmingly, a good number borrow for an extravagant lifestyle.
On a different note, living stingy does not allow you to do so. You restrain yourself from luxurious expenses, and this saves you from the burden of borrowing.
A Key Strategy For Building A Financial Empire
Most rich people in the world are where they are because they observed financial discipline in the past.
They decided to sacrifice some things so that they can save up and invest. In the end, living stingy paid off for them, and they can now afford to be charitable.
What Then?
There you've it; there are more convincing benefits of living stingy than the concerns. So, if you agree with me, it's right that we look at the ways of living stingy to achieve your financial goals.
15 Ways to Start Living Stingy and Save More For a Better Life.
1. Define Your Financial Goals
You cannot live stingy if you have no defined financial goals. They are your driving force and a point of reference when you are tempted to backtrack and live flashily.
The goals generally help you become financially disciplined, and that's the essence of living stingy.
It could be that you plan to save up to build a house or start a business. It could also be to stay debt-free or create a sustainable emergency fund. Whatever it is, define it accurately and then think of ways to achieve it.
Having said, here are the tips for applying when defining your financial goals:
Write them down and set a timeframe for achieving them
Be specific when stating your goals and preferably tailor them around your family or career
Generally, if you cannot create a realistic financial plan yourself, then consider consulting a financial expert.
2. Make a Zero-Based Budget
Just like you need goals to stay on track financially, you also need a budget for the same. The truth is that you need a budget to attain your financial goals.
It makes you financially disciplined, and in the end, this ensures your goals are attainable.
I don't just advocate for any budget but the zero-based type. It is one of the most effective ways on how to be cheap and save money.
Are you wondering what it is? It's when you assign a job for each dollar earned. In the end, everything is accounted for.
Here are the basics of doing it:
Use a piece of paper or Excel to write down all your expenses on one side and the income on the other.
Find the difference between the two sides.
If the expenses are more than the income, tweak them until the income becomes more.
Now subtract the expenses from the income, and what you get should be marked as saving.(But I always advocate for savings first before any expenses; Pay yourself first concept)
Finally, balance both sides to obtain a difference of zero
Related:15 Best Saving and Budget Tips for Young Adults.
3. Get Stingy With Your Daily Bills
Just because a service provider like a phone company or an insurance agency states a specific price doesn't mean you should go ahead with it. You can always say no and look for affordable alternatives.
If you've been a loyal customer, the first thing to do is to contact your service provider and ask for a better deal. Some will accept your request just to retain you.
If they refuse, then nothing should stop you from switching to a different provider. By the way, it's not just about phone and insurance bills but also credit card costs.
4. Be Stingy With Your Subscriptions
Are you paying for cable TV, music, movies, or games? What about gym memberships or phone apps? If yes, then you should consider becoming stingy on them.
For example, you don't have to pay for cable TV or movie subscriptions when you can watch TV for free. And if you must subscribe, consider going for a cheaper package.
Also, why pay expensively for gym memberships when you can use free workout apps like FitOn and 7-Minute Workout? The apps allow you to set workout goals and get to train conveniently at home.
Moreover, you don't have to subscribe to Spotify (which also has a free version), when you could listen to new music for free on YouTube. It'll only cost you mobile data.
It is at this juncture that I vouch for Trim. It helps to track your subscriptions and cancel some of them (the costliest and unnecessary ones).

5. Use Rakuten to Beat Stingy Retailers
Why should you be too generous with your spending when the retailors choose to be stingy? I'm talking about those retailer shops that don't earn you cashback.
It's at this point that I recommend Rakuten. Rakuten allows you to get cashback at more than 2,500 retailer stores, which include Amazon, Best Buy, and eBay.
In addition to cashback, Rakuten also offers you a $10 welcome bonus that you can claim here.
6. Leverage the Power of Ibotta
It's almost impossible to learn how to live cheap without using a money-saving app like Ibotta.
Ibotta is an intelligent cashback application that awards you cash-redeemable points through:
Shopping online via the Ibotta shopping portal
Paying for in-store purchases using the Pay-with Ibotta feature
Scanning your store receipts after purchases
Ibotta covers so many retail stores just like Rakuten, at least 140, and so it's easier to save using the app.
The exciting bit is that the app is free to download, and you receive a $10 welcome bonus for taking the time to sign up. Claim yours here.
What's more, you also earn $5 for every friend that you refer to the site.

7. Differentiate Needs from Wants.
Most people find it hard to save up because they cannot differentiate what they need from what they want.
Food and clothes, for example, are a need but an expensive phone and a vacation are a want.
You cannot survive without a need, but you'll be just fine without a want. So, is everything clear now? If yes, then you should always ask yourself these questions before buying anything:
Do I need the item now?
Will I be happy with the purchase after six months or so?
Why am I spending my hard-earned money on the item?
If your conscience tells you the contrary, then drop the idea and consider other purchases.
8. Try Frugal Grocery Shopping.
Sometimes, living stingy means extreme frugal living. In this case, your goal is to only look for better deals and prices and nothing else.
It's an effective way to save on groceries and be able to attain your financial goals.
Some of the things that frugal grocery buyers do are:
Looking for and using coupons for their shopping. Great places to find grocery coupons are RetailMeNot, P&GEveryday, and coupons. The sites allow you to buy groceries at discounted prices.
Always write a shopping list and use it to shop.
Always plan for meals weekly
Use Fetch to scan receipts and earn rewards (cashback)
9. Have a Daily Spending Routine
By observing a daily spending routine, it becomes easier to reexamine your expenses routinely and avoid impromptu purchases.
Once you are disciplined with your daily routine, you can convert it into a weekly plan, and before you know it, it is your monthly routine.
In case you are not sure how to get started, consider using Personal Capital. The expense trimming application allows you to cut down on your costly expenses daily to have a better cash flow.
It's generally one of the smartest ways to track your expenses and manage your company, something I call financial literacy.
Use this link to download Personal Capital.

10. Adopt the Living-Below-Your-Means Approach
One reason why most Americans are struggling with debts is that they are living beyond their means. It's also the same thing for the following groups of people:
Those who don't have anything left at the end of the month
Those who don't save up at all
Those who have no emergency fund
Those who don't set financial goals or a budget
If that describes you, then you should start thinking of livingstingy. It'll help you adjust your lifestyle and start living below your means.
Talking of living below your means, here are some practical suggestions to consider:
Plan for your finances in advance; before payday
Pay yourself first – stash your allocation in a savings account.
Do away with meaningless expenses
Downsize your home
Drive a used car
11. Monetize Clutter
Here comes the easiest way to make money on the side without having to sweat for it. If you have clothes, shoes, or old toys, you can sell them at stores like Craigslist, LetGo, and eBay.
Not only does this allow you to make money fast on the side, but it also helps you to declutter your home.
Most times, old things make the house look messy and small. So, consider freeing up your space and get to make money from the act.
You can also sell off your clutter to neighbors and friends who may need them.
12. Just Cook Your Meals
Did you know that an average person spends $70,000 on takeouts in their lifetime? That's a lot of money is you ask me. You'll not have to spend that much, however, if you learn to live stingily.
Instead of eating out or ordering from a food delivery service, why don't you cook your meals at home? It can help you reduce your food expenses considerably.
What's more, cooking meals at home is healthy, given that you are the one picking the ingredients.
To ensure that you always save money when cooking at home, remember these tips:
Create a realistic shopping list and stick to it
Cook in bulk to freeze surplus for future reheating
Buy locally to get cheaper food deals
Buy foods that are on sale
13. Consider Free Fun Events to Save Up
Living stingy doesn't mean that you should live a dull and desolate lifestyle. There are so many fun events and activities that you can relish.
Not only do they save you money, but they also give you the fulfillment of social interactions.
One of the most effective places to find such deals is Eventbrite. There, you'll find free concerts, movie nights, outdoor sports, carnivals, day trips, just to name a few.
14. Shop in Bulk to Score Discounts
Let's face it; you are likely to save much more on a retail store than a wholesale store. The reason is apparent – wholesalers allow you to earn discounts on bulk purchases.
Retailers might give you a discount, but it cannot be matched by what you get from wholesalers. So, if you can afford to buy in bulk without risking any wastage, then consider approaching a wholesaler.
15. Find an Online Side Hustle
Lastly, one of the easiest ways to live stingily and save up is to find a side hustle. Ideally, there are so many side hustles open to people with full-time jobs.
You can freelance on a site like Fiverr or Upwork and get to earn money hourly. Some of the things you can do on either of these freelancing sites include copywriting, transcription, graphic design, virtual assistance, and proofreading.
Check out the two sites to see what you can do.
You can also earn some money on the side in survey sites like Swagbucks, MyPoints, InboxDollars, and Survey Junkie. Also, visit them to sign up if interested.

For more side hustles, check out these posts:
Conclusion
Generally, if the opposite of living stingy is spending money carelessly and doing zero investments and savings, I would rather live stingily.
What about you? If you share my sentiments, then you have 15 ways to start living stingy without being cheap. What's more, you get the opportunity to save.
Want To Remember This Post? Save It To Your Favorite Pinterest Board!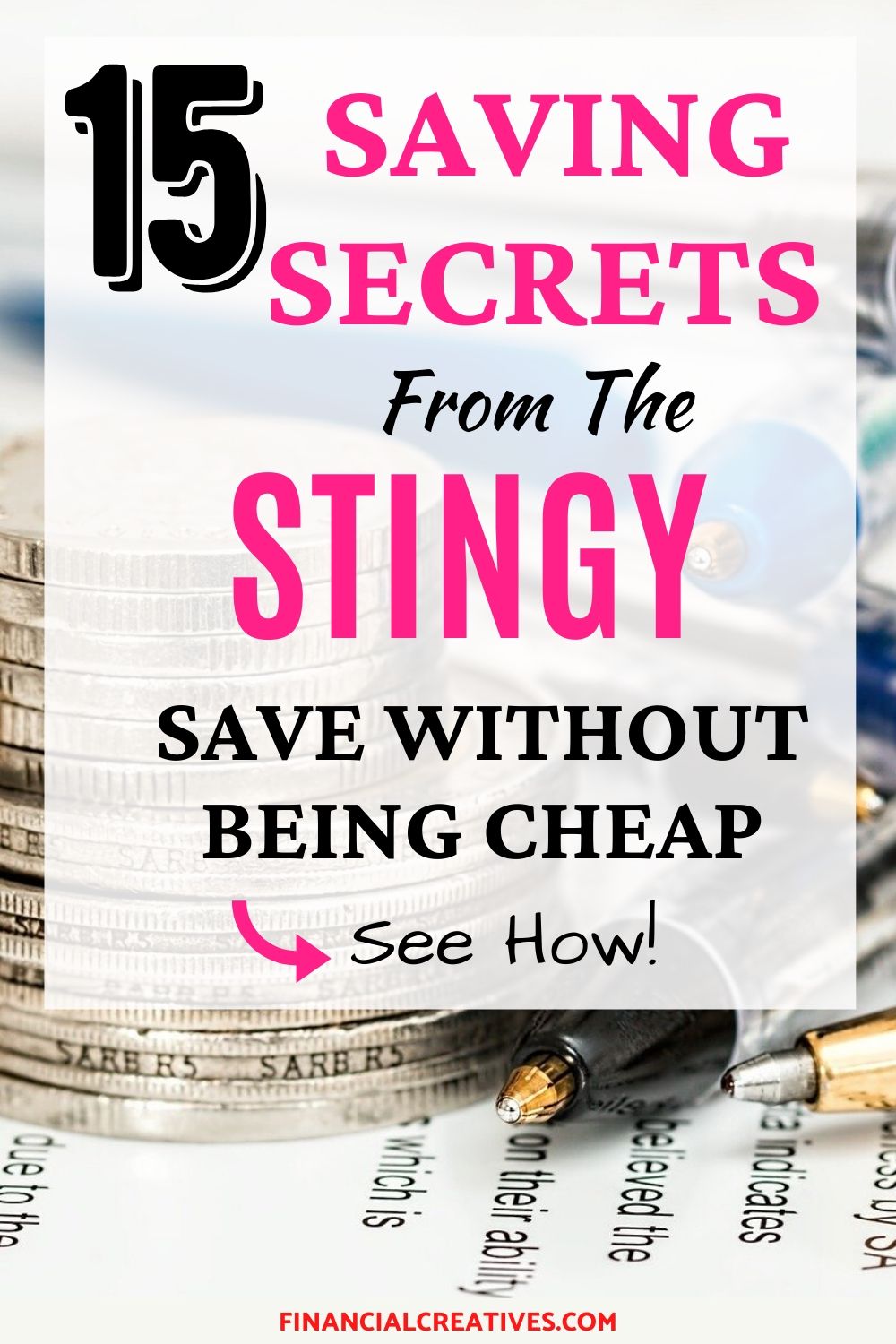 Is stingy living bad?
There is no single answer, as there are quite a lot of pros and cons. You yourself must make this choice, based on your expectations from this.
How to be stingy and save money?
If you are looking to save money, you could consider creating a budget, cutting unnecessary expenses, and finding ways to increase your income. It's also important to prioritize your financial goals and make smart choices with your money to achieve them.