Are you a stay-at-home parent with a knack for customer support? Text chat operator jobs from home could be your perfect fit. Offering an opportunity to utilise your skills while staying in the comfort of your home, these jobs present a flexible and rewarding career path.
These jobs are, in effect, non-phone, which means you don't need to use a phone to work. So, if you are an introvert looking for a part-time hustle, text chat operator jobs may suit you more.
The Intricate Role of A Text Chat Operator
Text chat operators play a vital role in customer service by helping customers through chat. Their duty entails answering queries, which means having extensive knowledge about your client company's products or services is crucial. But worry not, this aspect of the job also allows for continuous learning and development.
It would help if you also are fast in typing and has access to high-speed internet.
Do Text Chat Operator Jobs Pay?
Averagely, text chat operators make $6-$16 per hour. It's not much, but you can enjoy a decent payout if you work for several hours a day.
You should note, however, that every company has its way of compensating text chat operators. Some jobs come with bonuses and other advantages that are just as motivational as the hourly rate.
Impress Your PJ's: Top Companies Hiring Text Chat Operators & Email Support Agents from Home
Here, I have curated a list of 25 renowned and reputed companies ready to hire you for text chat operator roles. These companies not only have rich reputation, but also offer fair compensation that matches your effort. I've sorted the list beginning with the companies that offer the best pay.
Let's delve into this list, carefully weigh each company and make sure to pick an opportunity that suits you the best:
Average earnings: $16/hour. A credible company with impressive benefits for its text chat operators.
Apple is, without a doubt, one of the biggest names in the tech sector. So, working for the iPhone giant brand means you should expect better compensation.
You'll make $16 an hour averagely as a text chat operator, and there is more to expect. Apple is among a handful of companies that provide you with a computer and any other equipment you need to work from home.
Apple trains you before you can start offering text chat services, and you can buy most of their products at a discount.
What's more, you may qualify for the company's health coverage, saving plans, and other membership benefits.
Average earning: $16/hour
You probably have seen the Capital Typing banners in a majority of websites that you regularly visit. The company advertises research and data entry jobs mostly.
But still, they occasionally hire text chat operators to handle different customer chat-based inquiries. As a chat text operator, you'll be providing live chat and email support from home.
Capital Typing is among the best payers in the customer support industry since you can make $16 an hour on average.
They, however, have a strict application procedure for anyone planning to join them. You'll need to pass a Skype interview before beginning live chat operator jobs from home.
Average earnings: $15/hour. A company that is widely respected and known for taking care of its text chat operators.
Kelly Connect is a reputable staffing company that hires all kinds of customer support agents. So, you can visit them today to apply for text chat jobs.
The company pays $15 an hour on average, and you can receive a computer once you join the team.
With Kelly Connect, you can work either full-time or part-time. To apply, you only need a high school diploma and should have some excellent chatting skills.
Kelly Connect regularly offers bonuses of up to $300 to its trainees. So, the efforts that you put into the training never goes unnoticed.
Kelly Connect is generally supportive, especially to trainees, thus great to work remotely.
Average earning: $15/hour
Zapier, a renowned player in the customer support field, is known for offering fair compensation. With their average hourly payout for text chat operators standing at $15, their payment system does indeed reflect their reputation.
Mark you; the high pay is not the only reason why you should sign up on Zapier.
The company promises text chat operator jobs from home equipment provided. So, you'll receive a computer and other tools for work from Zapier.
Zapier is present in at least 24 countries. So, visit the website to see applicable regions.
The company has a flexible work schedule, and they are known to communicate via Slack. You'll need a good internet connection to work on Zapier and should possess excellent interpersonal skills.
Average earning: $14/hour
Site5 is a hosting service that also doubles up as a customer service center. So, if you have some web hosting knowledge and are looking for customer support jobs, consider applying at Site5.
You may be required to commit up to 20 hours a week at a pay rate of $14 an hour. That means you can make $280 a week, working three hours a day. That's not bad for a part-time hustle.
As a remote staff member for Site5, you can enjoy health insurance, paid vacation, and other benefits.
Average earning: $14/hour
Gear Launch is a big customer support brand that connects remote text chat operators with Shopify customers. They help Shopify customers to shop on the platform.
Given that Shopify is global and tends to expand each day, Gear Launch is always looking for qualified remote workers to provide chat services.
The company requires you to possess excellent communication skills, and you should have access to an internet-enabled computer.
Gear launch allows you to pick your most comfortable working hours, and you can make $14 an hour averagely doing chat operator jobs.
Average earnings: $12/hour. A highly rated company known for its benefits and favourable working conditions for text chat operators.
If you are looking to work as a text chat operator during the festive season, there is no better place than Amazon.
During such times, Amazon employs all kinds of customer support agents to handle the numerous shoppers who visit the retail giant daily.
So, the job may be temporary, but it's always worth it to do from home. Besides, the pay is about $12 an hour, which is decent.
In case you are lucky to be retained by Amazon and join their full-time team, you should expect to receive a computer and an internet device from them. That's meant to help you work better.
Average earning: $12/hour

Support.com is a customer support company that is associated with offering tech-related assistance to clients around the globe.
You can join the company as a remote text chat operator, but you need excellent chatting skills.
What I like about Support.com is that they offer paid training to recruits.
Moreover, you can enjoy benefits like paid time off and medical coverage once you become an official team member.
Shifts are available for text chat operator jobs, and they are flexible for everyone.
Support.com performs a background check on your before you can start working.
Average earning: $11/hour
BestBuy is one of the largest online stores for computer accessories, TVs, video games, smartphones, and other electronics.
The company hires text chat agents in the U.S to help them respond to customer inquiries. So, you need to be familiar with most of their products to offer text chat support from home.
BestBuy deals with Apple products, which means you are better placed to work at the company if you have prior experience working on Apple.
The average hourly pay is $11, which is sensible for a text chat operator. BestBuy expects you to work at least 35 hours a week, which translates to $385.
Average earning: $11/hour
Can you type 50WPM (words per minute)? Are you an excellent communicator? Then you should take your impressive skills to OutPLEX.
The company hires text chat operators from different backgrounds, and all you need is a high school diploma and customer support experience. Having sales skills is a bonus when applying to OutPLEX.
The pay is commission based, but most chat agents make $11 an hour. However, you should note that the more hours you commit to the texting jobs, the higher the pay.
OutPLEX expects you to have secure and reliable internet plus an efficient computer to join the team.
Average earnings: $10-$15/hour
Indeed.com is one of the leading job boards globally, so you can expect to find text chat jobs there.
The platform collects remote jobs from different places, and so the pay depends on who is hiring. However, I have noticed most text chat jobs paying $10-$15 an hour.
The beautiful thing about searching for chat jobs on Indeed is that you don't have to sign up. Just keying the term text chat jobs on the search bar will give you the results you want.
You can also set personalized job alerts, and the notifications will timely pop up in your inbox.
Average earning: $10/hour
Uber, the leading ride-sharing service, is hiring text chat operators around the globe to join their customer support team. You'll need to answer an array of customer inquiries and complaints.
The job is slightly demanding, and so Uber expects you to work for 40 hours every week. With the average hourly earnings being $10, you are likely to make $400 a week.
What's more, the company offers paid time off, and you can be eligible for service discounts.
Uber expects you to possess excellent communication skills before beginning. They offer a 3-day training to help you prepare for the chat operator jobs from home.
Average earning: $10/hour
The Chat Shop is internationally known to provide technical and customer support to businesses. So, they hire all kinds of customer service agents, and that includes text chat operators.
You'll need to provide live chat services to online businesses and get to make $10 an hour.
Notably, the company trains you first before assigning you a client website to offer live chat support. The Chat Shop allows you to work 20-40 hours weekly.
However, you are better placed to join the team if you are a native of the U.S or U.K, and you have sales or customer support experience.
Average earning: $10/hour
Arise is known to hire virtual call center representatives and text chat operators as part of their customer support team.
More to it, Arise allows you to register a work-from-home customer support agency if you want to run your own customer support business.
But if you sign up for texting jobs from home, Arise allows you to make $10 hourly, and you receive sufficient training and orientation before starting.
You should note that you'll be providing live chat support when you join Arise. So, you have to be fast and effective.
Arise pays according to the number of hours you work and so it's a beautiful place to work part-time.
Average earning: $10/hour
SiteStaff is a Denver-based live chat company that hires experienced text chat operators known as chat hosts. The company pays $10 hourly, and you can be eligible for an array of benefits.
For example, they offer detailed training, and you get paid while at it.
And once you are through with the training and are part of the text chat team, you can enjoy weekly bonuses and commissions on sales.
So, if you are looking for a company where you earn decently and grow as a text chat operator, SiteStaff is worth a shot.
Head over to the company website to check out the job's application requirements and apply.
Average earning: $10/hour

Job seekers can take advantage of various platforms like Fiverr for an array of opportunities. This online marketplace serves as a pivotal connection between professionals seeking to offer their services, including live chat services. Fiverr provides a platform to gain visibility and establish a client base for those who are keen on venturing into providing chat operator services. Operating from your home, with exemplary communication skills and an understanding of your client's products or services, you can capitalise on this platform. It's not just about selling services but about generating a flexible work environment that also bolsters your revenue.
If you're searching for genuine opportunities to work from home in roles such as text chat or customer support, then Fiverr should certainly be considered. Fiverr is distinguished not just for its broad spectrum of freelance job options, but it's particularly favoured by employers in need of chat operation or text sending services. The platform design allows for uncomplicated navigation and is appreciated by many for its transparency in job advertisements including salary details and work prerequisites.
Embarking on a text chat operator career is a simple process, comprising of two steps - joining the company and outlining your service provision. Renowned corporations such as Apple, Capital Typing, and Uber, offer such job roles, inclusive of training that boosts your communication capabilities. The major gain of choosing a career as a text chat operator is the liberty from obligatory telephone interactions-this is particularly advantageous for those who favour text-centred communication. The average pay ranges between $6 to $16 per hour, with additional perks that include paid vacation time and discounted services. It is crucial, however, to possess swift typing abilities and a sturdy, high-speed internet connection.
Once your role as a text chat operator becomes active, potential clients in need of your specified services will initiate contact. They will put forth job proposals, tailored to your skills and experiences.
In this digital era, the scope of text chat jobs has widened greatly and they now come in an exciting variety. From customer service roles to sales specialists, there is sure to be a position that fits your unique skill set. As part of these roles, you may be required to handle customer queries, provide technical support, or even help shoppers make purchases.
The way in which these potential clients reach out to you can vary. Some may prefer to use professional networking sites, like LinkedIn, while others might choose email or even direct phone calls. It's important for you, as a candidate, to discern the credibility of these job offers. Look for established companies and clear job descriptions to ensure the legitimacy of the proposal.
Ultimately, stepping into text chat operator roles offers a great opportunity. By expanding your understanding of what these jobs entail and how to communicate with potential clients, you can secure the best offers and build your career.
Becoming a text chat operator can be a cost-effective endeavour. One popular freelance site, Fiverr, offers a base rate for establishing a gig at a mere £5. Nonetheless, it is commonplace for text chat operators to impose an average charge of £10. This poses an intriguing contrast with the broader sector where income can span between £6 and £16 hourly, contingent upon the company in question and the job's specific details. Whether you are in service of world-renowned entities like Apple or Amazon, or choose the path of self-directed freelancing, it is evident that there's a myriad of pathways available to aspiring text chat operators. Hence, this not only introduces fresh details but also seamlessly integrates it within an overarching framework, effectively correlating it with the rest of the content.
There's a significant perk to text chat operator jobs; they give you global exposure. This empowers you to support clients from every corner of the globe, all from the comfort of your own home. Thesey roles effectively enable you to tap into an international client market whilst enjoying the convenience of working from your favourite chair.
Average Earning: Rate not disclosed
Are you familiar with WordPress.com, Gravatar, Tumblr, or WooCommerce? Automattic is the company behind the creations, and they are always hiring text chat operators.
Automattic has customer support representatives in at least 77 countries globally. Though the rates for text chat operator jobs from home are not disclosed on their website, employee reviews suggest that the pay is good.
Automattic promises to provide you with an allowance for setting up your home office, and they also reimburse the cost of equipment and software.
Other potential benefits include life insurance, pension contribution, and vacation policy.
Average earning: $10/hour
Concentrix also provides laptops to its remote workers, and that includes text chat operators.
The company is associated with tech services, and so being a techie is always an added advantage when applying for a job.
But still, the primary requirement for working as a text chat operator is excellent customer support skills. You have to professionally handle customer inquiries and complaints and provide them with relevant solutions via chat.
On average, Concentrix pays $10 hourly for text chat operator jobs from home. The company expects you to work for at least 40 hours per week, and you get paid twice a month.
Average earning: $10/hour
Like Concentrix, Sedgwick pays $10 per hour on average and provides you with a computer and other requirements for work from home chat jobs.
The insurance company also compensates you for internet costs incurred while working. You'll receive $75 monthly for your internet expenses, which is a decent allowance.
Sedgwick is global, and they currently have text chat operators in 65 countries. They hire full-time, and that entitles you to pension and health benefits.
Average earning: $9/hour
Alorica is a trusted company for outsourcing customer support. Thus, they always hire text chat operators alongside virtual call center agents to serve their long list of clients.
Alorica clients usually are online businesses, stretching from North America to the Philippines. You can, thus, apply for text chat on Alorica from anywhere.
Though the average pay is $9, which is small compared to what you get in the above jobs, there are referral bonuses on Alorica. Plus, the company reimburses your tuition.
Average earning: $8/hour
Televated is a fast-growing call center service that hires both virtual call agents and text chat operators.
The company hires text chat operators to handle live chats and email responses. In this case, you'll need to answer inquiries, take orders, and provide chat-based technical assistance to customers.
The company takes pride in responding to customers' needs faster, so they expect you to live up to their standard.
But in case you also want to apply for virtual call center jobs or data entry, Televated is worth considering. You'll receive $8 an hour as compensation for online chat jobs from home.
Average earning: $7/hour
Live World is a top provider of social media customer support services to businesses. Each day, their client list increases, and this translates to more opportunities for text chat operators.
As a text chat operator, joining Live World means you'll be answering questions and providing feedback through live chat.
Since the company specializes in social media customer services, you have to deeply understand social platforms like Facebook and Twitter.
And in case you are bilingual, you can also double up as a translator, which means more money. The average pay for text chat operators is $7, but you can earn more with time.
Average earning: $7/hour

Fancy Hands is known to offer an array of work-from-home jobs, ranging from data entry to virtual assistance. Today, they need dedicated text chat operators to serve their growing list of clients.
You'll be required to offer live chat and email support. But still, you can do some data entry job or virtual assistance tasks like scheduling appointments.
You have the option of signing up as an independent contractor, which means you get to set the price, terms of work, and schedule.
Most of their text chat operator jobs from home pay $7 an hour. The compensation is not much, but it's regular as Fancy Hands rarely runs out of chat jobs from home.
Average earning: Payment Undisclosed
LiveChat, one of the biggest names in the online chat sector, is hiring text chat operators known as support heroes.
As a support hero, you'll need to address customer complaints at odd hours and provide useful information to willing buyers.
Generally, you'll be working full-time. The company expects you to have an excellent command of the English language, and you should type 40WPM.
Plus, you may be required to multitask and should have strong analytical skills.
The company promises a substantial paycheck, covering all government-related benefits. You'll also receive the essential chat equipment from LiveChat and valuable resources to get started.
Average earning: Shopping voucher
Lastly, the Needle is an online shopping assistance service that promises shoppers the best customer support experience.
The company is always hiring motivated chat agents to address the customers' shopping inquiries and concerns.
They expect their text chat agents to be knowledgeable, courteous, and eloquent.
Needle expects you to convert a regular site visitor into a customer. If you have prior sales skills, you could earn decently (though in voucher form) on Needle.
Related:
Concluding Thoughts
As seen on my list, there are so many text chat operator jobs from home that you can apply for. Both the compensation and terms of application differ from one position to another. So, you have to choose carefully.
Hopefully, the discussed information can help you arrive at a decision quicker to start making money online.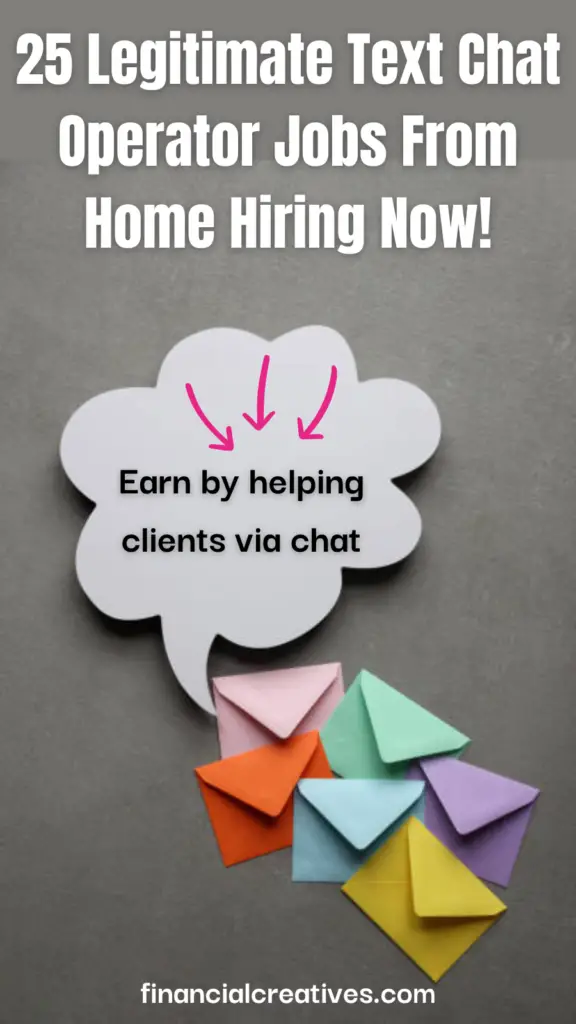 How many responsibilities do texting operator jobs have?
The main duty of the text chat operator is to help customers through the chat, that is, to answer their questions.
How much do online chatter jobs pay?
The pay for online chatter jobs can vary depending on factors such as the specific job, the company, the amount of experience required, and the geographic location. However, on average, online chatter jobs pay between $10 and $20 per hour.