NameHero vs Bluehost guide: NameHero and Bluehost are two of the most talked about hosting services on the Internet right now.
Praised for their premium features and criticized for their unclear pricing structure, we think it's best to look at how the two compare in the first place.
Quick Comparison:
NameHero and Bluehost vary in terms of storage memory, dashboard, speed, ranking, demographic adoption, SSL certification, and web hosting plans. They also differ in terms of pricing, bandwidth, domain and subdomain, CPU cores, and web hosting plans.
In this guide, I will do a complete side-by-side comparison of Bluehost and NameHero web hosting services.
My goal with this guide is simple:
I'm going to compare all the features of the two website hosting services to give you more insight about the service. In the end, it will be up to you to make up your mind on the hosting plan to choose.
NameHero vs Bluehost: 16 Features Compared
The number one advice I often give new bloggers when it comes to hosting is that they should compare all relevant features of a number of services before making their final decision.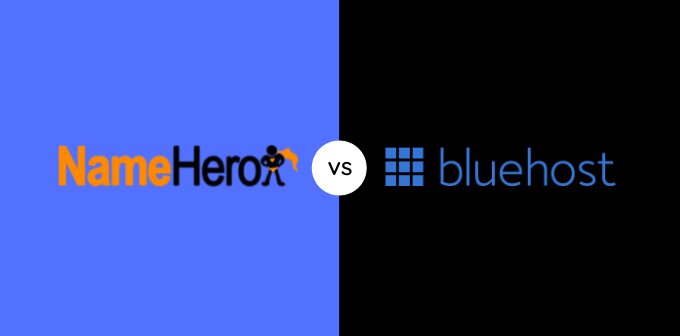 That's what I'm going to do in this guide.
I will compare up to 17 different features of NameHero vs Bluehost to help you understand the differences and make up your mind on the service to use.
Let's get to it.
1. NameHero vs Bluehost: Ranking
I hardly ever look at the ranking of hosting services when considering what agency to use to ghost a website. But I thought it would be a good thing to see how Bluehost and NameHero compare in term of ranking.
From the information I've gathered, Bluehost ranks position 42 while NameHero ranks at position 4 in the category of the best cheap WordPress hosting service providers.
NameHero takes the lead with an overall rating of 4.4 out of 5 stars while Bluehost gets a rating of 2.5 out of 5 stars.
These ratings are subjective and solidly based on Financial Creative's evaluation.
Speaking of adoption by geography, Bluehost is more popular in the United States, India, and Australia while the NameHero hosting platform doesn't have a lead over Bluehost in any country.  
2. NameHero vs Bluehost: Storage Memory
Bluehost uses SSDs while NameHero uses the NVMe SSDs, which is much faster than the SSDs used on Bluehost with lower latency, and faster reading and writing speeds.
All the plans you will find on Name Hero, from Plus to Choice Plus to Pro Plan, come with unlimited SSDs while the Basic plan on Bluehost is limited to 50GB.
SSDs are important on your site because they are so resistant to shocks originating from HDDs and give the site the ability to respond to multiple queries simultaneously.
3. NameHero vs Bluehost: Dashboards
Both hosts use cPanels as their dashboards. Activating Cloudflare, installing WordPress, and performing a PHP version upgrade isn't hard on either of the web hosts.
The cPanel available in Bluehost and NameHero is not that confusing, so even someone completely new to web hosting and blogging should have an easy time navigating the dashboards. 
4. NameHero vs Bluehost: Speeds
NameHero uses LiteSpeed while Bluehost uses Apache.
NameHero hosting offers LiteSpeed on each of its plans. All you get on NameHero in terms of speed is faster sites with fewer or no CPU issues.
LiteSpeed is faster than the Apache is because it uses server-side caching and HTTP/3. It is also faster than the WP Rocket, which you will find on Bluehost, often available at an additional cost subject to the terms and conditions of WP Rocket.
5. NameHero and Bluehost SSL Certification
Your website needs an SSL certificate because it keeps client data secure and discourages hackers from creating a duplicated version of the sit.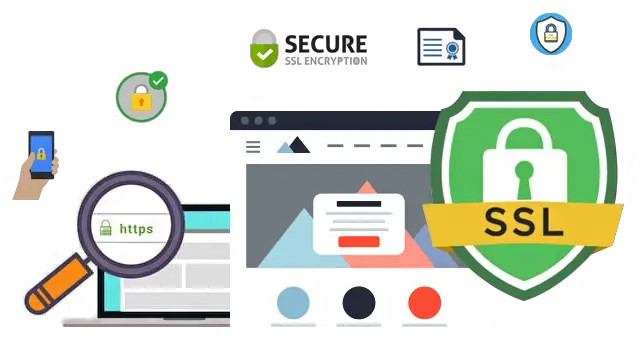 In addition to gaining consumer trust, a website that has an SSL certificate might get a boost in ranking from Google and other search engines.
Both NameHero and Bluehost come with free SSL certificates.
A real-time malware scanner, an advanced firewall, and proactive defense are included in the NameHero host service. A spam expert, dedicated IP, and site lock security are available on Bluehost for added security.
6. Bluehost vs NameHero: Web Hosting Plans
Bluehost and NameHero both come with four hosting packages.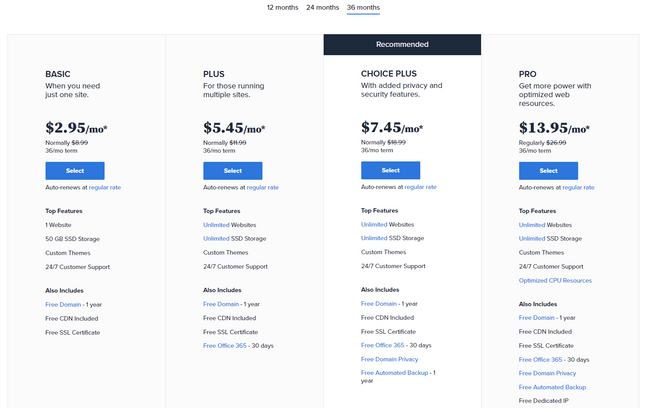 The hosting plans on Bluehost include Basic, Plus, Choice Plus, and Pro. The plans on NameHero are Web Hosting, Reseller Hosting, and VPS Hosting.
The Web Hosting package on Name Hero will cost $4.30 per month and is best for small websites or those who are looking for cheap website hosting on the web.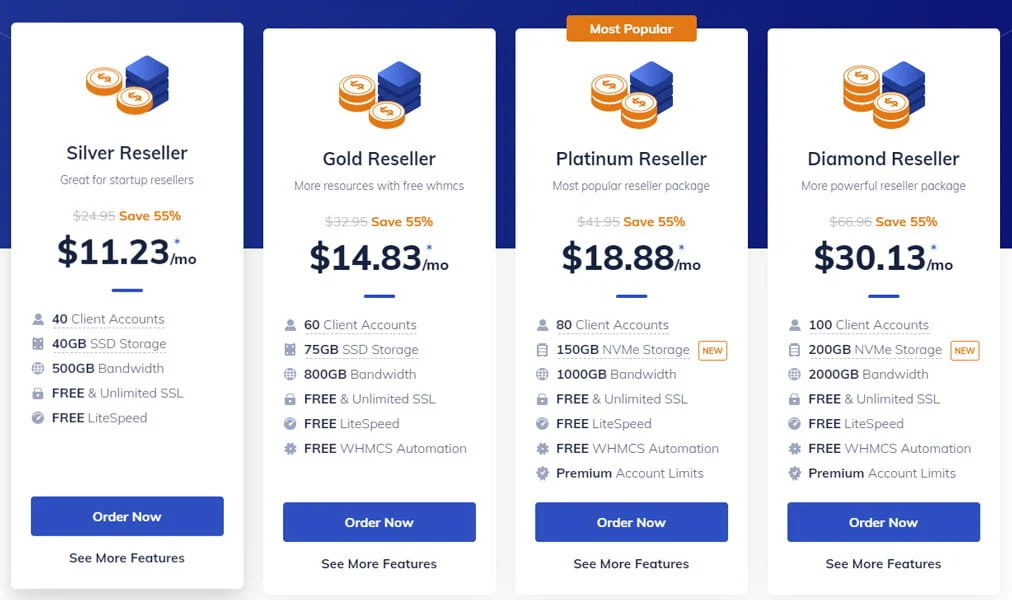 The Reseller plan will cost $13.72 every month and it is good for hosting clients while the VPS plan will cost $21.97 per month.
On the other hand, the basic plan on Bluehost will cost customers $3.59 per month while the Plus and Choice Plus packages will $5.95 each month.
NameHero is more cost-effective and thus the best web hosting service to go for when looking for a cheaper option.
7. NameHero and Bluehost Money Back Guarantee
Both NameHero and Bluehost have a 30-day money-back guarantee for each of their plans. You can refer to their Money Policies for more information.
In this respect, the cancellation must be within the first thirty days failure to which you will incur charges based on the plan you signed up to.
8. NameHero vs Bluehost: Email Accounts
NameHero does not limit the number of email accounts, so even the very basic plan can have as many email addresses as you wish.
Unfortunately, users under the basic plans on Bluehost are limited on the number of email accounts they can create. If the 25 email accounts on the basic plan aren't enough for you, consider upgrading the Plus, Choice Plus or Pro plan where you can have unlimited email accounts.
The email accounts offered by NameHero are POP3 and IMAP email accounts while the ones offered by Bluehost include POP3, POP3-SSL, IMAP/IMAP-SSL, SMTP/SMTP-SSL, and SPAM safe email with IMAP.
9. NameHero and Bluehost Bandwidth
Both Bluehost and NameHero offer unlimited bandwidth on all their plans. You want a hosting that has the unmetered amount of bandwidth because the more the bandwidth, the more the site can host a large number of visitors hence more traffic.
If anything, you never have to worry about your site going offline because of limits in bandwidth consumption, even if you have a heavy website.
10. NameHero vs Bluehost: Number of Websites Supported
The Starter and Plus Plan on NameHero will only allow 1 and 7 websites respectively.
Bluehost web hosting will only allow 1 website for the Basic web hosting plan and unlimited websites for all other plans.
11. NameHero vs Bluehost: CPU Cores Per Account
Bluehost does not have a separate mention of its core for its various hosting plans.
On the other hand, NameHero does have a core for each of its cloud plans. Its Starter plan is 1 core, the Plus plan is 2 cores, the Turbo is 3 cores and, the Business plan is 4 cores.
12. Domain and Subdomain Offers on NameHero and Bluehost
If you opt for NameHero as your new web host and sign up for the Turbo or Business packages for 2 years or longer, you get a free domain.
Bluehost is better at offering free domains and that is because it offers 1 free domain no matter the plan you choose.
Talking of sub-domains, NameHero hosting comes with unlimited while the Bluehost hosting also comes with unlimited domains for its plans except for the Basic plan, which they limit to 25.
13. NameHero vs Bluehost: Uptime Guarantee
Both NameHero and Bluehost are good at keeping their systems up and running, with an assurance of up to 99.9% uptime guarantee.
Checking the uptime of a website is as easy as taking the number of hours that a website is available and dividing it by the number of hours in a year, and then multiplying the value you get by 100%.
14. Data Backups on NameHero and Bluehost
The data backup process is important in website hosting. If something happens to your site, and you lose data or the entire site for one reason or the other, you can always restore the site from the backup data and get back to business as usual.
Fortunately, NameHero comes with free nightly backups while Bluehost comes with CodeGuard Basic site backup.
15. NameHero vs Bluehost:  PHP Versions
Both web host providers come with similar PHP versions. Versions available for picks include PHP 5.*, 7.1, 7.2, and 7.3.
In addition, all the plans on NameHero and Bluehost are E-Commerce ready.
16. Customer Support for NameHero and Bluehost
NameHero and Bluehost have good customer support.
Professionals through email, chat, and phone handle the support. Both web hosts claim of offering 24/7 customer support.
The majority of users on Bluehost complain of slow customer feedback. Fortunately, this is not the case with NameHero because they are dedicated to hearing and finding ways to solve their customer's troubles.
What You Will Like About Bluehost
Bluehost is user-friendly, especially the dashboard, which is easy to use making it, a better option for users who are getting started.
The plans available on Bluehost are cost-effective compared to plans on NameHero.
A single click WordPress Install via Softaculous and WordPress optimized hosting from the WordPress Experts
Very good website navigation and an informative site copy
What You Will Not Like About Bluehost
Shared hosting on Bluehost is a disappointment and that is because it does not have the fastest loading time.
What You Will Like About NameHero
The hosting service provider appears on the list of the fastest web hosts
This hosting service provides records a 99.9% uptime.
It saves money when it allows you to migrate up to 10 websites at no cost.
Softaculous One-click WordPress install.
Features very good site navigation and design.
What You Will Not Like About NameHero
Although they claim to have a 24/7 customer care support, users complain there are delays sometimes.
A little costly compared to Bluehost
Final Thoughts
We hope that this guide has helped you to understand the difference and similarities between Bluehost and NameHero web hosting services.
As we've seen, the two brands compare and differ in so many different ways. And now that you have this information, it should be easy to decide what hosting platform to choose.
What is financially more profitable to choose: NameHero Web hosting or Bluehost?
From a financial standpoint, NameHero is more cost effective and therefore the best web hosting service when looking for a cheaper option.
What are the benefits of joining the NameHero affiliate program?
The NameHero affiliate program offers generous commissions, easy-to-use tracking and reporting tools, and a wide range of promotional materials to help you market their web hosting services effectively.