NameHero entered the market with one simple goal, to bring you a hosting plan that doesn't run your bank account dry. For as little as $2.69 per month, you can create an online presence on a budget.
But is NameHero good hosting?
NameHero is an excellent hosting platform because their servers are fast. They've optimized their systems to guarantee 99.9% uptime, so downtimes are almost nonexistent. Also, NameHero is a good hosting plan for those on tight budget. You can get started with as low as $2.69 per month.
If you've ever wanted to start a blog, but you find hosting platforms such as Cloud Ways and Digital Ocean too expensive for beginners, you'll find NameHero quite useful.
The brand even invests in professional customer support setup, with tickets getting responses in an about an hour even on the weekends. 
What is NameHero?
NameHero is one of the website hosting companies on the web that deals in different types of hosting. The company currently offers shared, reseller, VPS, and high-speed cloud hosting plans.
Built on proprietary technology, the company runs a private cloud with powerful Intel processors, solid-stated drive, and availability bandwidth.
Who Owns NameHero?
NameHero is a hosting company founded by Ryan Gray. He has been in online business since 1998, and he currently has over 20 years of experience as an internet entrepreneur.
His company is one of the fastest growing technology business, one currently ranked as a fast growing independent web host agency in the United States of America. 
Where is NameHero Located? 
NameHero is a United States based company with serves in Arizona and Michigan. It hosts more than 30,000 websites, and it's one of the fastest solutions on the web. 
NameHero Web Hosting Review: What You Need to Know Right
In this review, I will highlight the most important elements of NameHero as a hosting plan. In the end, it'll be up to you to decide whether it's a good hosting platform for you.
Keep reading.                                                                                  
Is NameHero Good Hosting? Or Should You Consider Another Option?
To determine if NameHero is a good hosting service, we need to look at:
The plans
The price for each plan based on what you get and
How fast, secure, and reliable the platform is
Continue reading to learn more.
NameHero Plans
NameHero comes with four different web packages; web hosting, reseller hosting, dedicated cloud hosting, and VPS hosting.
Web hosting consists of Starter, Plus, Turbo, and Business Cloud plans.
Reseller hosting consists of silver, gold, platinum, and diamond. 
Dedicated cloud hosting consists of Standard, Enhanced, Hypersonic, and Enterprise clouds.
VPS hosting includes of Hero 2GB, 4GB, 6GB, and 8GB
All of these plans come with unmetered bandwidth, unlimited SSD storage, and free Litespeed servers. The plans also offer Litespeed caching, Free SSL certificates, NVMe storage, and Cloudflare integration. You also get more performance, speed, and security features.
1. Web Hosting Plan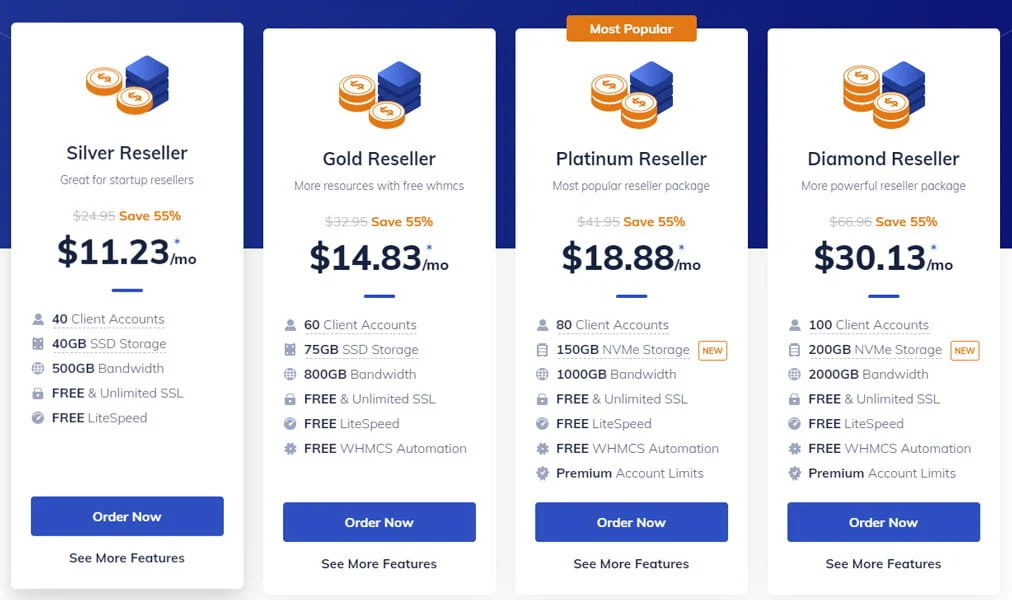 Below we discuss the four NameHero web-hosting plans, starting with a comparison table.
| | | | | | |
| --- | --- | --- | --- | --- | --- |
| Hosting Plan | Price /Month | No. of Websites | Storage | Free SSL Certificate | Free LiteSpeed |
| Starter | Up to $2.69 | 1 | 1GB |  Included |   |
| Plus | $5.28 | 7 | 2GB |  Included |   |
| Turbo | $7.98 | No Limits | 3GB |  Included | +Speed Boost |
| Business | $11.98 | No Limits | 4GB |  Included | +Speed Boost |
Starter Cloud Plan
The Starter Cloud Plan is basic and best for people who are getting started with internet marketing. The plan is cost-effective. NameHero charges $2.69 each month, but you must choose a three-year plan to activate this offer.
The memory/RAM for the starter pack is 1GB, which can only host a single site. You do get LiteSpeed solution and a free SSL certificate. 
Plus Cloud Plan
The Plus Cloud Plan also includes LiteSpeed and a free SSL certificate. Unlike the Starter Cloud Plan, this plan comes with 2GB RAM of memory and charges only $5.28 per month.
As with the Starter Cloud Plan, you need to buy a three-year package to activate this offer.
Turbo Cloud Plan
Although Turbo Cloud Plan comes at a relatively high price, what it has in store for users is worth every penny.
Having chosen a three-year package, you will be able to enjoy 3GB of RAM, free SSL certification, free LiteSpeed plus speed boost, and unlimited websites for just $7.98 every month.
This is the best package to consider if you intend to start your own small E-Commerce business.
Business Cloud Plan
Business Cloud Plan is the most expensive package on the NameHero web hosting solution.
Having paid $11.98 and opted for the three-year plan, you get 4GB of RAM, a free SSL certificate, and free LiteSpeed plus speed boost. You can also host unlimited websites.
The Business Cloud Plan is the best for users who want to start big E-Commerce websites.
2. Reseller Hosting Plan
NameHero reseller hosting is idea for those who dream of starting a web hosting business of their own but don't have the funding to develop and maintain their own hosting architecture.

There are four plans in reseller hosting, and these are silver, gold, platinum, and diamond. All the four plans feature WHMCS panels, auto SSL certificates, free LiteSpeed cache solutions, free domain reseller accounts, free Cloudflare, private name servers, and much more.
Silver
The silver plan comes with an SSD storage of 40GB, can host up to 40 client accounts, and has a bandwidth of 500GB. This is the best plan to consider if you're new to reseller web hosting.
Gold
Gold Plan features an SSD storage space of 75GB with 800GB bandwidth, and can host about 60 accounts for clients. For three years you will pay $14.83 per month.
Once the resell business starts to boom you will want to upgrade to this plan since there's more space with more client accounts.
Platinum
The Platinum Plan has a 1,000GB bandwidth and 150GB of SSD storage memory. It can hold up to up to 80 client accounts for 3 years at $18.88 per month.
Diamond
The Diamond Plan offers 200GB SSD storage space and bandwidth storage of 2,000GB.
The package will accommodate up to 100 client accounts for $30.13 a month for a three-year plan. If you have enough experience in web hosting and you need a suitable plan to get you get you started in the business, you might want to consider this option.
3. VPS Hosting Plan
The VPS hosting plan is best for larger websites that need extra security.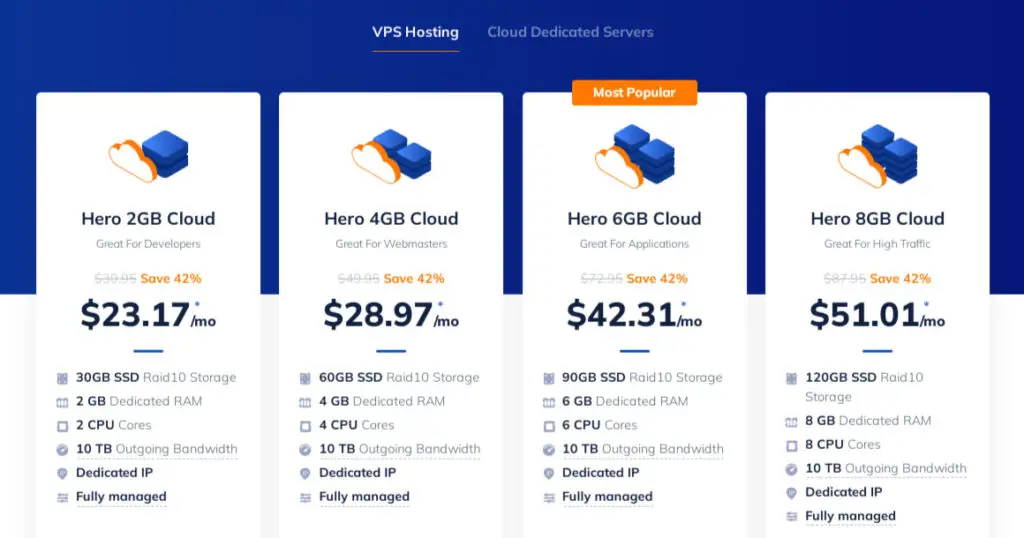 This hosting plan also features sub-plans with a ton of premium features, including free SSL certificates, WordPress installs, completely managed servers, free bandwidths, and dedicated IP addresses.
The plans include Hero 2GB, 4GB, 6GB, and 8GB charged annually.
Hero 2GB Plan
Hero 2GB Plan is suitable for small websites. That's because it has 2GB of RAM with 10 outgoing TB bandwidth.
The SSD storage is 30GB, which should be enough to host a small-sized website for over 5 years.
This plan goes for $21.97 per month.
Hero 4GB Plan
Hero 4GB Plan costs $27.47 per month.
If you choose this plan, you will get 60GB of SSD storage, 10TB bandwidth, and 4GB RAM. The expectation is that your website will load faster than it will on the Hero 2GB Plan. 
Hero 4GB Plan
Hero 4GB Plan will give you access to 6GB of RAM, 10TB of outgoing bandwidth, and 90GB of SSD memory.
The price for this plan is $40.12 per month.
Hero 8GB Plan
This is the highest hosting plan on NameHero. It features a 10TB outgoing bandwidth, 120GB SSD memory storage, and 8GB of RAM.
It is more expensive than the rest of the options. You will pay $48.37 per month for a yearly plan.
4. Dedicated Cloud Hosting
If you have a large website that gets a lot of traffic each day, or plan to create one from the ground up, then the Dedicated Cloud hosting plan may be an ideal option for you.
NameHero's dedicated hosting also comes with 4 plans. All the plans feature a single click WordPress install, a complete manager server, offsite backups, free incoming bandwidths, and automatic WordPress updates.
The plans include Standard, Enhanced, Enterprise, and Hypersonic cloud.
Standard Cloud Plan
The plan has 8GB RAM, 210 SSD storage, and a 5TB bandwidth with a 3.8GHz processor. It costs $153.97 per month.
Enhanced Cloud Plan
The Enhanced plan offers 450GB of SSD memory, 15 GB of RAM, and 5TB of outgoing bandwidth. You also get a processing speed of up to 3.6GHz.
This plan costs $192.47 per month.
Enterprise Cloud Plan
Enterprise Cloud Plan costs $269.47 per month.
For the price, you will get 31GB RAM, 460 SSD memory, and 5TB bandwidth plus 3.8GHz.
Hypersonic Cloud Plan
Hypersonic includes 900GB SSD storage memory, 62GB Ram, 5TB outgoing bandwidth, and a 2×2.1 GHz processor at $368.47 per month.
What makes NameHero Good?
The hosting service uses LiteSpeed instead of Apache. With the LiteSpeed cache, you don't need any third-party caching tool to speed up your website.
It comes with NVMe drives for the Turbo Cloud plan and Business Cloud plan. Transfer rates on NVMe drives are about x25 faster than on SDD disks.
It doesn't use MySQL. Instead, it uses MariaDB, which allows you to switch from one database to another without realizing any interfacial difference.
Advanced security features are available for free. Most NameHero alternatives will charge users for security features.
What makes NameHero Bad?
It  has data centers only in the United States and Europe.
Its user interface is not that friendly, so it could use some improvements.
Backup expires after every 24 hours.
Frequently Asked Questions
How Many Websites Does NameHero Support?
The number of websites allowed by the hosting service depends on the plan you choose. Users who opt for the Starter Plan can only host one website while those subscribe to the Plus plan can host up to 7 seven websites.
Those who don't want to be limited on the number of websites they can host under the same NameHero account should upgrade to either the Turbo plan or the Business plan.
Are there Free Domains for all NameHero Plans?
No, NameHero does not offer free domains. Instead, the service only offers users who subscribe to higher plans free domains. For free domain, consider getting started with Bluehost.
Is NameHero Fast?
NameHero falls on the list of companies that offer responsive web hosting services. They have fast servers, so you can expect your website and apps to load fast.
This is a hosting company to consider when you are out looking for a shared hosting that is affordable, with quick sever response and fast loading pages.
Why is the Price at Checkout Different from the Advertising Price?
The price you see being advertised is the reduced price for the first three years. A term shorter than three years will hike the price. NameHero also charges a setup fee, but they do not include it in the advertisement price.
Is Shared Hosting From NameHero Good for E-Commerce businesses?
The Business Cloud on NameHero is the only plan available on NameHero that will suit all your E-Commerce business needs.
In case the E-Commerce business is small scale then the Turbo Cloud plan should be considered, this hosting plan does it so well.
Also Read : NameHero vs Bluehost
Final Thoughts: Is NameHero Good Hosting?
As you can see, NameHero is a good hosting service that gives you so many options when it comes to hosting plans. From what we've seen, the service can be ideal for someone who is on a budget and needs a reliable hosting plan.
What is the minimum budget required to use NameHero hosting?
The minimum budget for NameHero is $2.69 per month, but subject to the fact that you must select a three-year plan to activate this offer.
Does NameHero offer quality customer support?
Yes, NameHero support is known for their excellent customer service. They offer 24/7 customer support via live chat, phone, and email, and their support staff is highly trained and knowledgeable.