Jobs for people who hate people! really?…Yes. I'm serious!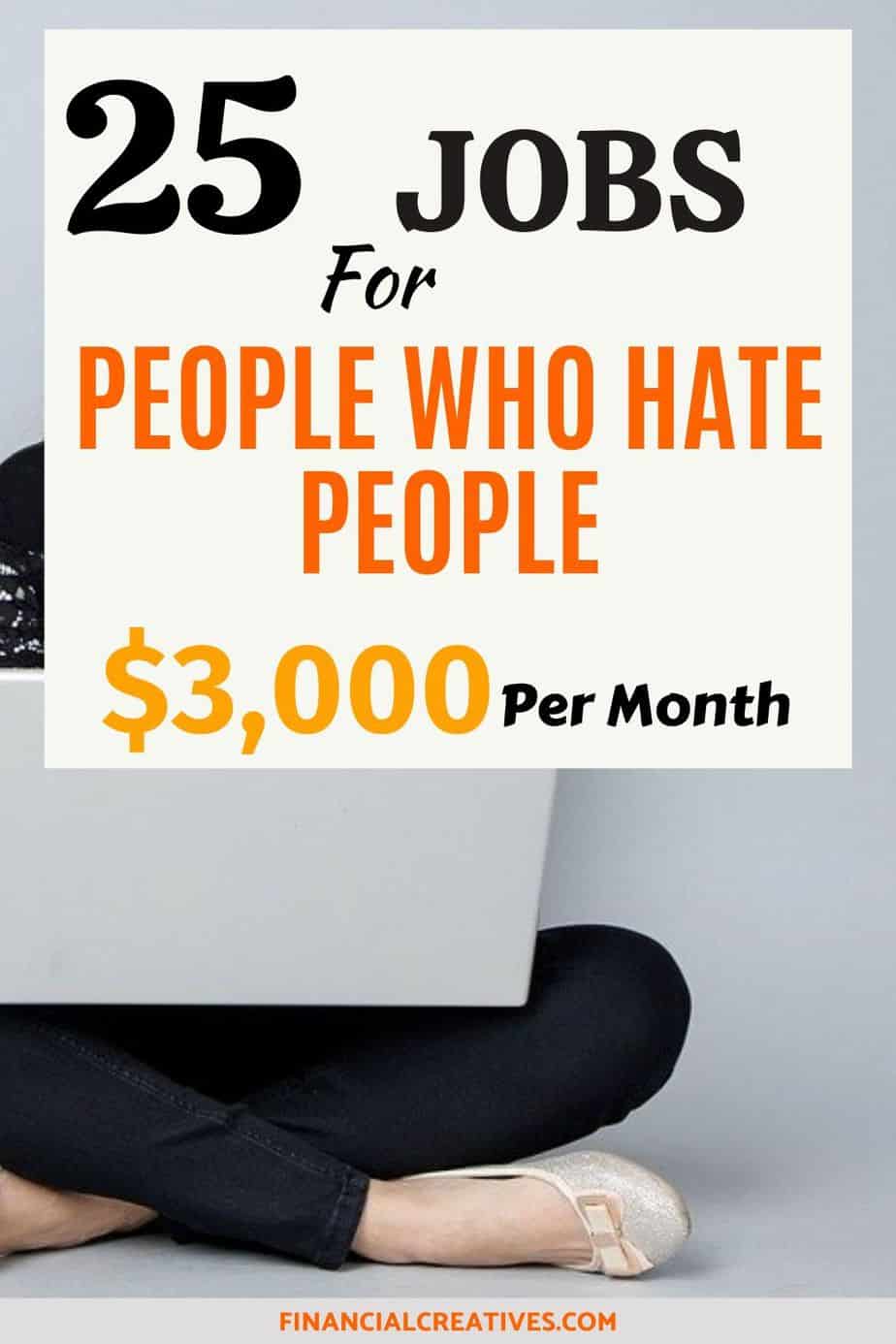 Do you just like being alone in the indoors? Does being around people drain your energy? Then you may be an introvert.
Most people describe introverts as people who hate people because they mostly choose solitude over companionship. But if you ask me, I think being an introvert is about seeing things differently but not necessarily hating people…..but… let's just use the term "hate people"
You can notice things that other people cannot see, and you always look at the big picture. Unlike extroverts, introverts focus more on ideas as opposed to facts.
So, do you still think you are an introvert? Then what you need are jobs for people who hate people.
After coming up with a post on the best side hustles for introverts a few days ago, I thought I should follow it up with this one.
My goal is to see you succeed off your paycheck. I would love to help you become more financially independent, and that's why I focus on making money and embracing saving.
With that in mind, I am going to describe the best jobs for antisocial people.
Here they are:
25 Jobs for People Who Hate People ( Make Over $100 a Day)
1.  Create a Niche-Specific Blog
(Potential Earnings – $1,000-$10,000/month)
Introverts are known to be creative, and this naturally makes them great writers. As a result, running a blog is something that all introverts should consider. It's one of the best jobs for people who hate people.
Here's why:
Blogging allows you to write what you cannot say in front of a crowd. The advantage is that your posts get to reach a wider audience.
Blogging also comes with attractive pay. I generate over $2,000 monthly as passive income through my blogs. Interestingly, I only work part time on this side business.
So, can you write about any particular niche? Let's say investments, travel, photography, wellbeing, just to name a few.
If yes, then take this project 24 blogging course and this SEO course to help you kick start your blogging career, and use Bluehost  for your hosting to take advantage of the free domain and low prices
I you're already an established blogger and you're experiencing more site traffic, then consider going for A2 Hosting. Though slightly costly, the hosting service enjoys unparalleled speed, uptime, and customer support.
You can also check a list of cheap web hostings to make your choice, and save money by getting a cheap domain name at another registrar, as it is usually more expensive to get your domain included with your hosting plan.
2.  Find Freelance Writing Gigs
(Potential Earnings – $10-$50/hour)
If you don't have a niche-specific blog yet but can write, then you should consider pursuing freelance writing. I always recommend this free guide to beginner freelancers who need inspiration for choosing niches to explore.
So, does freelance writing pay the bills? I would say it does if you work for the right clients.
I, for instance, started as a freelance writer on Fiverr before choosing to build my first blog.
In the beginning, I would make $10 an hour, which was not enough. But after building my portfolio on the freelancing site for a while, I started getting clients who would pay me $30-$50 per hour.
Hence, I always think Upwork is a great hustle place for writing jobs where you work alone from home.
If you are ready to start freelance writing, sign up here to set up your Upwork account.
3.  Work as a Freelance Transcriptionist
(Potential Earnings – $16-$28/hour)
Transcription (typing what you hear) is one of the most popular freelancing jobs out there. So many people are doing it, focusing on video conferences, short videos, interrogations, and interviews.
The beauty of transcription is that you don't have to be an expert in the niche you are transcribing. Just the general knowledge will do. You need the right skills, and this is where this free transcription course is important.
You also need to be a good listener, a fast typist, and a master in the English language
Some of the best places to find these jobs for introverts with no experience are Rev.com, SpeakWrite, and TranscribeMe.
4. Proofread Websites for a Fee
(Potential Earnings – $17-$30/hour)
Are you passionate about reading and are only looking for jobs where you don't have to talk to people? Consider transforming your love for books into a lucrative profession today by being a proofreader.
Proofreaders are among the best-paid freelancers. You can pocket $17-$30 an hour proofreading web pages conveniently from home.
Your job, in this case, would be to identify sentence structure mistakes, typos, grammar lapses, and misspells.
The advantage is that you don't necessarily need a degree to do proofreading. What you need most is the ability to identify mistakes on web pages and fix them.
But still, it is good to have the training, especially when starting. If you are looking to learn more about proofreading, try this free training or more professional paid course.
Check out some legit online proofreading jobs that requires no experience.
5.  Proofread Court Transcripts for a Fee
(Potential Earnings – $48,439/Year)
If you are looking to specialize in proofreading and possibly land a full-time proofreading job, then you should consider handling court transcripts. It is just like any other proofreading job, only that you deal with legal paperwork.
I recommend Glassdoor and Indeed, for such jobs for loners. The good thing about the two job sites is that you can set alerts to get job notifications as soon as the posts are published.
With ZipRecruiter estimating the yearly returns to be $48,439, legal proofreading is a perfect hustle for introverts. To learn more about proofreading court transcripts, consider this free workshop.
6.  Sell Printables on Etsy
(Potential Earnings – $5,000)
I just can't help it but get inspired and, at the same time, challenged by Julie's story. She is selling printables (digital files that you can print) on Etsy, where she has managed $5,000 in sales.
What's even more inspiring is the fact that she claims the income is passive.
She now runs an Etsy printables-selling course, where she shares tips on how anyone can venture into the market. I have checked the course out and let me confess that I'm considering the idea.
I also recommend this amazing free guide that shows different best sellers on Etsy.
After reading Julie's story and those of many other printable sellers on Etsy, I think that printable selling is one of the easiest jobs for people who hate people. So, you should try it.
7.  Create and Sell an eBook
(Potential Earnings – $2.99-$9.99 per copy)
If you can write articles and blog posts, how about you try writing an electronic book (e-book).
An e-book is simply a digital book. Most introverts prefer to spend time alone in quiet places, and such settings are perfect for creating an e-book.
Now let's get to how you make money.
You can make good cash by selling your e-book on Amazon Kindle Direct Publishing. They charge you a small fee, which is a deductible commission.
You can also sell on Selz (takes 2% of sales as commission), Blurb (takes 20% of sales as commission), and Payhip.com (takes 5% of sales as commission).
8.  Manage Facebook Ads
(Potential Earnings – $1,000/month)
Every month, more than 500,000 businesses are launched in the United States. From an entrepreneurial perspective, it means at least 500,000 opportunities for Facebook specialists.
Facebook has become an integral part of digital marketing, and so online businesses are looking for experts to run their ad campaigns. The expert, in this case, is a Facebook ad manager.
Do you find it easy to socialize online than in person? Then these jobs with no human interaction may suit you. To get you started is this awesome course that explains how to become an effective ads manager on Facebook.
According to the training, you only need one client to make $1,000 a month. I would sign up if I were you.
9. Work Part-Time as a Virtual Assistance
(Potential Earnings – $15-$17/hour)
Can you offer administrative or technical assistance to clients remotely? Then you have what it takes to become a virtual assistant. You can find such jobs at Fancy Hands, Time ETC, and freelancing sites.
To get started, check out $10KVA. They have a free program on how to become a good virtual assistant.
$10KVA  also directs you on how best you can find well-paying clients to make $10/month eventually. It generally simplifies the virtual assistance profession.
10.  Take Virtual Bookkeeping Jobs
(Potential Earnings – $20-$50/month)
Are you the type who always goes into the nitty-gritty of accounting? Then you should perhaps consider working as a virtual bookkeeper.
Everything that you do as is online, which means you have to stay updated with the new bookkeeping software and be computer literate. Your accounting skills should also be as advanced as those of traditional bookkeepers.
I recommend Bookminders because of their attractive pay. You can make $20-$50 an hour there. another consideration for such jobs for antisocial people is ClickNwork.
If you are looking to launch a bookkeeping business to operate independently, consider checking out this free bookkeeping course.
11.  Deliver for Instacart
(Potential Earnings – $10-$17/hour)
Instacart has an amazing side hustle program for those looking for jobs where you work by yourself. By working as a food delivery person, you can make $10-$17 an hour. The beauty of it all is that you don't even need to own a car to sign up.
Usually, people make money on Instacart in two ways. One, you can sign up as an in-store shopper to take only shop delivery orders. Two, you can register as a full-service shopper where you are not limited to shops.
12.  Earn Hourly as an Online Tutor
(Potential Earnings – $20-$25/hour)
Have you just graduated and are looking to find a more stable job? Do you find it hard to work in a crowded setting? Perhaps you should try teaching online.
You do it virtually, which means no one is there to drain your energy. Doing so also comes with the advantage of good pay.
Enrolling for the VIPKid online tutoring program, for example, provides you with an opportunity to make as much as $25 an hour.
So are you ready to start earning hourly as an online tutor? Sign up here to join VIPKid today.
You can also find such jobs where you work alone at TeachAway.com and Qkids.com.

13. Turn to Translation
(Potential Earnings – $35-$60/hour)
Are you bilingual and are wondering how to make an extra buck? How about you offer translation services?
If you are looking to get started, consider Turnkey Translator as your step-by-step guide. Their translation course will help you pick the best translation jobs, reach best-paying clients, and create a reliable income flow.
Ready to start? Sign up here to join Turnkey Translator.
But if you are already an experienced translator looking to make more money, consider signing up at OneHourTranslation or TextMaster.
14.  Get Hired as a Freelance Web Developer
(Potential Earnings – $30-$80/hour)
What happens when your website has layout design or user experience issues? You call an expert, right? The expert in this question is a web developer.
If you are familiar with writing codes and creating graphics, then you should consider working as a web developer.
You'll at least need a degree in computer science, web development, or any related field. You also need to be proficient in programming languages and be a problem solver.
If you have what I've just mentioned, then it is time to make some money on this solitary job. On a platform like Fiverr, web developers charge $30-$80 an hour depending on experience.
You can also try job sites like Indeed, FlexJobs, and WorkingNomads.
15.  Serve as a Chat Agent
(Potential Earnings – $10-$20/hour)
Though most introverts find it daunting to engage in public chats, a good number of them find it easy to self-express behind the computer. Consequently, working as a chat agent is a typical hustle for them.
The job calls for someone with a good ear, and thanks to your excellent listening skills, you can earn $10-$20 an hour offering chat services.
I consider AppleCare to be the best place for such jobs since they pay $19 an hour on average. With more experience, you can ask for more. Other considerations are Concentrix and Support.com.
16. Get Paid to Manage Corporate Social Media Accounts
(Potential Earnings – $16-$22/hour)
Are you surprised by this job type as an option for introverts? I, too, was, but that was before I considered it carefully.
Look at it this way – introverts are considered people who hate people. They would rather sit behind a computer or hide behind their phones to chat with a neighbor next door rather than visit them.
So, what can prevent them from being effective social media managers? Nothing, right? My point exactly.
So, who is hiring?
I recommend LinkedIn, Fiverr, and Glassdoor for these jobs for people who hate people. There, you can make $16-$22 an hour working for different clients.
17.  Create and Sell Graphics
(Potential Earnings – $25-$50/hour)
It is thought that introverts are inventive. They take time to focus on something, and when they do it, it is up to perfection. If this is the case with you, why not do graphic design?
I believe it's one of the best paying jobs that don't deal with people. You can even transition to full-time if you want. You can make money through creations like brochures, business cards, t-shirt prints, slideshow templates, and infographics.
So, where can you sell your creations or services?
For the former, you should try 99Designs or DevianArt. But if all you want is to sell your services to attract clients, Fiverr is always a good option.
18.  Make Money as a Data Analyst
(Potential Earnings – $25-$32/hour)
Can you look at numbers and make sense out of them? That's what data analysts do. You'll be offered bulk data that you need to turn into absolute or nearly-absolute figures. So, having strong arithmetic skills and being familiar with MSOffice is a necessity.
You also need to know how to use IT tools like SQL and Python. The job generally calls for people with an eye for detail, and this makes introverts a great fit.
You can find the entry level jobs for introverts on Indeed, Glassdoor, and SimplyHired.
19. Pursue Amazon FBA Selling
(Potential Earnings – $1,000/month)
Would you want to own a retail business where you don't have to face people? Then you should consider being an FBA (Fulfilled By Amazon) seller.
Here, Amazon offers you all the logistic assistance that you need to sell on their platform.  They handle everything from the storage to the packaging and shipping.
Your job, in this case, is to find valuable items and send them to Amazon. You can either buy the items cheaply locally or make them. So, again, FBA selling as an opportunity for the creative mind, which I believe most introverts are.
Jessica, who runs thesellingfamily.com, claims to be making six figures from FBA selling. You can sign up here for her free 7-day training, where she helps new entrants get started on FBA selling.
According to Jessica, anyone who puts effort into FBA selling can start making $1000 quicker and get to build on it.
20.  Sell Your Photos Online
(Potential Earnings – 20%-60% of sales)
When it comes to the most independent, low-budget business ideas, photography is one of them. It is one of the best careers for people who hate people.
Photography allows you to work independently and make money without breaking a sweat. You, however, need to establish your brand and pick a niche that you can specialize in.
Most photographers are known to specialize in fields like food, still life, wildlife, travel, and sports. The options are generally limitless.
And if you are looking for somewhere to sell your photos, try Adobe Stock and Shutterstock. You can collect 20%-60% of the total sales.
21. Work as a Freelance Video Editor
(Potential Earnings – $75-$150/hour)
Given that introverts are detail-oriented individuals, it makes sense to work as a freelance video editor. Your job, in this case, would be to add a few final touches to an already shot film.
To ensure that the picture and the audio are perfect, you need a high level of concentration. You also need to be familiar with video editing sills like cropping, video stabilization, and video accentuation.
So, the ideal recommendation would be to first enroll in video editing training. You can try Udemy. They have several video editing courses, with some offered for free.
And if you are looking for work, then try searching for these jobs that don't deal with people on Behance, SimplyHired, or LinkedIn.
22.  Earn Hourly as a Web Administrator
(Potential Earnings – $30-$44/hour)
Now that virtually all businesses have websites to run their operations, there is an immense demand for web administrators. These technical experts handle everything from quality assurance to SEO.
They are the guys to call when a website is not performing well or when there are several security breaches.
Essentially, a web administrator should hold a degree in computer science, information science, or related discipline. But still, there are those companies that hire you with an associate degree or college certification in IT-related fields.
Who is hiring?
You can find well-paying clients for these antisocial jobs on sites like Indeed, ZipRecruiter, and Glassdoor.
23. Collect Hourly Pay as a Rover Dog Sitter/Dog Walker
(Potential Earnings – $20-$30/hour)
While most introverts dislike being around people, they often find it easy to be around animals.
So, do you like pets, in particular puppies?  If yes, how about you get paid to look after or exercise the little canine?
I suggest to you Rover. This fantastic app allows you to sign up either as a pup sitter or a pup walker and find well-paying jobs near you effortlessly.
Rover is also a communication platform too. You can use it to contact the pet owner and ask for payments conveniently.
Download Rover here now to get started on these jobs where you don't have to deal with people.
24. Offer Financial/Accounting Advice
(Potential Earnings – $150-$400/hour)
So many businesses need financial and accounting advisors to help them make better financial decisions. Luckily for introverts, this is a field that they flourish in a lot.
Are you a qualified financial or accounting expert in need of a side hustle? Join me as we start offering financial advice to businesses and companies.
I have an MSc in Finance, and I love the freelance market. I do most of my gigs on YouTube, where I specialize in Financial Creatives – and also use FLICKIFY to turn my articles into video on the same subject. But I also get several well-paying clients on UpWork, Indeed and Glassdoor.
25.Offer Legal Advice Online
(Potential Earnings – $39-$47/hour)
Did you know that 64% of legal experts are introverts? That leaves only 36% to socializers (extroverts). The interesting thing about law is that it doesn't call for so much public debating, something that introverts are not good at.
On the contrary, it calls for close contact negotiations, and introverts tend to thrive in such.
So, are you a qualified lawyer looking to make some money on the side? How about you offer legal advice online at a fee. You should try finding such jobs for people who don't like people at LawJobs.com and MyLawJob.com.
Conclusion:
How do you feel now about looking for jobs for people who hate people? If you are an introvert trying to find a side hustle, you should consider two or three of the ideas on my list.
After all, we all need to make money on the side, and I strongly believe the above are the most lucrative today.
Liked this post? Share it on Pinterest!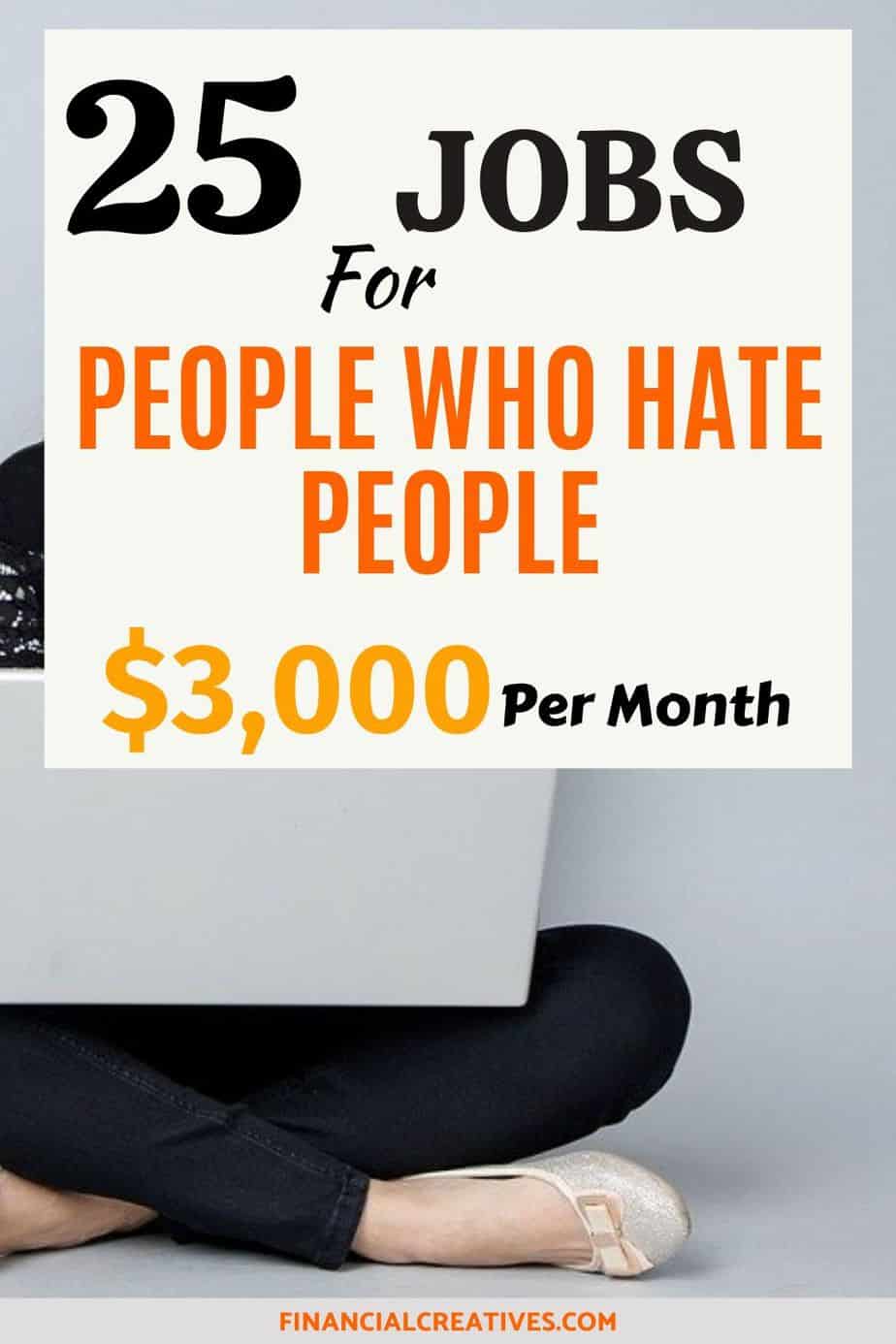 Is the job of a virtual assistant suitable for an introvert?
In fact, these are good jobs for antisocial people. Since you will be able to provide administrative or technical assistance remotely, interact with people minimally and make good money at the same time.
What are the best jobs for antisocial introverts?
The best jobs for antisocial introverts are those that allow them to work independently and require minimal social interaction, such as freelance writing, software development, data analysis, graphic design, accounting, and research.