Veteran affiliates and digital marketers prefer Bluehost to many hosting companies on the web, and for good reasons. Not only is Bluehost reliable and versatile, it also powers some of the most popular websites on the Internet. But is Bluehost good for beginners?
Bluehost is good for beginners because it's affordable and easy to use. With up to 99.9% uptime guarantee, Bluehost ensures your site stays online even during unusual traffic spikes. Their guides, tutorials, and live chat allow you to get the best customer support when you need it the most.
Having used Bluehost to host multiple websites for the last 4 years, I can confidently say that it's the most beginner-friendly hosting company on the web.
Even WordPress.org recommends it as one of the best hosting solutions for individuals and businesses that want to build their online presence.
Why is Bluehost Good for Beginners? (7 Reasons to Choose Bluehost)
I've been making passive income online since 2018. And if there's one thing people who want to get started ask me a lot, it's whether Bluehost is good for blogging.
Let me say this:
I've tried a handful of hosting services online, from Namecheap and InMotion to WP Engine and Bluehost. And I can tell you for certain that Bluehost has been worth the investment.
Below are 7 reasons why Bluehost is good for beginners:
1. Bluehost Is An Affordable Hosting Service
When you're just getting started, you probably don't have a lot of money to pay for the most expensive premium web hosting.
For what it's worth, you'll need to buy quite a few things to get started, including a hosting package, a domain name, premium themes, plugins, and maybe even content.
The cost can be insanely high when you're just starting out.
Fortunately, Bluehost makes thing a lot easier for you by giving you an offer that will get you to set up your website in minutes. Not only do you get a free domain name of your choosing for the first 12 months, you also get a hosting package for as long as $2.95 a month.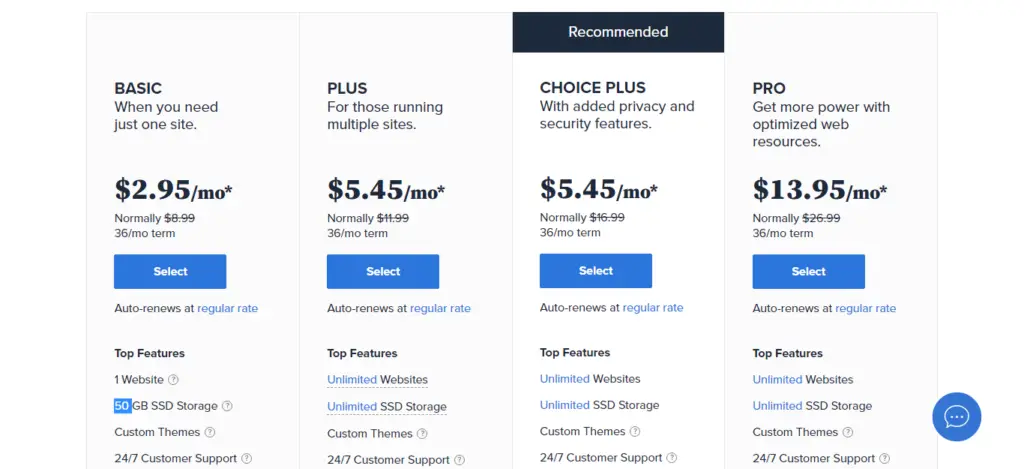 Although the basic package gives you 50GB of SSD storage and allows you to hold only one website, it's not exactly a bad thing.
After all, you're just starting out with your first site as a beginner to internet marketing, which makes the basic plan a good deal.
If your first site grows and start earning you consistent passive income, and you want to add another project, you can do so by simply upgrading to a Choice Plus, Plus, or Pro plan from within your Bluehost account's dashboard.
2. Bluehost Has 99.9% Uptime Guarantee
Bluehost has invested time and money to make its web hosting architecture one of the most powerful in the business.
From my experience, Bluehost guarantees an uptime of 99.9%, which means minimal outages that never stretch beyond 60 minutes a year.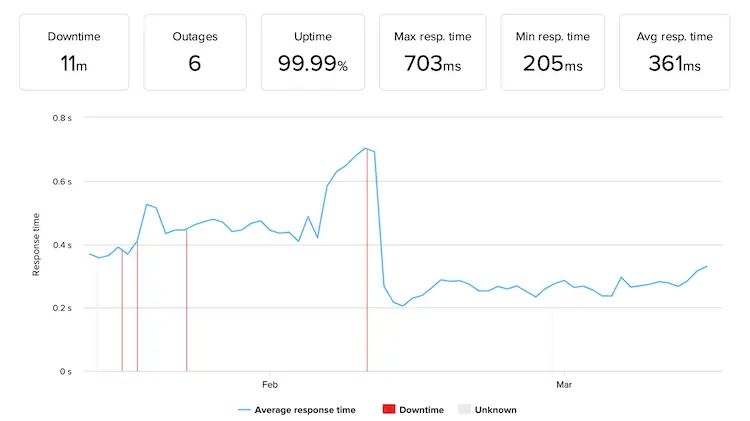 We've had times when some of our sites received unusual spikes in traffic, particularly during the holiday seasons. And we've been nothing but impressed by just how powerful Bluehost serves are in handling those requests.
So if you don't have to worry about your website being offline, especially if you're currently considering an alternative hosting company because your current host isn't giving you the value for your money, then you should consider switching to Bluehost.
3. Bluehost is Easy to Use
I'm not a techie person. And I don't want assume that you're either. But when it comes to using a technology-based product, ease of use is the way to go.
Bluehost is an easy to use platform. So even if this is your first time to consider a website hosting service, I can bet you won't feel lost with this one.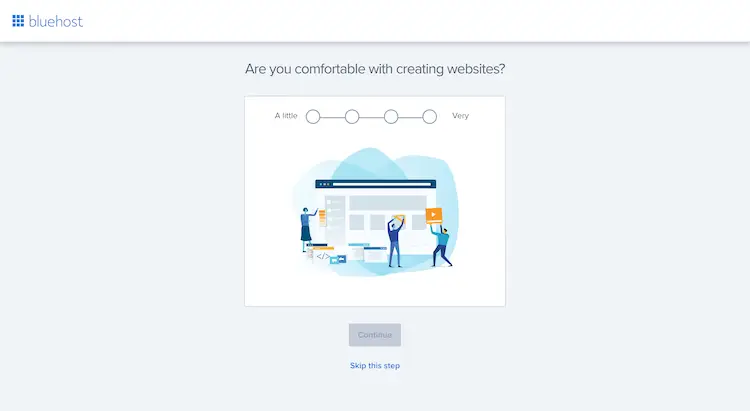 One thing you'll love about Bluehost service is the setup wizard. It's such a massive time saver that guides through the exact process to follow to install WordPress and hit the ground running.
It's completely fine if you feel or get lost along the way. Bluehost has step-by-step guides that you can use for reference, so you can learn everything on your own without having to consult the so-called web experts.
Bluehost doesn't stay true to the classic branding of the cPanel. Or at least it's not the kind of the interface we know.
While they've tweaked to match their branding, the cPanel integration is so easy to use that you will have an easy time navigating around.
4. Bluehost Gives You Extra Website Management Tools
One of the reasons I love Bluehost, and I bet you will, too, is that they offer additional website management tools to make setting up websites easier.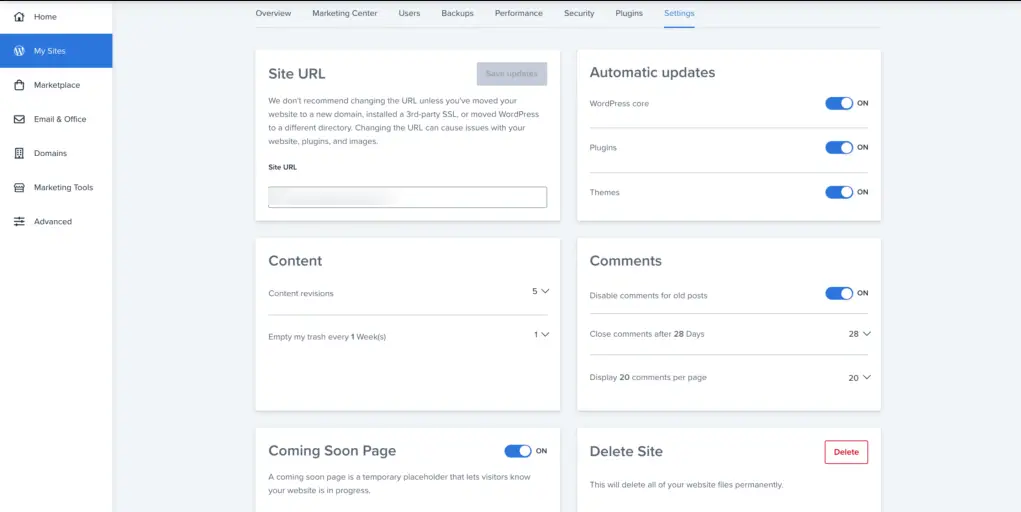 These tools are available in all the plans.
To begin with, all the sites you create will appear under My Sites in your Bluehost's dashboard. When you click on any of the site, Bluehost will redirect you to the management area of that specific site.
The suite of tools is ideal for setting up website security and performance of your website. You can even use this management section to configure some of your marketing goals.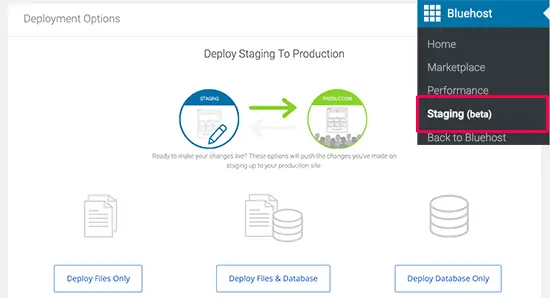 In the website management tools is a staging option that Bluehost built directly into WordPress.
This option is a unique solution that lets you create copy of your site for testing and fixing bugs. Then with just a few clicks, you can publish the changes you've made to the live version of the site.
5. Bluehost Provides Fast Web Hosting
Since you're a beginner to blogging, it's highly unlikely that you've heard about Core Web Vitals.
By definition, they're page speed and interaction metrics that Google uses to evaluate the user experience of your site. Not only are these measurements important, they're also part of Google's ranking algorithm.
But what has Core Web Vital have to do with web hosting anyway?
Well, it's all about speed.
I can't state enough just how important site speed is. Search engines love sites that load fast and cater for searchers' needs.
If your site doesn't load the content that visitors are looking for, they will click back. The search engines will notice the pogo sticking and drop your site off the SERPs, fast.
When you host your site with Bluehost, you'll never have to worry about site speed. The sites I've hosted on Bluehost load fast, taking not more than 500ms from a link click to loading the content.
Of course, you will have to do a lot more to speed up your site, but using a fast web hosting service such as Bluehost is often the first step to get started with site speed optimization.
6. Bluehost Has an Outstanding Customer Support
You will love working with Bluehost because they have a remarkable customer and technical support system.
Their live chat line can be a great place to seek immediate help during business hours. Their articles and tutorials will help you solve problems you may come across.
7. WordPress Recommends Bluehost
As of 2021, WordPress powers up to 455 million websites, making the most powerful Content Management System in the web.
And when it comes to hosting WordPress recommends Bluehost as the best option to consider for the CMS.
I also love the fact that Bluehost has engineers dedicated to working specifically on making sure the WordPress software is up to the current web technology standards.
Frequently Asked Questions
1. Is Bluehost Good for Blogging?
Bluehost is good for blogging because it provides a one-click WordPress install and site management tools necessary to set up your site ready to go live.
As I mentioned before, I've been using Bluehost to host my websites, and the experience has been great so far.
2. Can You Make Money Blogging on Bluehost?
Starting at just $2.97 per month, Bluehost even provides you with some of the most comprehensive SEO guides and tips that you can use to grow your blog from scratch.
3. Is Bluehost Easy to Use?
Overall, you will find Bluehost easy to use. The ease of use is one of the reasons why it's such a good website hosting company recommended for beginners.
Final Words
As you can see, Bluehost is good for beginners for many reasons. And given that it has been in the hosting business since 2003, there just can't be better, affordable web hosting platform that's good at the hosting job than Bluehost.
What are the benefits of Bluehost for beginners?
Bluehost is good for beginners because it's affordable and easy to use. There is also a guarantee that your site will stay online even during unusual traffic spikes. Plus professional technical support.
Is Bluehost good for blogging?
Yes, Bluehost is a good web hosting provider for blogging. They offer affordable plans, reliable uptime, and user-friendly tools like one-click WordPress installation. Bluehost also provides excellent customer support and has a reputation for being a reliable and secure hosting provider.