Reporting court matters is never an easy job. Court reporters sometimes make costly mistakes, with some costing them their jobs.
For this reason, most of them consider hiring someone to go over their transcript, pick errors that they might overlook, and correct them. The person that they hire is a court transcript proofreader.
Are you eye-hawked when it comes to examining transcripts? Can you correct punctuations, grammar missteps, or typos? If so, then you should consider looking for a job as a court transcript proofreader.
I'm going to guide you on getting started. Here are the basics that we will look at in this article:
The duties and responsibilities of a court transcript proofreader
What it takes to become a court transcript proofreader
The potential earnings of a court transcript proofreader
The benefits that come with court transcript proofreading jobs
How you can find court transcript proofreading jobs
Let's get started.
Who is a Court Transcript Proofreader? Duties and Responsibilities.
Before we can describe who a court transcript proofreader is, let's first bring court reporters into the picture.
Usually, an attorney assigns a court reporter (either a stenographer or a Scoptist) the responsibility of typing down whatever is said in a court session.
The script that they come up with is called a legal script, and it can be an affidavit, a court disposition, or a court record.
Since stenographers/Scoptists type so fast, their scripts are likely to have grammatical and punctuation errors, and they cannot submit it that way to their bosses, the attorneys. Thus, the obvious decision would be to turn to a professional legal proofreader, a court transcript proofreader.
So, what do you do with such a script if hired as a court proofreader? Your job as a court transcript proofreader primarily involves the following:
Spotting typographic mistakes and fixing them
Checking every word to ensure it's clear and makes sense
Checking the entire script for punctuation mistakes and fixing them
Examining the text to ensure it is accurate, readable, and mistake-free
Court Transcript Proofreader vs. Transcriptionist – What's the Difference?
Though most people confuse the two, there is a difference between a court transcript proofreader and a transcriptionist.
While a transcriptionist listens and types what they hear, a court transcript proofreader takes up the transcriptionist's transcripts to do the following:
Correct misspells
Fix typos
Rectify punctuation mistakes.
Mark you, the term Scoptist is used to referring to a legal transcriptionist.
Overall, even though these two jobs are different, you can become a court transcriptionist (Scoptist) if you are a court transcript proofreader and vice versa.
Court Transcript Proofreader vs. Editor – What's the Difference?
The work of an editor involves changing the structure of a text to improve its readability and meaning.
An editor can even change the order of ideas to enhance the sentences without modifying the initial intended purpose.
A proofreader doesn't do that. A court transcript proofreader, for example, only reviews a final draft (transcript) to remove inconsistencies and inaccuracies in grammar, text formatting, punctuations, and spellings.
They do not change any sentence structure or sequence or even try to enhance the thought in any way.
Also Read: Is medical transcriptionist a dying career?
How Do I Become a Court Transcript Proofreader?
As I mentioned, court transcript proofreading is a specialized type of proofreading. So, you may need more skills and training than what you need to do general proofreading. Here are the basics:
Step 1 – Court Transcript Proofreading Training
Though not all court transcript proofreaders are trained on the job, the training is increasingly becoming an essential requirement. You stand a better chance of getting hired if you have the certificate to show for it.
The training is, in fact, more important if you have no proofreading experience and would want to convince a court reporter that you are capable of doing the job.
If you are looking to learn how to proofread court transcripts, this proofreading course by Caitlyn Pyle or more professional paid course can be of help.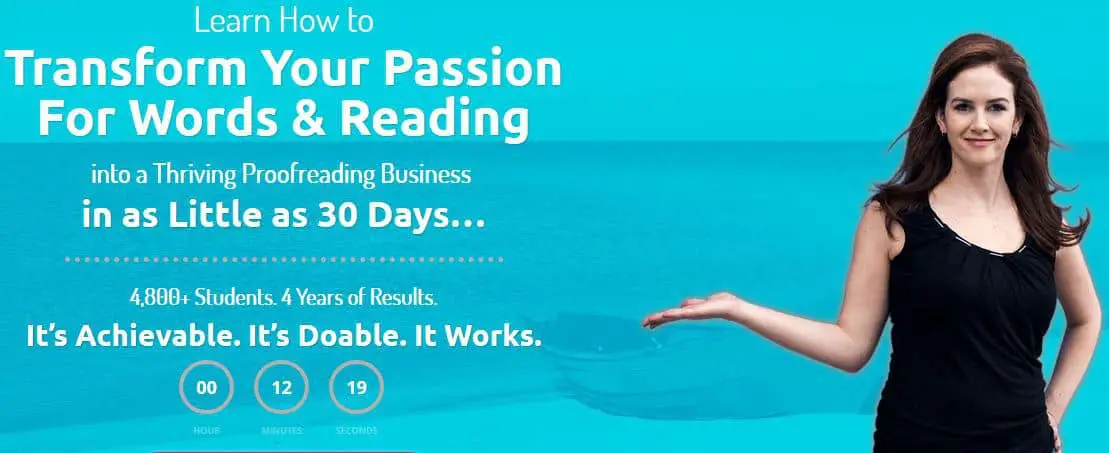 Step 2 – Mastery of the English Language
You should be proficient in English if you are looking to make it as a court transcript proofreader.
Everything about the job should come out naturally. You should spot mistakes with ease and fix them the same way.
It's not just enough to use a proofreading tool to fix errors on court transcripts. You have to read word by word and ensure everything makes sense and that there are no apparent errors.
You also have to know where to put specific punctuations and be a spelling guru.
Step 3 – Access to an Internet-Enabled Computer
It's a digital era, and so almost everything is computer-reliant. Generally, you need access to a first computer and it should be internet-enabled to perform court transcript proofreading jobs with ease.
Remember, you need to download several proofreading tools like Hemingway or Grammarly. So, a computer is a must. Mark you; it is only possible to download them with reliable internet.
What's more, you need the internet to receive your assignments and submit them after proofreading.
Step 4 – A Specialized Dictionary for Legal Terms
Again, this is not a must, but it is advisable. Medical proofreaders have medical dictionaries, and so legal proofreaders have no reason not to get legal dictionaries.
The internet has made it easy, and now you can even access the dictionaries online. They help you avoid making the same mistakes that you are trying to fix. All you have to do when you are not sure of a given legal term is to check it in the dictionary.
You can start with FindLaw Legal Dictionary or the Law Dictionary. Both are free to use and provide you with access to thousands of legal terms.
How Much Can I Make as a Court Transcript Proofreader?
There's no standard rate for a legal proofreader as it depends on the employer, work hours, and if you are on a contract or not.
However, ZipRecruiter estimates the yearly legal proofreader salary in the United States to be about $48,439.
In case you work as a freelancer, you are likely to make $20-$85 an hour. That's more than what general proofreaders make in an hour.
Though the job looks complicated, it is not. We've seen newbies committing up to 8 hours a day and taking home with a sizeable pay at the end of the day.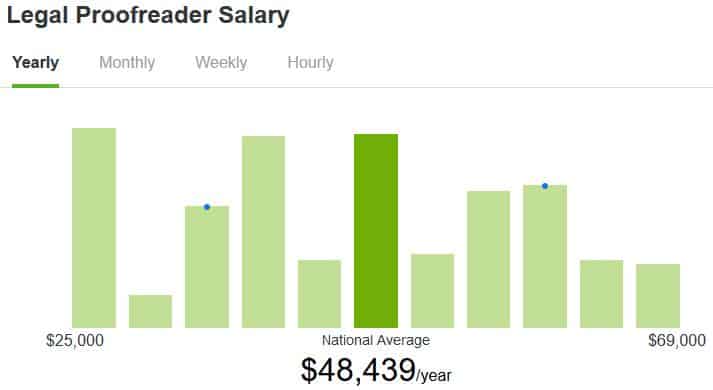 Why a Court Transcript Proofreader? Any Benefits?
So, you already know the earnings to expect when you start working as a court transcript proofreader. But, is the pay the only motivating factor? What other advantages come with the job? Well, here are the obvious ones:
1.  Remote Work
No one expects you to go to a specific office to do court transcripts proofreading jobs. You can work from the comfort of your home and still make money.
So, there are zero commuter expenses, and you also get to save time. In general, court transcript proofreading is job flexibility at its best.
2.  Job Flexibility
Legal proofreading is not just about working remotely. You also decide on the hours to work (when you freelance) and how much to ask for.
Overall, you can choose to work an hour a day or even five to eight, depending on your availability. More to it, you can easily take a break and decide when it's convenient for you to resume work.
3.  Minimal Investment
Training as a court reporter proofreader is not expensive, at least not as training for a bachelor's degree. What's more, you only need to invest in a good computer and a source of internet to get started.
After that, you'll only need to pay for the internet and electricity costs. Luckily, you'll get the money from your earnings as a court transcript proofreader.
4.  Repeat Work
Most of the clients that you work for are recurrent customers. Provided that you do a good job, they'll always want to hire you. If you do your best, you may become indispensable without knowing, and this may translate to regular well-paying jobs.
There is also the chance that your repeat customers may refer you to their friends. And when they do, you'll be having more work, translated as more pay.
How Do I Find Court Transcript Proofreading Jobs?
There are so many ways to find proofreader for court reporter jobs, and I have highlighted the most reliable ones below:
1. Join Proofreading Groups on Facebook
There are so many proofreading groups on Facebook that you can join. They not only allow you to network with fellow court transcript proofreaders but will court reporters too.
You only need to search for the groups on your Facebook search bar. To get you started, search for Proofread Anywhere to connect with a community of legal proofreaders and prospective employers.
2. Sign Up At Linkedin to Network with Court Reporters
LinkedIn is a powerful job search engine. All you have to do to find legal transcript proofreading jobs is to sign up for an account and create an eye-catching bio to showcase your proofreading skills and work experience.
With a LinkedIn account, you can start searching for court transcript proofreader jobs. The beauty of LinkedIn is that it lets you set job alerts.
As a result, you don't have to be logging into your account every day to search for court transcript proofreading jobs. You only need to wait for an alert in your inbox.
3.  Create A Personal Legal Proofreading Website
A website is a powerful promotion tool for your legal proofreading services. You can use it to highlight your proofreading skills and experience and to also display feedback and testimonials from past clients.
Remember also to include your bio and social handles. Most prospective clients would want to see this before hiring.
To get you started, you should consider a hosting service like Bluehost. It's one of the most popular hosting service today and one of the cheapest. You'll only pay $3.95 a month for the hosting and get a domain for free. Get your best offer here
4.  Sign Up At A Freelancing Website
Here is a list of some of the best freelance websites with legal proofreading jobs: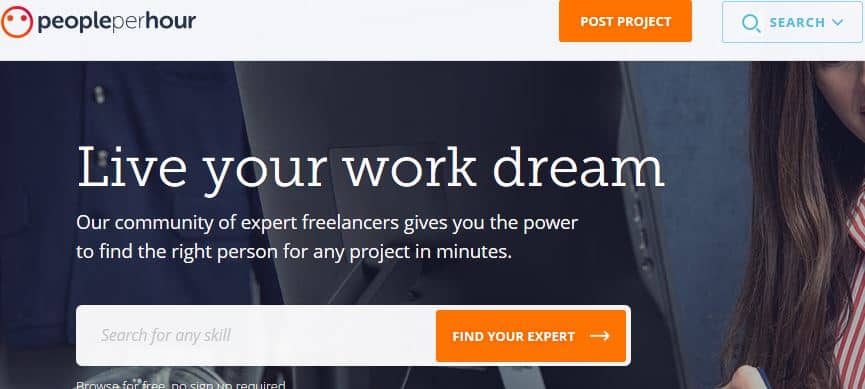 The beautiful thing about the above job sites is that you can earn hourly as a court transcript proofreader.
All you have to do is to sign up and create an impressive court transcript proofreader profile. Clients like looking at the profile before hiring, and so you have to make it irresistible.
The advantage of signing up at a freelance site is that you can negotiate your rates. It allows you to pitch to the client and convince them to not only hire you but also pay you better if that is not the case.
5.  Sign Up at a Job Board
If bidding for work is not your cup of tea, then you should consider signing up at a job board.
All you need to do is register for a job seeker account, create and publish your resume, then start applying for work.
Some of the most notable job boards to try out are:
6.  Join a Proofreading Agency or Company
If all you want is to get the best paying legal proofreading gigs consistently, you should consider signing up at a proofreading website.
There you can decide how many hours to work. You also get to pick the kind of clients and jobs that you want.
Some of these websites are the right place when you want to learn how to become a legal proofreader. They include the following:
Check this post for the above proofreading job sites and many other legit ones that you can try out.
Conclusion
Now, are you ready to become a court transcript proofreader? Just apply my guide above. You can use it to prepare for the job and also land gigs online.
If you are serious about the profession, it can be a fantastic side hustle for you or better still, full-time employment.
Are there many requirements for legal proofreader jobs?
The main requirements for the work of a legal proofreader are the identification of typographical errors and their correction, checking each word, checking the entire script for punctuation errors and correcting them, and checking the text for correctness, readability and the absence of errors.
Can proofreading services for court reporters be the main job?
Yes, proofreading services for court reporters can be a main job for individuals who have the necessary skills and experience. Court reporters rely on accurate transcripts for legal proceedings, and proofreaders play a crucial role in ensuring that these documents are error-free. Therefore, there is a demand for skilled proofreaders in the legal field.