Creating a blog that earns passive income month after month isn't hard, but there us a learning curve and a lot of work to do upfront.
For beginners, it means scouring the internet for the best possible lead to get started, one of which is to invest in a blogging course that teaches you exactly how to build an online business from the ground up. But are blogging courses worth it?
Blogging courses are worth it because they teach you the systematic approach necessary to build a profitable business online. Given that premium courses are practical in approach, you can get the value for your money by implementing exactly what've learned in the course.
I've enrolled in up to a dozen blogging courses since I started working online.
From Udemy's free training and Hubspot's ultimate guides to Project 24 by Income School and Passive Income Geek by Morten, I've  amassed quite a lot of knowledge that has given me a clear picture of what exactly the world of blogging looks like.
So if you are ready to get started with blogging right now and you need a learning curve to get you started, grab any of the following courses and start learning right away.
Are Blogging Courses Worth It? 3 Blogging Courses Created to Help You Succeed
There are many online courses that teach about internet marketing, but only a few show you exactly what you need to do to succeed in blogging.
As someone who has enrolled in both free and paid classes, and based on my experience after implementing the things I learned, I strongly believe that the following are the blogging courses created to help you succeed.
1. Income School's Project 24
I learned about Income School's Project 24 from a YouTube video back in 2019.
While I wasn't green to internet marketing at the time, I wanted to explore some new strategies that would help me scale my blog's traffic as well as earnings.
Enrolling in the course in 2020 is the best decision I ever made. And having seen great results from implementing the lessons taught by Jim Harmer and Ricky Kesler, the only thing I regret is not having known about Income School sooner.
Look at this site for example:
I built this website from the complete scratch by following the exact methods taught in the Income School's blogging course. And I can't be more grateful to the course for enabling me to achieve such a milestone in just 7 months.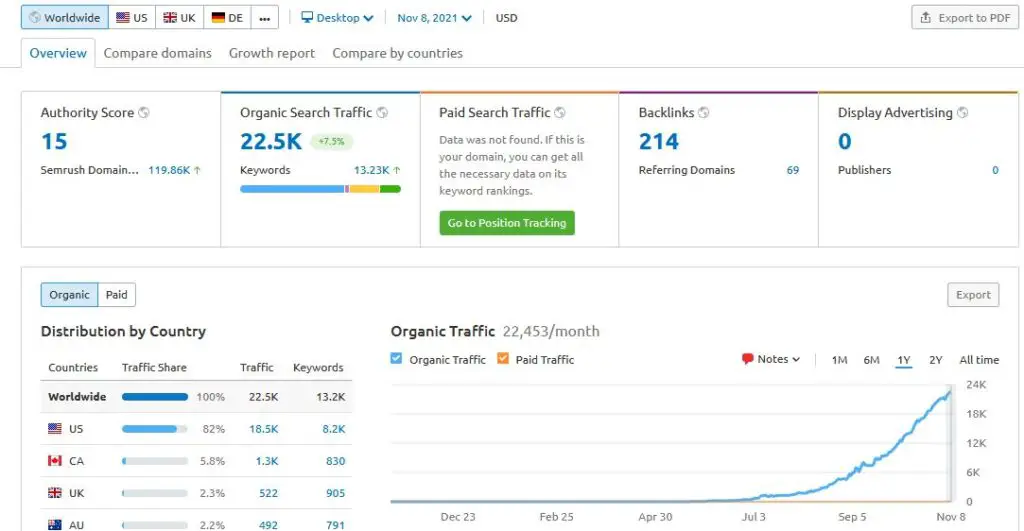 The site isn't at the point I expect it to be yet. But I am confident that because I'm sticking to a process that works, the traffic will go up and the earnings will increase.
Why You Should Enroll in Income School's Project 24
If you're looking for the best blogging course for beginners, Project 24 is the right one for you.
Here's why:
1. Project 24 is a Course Created by Industry Experts
I love courses created by people who walk the talk. And that's something I've seen with the team at Income School.
Apparently Income School's philosophy is very simple: to give you an opportunity to create profitable blogs and YouTube channel by following their system.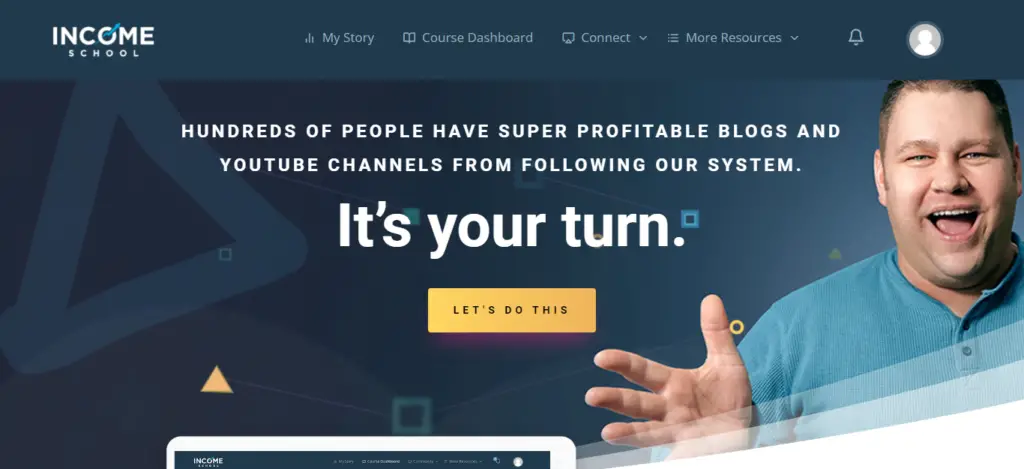 Ricky Kesler and the team at Income School have years of industry experience. And they've used the exact same strategies that they teach in Project 24 to build and flip dozens of profitable sites.
If you choose to enroll in this course, you'll learn to implement a blogging strategy that actually works.
It doesn't matter if you've never heard of WordPress before or you know nothing practical about blogging, this course gives you exactly what you need to get started. 
2. You Get Access to a Library of Course
Many Project 24 reviews don't mention this merit, and I think it's quite unfair not to. I haven't come across a blogging course that gives you so much for so little.
You get a complete suite of course, from Answer Targets for Winning Snippets and E.A.T for SEO to the Complete YouTube business and Affiliate Marketing.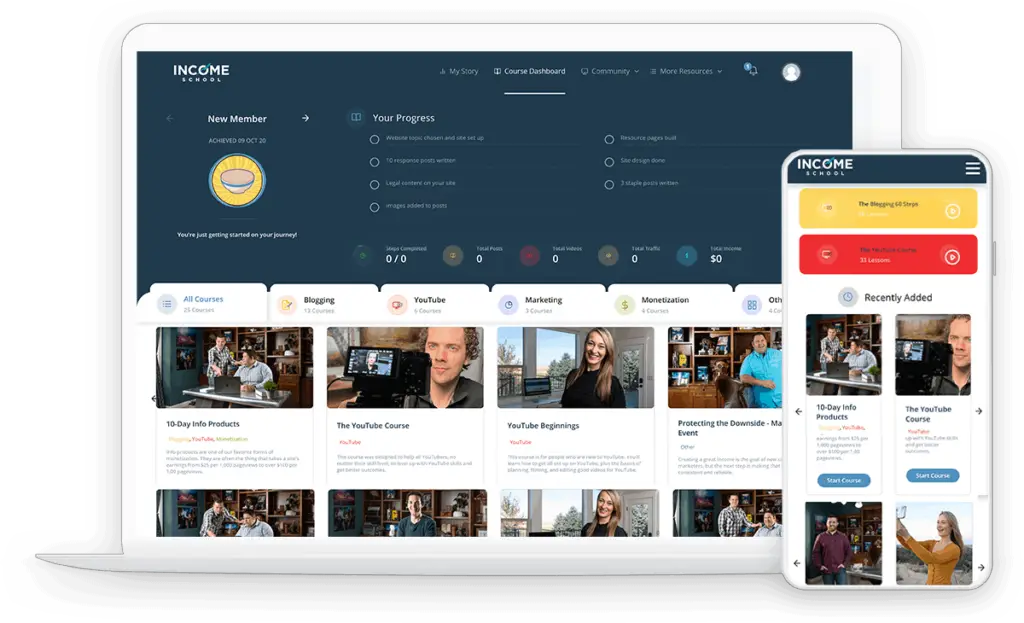 To be clear:
These are courses you would have to buy separately if you were to get them from elsewhere. That means the cost of learning would go up and you would more than likely find the process quite overwhelming.
It's different with Project 24, because you get access to all course at the click of a button, all starting at $449 in the first year, followed by a recurring payment of only $24.
3. Members Progress and Statistics
One thing that stands out to me about Project 24 is how transparent the course creators are. And the one thing that they make very clear is the progress of their members.
According to the screenshot above, there are over 1,000 students who are making money right now from following the blogging strategies taught in Income School's Project 24.
That's a huge number, a figure that translates to one thing: that Income School teaches you the strategies that actually yield results.
4. Project 24 Is a Beginner Friendly Course
Have you ever enrolled in a blogging course that made you gave up on the idea of making passive income because the course materials were too complex to grasp?
I have, and I know how frustrating that can be for a beginner who has no idea what blogging is in the first place.
If you've felt like calling it quite already, Income School can be your next game changer.
The instructors use the simplest language possible to simply even the most technical concepts. So you don't have to scratch your head to figure out what something means and why it means that way.
5. A Thriving Online Community of Bloggers
The most frustrating thing about taking a blogging course is not being able to get help when you need it the most.
Thankfully, Income School has solved this by creating a community where you can post your questions and issues and get help from the growing online community of bloggers.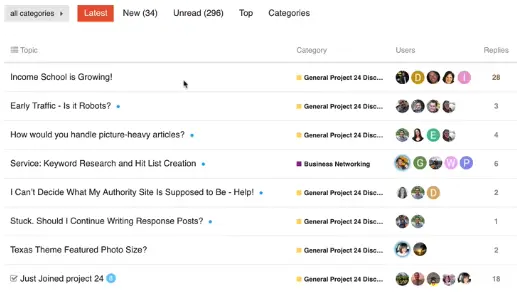 I used to come to this section when I felt stuck, and I can tell you from experience that there are smart and kind people in the community who're willing to help.
2. Passive Income Geek
Created by Morten Storgaard, the Passive Income Geek is another blogging course that I strongly recommend for those who want to build an income stream online through blogging.
This course isn't as huge as Income School's Project 24, but at least it's cheaper and therefore suitable if you're starting out on a tight budget.
Morten's goal with the course is to teach you how to find underserved topics, create content, and scale your business for a long-term passive income.
This course won't teach you anything about WordPress, technical SEO, or link building. It focuses purely on finding the so-called low hanging fruits with the help of tools such as Keyword Chef and using those topics to create content that people want to read.
Why I Recommend Passive Income Geek
There are solid reasons why I strongly recommend that you check out Passive Income Geek blogging course:
1. Passive Income Geek is a Suitable Course for Beginners 
Morten won't teach you how to use Ahrefs for site audits or how to use a theme such as Acabado or GeneratePress to improve your Core Web Vitals.
But at least you can expect the course to give you the solid foundation necessary to help you create a blog that can earn you money in ad revenue and affiliate income.
Don't worry if you're on a tight budget because Passive Income Geek is such an affordable blogging course.
You pay $299 for the first year and then only $99 every year, making it one of the most affordable, beginner-friendly courses on the web. In my eyes, Passive Income Geek is the best alternative to the likes of The Lab and the Authority Site System when it comes to the overall cost.
2. You Learn Everything Necessary to Start Blog
The Passive Income Geek blogging course includes 9 helpful modules that teach you everything you need to start, grow, and scale a niche website. 
In particular, Morten teaches you how to:
Choose a profitable niche
Find underserved, low-hanging fruits on the topic
Setup your WordPress website (although he doesn't go into deep details)
Write content for the site
Setup social media account
Outsource content to the right freelance writers
Monetize your blog
Do SEO to grow your website
The lessons are theoretical and practical, packed with tons of useful strategies that you won't learn on Morten's YouTube channel. 
3. Passive Income Geek Has An Active Online Community
The Passive Income Geek's online community isn't as big as Income School's, but it's still a place where you can get help when you need it the most.
For what it's worth, you can post your issue in the community, and anyone who has had a similar problem and found a solution can help in the form of a comment.
And the community is quite diverse, filled with bloggers who're just getting started and those who have been in the business for quite some time.
3. Hubspot Free Blogging Courses
I'll be honest with you.
The best blogging courses out there aren't cheap, but there are a few that give you valuable lessons, and they come at the cost of internet data.
How cool is that?
If you have no money in your pocket but you seriously want to start a blog that makes money, the Hubspot blogging course materials can make a big difference. So go check that out right away.
Final Words: So Are Blogging Courses Worth It?
If someone asked me right now whether blogging courses are worth it, I would give them the exact answer that I've shared with you in this guide.
Not to mention recommend Income School's Project 24 and Morten's Passive Income Geek for the true value that they provide.
Is blogging worth it?
Blogging is a very exciting activity as you can share your interests and experiences, find like-minded people and just have fun. Also, creating a blog and working hard on it will help you earn passive income every month.
Will Udemy free blogging course be helpful?
If you are a beginner or have limited experience, the Udemy free blogging course may be helpful in providing you with foundational knowledge and skills. However, if you are an experienced blogger, the course may not provide much new information or value.