Income School is the first course in the blogging business that defies the logic of SEO and content marketing. And with many specialists encouraging a strong balance between content and links, the SEO gods are at a crossroad about about the strategies taught in Project 24.
But is Income School legit or is it just another online course created to take money from you?
Income School is a legit business that teaches you the exact process, front to back, of how to build a successful business online. From writing and blogging to vlogging and marketing, their Project 24 course is a premium packed with solid information like never seen before.
As someone who was once obsessed with the marketing concept of a few piece of content and more backlinks, I couldn't figure exactly how Income School's Project 24 would even amount to anything. 
But I love challenges. And given that the method taught in the course was something completely new to me, I decided to give the project a shot despite my skepticism about it.
From my experiment and experience, Project 24 is the best blogging course for beginners and advanced marketers alike. Having built a number of successful sites following the program, the only thing I regret is not having known about Jim and Ricky sooner.
Is Income School Legit? (My Complete Income School Review)
It's not once that I come across people asking about the most recommended Internet marketing courses online. And for one reason or the other, Income School's Project 24 course often happens to appear as one of the recommendations.
But what's Project 24 anyways? In particular, what exactly makes it different from popular courses such as The Affiliate Lab and Niche Site Project?
Income School is a legit course that, while a little controversial, teaches you everything you need to know and do to become your own boss.
What is Project 24 Income School?
Project 24 by Income School is an Internet marketing course created by Ricky Kesler and Jim Hammer to teach you how to make passive income from niche and authority websites.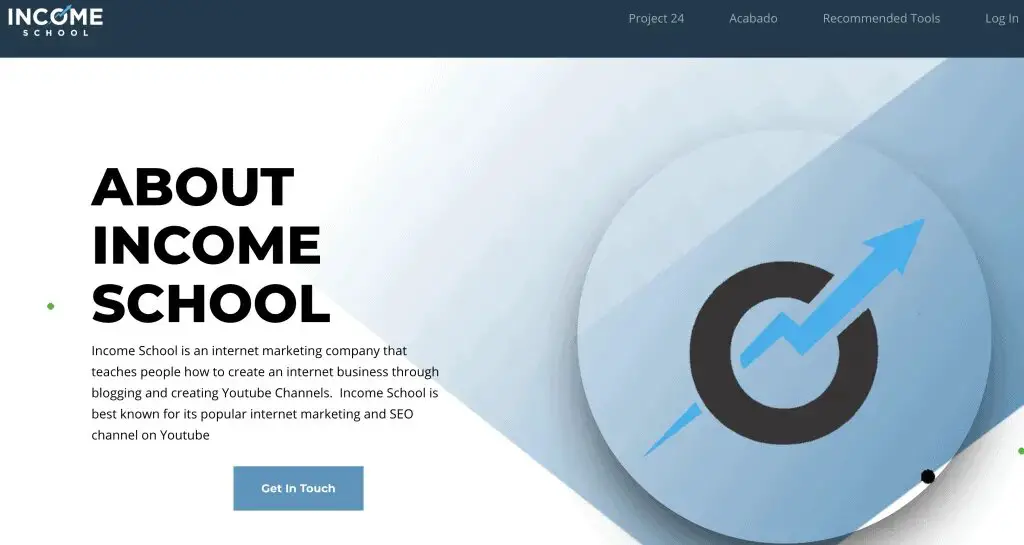 Jim and Ricky called the course Project 24 for a reason. Based on rigorous testing, they learned that it takes at least 24 months to start earning a full-time income online.
In other words:
Income School's Project 24 doesn't teach a get-rich-quick approach.
In my view, their process is so systematic, which means you have to follow the course step-by-step if you must build niche websites that make money in passive income.
To be clear:
Jim and Ricky teach a very controversial approach to building affiliate websites. For them, investing time in doing search analysis and dedicating twice as much time to creating content is the most effective strategy for building a successful online business.
Here's what's even more interesting:
Jim and Ricky state clearly in their YouTube videos that you don't have to invest in link building. Instead, you should spend time creating quality content and organic backlinks will come.
It doesn't end there.
They even clearly state that they don't recommend keyword research tools such as Ahrefs, Keyword Chef, and Semrush because they are highly inaccurate. 
This is insane, or isn't it?
For those of us who've been fed the old school approach to content marketing, where we have to spend less time creating content and more time building backlinks, Jim and Ricky's approach is just something that falls flat.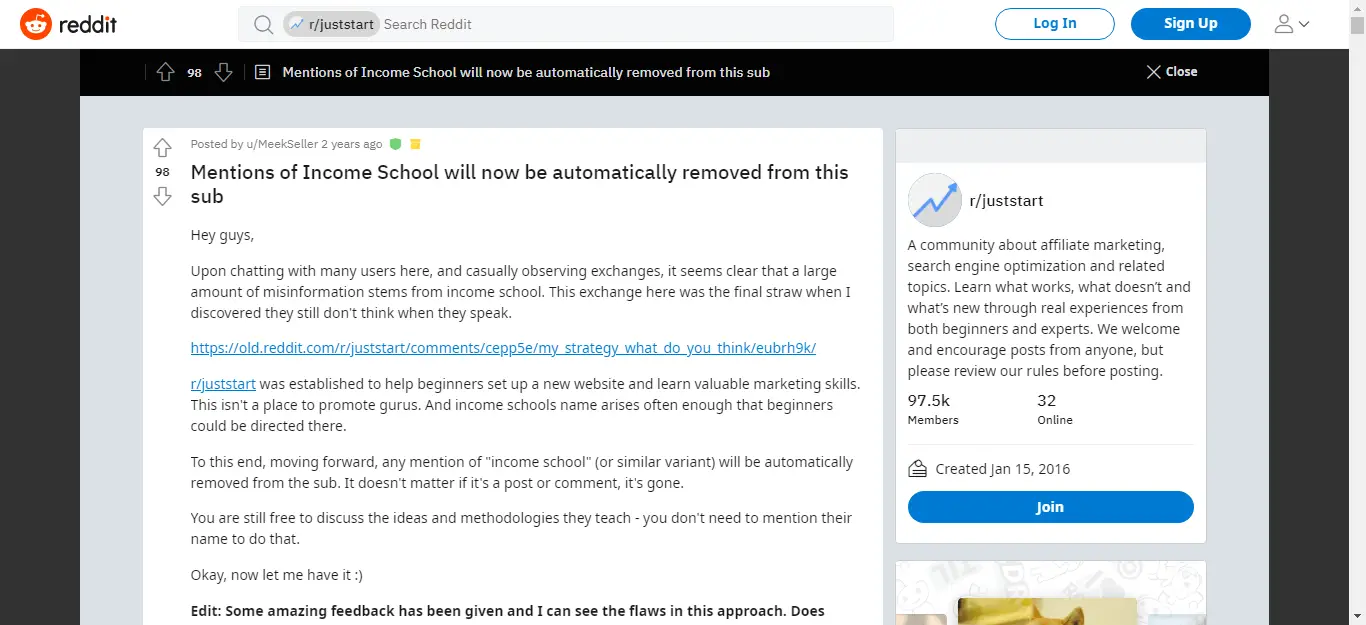 In fact, mentioning the name Income School on Reddit get a total ban without any sort of consideration.
Despite the controversies surrounding the Project 24 blogging approach, it turns out to be one of the most effective strategies online – and for one reason.
Results!
Hundreds of students who've enrolled in the course, myself included, have reported positive results in under 24 months. And all it took was getting hands dirty, putting in the hard work, and trusting the process.
What's in Income School's Project 24?
From where I sit writing this review, I can confidently say that Project 24 is a growing library of Internet marketing course all in one place.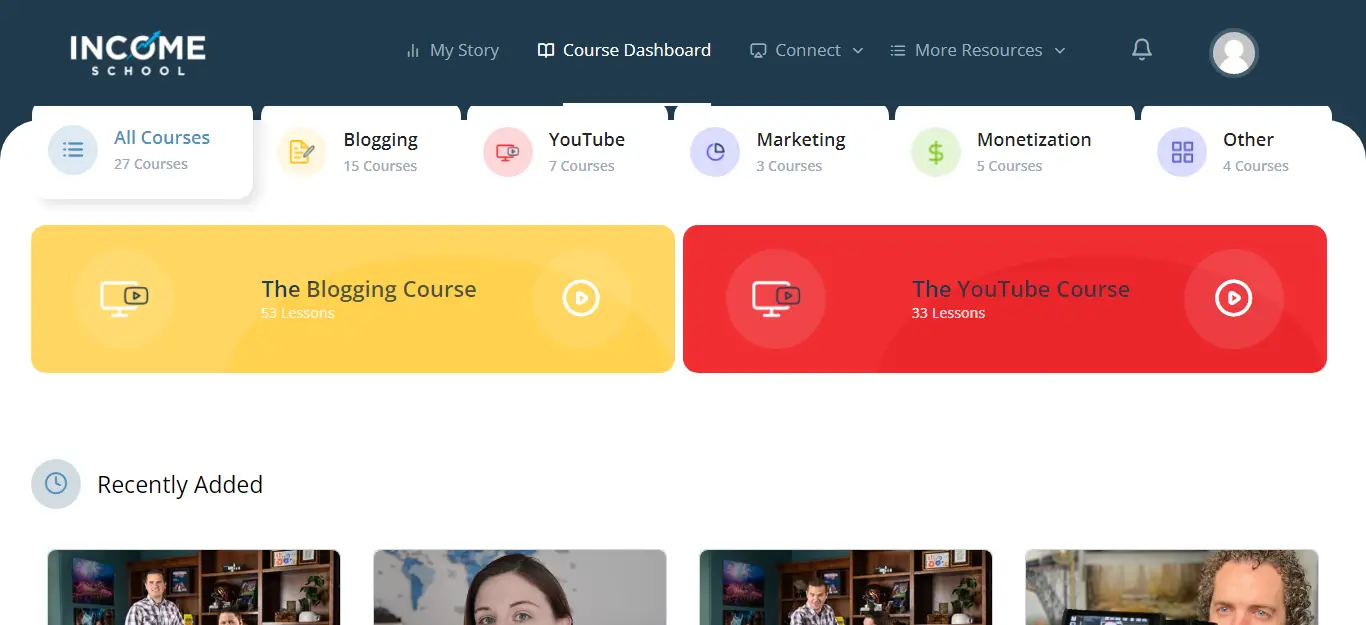 From Search Analysis and 60 Steps to Blogging to Answer Target for Snippets and the Battleship Method, Income School gives you enough premium information that you will never find anywhere else.
In fact, if you're looking for a hub packed with helpful video content that teaches blogging, marketing and vlogging, Project 24 is for you.
With Income School's Project 24 course library, you'll learn about:
Answer Target for Winning Snippets: Learn how to write insightful answer target to queries and win snippets that drive a ton of traffic to new as well as established niche websites.
Monetization: Learn how to choose the right monetization network for your blog so that you can make from your growing traffic. Whether you want to monetize with ads, you want to become a Patron, or you prefer to create your own info products, Income School will teach you to do just that in Project 24.
YouTube Course: If you prefer video content to writing blog posts, Project 24 can help you level up your vlogging skills. With the YouTube course, you learn the exact process of starting and growing your channel, even if you've never shot a video before in your life.
Search Engine Optimization: No, it's not the usual SEO approach that you know or have read about from some other online blogs. In this course, you learn exactly how to do SEO the Income School way – and get good results.
Writing: Whether you want to know how to hire writers or you need ideas on how to improve and speed up your writing, Income School Project 24 will help you do just that.
Email Marketing: This is a beginner's course that teaches you exactly how, why, and when to create an email list for your blog.
How Much Does Income School Cost?
Income School's Project 24 costs $449 for the first year.
If you choose to continue with the program, you will pay a renewal fee of $249. According to Income School, the annual renewal is so because Project 24 gets an update with new content every year.
The best thing about the course is that it doesn't ask for any commitment.
You can cancel your subscription any time. However, given the value that you get from the program, it's highly likely you'll get your money's worth.
Does Project 24 Include Acabado?  
Project 24 includes the Acabado, one of the world's fastest WordPress themes created by Income School.
If you want to worry less about Core Web Vital metrics and just get started with blogging and consistently publishing, Acabado is the way to go.
So, Is Project 24 Worth It?
After building successful websites following the Income School method, I can confidently say that Project 24 is worth it.
While the recurring subscription may seem suspicious, at first at least, it's the price you pay for a suite of courses that can turn your life around if you go through the course and TAKE ACTION.
I love Income School because they're 100% non-technical. Even someone who has never heard the word WordPress before can understand what they teach and make money in the end.
I understand that experienced SEOs and veteran bloggers don't appreciate the fact that Income School has made everything about Internet marketing incredibly simple.
And to be honest, the simplicity is what has been missing in the blogging recipe for far too long.
So if you're out there, passionately craving to learn how to make passive income through blogging, but you have no idea which course to buy, click here to get Project 24.
Why Does Income School Reveal Its Websites?
One word:
Transparency!
By revealing the sites they've built over time, Jim and Ricky clearly demonstrate that what they teach in Project 24 works quite well.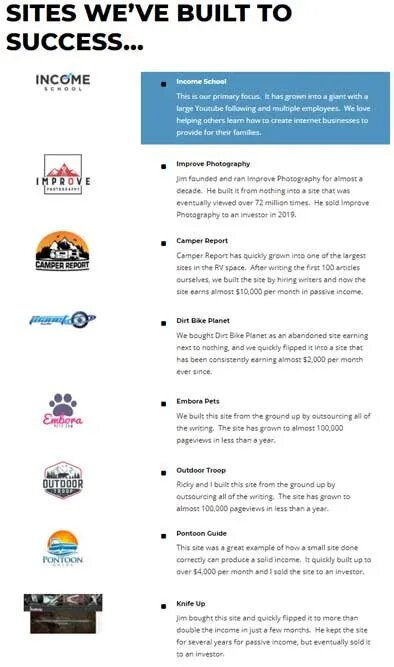 Are you curious to know what they've built? You can check a list of the websites that they've built and sold on their garage sales page.
That they've grown, scaled, and sold multiple niche and authority websites should be a clear indication that they're experienced instructors who walk the talk.
What I Love About Income School Project 24 Course
Jim and Ricky's teaching style is incredibly simple and their actionable strategies and tips will not only get you started but also enable you to scale your blog.
While the course doesn't get monthly updates, the major changes that Income School makes to the content material often reflect the up-to-date industry standards.
The Project 24 Community is an awesome platform to hang around online as you get support from friendly members, even from those that are already ahead of you in the game.
What I Don't Like About Income School
While Project 24 is affordable, the annual renewal price can come as a surprise to many people. That's so especially because many internet-marketing courses are on one-time payment basis.
Final Thoughts
Overall, Income School is a legit business that teaches you everything you need to know about how to make passive income on the online.
While they don't teach you how to build links, or encourage overuse of keyword research tools, their Project 24 remains one of the most recommended Internet Marketing Courses online.
What is Project 24?
This is a complete course on writing and blogging, vlogging and marketing. This is a premium course from Income School filled with reliable and essential information for a successful blog.
What are the benefits of taking Income School Project 24?
Income School Project 24 provides a comprehensive and structured approach to building a niche website that can generate a full-time income. The course is taught by experienced professionals who have successfully built and sold niche websites themselves, and it offers ongoing support and guidance through a private community and live events.