There's no better way to succeed in blogging than to target under served keywords with high quality content. And if there's one plug-and-play tool that lets you unearth a ton of low competition keywords, it is the Keyword Chef.
But is this keyword research tool worth it? Or should you stick to the more expensive options such as Ahrefs and Semrush? Well, our Keyword Chef review should help you to make that decision.
In summary, though:
Keyword Chef is the best keyword research tool for those who want to find hundreds of low competition keywords. Its algorithm can find low-hanging fruits in 30 seconds and shows you average monthly search volume. With its built-in SERP feature, you know the number of sites targeting the same topic.
If you can't afford more refined and feature-rich tools such as Ahrefs because you're on a tight budget, Keyword Chef can be a great place to start. 

Keyword Chef Keyword Research Tool Review
Before you get started with Keyword Chef, though, let's first make sure you know what it is and how you can use it.
What is Keyword Chef?
Keyword Chef is a revolutionary keyword research tool built to help you find keywords or topics that many bloggers hardly target. Its power is in extracting low-hanging fruits that are easy to rank for on Google and other search engines.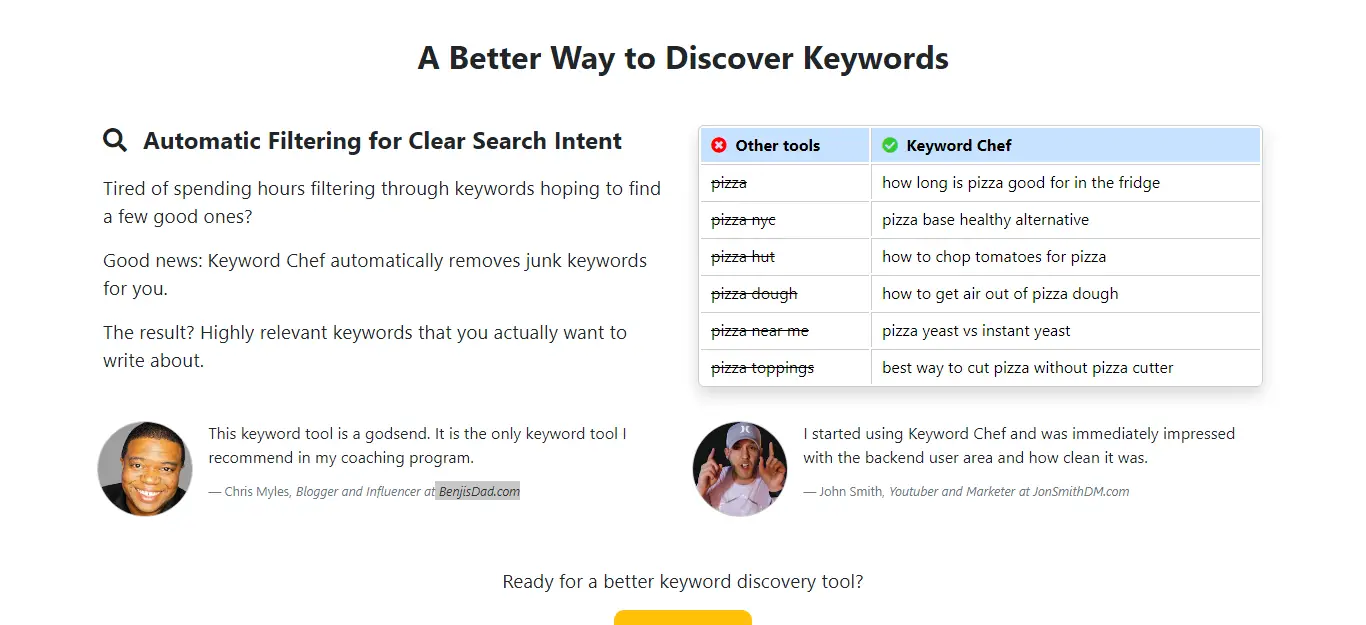 Although Keyword Chef doesn't offer query grouping for closely related keywords, an area if  fails terribly on at the moment, it offers you a better way to discover topics so that you can get down to creating content as quickly as possible.
When you enter a broad term, also known as a seed keyword, in the search box, Keyword Chef will take a few seconds to filter out junk terms and present you with a good list of topics to target in your next blog post.
What's more?
This tool can analyze the SERP for you and show you exactly how many other bloggers are targeting the exact same search term in their post.
The simplicity of this keyword research tool is simply out of this world. For someone who finds the dashboards of advanced SEO tools overwhelming despite the rich features, Keyword Chef can make a big difference.
Keyword Chef Price
Keyword Chef is the most affordable keyword research tool I have ever come across. With $20 getting you 1,200 credits, and 1 credit getting you 1 keyword, there can't be any offer better than this in the keyword research business.
The best thing about this tool is that it allows you to filter keywords so you can save on credit. Not to mention that your credits won't expire.
Moreover, if the search you're doing exceeds the amount of credit in your account, you get the extra credits for free.
Is Keyword Chef Worth It? (5 Reasons to Use Keyword Chef)
If you're wondering why I strongly recommend Keyword Chef, and particularly to beginners, it's because there are a number of things that make it stand out albeit being a simple tool.
1. Keyword Chef is Easy to Use
Keyword Chef is the simplest keyword research tool I've ever come across. It's not as pretty as Semrush or as detailed as Ahrefs, but it's more functional and straightforward.
You can learn how to use this keyword research tool in under 10 minutes, and then use it to extract high value keywords that you would otherwise have a hard time finding with other tools.
It took me about 5 minutes to know how to use this tool, and an afternoon to find at least 30 topic ideas to write for a micro niche site that I'm currently working on.
It's also great to know that Keyword Chef has a knowledge base here, where you can learn more about the tool just in case you need more information.
2. Gradual Improvements in Development
Developers behind this tremendous tool are working hard to make it a powerful tool that can help new bloggers and experienced affiliate marketers find low-competition keywords.

For example, the inclusion of wildcard is something they've done recently. And it's a small, nifty feature that let you find keywords based on the kind of content that you would like to write.
At the time of this writing, the wildcard feature lets you find keywords in the form of questions, comparisons, how to tutorials, alternatives, as well as commercial. 
3. You Find Easy to Rank Keywords, Fast
Many keyword research tools promise you access to thousands of keywords for your niche, and they're actually good at that.
However, they do a pretty bad job of forcing you to sift through hundreds of keywords to find the most favorable topics to target.
It's not so with Keyword Chef.
With Keyword Chef, you worry less about manually filtering keywords because the tool does that for you behind the scene.

Thanks to the smart wildcard, what you get in return from the search of every seed keyword is a list of topic that you can start creating content around right away.
Do you see where I'm going with this?
You don't have to manually scan every keyword other tools spit just so you can find something to create content around. You simply enter your seed keyword in this tool and it does all the work for you.
4. You Have Access to Your Keywords, Forever
The one frustrating thing about many subscription-based keyword research tools is that you can't save your keywords for later view.
Well, unless of course you download them as CSV files.
And even those that allow you to create keywords for later access won't let you view them if your subscription expires. Which can be very frustrating if you're on a tight budget.
Keyword Chef saves the day here.

That's because you can find all your keywords under the "My Reports" tab, no matter how many months ago you searched them.
As you can see in the screenshot above, Keyword Chef still allows me to access my online class keywords despite having searched the terms about 4 months ago.
Of course, I can get the data exported to a CSV file for offline use, but I prefer to have Keyword Chef keep it for me for now.
5. You Get 1,000 Free Credits to Get You Started
I haven't come across a keyword research tool that offers free credits to get you started.
Ahrefs charges $7 for a 7-day trial and Semrush follows a similar pattern. The Keywords Everywhere Google Chrome Extension is no longer free.
Yikes!
Frustrating, right?
Don't worry, because with Keyword Chef, you don't have to pay anything to get started. That's because you get 1,000 search credits for free, which should be enough to help you find at least 100 topic ideas to target in your niche.

All you have to do is to create a free account, verify your email, and you're good to get started.
Keep in mind that you will have to buy more credits once you exhaust the free ones.
Final Thoughts
Whether you're starting a new blog or you have an existing site where you would like to add content targeting low competition keywords, Keyword Chef can help you find the right topics for the project.
All you have to do is to identify your seed keyword, enter it in the search bar, select a wildcard, and click the search icon to start finding low competition keywords for your project.
What is the importance of good keyword?
Working with the good keyword is extremely important. Since this is the best way to make your blog successful and popular. Because if you target underserved keywords with high quality content, it will negatively impact your blog.
How much does Keyword Chef cost?
Keyword Chef offers a range of pricing plans, starting at $29 per month for the Basic plan and going up to $149 per month for the Agency plan. Users can also opt for an annual subscription to save up to 20% on the cost.