If you want to have a good product without having to spend much of your hard-earned money, you might be glad to know about Amazon direct ship freebies.
There are so many deals and offers available on the internet that allows you to get what you want and save money at the same time, and Amazon is one of the platforms making that possible. However, what do the direct freebies involve, and is it legit? You wouldn't want to fall into a scam trap.
Therefore, to explore more about how these freebies work and Amazon direct shipping, keep reading.
Amazon Direct Shipping Freebies (Detailed Review)
If you are an Amazon fan, chances are you might be aware of this spectacular offer. On the contrary, if you don't know much about direct ship freebies, don't worry.
There are sellers and manufacturers on Amazon who offer free stuff directly to you.
What is Direct Ship Freebies?
The Amazon direct ship freebies are the free items you receive directly from sellers. In this case, you don't need to give your review of the product you receive.
Well, you might wonder why the sellers give out these direct freebies. Whenever they store their items in the Amazon warehouses, they are charged a fee. When they have too many items in there for a very long time, they might opt to give them out rather than paying for the storage fee.

Remember, the seller does nothing else other than mailing you the item. Also, the communication is between the two of you. Amazon is not directly involved. So, you have to be cautious.
You can mostly receive toys and clothes but it might be something like bedding; who knows? Plus, you should not expect to receive a particular item or size since they are always random.
If you get something that does not fit, don't worry, you can choose to gift someone or give it out for charity.
What is Amazon Direct Shipping?
This is a situation where the Amazon sellers send the buyers free products directly. In this case, the order is not placed on amazon; it is an arrangement between the seller and buyer only.
However, how does the consumer get the free products? The delivery of the products is done directly to your door from Amazon warehouses.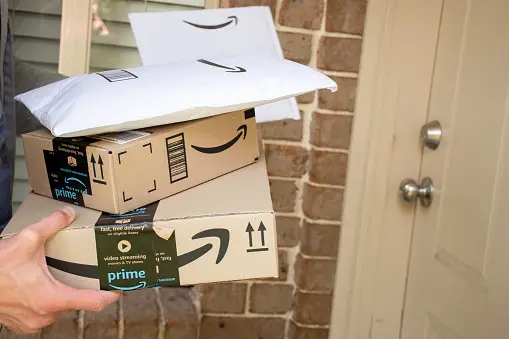 Therefore, the moment you get these free products shipped directly to you, it is either the seller or manufacture who has taken care of this. Remember, they all sell on Amazon and store their products in Amazon warehouses.
This means that Amazon is not directly involved in direct shipping, but the sellers and manufacturers are.  Also, you don't decide the number of products you receive through the direct ship.
The quantity of freebies you will get from Amazon is dependent on the number of products leaving the fulfillment center, the sum of people who signed up for the same, and the type of seller giving you the offer.
If you receive many products, you don't have to panic. You can decide to either gift someone, resell, give to charity, or even donate. Therefore, you can use the free items to make some money or for some good course.
Therefore, depending on the number of free products you receive, you can choose what to do with them.
How do I Get Amazon Direct Freebies?
If you want to get direct ship freebies, there are forms you need to fill. However, you should be cautious when doing this to not give out too much personal information.

Some sellers of these items require you to send them a direct email to let them know you are interested in their products.
Is Direct Ship Legit?
As you have noticed, the Amazon sellers are the ones giving you their products for free. You might wonder why they are doing this, yet they are supposed to make a profit. The next thing in your mind is probably whether or not direct ship is legit.
The direct ship is legal. However, not everyone offers it. Keep in mind that it is not every day an Amazon seller decides to offer direct ships.
In cases where the products are not moving, the sellers might decide to look for individuals who would like to receive direct ship products. Normally, the sellers opt for this in a bid to evade excess fees when they do not have a place to send their products when they are not selling.
Therefore, to ensure you protect yourself when dealing with the seller directly for a ship, you can ensure you give out as minimal personal information about yourself as possible.
A tip that can help you gauge how legit the direct ship is double-checking through the social media groups and forums where individuals discuss about this. Take advantage of the groups in Facebook and Reddit forums where people discuss about direct shipping. With this information, you can at least verify if a direct ship offer is legit before you go ahead with filling the form.
Importantly, always be very cautious whenever you are dealing with direct ships. If you feel like it can be a scam, just ignore it and don't fill it out. Alternatively, rather than giving out your home address, you can use a postal address instead.
When it comes to direct ships, and you are unsure if it's legit or not, don't go through with it.
How Do I Know Which Seller Are offering Direct Ship Freebies?
The fantastic news of getting free products from Amazon sellers can be overwhelming and might prompt you to take the step. However, how do you get the direct freebies offers?
To begin with, you have to always keep in mind that direct ships are arrangements and connections between the buyer and the seller; Amazon is not involved. This means that you will not go to the Amazon site to fill in any direct ship form.
Getting these offers is not a simple process; you have to research to ensure you are getting something legitimate. Go through Facebook Groups, Reddit, or any freebie website to find out about the seller who has the offer.
On Facebook, there are direct ship groups which consist of Amazon sellers and buyers. When you are in the group, you can get a direct ship form to fill. The Amazon sellers usually share them directly.
Additionally, the consumers can also share the offers from several other businesses. Therefore, as members of such Facebook groups, you have a variety to choose from.
Moreover, you can visit any freebie website to find out if there is an Amazon freebie offer you can go after. You can google anything related to your search, for instance, "get freebies online." The search results will lead to websites like Freebie Friday and Amazon Freebies.
Direct Ship Freebies Pros and Cons
Pros
The items you receive are entirely free. As much as they are sold on Amazon, you don't pay for them.
It can help you save money.
You can gift others if you receive excess products.
When the delivery is a lot, you can decide to resell a part of it to others and make more money in the process.
The delivery might consist of products you have never tried before. Therefore, you have the chance of exploring and discovering different products.
Cons
You will receive random products. Since you are not paying for anything, you don't get to choose what you want.
You might receive a lot of delivery which you probably didn't plan for.
Many factors are determining how fast you get your delivery. Therefore, you cannot tell the exact date when you will receive the products.
There is the risk of scammers.
Frequently Asked Questions
What Free Products Can I Receive Through Amazon Direct Ship?
You can't tell or decide what items you will receive but the options range from beauty products, toys, clothing, household items, and baby stuff.
What is Direct shipping Logistics?
Direct shipping involves and engagement between a manufacturer and the consumer. The manufacturer ships the item to the consumer without involving amazon.
Does Amazon Ship Free Stuff to Customers
Amazon does not ship free stuff to customers but manufacturers or sellers on Amazon do. The arrangement of direct ship freebies is run by sellers to evade extreme amazon's storage fees.
Conclusion
If you receive a free item today, what would you do? No doubt you will be glad. Well, you can enjoy the provision made by Amazon sellers.
Amazon direct ship freebies are free items you receive directly from Amazon sellers. In this case, the communication and connection are between you and the seller; Amazon is not directly involved. Therefore, you can look out on Facebook groups and Freebie's websites to look out for any offers available.
If you find one, ensure you talk to others too to confirm if it is legit. Also, you shouldn't give out too many personal details.
Eventually, when these direct ship freebies are delivered to your door, you can choose what to do with them.
Resources
What is the Amazon direct ship program?
This is a great feature, the essence of which is the ability to get free products that you get directly from sellers. In this case, you do not need to give feedback on the product you received.
What are the benefits of Amazon Direct Ship for sellers?
Amazon Direct Ship provides sellers with a unique opportunity to promote their products and increase brand awareness by sending free samples to potential customers. This can result in increased sales and customer loyalty.