Is your kid between 12 and 14 years? That's a perfect age to teach them ways to make money as a kid.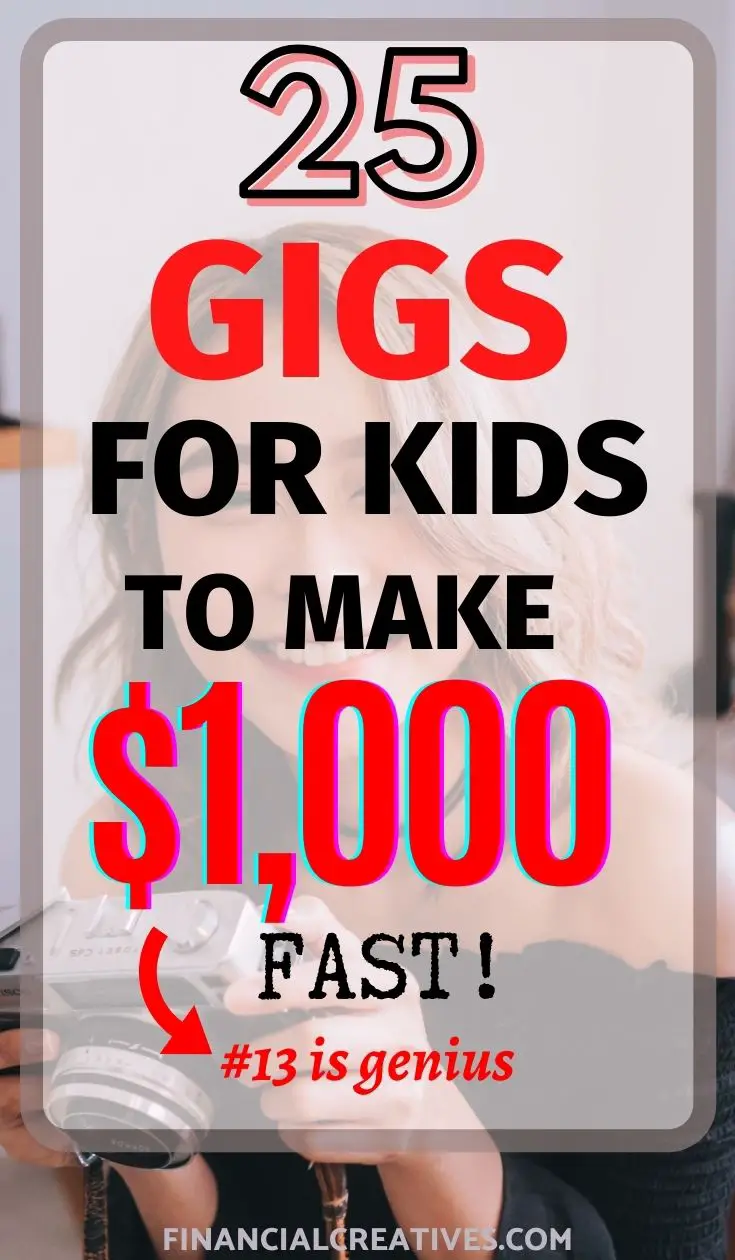 So, your job is to help your youngster or youngsters find the most suitable pick.
But why should you even conceive the idea?
For starters, it makes them better entrepreneurs. Naturally, it becomes easy for them to manage finances better, and they get to appreciate healthy financial practices like budgeting and saving more.
Also, it becomes easy for them to be financially reliant. For instance, the kids can pay for some of their expenses without asking for money from you.
Moreover, it's a smart way for them to use their spare time. So, kids' business or job is an excellent idea for the summer holidays and weekends.
So, are there any easy ways for kids to make money?
The answer is YES, and I'm going to discuss 25 different ideas for these groups of youngsters:
12-year-olds
13-year-olds
14-year-olds
Also, check this post on how to make money as a teenager. There are some fantastic tips you can use to convert your kid into a young entrepreneur.
Ways To Make Money As A Kid – 12 Years Or Older
Here are easy ways to make money for kids aged 12 or older.
1. Sign Up on Swagbucks

There can never be an easy job for a 12-year-old than answering surveys, and Swagbucks provides the perfect opportunity.
What's more, Swagbucks allows them also to earn doing the things they love doing online like:
Playing video games
Watching funny videos
Searching the web
Though your kid cannot get rich from using a survey site like Swagbucks, it is an effortless way to earn a few dollars.
Besides, Swagbucks offer a $5 welcome bonus for signing up using my link, which I encourage you to do. It's easy money for just dropping your email.
2. Become a Young YouTuber And Make Money
Did you know that the highest-earning YouTuber over the past two years was a small boy? Maybe his age will astound you.
At just seven years in 2018, he pocketed $22 million. And the following year, at the age of 8, Ryan (that was his name) made $26 million.
Ryan has managed close to $50 million in two years, and you cannot imagine what he has been doing!
Well, he earned from unboxing toys and reviewing them, something that any kid can do. However, it doesn't mean that your 12-year-old kid has to unbox toys unless he or she wants to.
Some other lucrative ideas on how to make money as a kid on YouTube are:
Making prank videos
Posting music videos
making funny baby clips
Preparing skits
Singing
Performing magic tricks
Check how I do my YouTube videos on my YouTube channel. I mostly monetize them with the Humix video network by importing them on my own video portal and monetizing them without subscribers, and with a higher revenue per thousands visits than on YouTube, as the commission Humix takes is much lower (10% instead of 50% on YouTube).
3. Set Up A Craft Store On Etsy And Make Money
Are your kids good at making handcraft? Can they make any of these?
Decorative hair bands
Custom-tailored clothing
Stuffed animals and toys
Jewelry
Birdhouses
Home decors and holiday ornamentals
Artwork (painting and drawings)
If yes, then you should help them set up a craft store on Etsy. It generally costs $0.20 to list an item for sale, and upon selling, Etsy takes a 5% commission.
So, that's fair enough given that millions of people can see your kid's craftwork around the world.
Etsy allows you to come up with a creative name for the store, and you can optimize it with a profile image and a brief bio.
4. Pet-Sit (Or Dog-Walk) For A Pay
Are you looking for fun ways to make money as a kid? There is nothing funnier than pet-sitting or puppy-walking.
So, consider encouraging your child to embrace the idea if they love pets.
Locally, you can use Craigslist or a pet sitting app like Rover to find pet owners around your area who need a pet sitter or a dog walker.
Most pet owners who work and those on trips will pay your kid to take care of their pets. On average, your kid can make $20 an hour.
5. Get Paid To Perform At Events
Talent pays, and it doesn't matter if you are a kid or an adult. If your kid can entertain at a local event like a birthday celebration or a kids' party, encourage him or her to sign up.
Here are some of the ideas you can suggest:
Singing or playing a musical instrument
Acting
Dancing
Puppetry
The secret here is to try and be as entertaining as possible as the primary audiences are kids.
Your job will be to identify local events that you kid can grace as an entertainer. Once your kid builds a name, gigs will start coming his or her way.
6. Sell Baked Goods As A Kid
Are you wondering how to earn money as a kid selling food? Then consider baked goods.
Some of the most lucrative baked goods that your kid can sell are:
Bread
Cakes
Cookies
Pies
Frozen desserts
Chocolate confections
Candies
If yes, then you should help the youngster monetize the idea. For starters, help him/her set up a stand locally to sell baked goods on weekends and school breaks.
You can also help your kid identify local events where he or she can set up the stand.
Also, accompanying your kid to the farmers' market is a great idea since there's a ready market for mouthwatering baked goods.
7. Sell Comic Books For Kids
If you are a fan of comic novels, you must know about Dogman or Captain Underpants. These two graphic books are products of comic artists who started drawing comic characters at a young age.
Now, the books are top sellers, and readers like them because of their humorous elements.
So, does your kid like drawing funny characters? Then encourage him or her to create a comic book and sell it online.
Kids can make $25 per comic book on platforms like MyComicShop, SellMyComicBooks, or Sellfy.
Your kid can also set up a Shopify store and use it to sell the comic book.
8. Sell Pics Online
Most kids have a passion for photography by the age of 12. If that's the case with your child, consider encouraging him or her to get creative and go commercial.
With most smartphones featuring powerful cameras, your kid can use them to take photos to sell online. Advise him or her to take pics of wildlife, landscapes, and any other inspiring thing.
So, are you wondering how to easily make money as a kid doing photography?
The easiest way is to upload the images on stock image sites and wait to earn royalties. One of the best places is Shutterstock, whereby the payout per custom image is $0.25-$120.
Other top considerations include:
Ways To Make Money As A Kid – 13 Years Or Older
Here are ways to make money as a kid aged 13 or older:
9. Set Up A Lemonade Stand
Nothing is refreshing on a hot afternoon like a glass of cold lemonade. There is nothing timely for the summer weather than a lemonade stand, something that kids can set up.
You just need to provide your teenager with a folding table and a banner sign indicating what he or she is selling.
You can also help him/her find the most strategic places to station the lemonade stand to encourage more sales.
Provided that the weather is scorching, both kids and adults will want something refreshing to drink. So, chances are they'll end up at your kid's lemonade stand.
With the starting cost being low and the prospects of making money being high, a lemonade stand is perfect for your kid.
10. Wash Cars For A Pay
Even though car washing machines are popular nowadays, some car owners still prefer to wash their cars by hand.
So, for those looking to learn how to make money fast as a kid, washing cars in the neighborhood is worth considering.
To ensure that the teenager gets enough cars to wash, especially over the weekend, help him/her advertise locally.
The beautiful thing about this job is that repeat customers are typical as long as your kids do a great job.
11. Sell Old Toys Online
Does your kid have some toys he or she no longer wants? Advise him or her to sell them online instead of tossing them into the trash.
You probably are not aware of this, but there are so many buyers out there looking for the play items.
Some of the best places to earn cash by selling old toys are:
In case your kid does not have enough toys, they can buy them locally and then sell online at a profit.
12. Rent Out Games And Gaming Accessories To Kids
It's normal to be obsessed with video games at the age of thirteen. But still, having so many of them lying around the house not only mess up your kid's room but also counts as a missed money-making opportunity.
So for those looking for ways to make money fast as a kid, renting out games and gaming accessories is a smart idea. It's a fantastic way to declutter one's space while earning a passive income.
Besides, the teenager can always have the games back.
Some of the best places to rent out games and gaming accessories are:
13. Face-Paint Other Kids At Events For Money
A kids' party is never complete in most places without some face painting. How about you encourage your teenager to take on this challenge and make money from it?
From kids' birthdays to talent search events, your child can sign up as a face painter and get to collect money at the gate.
The beautiful thing about face painting is that one doesn't have to be skilled. Most kids don't mind imperfections provided that their faces are covered with colors.
Farther, your child is likely to have fun at such events, and so it will be a double win for him or her.
14. Host Garage Sales To Make Extra Money
Perhaps your kid has tried selling personal stuff online but has not been successful in clearing everything. It is at such a point that you should help the teenager host a garage sale.
It's one of the fastest ways to earn money for kids.
You can help your child advertise locally using word of mouth, posters, and any other media that works for you. There's always the chance that so many willing buyers will turn up for the garage sale.
Generally, a garage sale is supposed to help you clean out your store. But still, it is a smart way to make money from the clutter. To sell faster, encourage your kid to bundle the items.
15. Sell Printed Tees
Does your kid have a knack for design and fashion? Then you should advise him or her to try designing t-shirts and selling them online.
Some of the best sites for such businesses are:
Your teenager can also sell t-shirts locally if the neighborhood has more millennials as they are the biggest fans of t-shirt prints.
If your child is very creative, the chances are that companies will approach him or her. And with the right guidance, t-shirt print selling could turn into a long-term business.
16. Sell Electronic/Digital Goods
Your child can combine his or her creative spark with the power of technology to come up with digital or electronic goods. Perfect examples are logos, website templates, manuals, digital designs, graphics, and themes.
These products can be sold online at whatever price that your child chooses. Digital products are typically sold as downloads or subscriptions, and here are the best places to do so:
Ways To Make Money As A Kid – 14 Years Or Older
Here are ways to make money as a kid aged 14 or older:
17. Start a Profitable Blog (Money-Making Blog)
Does your 14-year-old like recording his or her travel experiences and adventures? Is he or she passionate about a specific hobby like cooking, camping, music, photography, or sports? All these are reasons for the teenager to start a blog.
A blog is more like a digital journal that allows your kid to self-express. More importantly, it can make them passive income, and here is a blogging guide to help you with that.
I make $3K monthly on my blog, that I monetize using affiliate links and ads. So, I encourage you to help your child start.
Use my Bluehost link to get affordable hosting (just for $3.95/month) and a free domain.
18. Write an eBook
If your kid likes the idea of running a blog, the chances are that he or she will like the idea of creating an eBook. An eBook (electronic book) is just a print book in a digital format.
Kids can create eBooks to write about their passions and exploits, and there is no better platform for doing that than Amazon Kindle Publishing (AKP).
AKP allows your kid to publish an eBook for free, and he or she gets to sell to Amazon customers. So, it is likely that thousands of readers will have access to it.
Furthermore, your teenager will receive 70% of sales. Not a bad deal, right?
19. Babysit For A Pay
The truth is that no responsible parent will trust their baby in the hands of a 14-year-old. However, they can trust you, and that's why you should be the one looking for the gigs on behalf of your kid.
All you have to do is to supervise the babysitting from a distance.
At 14, babysitting can be fun, but it also makes your child more responsible. So, it is a smart way of hastening your kid's maturity while also providing him or her with the opportunity to make money.
You can help your kid find babysitting jobs locally or on job sites like Care.com, SittingAround, or SitterCity. Your teenager can make $10-$20 as a babysitter on these platforms.
20. Enter Cash-Paying Kids Contests
Kids can compete in different contents, just like adults, and get to make some good cash. There are some fantastic money-making opportunities for kids out there, from drawing and photography to writing and poetry.
Here are the most popular ones:
21. Sign Up For Usability Testing
Have you ever heard of usability testing? That's when you give a review of your user experience upon trying a mobile app or website.
It is one of the good ways to make money as a kid just by using your smartphone.
Generally, it doesn't call for an experience to do usability testing, making it a perfect side job for kids.
One of the best sites for getting usability testing jobs is Userlytics. Your kid will make $10 per test on average.
Check out a complete Userlytics review here.
Other sites to check out for usability testing are:
22. Design Video Games For Money
According to Recruiter.com, most video game creators make $70K-$90K annually. So, it's a lucrative idea.
Though video games appear daunting, they are easier to create than most of us assume them to be. Besides, there are so many tools and platforms that one can use to make them stress-free.
They include:
These platforms are free to use and feature user-friendly guides that even kids can follow.
So, if your teen has a creative spark and is a fan of video games, encourage him or her to use these platforms.
Upon designing the games, you can make them available on Windows, Linux, macOS, and other platforms.
23. Make Music Online
Technology has made it easy nowadays to make music without stepping into a physical studio. There are so many cloud-based music studios that your child can use to create the perfect hit songs.
Amazing examples are:
Mark you, these platforms allow your kid to make music for free. So, whether your teenager is a rapper or a vocalist, these platforms are incredible.
With an album out, your young musician can start earning royalties and become financially reliant at a young age.
24. Sign Up For eSports Gaming Contests
Most kids are familiar with eSports, professional video gaming competition. However, not all of them are aware of the fact that they can compete for cash.
These video games come in genres like:
Fighting contests
Racing competitions
Sports games
First-person shooters (FPS)
Real-time strategy (RTS)
So, your child cannot miss something he or she can do for fun and, at the same time, compete for cash.
But, how much can you make from eSport gaming?
Top players make as much as $15,000 per competition (excluding bonuses).
Some of the best platforms to sign up for eSport gaming contests are:
25. Sign Up On Instagram
Instagram is growing by the day, and more teenagers are signing up. So, you don't have to advise your kids against it. What you should do, however, is to monitor what they are doing.
Try to encourage your teenager to use Instagram positively. One way to do it is to leverage the platform's money-making potential.
So, how can your kid make money on Instagram?
Here are the options he or she should exploit:
Sell personal products (handcrafts, photos, drawings, etc.)
Sell other people's products as an affiliate marketer
Concluding Thoughts On Ways To Make Money As A Kid:
Now that you have 25 ways to make money as a kid, you can discuss with your teenager the ones you like the most.
I hope that they can share your thoughts and consider implementing the idea (with your help, of course).
Liked this post? Share it on Pinterest!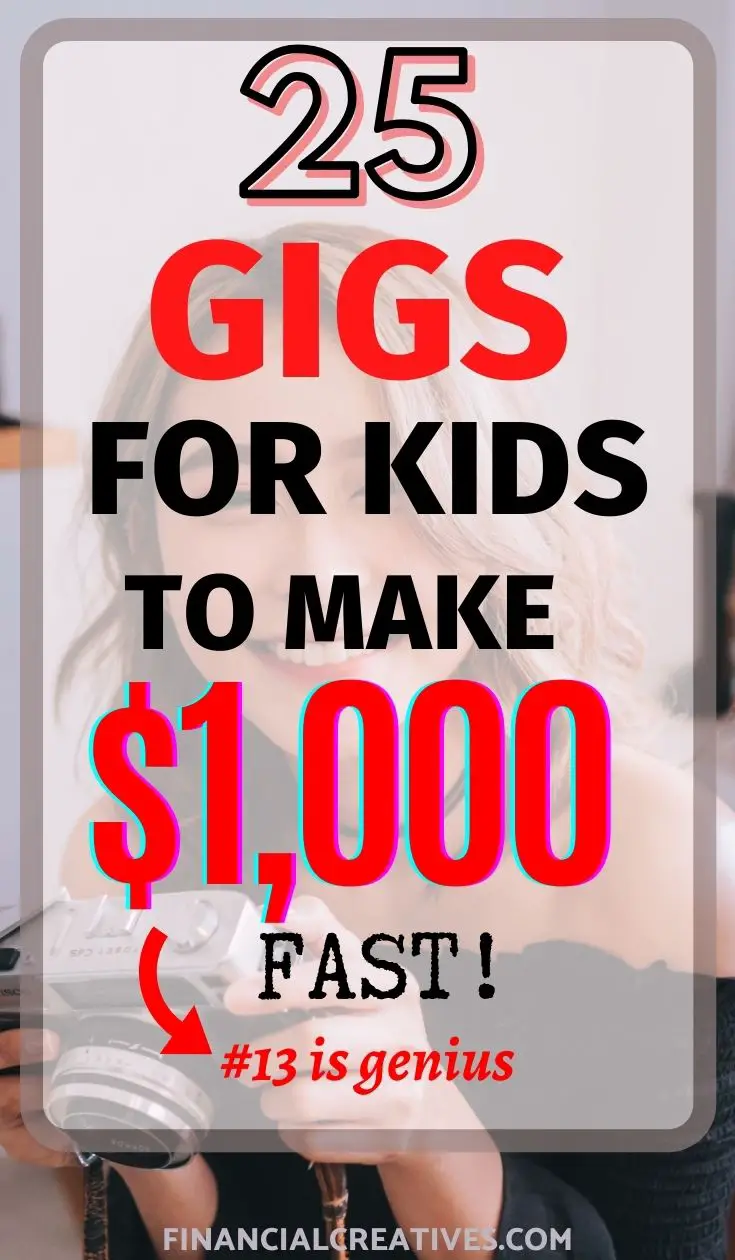 How to make money in school as a kid?
There are legal and safe ways to earn money from school as a child, of course with parental permission. Pay attention to the sale among schoolchildren of their own pastries or comics, or interesting photographs. Choose what you are good at and start making money from it.
What are some ways that kids can sell items to make money?
Kids can sell items they no longer need by having a garage sale, selling items online through websites like eBay or Craigslist, or selling items at a local flea market or consignment shop.