In a world where people are struggling to enjoy a healthy income, searching for jobs that pay 40 dollars an hour might be the smartest thing to do.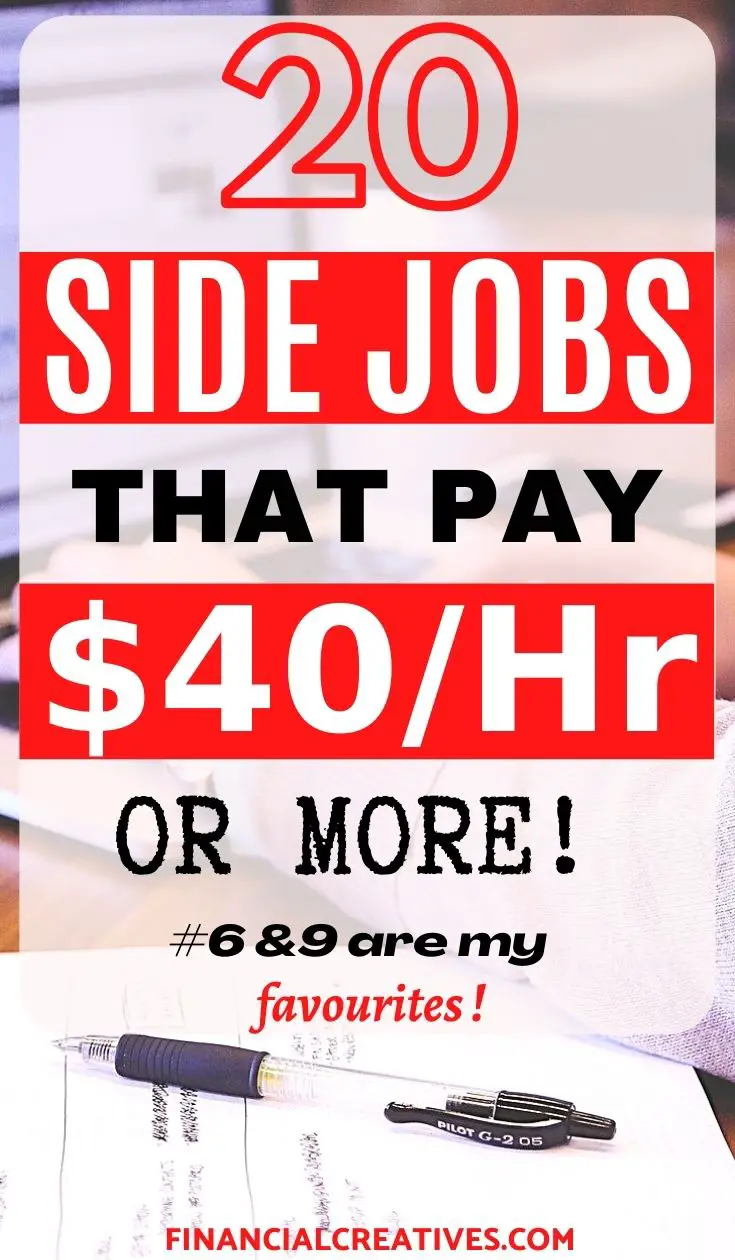 Whether it is to support your family, take up an investment or save up for a business, getting a high-paying job should be a priority.
Don't worry if you have no clue about what to go for as I'm here to assist you in finding the most befitting part-time job.
I've been there working 9-5 and still cannot pay all my bills. So, I know that a paycheck can never be enough in this harsh economy.
You need a part-time job that can bring in some decent cash quickly. Simply, you need a job that can earn you $40 an hour more, and I've 20 of the best below.
What Jobs Pay 40 an Hour? 25 Best High Paying Part-Time Jobs
Below is a list of 20 best part-time jobs that pay $40 an hour or even more. We're going to look at them under these categories:
Online jobs that pay 40 dollars an hour
Offline jobs that pay 40 dollars an hour
Online Jobs that Pay 40 Dollar an Hour
1.   Freelance Writing Part-Time Jobs
From books and magazines to web pages and eBooks, you can write just about anything when working as a freelance writer.
If you are not sure about the niche to pursue, check out this free course by Gina Horkey. And in case you want to make decent money as a freelance writer, check out Get Paid to Write, a free freelance writer's course by Elna Cain.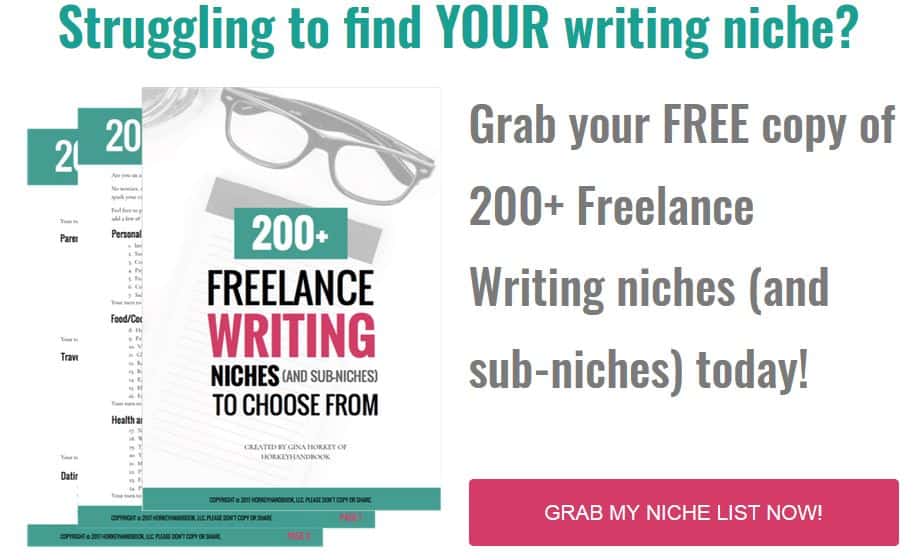 So, how can you make $40 per hour writing?
Consider writing landing pages, blog posts, news articles or newsletters for companies. You can visit FlexJobs to search for 'freelance writing high paying part time jobs near me.'
You can also write articles for magazines. They are among the best paying gigs for freelancers, and I recommend the following:
2.    Online Surveys High Paying Jobs
You probably are not aware of this, but some survey sites pay as much as $50 per survey or research participation. Interestingly, most of these jobs that pay 40 an hour without a degree take less than an hour.
I'm mainly talking about the following online survey sites:
3.   Software Development Part Time Jobs
Can you create a mobile or computer application? How about computer software? If yes, then you should be making money part-time as a software developer.
These jobs are mostly remote, which means you can work from home and get to pocket $40 or more an hour if you are experienced.
What are the requirements for working as a software developer?
You first need a bachelor's degree in a computer-related field, preferably Computer Science. You also need to be familiar with computer programming, software engineering, and computer systems.
Some of the best places to find software development jobs that pay 40 an hour are:
4.   Music Coaching High Paying Jobs
The world is in love with music. Each day, there is an increased demand for music coaches and tutors. Whether you are an expert instrumentalist, a vocal coach or a composer, you can sign up as a music instructor online.
Experienced music instructors quickly make $50 an hour, offering private music lessons. There are even others that earn as much as $100 an hour. Of course, the pay varies from place to place, and it depends on the willingness of the client.
Mostly, instrumentalists earn the most pay. So, if you are experienced in playing the piano, violin or guitar, consider working part-time as a music instructor.
You can find music coaching high paying part time jobs in these places:
5.   SAT Tutoring High Paying Jobs
SAT (Scholastic Assessment Test) tests are an essential entry exam for those wishing to undertake undergraduate programs.
The exams are not easy, and this prompts most students to seek help from private tutors. As an SAT tutor, you may be required to:
Develop study plans for your students
Prepare study materials
Motivate students
Analyze students' weakness and help them develop effective learning strategies
So, you need at least a degree in education, and you should have some teaching experience.
Some of the best sites to find SAT tutoring jobs that pay $40 an hour are Tutors.com, SimplyHired, and ZipRecruiter
6.   Personal Training Part Time Jobs
With most people preferring to work out at home, virtual trainers are no longer a myth. You can make money part time offering virtual personal training classes.
Now that we have a platform like Skype and another like Zoom making the mark, offering fitness classes online is easier than ever.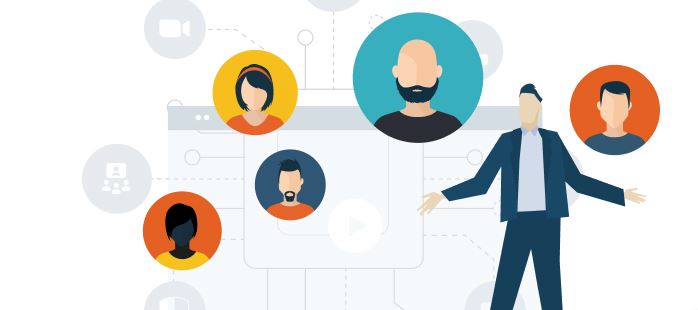 So, how do you make $40 an hour as a personal trainer?
Look for high paying clients online on platforms like Jooble.org, Indeed, or ZipRecruiter, who are willing to pay $40 an hour for virtual personal training.
Alternatively, combine two clients who pay $20 an hour if you cannot find someone who pays $40 an hour.
Some of the most lucrative personal training classes you can offer are:
Yoga
Weightlifting
Aerobics
Remember to get some training and certification as you need them to find a job as a virtual personal trainer. They help to build your credibility as a personal trainer.
7.   Translation Part Time Jobs
The pay for translators varies from place to place. You may receive anything between $15 and $55 an hour as a part-time translator. Often, the more experienced you are, the likelier you are to make more money.
So, are you a bilingual looking for a part-time hustle? Then you should consider doing translations during your free time. From legal and medical to education and travel sectors, the demand for translators is always on the rise.
You can visit these websites to find translation jobs that pay 40 dollars an hour:
8.   Life Coaching High Paying Jobs
Everyone has goals, but some people require someone, a life coach, to help them achieve them.
So, are you a motivator who can help people achieve their life goals and live an enriched life? If yes, then you should consider life coaching part-time.
You'll be more or a consultant, and so you have to be an excellent communicator, listener, and problem solver.
You need a bachelor's degree in social development, psychology, or counseling to be a life coach. You also need to be licensed by a relevant life coaching federation.
You can find life coaching jobs in these places:
9.   Social Media Strategist Part Time Jobs
Now that social media has become integral in the online marketing space, businesses need strategists who can help them improve their online presence.
Social media strategist's jobs come with attractive pay, and so you can easily make $40 an hour if you work for the right companies.
Are you wondering what you'll be doing as a social media strategist?
Here are typical duties:
Plan and develop your client's social media strategy
Create and manage social media content
Measure the success of your client's social media marketing campaign
So, what are the Requirements?
You need a bachelor's degree in marketing or a related field and should be familiar with popular social platforms like Facebook, Instagram, Pinterest, and Twitter.
You can find these jobs that make 40 an hour on Glassdoor or Indeed.
10.  Business Consultancy Part Time Jobs
Are you experienced in marketing, finance, and human resource? That makes you a perfect business consultant, and you can make $40 an hour part-time. Many businesses need expert advice in the three areas and are willing to pay for it.
Ideally, you have to possess the following to be a business consultant:
Be knowledgeable in business
Be an excellent communicator and researcher
Be a problem solver
Be computer literate
You also need a bachelor's degree in business administration or something similar. Having a master's degree on the same is an added advantage.
Some of the best places to find business consultancy jobs are FlexJobs, Indeed, and ZipRecruiter.
11.  Marketing Manager Part Time Jobs
Marketing managers are responsible for leading a marketing team. These experts promote brand awareness, develop marketing campaigns, and handle public relations.
The jobs can be gratifying in terms of pay. Some marketing manager jobs pay as much as $60 an hour, and you get to work remotely.
What do you need to work as a marketing manager?
Formal education is pivotal. You need a degree in marketing or business administration.
You also need some online marketing experience.
You can find these high paying part time jobs on:

12.  Web Design High Paying Jobs
Web designers make $20-$100 an hour. So, it is easy to make $40 an hour when you are experienced.
What exactly does a web designer do?
A web designer primarily creates the layout of a website and features that make it functional. So, you need to understand graphic design and, at the same time, be proficient in computer programming.
You need a degree or a diploma in web design, graphic design or any other computer-related field to be a web designer.  Sometimes, web designers are called front-end developers.
Find you next high-paying web design job in these places:
Related Post: 25 Work From Home Jobs That Provide Equipments.
Offline Jobs that Pay 40 Dollar an Hour
13. Task Rabbit High Paying Odd Jobs
Can you spare an hour or two in the morning to do odd jobs? I'm talking about these good part time jobs:
Lawncare
Cleaning
Mowing
Carpentry work
Delivery jobs
Moving jobs
Installations
Plumbing
The list goes on and on when it comes to working as a tasker on Task Rabbit. Task Rabbit is an excellent platform that connects you with prospective clients in your neighborhood.
The good thing about Task Rabbit is that you set your rates and pick your preferred schedule. Most taskers earn $20-$80 an hour, and so you can easily make $40 an hour on the platform.
14. Dog Walking Part Time Jobs
If you are a fan of man's best friend and are looking to make $40 an hour, consider signing up as a dog walker. The job is quite easy when you are motivated and are a genuine dog lover.
You can make $40 dog walking if you sign up on Rover. You may need to find two or more dog owners in need of dog walkers.
Given that most gigs pay $10 averagely for 30 minutes walks, you can make $40 in an hour if you walk two dogs.
Alternatively, look for dog owners looking for private long-distance dog walkers. You are likely to make $40 an hour on such tasks.
15. Bartending and Waitressing Part Time Jobs
Have you ever wondered why some musicians work as waiters or bartenders part-time? It's because these jobs pay the bills.
The wages may be small, but you make some massive tips, and that's where you can make a quick $40 an hour. With the tips, you can survive on a minimum wage.
How do you find bartending or waitressing jobs that pay 40 dollars an hour?
The most practical approach would be to visit local bars and restaurants to inquire about available openings. You should consider leaving your contacts for them to get in touch when a post becomes available.
16.  Massage Therapy Part Time Jobs
Talk to any massage therapy that you know about their earnings, and you'll be surprised by their revelation. The job has many tips, and you can get your $40 an hour from tips alone.
The secret is to find well-paying massage therapy jobs at these places:
Medical centers
Chiropractic offices
Spas
Luxurious hotels
Fitness centers
Nursing homes
Some of the jobs that massage therapists do are:
Manipulate soft tissues and muscles
Improve relaxation and posture of the client
Locate painful and tensed muscles
Advise clients about the best rehabilitation technique
To ensure that you know what you are doing, find an excellent massage therapy school to join.
17.  Veterinarian High Paying Jobs
Animals, just like humans, need a doctor, who we call a veterinarian. The expert specializes in treating animals, and such jobs pay very well. You can earn $40 an hour or even more if you specialize in treating pets and farm animals.
Some of the duties of a veterinarian are:
Diagnosing sick animals
Performing surgery and wound dressing
Prescribing medications to animals
Administering vaccines
Performing health checkups
Educating pet owners
So, the job is technical, and this means you have to be appropriately trained. You need at least a degree in veterinary medicine and a license to practice.
You can find these jobs that pay $40 an hour on Jooble.org, SimplyHired, and Indeed.

18.  Public Relations Manager High Paying Jobs
Image is everything for a business. A good image tends to attract more investors and customers. So, companies prefer to hire people, PR (public relations) managers, who can help them build a good image.
Therefore, if you are proactive, detail-oriented, tactical and creative, consider pursuing PR manager jobs. The jobs pay $40-$60 an hour, and you can work flexible hours.
You'll need a degree in public relations, marketing, journalism or something similar.
If you are looking to make $40 an hour or even more, consider looking for PR manager jobs on:
19.   Financial Manager Part Time Jobs
The finance department is a very sensitive area in a business setting. Business owners want to utilize their finances better, invest wisely, and make a profit.
Achieving such goals require the help of a financial manager. It's a job that you can do part-time, depending on the arrangement.
The good thing is that the jobs pay well, and so making $40-$60 an hour is not a tall order.
You need a degree in finance, business administration or accounting to become a financial manager and you can find the part time high paying jobs on:
20.  Sales Manager High Paying Jobs
Lastly, if you are good at making sales and are a born team leader, then you should consider working as a sales manager part-time.
Your job shall involve leading a sales team in the following ways:
Offering mentorship
Preparing sales quotas
Setting sales goals and plans
Assigning territories to your sales team
Coordinating the marketing efforts
Overseeing the performance of your sales team
What requirements do you need?
Most employers require you to have a degree in a business-related field, and you should have some experience leading a sales team.
You can find the 40 dollars an hour jobs on Upwork, Indeed or Freelancer.
Conclusion
Generally, finding jobs that pay 40 dollars an hour might be what you need to start enjoying financial freedom.
Remember, there's so much you can do with $40 an hour. You can pay bills, start a business, pay for college, and achieve many other short term and long term goals.
So, sign up today to start making money!
  Liked this post? Share it on Pinterest!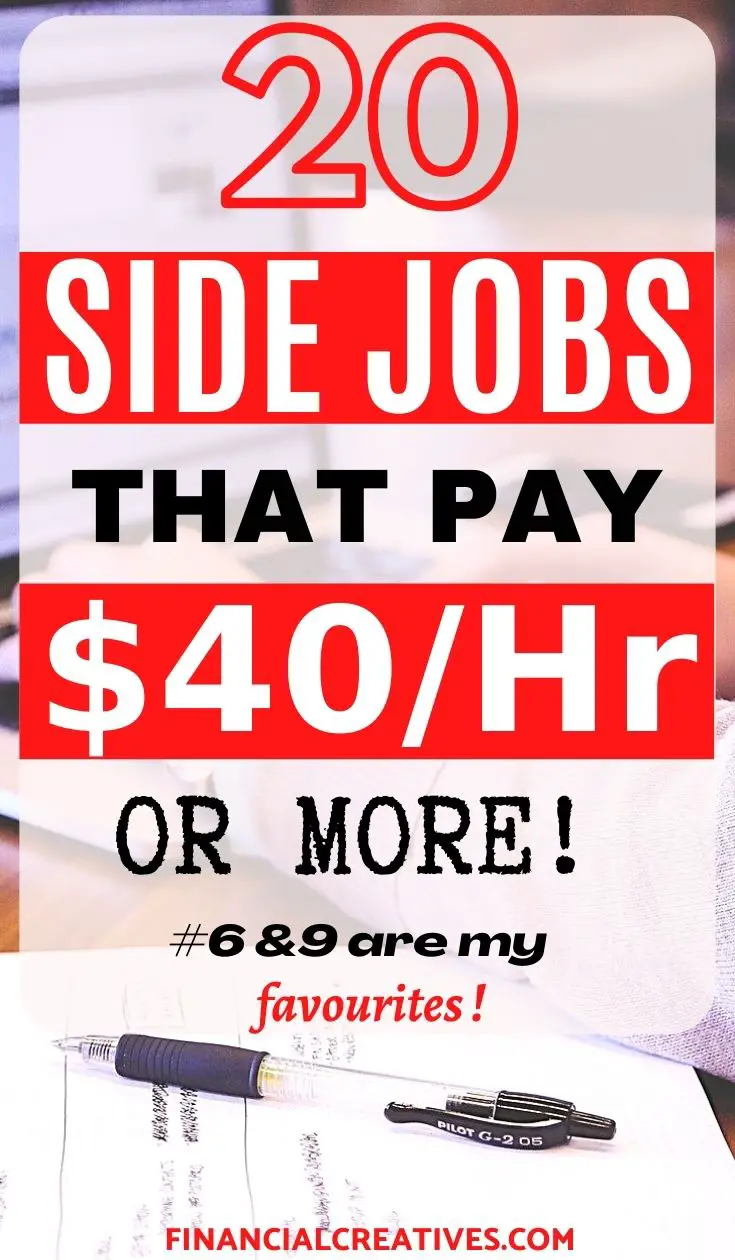 Is it really possible to earn $40 an hour jobs no experience?
Sure, you can make $40 an hour with no experience, but you have to work hard for that. There are options for such work both online and offline. You need to choose what you are best at doing.
How to make a quick 40 dollars for a student?
There are various ways a student can make a quick $40. Some options include doing odd jobs like pet sitting or lawn mowing, selling items they no longer need or use, participating in paid online surveys or gigs, or offering tutoring services to fellow students.