The gig economy has opened far too many opportunities to make money than we can even imagine. And if you're someone who owns a car, and you're open to the idea of ridesharing, you can possibly make some passive income with Turo. But is Turo worth it in the first place?
Turo is worth it because it's not only a business model that's accessible and flexible but also one that's easily scalable. You can rent out your car when it's not in use and make money passively instead of leaving it collecting dust in your garage when it's not in use.
Like Airbnb for houses, Turo lets you turn an otherwise depreciating car into an asset that can earn you hundreds of dollars every month.
Is Turo Worth It Or Should I Keep My Car in the Garage? 
In this guide, we take an in-depth look of Turo review to help you get understand how you can benefit from it.
What is Turo Exactly?
For 11 years now, Turo has been a go-to peer-to-peer car rental marketplace for people who would like to make passive income by renting out their cars.
And while it doesn't have a presence in every country in the world, it operates in major cities in the United States, Canada, and the United Kingdom.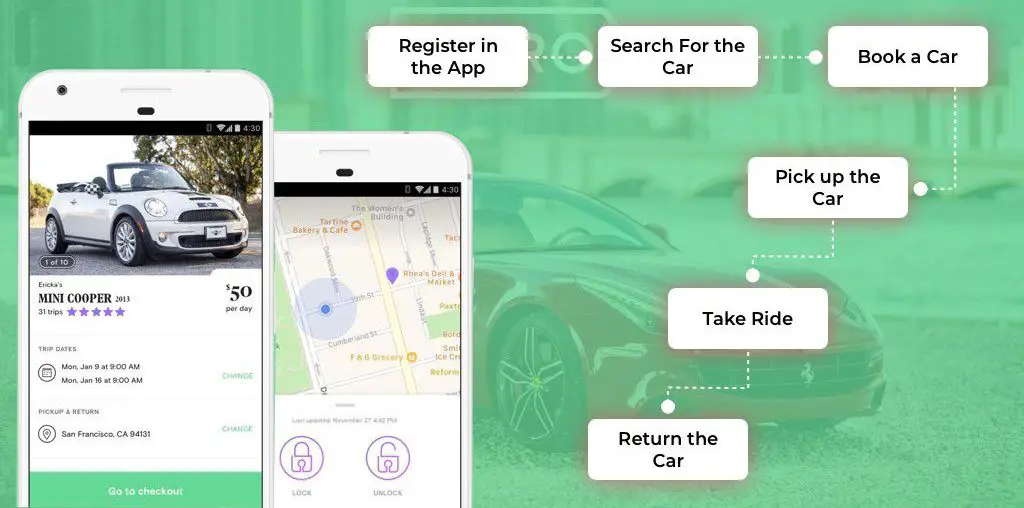 Turo is a great deal for car owners and renters alike.
With Turo, you can easily borrow a car from others for a day, a week, or even a month at a decent rate. Turo takes away the need to depend on expensive car rental services, and gives you a more flexible deal for your budget and traveling needs. 
As a host, Turo gives you the platform to list your vehicle for rental the same way you would a property on Airbnb. So it's a great platform to monetize your car.
How Much Can You Make With Turo?
You need to understand how much Turo pays before you make the decision to rent out your car with them. For starters, it's important to note that the marketplace accepts a range of vehicle classes such as trucks, luxury cars, SUVs, and vans.
The first step to determine who much Turo is likely to pay you for renting out your car is to use the Turo Calculator to get an estimate. The calculator gives you an approximate earning range based on your car's make, model, year, and your current city.
Keep in mind that what the calculator gives you is just but an estimate of how much you're likely to make by renting out your car on Turo. You can use the estimate to determine your own listing's price and, to some degree, set your own rental rules because Turo gives you that option.
For example, your listing can include terms and conditions such that a renter should return the vehicle with a certain fuel level or at a particular time of the day. With this kind of flexibility, you stand the chance to rent out your car based on conditions that are more favorable to you.
Notably, how much you earn from Turo will depend on the demand and supply in your city. You at least have the opportunity to make some good cash if your car is a highly demanded model.
How to Get Started with Turo
To start working with Turo, you will need to sign up for a free account. The sign up process is easy: you can choose to either continue with accounts like Google and Facebook or use your email address to register.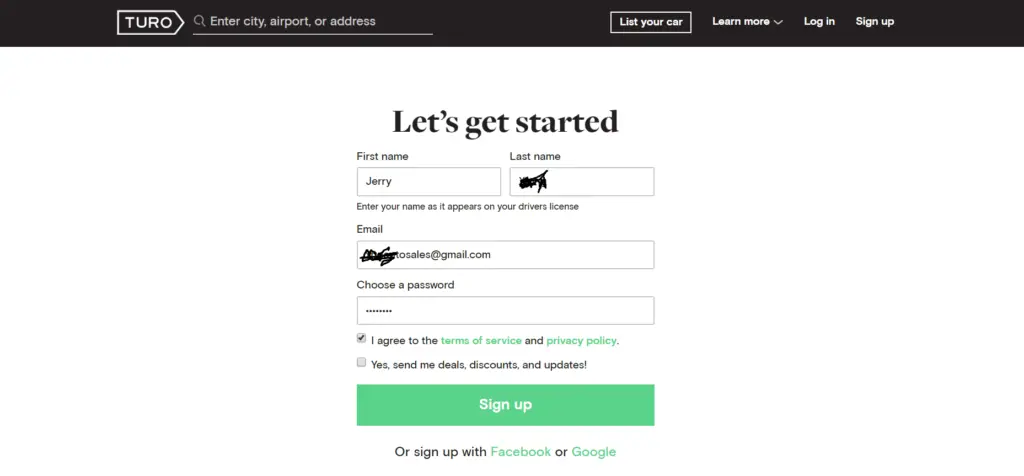 A well-maintained and registered car is required, followed by personal information like your photo, driver's license and Social Security Number (SSN).
After submitting your registration, wait for the Turo team to approve your account.
Once you have your account approved, you are at liberty you list your car on Turo's marketplace for renting. Make sure details like the cars registration number, model, year of purchase and Vehicle Identification Number are present on your listing.
You will be required to provide photos of your car's interior and exterior. We recommend that you upload multiple photos of your car's interior and exterior to make your listing stand out from the many options on the platform.
Come up with a description for your car. Make sure the description is persuading enough to attract more renters.
Outline your rules.
Some of the rules can be:
Do not smoking in the car
Don't bring your pet(s) along
You shouldn't drive the car while drunk
Lastly, make sure that the amount you wish to charge for the car is reasonable.
What Types of Cars Does Turo Accept?
Like GetAround, Turo doesn't seem to have tough conditions on the type of cars they accept.
As of this writing, this company accepts:
Electric, diesel, gas, and hybrid vehicles with a seating capacity of not more than eight passengers
Cargo vans, light tracks, and classic cars
This marketplace doesn't accept any vehicle designed for off-road. And given that the brand's terms of services demands that you offer them exclusivity, you can't list the car on another rental service such as GetAround and HyreCar.
Also, it should be clear that the marketplace's vehicle requirements vary by country. If you live in the United State, the car you wish to rent out to earn passive income should:
Meet the safety and maintenance requirements put in place by Turo
Have less than 130,000 miles
Be a new model or at least 12 years old  
Turo takes the safety of its customers seriously, which is why they have Turo vehicle safety and maintenance guidelines that you should read before you decide to rent out your car.
Do You Need to Have Insurance to Rent Out Your Car With Turo?
Turo states clearly that you don't need a commercial insurance to list your car on their marketplace for rent. Licensed commercial rental companies can work as commercial hosts, although this isn't a requirement for most hosts.
What you need is a personal insurance. With this respect, you will need to include proof of registration and an insurance car in your car. And since you're not in a position to offer commercial insurance, you will need to buy a Turo protection plan to use the marketplace.
What Are Turo Protection Plans?
Turo's protection plans are means for providing vehicle coverage in exchange for a given percentage of your earnings, and they often have the highest impact on how much you can make from the marketplace.
Note that every plan guarantees you a liability coverage of up to $750,000, but physical coverage and deductibles will vary quite significantly. 
65 Plan: Choose this option if you need the most risk averse plan. With this plan, Turo covers all the rental damages.
70 Plan: This Turo protection plan has a lower deductible of $300. If your personal insurance doesn't offer you a replacement vehicle reimbursement, this could be the ideal option for you. You do keep 70% of bookings.
75 Plan: The plan has the most affordable deductible of $750, and you get to keep bookings of 75%.
80 Plan: The plan charges deductible of $1,625 and has similar conditions for the 85 Plan. In addition to being less risky than the 85 Plan, this protection plan lets you keep up to 80% of bookings.
85 Plan: While it's the most lucrative protection plan on Turo, expect little additional protection and huge deductibles of $2,500.  
Except for Turo's 60 Protection Plan, all other options require you to cover for the cost of exterior wear and tear, loss of hosting income, and replacement costs. The advantage is that you keep 85% of the bookings.
Can My Car Be Safe With Turo?
With thousands of car theft cases reported each year, it makes a lot of sense to be more cautious with your car out there than taking chances.
That said, it is entirely up to you to decide if you want to add a security camera to the car or not. For safety purposes, Turo lets you add tracking devices to your vehicle so you can easily know where your car is and when.
In addition, car owners are required to disclose if their cars have distance-tracking devices before they give out their cars. Turo will have your account banned if you don't provide this information. 
Turo approves the use of five types of security devices. These include dash cams, Telematics, Exterior Cameras, GPS and Lojack.
What Are The Benefits of Using Turo?
First, Turo almost always guarantees lots of bookings, and that's provided your car is in the best condition possible. Remember, Turo is a popular marketplace, and if you price your car well and guarantee its availability, you can make good money every month.
Second, the brand has made its platform very easy to use. The website and app dashboard invites you to a platform with a friendly interface that doesn't even require technical knowledge to navigate. You can view your listings, messages, and so much more.
More importantly, you will love Turo because it guarantees payment. What's more? You get money paid to your account on time.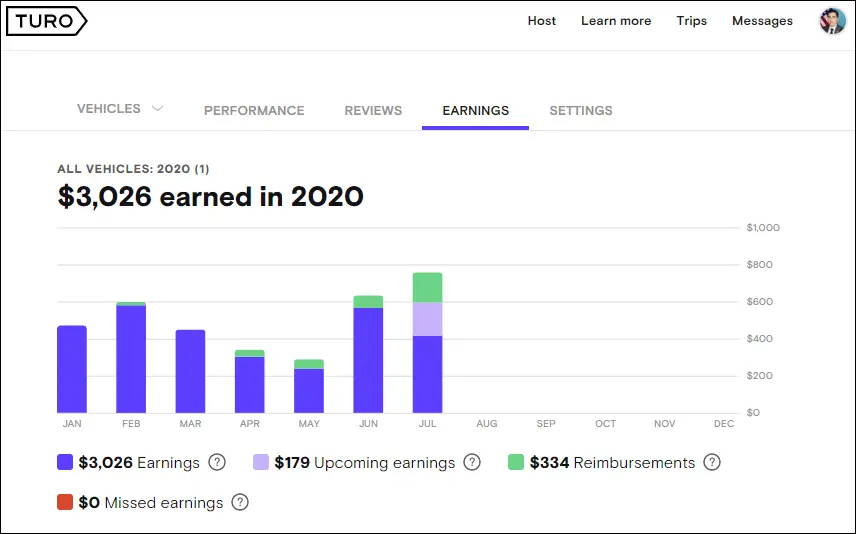 Turo sends payments within one business day. You can request to get payment via PayPal, direct deposit, or in the form of a check. It's up to you to decide what payment method is more convenient for you.
Is Turo Legit?
Turo is worth it because it allows you to earn passive income by renting out your car. Apparently, many car owners find Turo easy to work with because of friendly terms and conditions of service.
Turo also makes sure you get your payment on time. Often, the earnings are between 60% and 85% of ever rental trip depending on the protection plan you choose. 
Final Thoughts: Is Turo Worth It?
Turo is just one of the car rental companies operating locally and internationally. But it happens to be the most recognized option in the car rental space.
Not only does it have flexible rental plans, it also sends out timely payments to car owners.
So if you have a car you don't drive quite often, you can turn it into a moneymaking asset with Turo peer-to-peer car rental service.
Can I make money with rent car on Turo?
Turo is a good option for your earnings. You can rent out your car when not in use and earn money passively instead of leaving it to collect dust in the garage when not in use.
Is the Turo App legit?
Turo is a legitimate peer-to-peer car-sharing platform that allows individuals to rent out their personal vehicles to others. The company has been operating since 2010 and has gained a significant user base in several countries.