You could be laboring with the thought of getting passive income and your only choice is working online. It is a good option especially when transcription is something you are passionate about. For online jobs enthusiasts, there are massive opportunities that create a new revenue stream  but there are a lot of fears with online jobs and that's why you might be asking; Is TranscribeMe legit?
TranscribeMe is a legit company paying for transcription services. Audio/video files are transcribed on an audio minute basis. It hires transcribers on a contractual basis and is a great side job that you execute at home.
TranscribeMe has greatly evolved over the years. It is a mainstay income stream for scores of people around the world. From the comfort of your home, it is possible to earn a tidy amount of money. 
While the company is legit, it operates on a set of smart transcription processes. Only the best of transcribers land jobs on the platform. This is why some people question its legitimacy.
You earn a standard rate of $20 per audio hour with a constant flow of jobs and weekly payment. Earnings increase daily with more jobs and advanced opportunities like becoming a reviewer or joining their special team.
This article delves deeper into the world of TranscribeMe. In the end, you will understand better how it works and its merits.
Is TranscribeMe Legit?  – Going Into Details

So, What Is TranscribeMe?
TranscribeMe is a business service firm offering audio and transcription services. Transcription is the art of changing speech into text and transcribers are people who type the speech into text hence the company's backbone
It has an A+ Better Business Bureau (BBB) rating in the industry. Customer interaction and experience with the transcription platform is top-notch and has remained so for years and keeps on getting better.
The fact that it issues its payments via PayPal makes it attractive. PayPal is a global conduit to receive and send money to any part of the world conveniently. 
Unlike other transcription platforms that shut down accounts arbitrarily, the platform upholds its professionalism and its accounts are not closed maliciously or without a justified reason.
Further, it is a great opportunity to work from home and for beginner transcriptionists too. 
The community there is accommodating, supportive and enjoyable to work with. The crowd community is a hallmark here making remote working fun.

The community platforms share tips to better your skills which is helpful. 
If you are hungry for success in transcription, this platform is the right place for you. It has plenty of advancement opportunities all up for grabs.
The management is highly supportive. This makes work easier as concerns you may have are responded to in good time. In cases where you need managerial support, you get it without much hassle.
Is Working For TranscribeMe Worth It?
TranscribeMe presents a unique opportunity to make money in your spare time. Once you pass the required tests and prove you have the skills, it is an awesome platform.
Quality work is greatly rewarded with higher pay and more jobs flow.

What Do I Need To Work At TranscribeMe?
TranscribeMe does not need sophisticated equipment or software.
All you need is a functioning laptop/desktop and stable internet connectivity and a pair of good transcription headphones. You are good to go.
In general, this platform is a big home for newcomers venturing into the transcription world.
How Do You Pass The TranscribeMe Exam?
The first step to secure a TranscribeMe account is passing a test set by the transcription company. A test is a gauging tool to find out if you understand the key components of transcription.
It covers your understanding of the company's transcription rules contained in a style guide. 
You are required to go through it before taking the test. A good grasp of the allowed style is a ticket to passing the exam.
The first part of the test requires you to give answers in multiple forms. That is, tick if the correct answer is A, B, C or D. 
For the second part, there are two audio files for you to correctly transcribe as per the style guide. 
Test submission is made through the online test portal.
From the results of the test, reviewers can tell if you are a fit for them or not. You will always get notified of your test results. 
When you pass, you are allowed to begin taking up jobs. The operations team gives you 30 days to repeat the test if you fail the first one.
How Much Money Do You Make With Transcribeme?
When you make time to learn and understand how transcription works, there is an expectation of good pay. 
Money is the motivating factor to sit behind a laptop and put in long hours transcribing audio files. Some audio files are not the best of sound quality. 
It is a real struggle that one expects good pay for.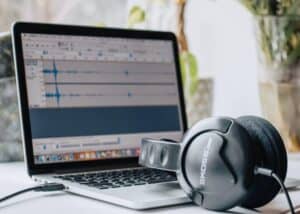 The firm prides itself on having the highest rates in the industry. Audio files on its work hub attract good pay. It has the least standard pay of $20 per audio hour. This translates to 33 cents for minute audio.
Some people transcribe several audio files in a day. At the end of every week when payment is issued, they smile to the bank.
On average, you can make over $250 per month from TranscribeMe. While this is the amount some make in a month, others make highs of $2,200.
It all depends on the type of job you picked and which pool it is in. 
The secret in making more is giving quality work. Quality here is rewarded with more jobs at a higher rate.
Speed is also a key factor to consider. The more audio files you can transcribe accurately in a short time, the more money you make.
In addition, Special Teams who have already qualified for advanced opportunities get higher pay for special projects. The rate for such is $100 per audio hour.  
A point worth noting is that anyone can get to the Special Team so long as they produce quality work. 
TranscribeMe predominantly pays through PayPal every week. It does not have a caveat for a minimum amount that you should have to be paid.
How Long Does It Take To Transcribe 1 Hour Of Audio
Firstly, the quality of the audio file you work on determines how long you will take.
On average, it takes at least four hours to transcribe 1 hour of audio. This could go higher for different reasons such as the audio quality.
Some audio files have poor sound quality. The transcriber takes more time to transcribe such files. However, their rates are relatively higher but it is not always the case.
What Are The Shortcomings of TranscribeMe?
On the downside, some of those who have worked with TranscribeMe opine the pay is too little. Considering the effort that goes into transcribing an audio file, the pay is still low.
Secondly, there is no job guarantee because the platform works on a first-come, first-serve basis. You have to be on the work hub always to pick a job.
When you sign up with this company, you are a contractor. If your state does not allow this, you miss out on job opportunities.
Parting Shot
Is TranscribeMe legit?
In all honesty, it is fully legal. There are many good things said and seen about TranscribeMe. When in need of a second income stream, it serves the purpose well. 
It is an awesome platform to hone your transcription skills. You can end up pursuing it on a professional level. What this offers is the opportunity to become a reviewer or a pro handling big special projects. 
They always come with very high hourly rates that are irresistible.
Is TranscribeMe good paying new users?
With TranscribeMe you earn at a rate of $20 per hour of audio with a steady stream of assignments and billed weekly. Your earnings increase every day thanks to new vacancies and advanced platform features.
What are the requirements for TranscribeMe jobs?
To work for TranscribeMe, you need to have a computer with a reliable internet connection, good typing skills, and excellent English language proficiency.