Etsy is one of the popular online shopping platforms. This marketplace has stood out for a very long time.
You might want to know how the site works and probably wondering whether Etsy is legit or one can get scammed.
Etsy is a legitimate site that has been functional for over fifteen year and with over 45 million active users. It is also a very popular website where people can sell their handmade and crafted items
This Etsy review explores more on the platform and how beginners can sell on it. Keep reading to find out these and much more.
What is Etsy?
The online marketplace is greatly expanding and gaining popularity among sellers and buyers. This is one of the platforms making that possible.
Etsy is a marketplace for selling and buying custom and crafted goods. Therefore, it is the site for everything handmade and vintage, from jewellery, clothes, art, shoes, home décor, cards, and much more. Anyone can sell on the website, and artisans, artists, and small businesses can enjoy the opportunity of selling their work.
Also, it was created in 2005, and its headquarters is in Brooklyn, New York, with other offices in different places across the world.
Etsy, as a company, has the mission of helping sellers with ideas and talents in creating items to get a global market for their products. Therefore, it aims at connecting the sellers with their buyers through e-commerce. Moreover, it works to help the sellers have successful businesses from their amazing ideas.
This platform sells unique items that you are unlikely to find in any other marketplace. Plus, as a shopper, Etsy has a variety of goods you can purchase. The items available for sale are more than 60 million and are grouped into categories to make your search on their site easier. All you need to is browse through the popular categories and look for what you want to shop for.
However, with so much available on Etsy, uniqueness, and ideas converted into prosperous businesses and a global market to serve, you might wonder, "Is Etsy Legit?"
A simple answer to the question is, "Yes, Etsy is a legit website you can trust." It deals in real items made by real people and sold to real individuals. Besides, you can trust the sellers on the site.
No one would like to have a business transaction facilitated by a site that is not legit. There is so much at stake. Therefore, you can be sure that when you shop on Etsy online, you are dealing with a legitimate website.
Unfortunately, you can be cautious, especially after you go through many negative reviews about Etsy.com. Therefore, you can research adequately before going ahead with your purchase.
So, Etsy in itself is not a scam. However, some consumers have expressed several complaints about it.
Is Etsy Legit? Selling and Buying Without Getting Scammed!
Can You Get Scammed On Etsy?
One fear you might have as a buyer shopping online is getting scammed. Therefore, you might wonder; Can I get scammed on Etsy?
As with any other online site, whether you are a buyer or seller, you can get scammed on Etsy too. However, how can you detect scam messages?
Some buyers can scam you by formatting their messages strangely. Also, some might promise to send you a higher amount of money than the one you are selling your item for.
Furthermore, if you handle clients who insist on replying to you using a personal email or communicating outside the site. On the other hand, a client might refuse to go through the site's checkout. These are some of the red flags you can watch out for.
Moreover, as a buyer, you can avoid being scammed by dishonest sellers. Therefore, to ensure you are protected, you can do the following;
Before purchase, check the reviews of the seller of a particular item you are interested in.
Don't make any payments to a seller outside the Etsy platform.
Be cautious with strange messages claiming to be from Etsy. You can forward the message to spoof@etsy.com.
Therefore, as much as you could interact with scammers on Etsy, there are steps you can take to protect yourself.
Does Etsy Sell Fake Stuff?
Recently, there have been complaints about fake items on Etsy. Buyers have reported having been delivered counterfeit items. This leaves you wondering whether or not you will get a fake handmade product delivered to you from a popular site.
After several complaints from different buyers, it is apparent that the site has issues with its product authenticity.
Keep in mind that most sellers of handmade products on Etsy are honest and genuine, offering you quality items.
However, few individuals want to increase their profit using unscrupulous means. They use tactics and trick you into buying fake customized products. This is a clear violation of Etsy's terms and conditions.
Eventually, these dishonest sellers spoil the company's name. Moreover, as the marketplace continues to grow, the number of complaints also increases.
So, what is Etsy doing to combat the growing concern of fakes on their site? They are investing in reinforcing their policy and protect honest sellers with their genuine creations.
Is It Worth It To Sell On Etsy?
With many sellers and buyers using Etsy, you probably are wondering whether selling on the site is worth it or not. If you are enthusiastic about your artwork, handy creations, and any other vintage pieces you might want to sell on the platform.
If you wanted to sell on the creative marketplace, it would be best if you found out about the following;
Their listing/renewal fees
Shipping fees
Paid ads
Brand building
Etsy SEO
Therefore, you can check out these features on Etsy to make up your mind. You will need to spend on some of them. However, if you get a bit confused, why not think about the following catch;
You will have exposed your creation to a wide market, meaning that you can be sure of getting a target audience on Etsy.
You can take advantage of the Etsy ads to get yourself ahead of other sellers offering amazing creations.
As much as you are a seller on Etsy, you can use the opportunity to build and grow your brand. Be creative on your product creation and listing on the site. Remember, the more detailed you are, the more you increase your chances of increasing traffic and conversions.
Importantly, it would be best if you were flexible and conversant with the changes on Etsy. Be ready to improve and evolve as the site ensures you offer the best to the buyers.
Therefore, if you want to showcase your creativity, uniqueness, and talent to the world, you can take advantage of this international marketplace. Also, if you want to convert and use your creativity to build and grow your brand, then Etsy is worth selling on.
How Do Beginners Sell On Etsy?
Having seen some amazing work done by creatives and artisans on Etsy, you probably want to be among them. As a beginner interested in selling on Etsy, you might want to know how to sell on this online marketplace.
Before you open your shop on Etsy, you need to register with Etsy by creating an account. You will need it in running your shop and even purchasing from other creators on the site.
Once you create an account, you will need to let yourself known to the Etsy community. Do this by adding a profile picture and bio.
With this information present on the site, you can now open your shop on Etsy. Remember, you do all these on the web browser on your desktop. To open the shop, follow these steps;
Once you are on Etsy.com, click on "Sell on Etsy" at the top right corner.
Click "Open your Etsy shop."
Select the language, country, and currency you want for your shop.
With these specifications, you increase your chances of reaching your target market and potential clients.
Click "Save and continue."
Choose a name for your shop.
Remember, you should go for a unique name for your store, one that isn't available. Also, don't forget to go for something that identifies your business and is easy to remember.
Click "save and continue."
At this stage, you have already opened your shop on Etsy. You can then download the app to manage your shop.
Remember, the moment Etsy approves your shop name, you can start listing the items you sell. You can upload their photos, being as detailed as possible in the descriptions you give, from size, materials used to any other amazing feature. Bring your uniqueness on top of the game here.
Additionally, you will need to make your products easy to find by having keywords. The next step is setting your price. While at this, keep in mind the fees that Etsy will cut out of the sale.
Also, you won't need any business license when selling on this platform. However, since you are selling online as a small business, you have to follow the laws.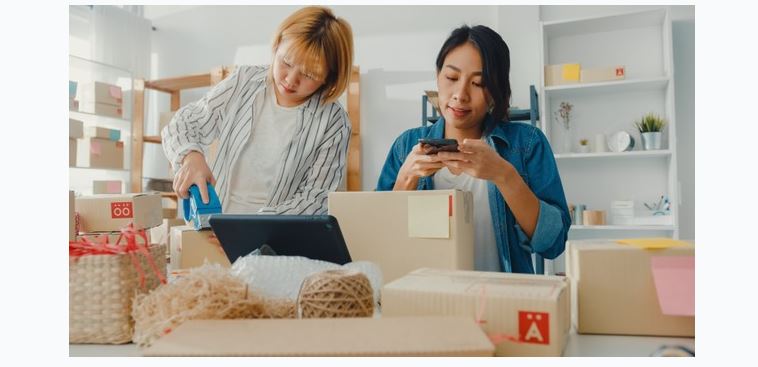 What Sells Most on Etsy?
The following are categories of items that sell most on Etsy;
Craft and supplies
Handmade items
Jewellery
Wedding items
Accessories
Paper and party supplies
Clothing
Vintage items
Home and living
Art and collectibles
Therefore, if you are planning to sell any item in the above categories, you can be sure to get a good catch.
What Is The Average Income Of An Etsy Seller?
An Etsy seller makes an average income of $44,380.
Therefore, with your skill and talent, you can create a nice piece that earns you a decent amount of money.
Conclusion
To answer a common concern; Is Etsy legit? Yes, Etsy is a legitimate and popular website where people can sell their handmade and crafted items. Also, the buyers and sellers are connected. Furthermore, there is uniqueness and creativity expressed by creators.
However, there have been complaints of fakes and scams about the site. Etsy on itself is safe and legit. Unfortunately, some dishonest individuals are taking advantage of others.
Therefore, you can research more before you decide whether or not to use the site. As a beginner, there steps you can follow to sell on Etsy.
Also Read: Is Poshmark Legit
Resources
You can easily register on the sites official page: Etsy.com
If you get a strange message claiming to be from Etsy forward the it to :spoof@etsy.com
How much can I earn with Etsy?
Statistically, the average seller on Etsy makes $44,380. Also the main advantage is that Etsy is legit and safe.
Can Etsy be trusted?
Yes, Etsy can be trusted as a reputable online marketplace for buying and selling handmade, vintage, and unique items. However, as with any online marketplace, it is important to exercise caution when making purchases and to do your own research on the seller before buying. Etsy also has buyer protection policies in place to help resolve any issues that may arise.