Are you looking for a business idea that can make you up to $100 every day working for four hours a day from Monday to Friday? Maybe you have a flexible day job and need a side hustle idea that can supplement your source of income week after week? You should learn how to make $500 a week with Doordash.
Doordash gives you the opportunity to make up to $25 an hour by delivering food to customers who order from its partner restaurants. Known as the most popular food delivery app, with a presence in at least 5,000 cities, Doordash is a good place to start to make money as a delivery driver.
In this guide, I'll tell you everything you should know about Doordash before you get started. You'll learn:
What it is
How it works
How to get started with the app as a delivery driver and
How you can make up to $500 per week as a Doordash food delivery driver.
So if you have ever wanted to try out Doordash but have been reluctant because you are not sure about its legitimacy and profitability just yet, this guide is for you.
Let's get started.
What is Doordash?
Found by Tony Yu, a Chinese-American billionaire businessman, Doordash is the largest food deliver service with partnership with thousands of restaurants in more than 5,000 cities.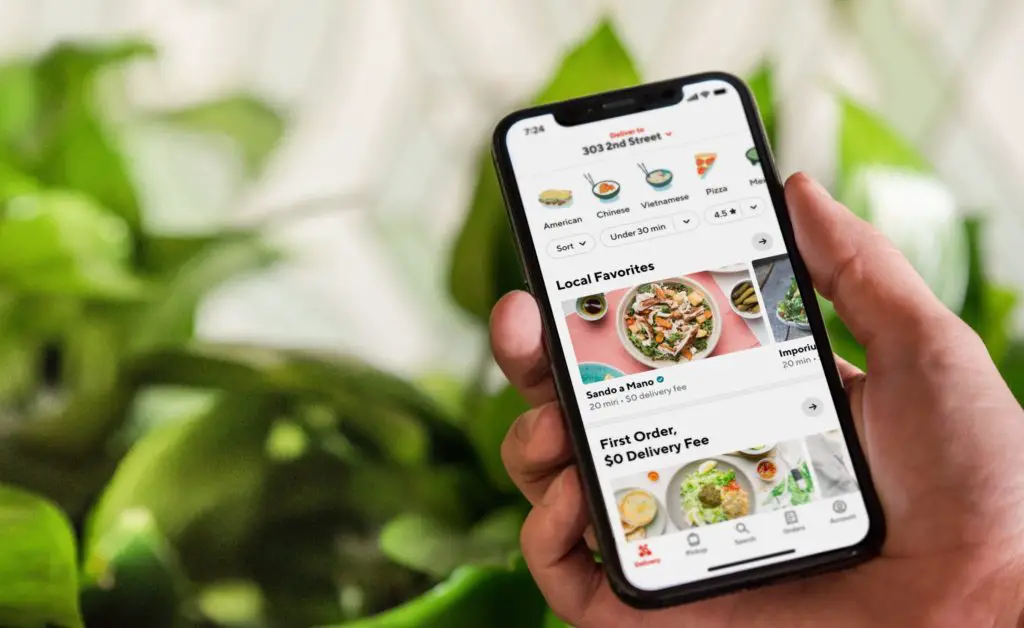 As a brand that continues to flourish, plowing back millions in profit every month, Doordash also gives you the opportunity to make up to $500 a week by delivering food to its customer.
Doordash isn't a full-time income source. But it's such a great side hustle opportunity to have than no opportunity at all.
One thing that stands out about Doordash is that it gives you the flexibility you need to run your personal errands and still make money with them. In other words, it's up to you to create your Doordash work schedule based on your availability.
How Does Doordash Make Its Money?
Doordash makes money by charging restaurants and convenient stores a given percentage for every delivery that a driver makes. It also has services such as Dash Pass and Doordash for Work from which it earns recurring subscriptions.
One of the benefits of being a Doordash driver is that you get to keep 100% of the delivery fees. Plus, if a customer decides to give you a little something extra for a job well done, you get to keep all that to yourself.
How to Get Started With Doordash
Doordash has made joining their business to be as easy as possible, with the signing up process taking no more than 7 days to complete.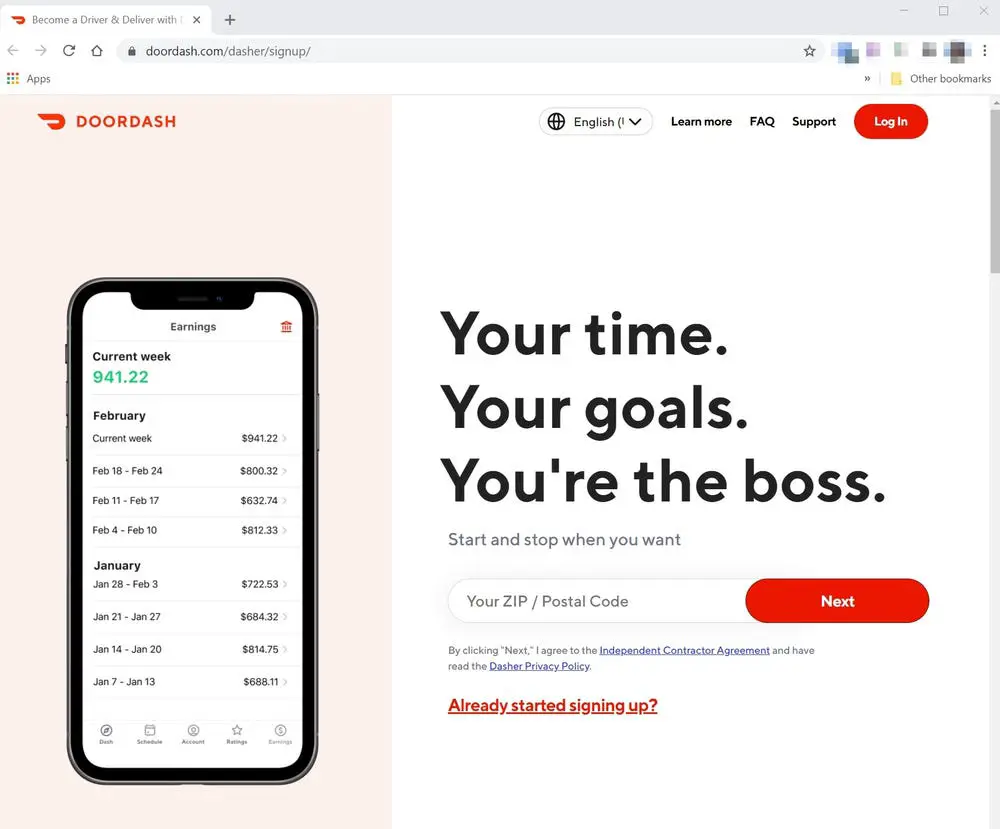 To get started: 
Go to become a dasher here
Sign up for an account by following the prompts and providing the details required
You'll need to not only select your vehicle but also agree to the background and motor vehicle check, which is mandatory for anyone that wants to become a dasher.
Once you submit this information, you'll have to wait for 5 to 7 business days for the background check to complete. There are instances when it takes longer than this period, although such cases are often rare.
In the case where you feel like you've waited for long for the background check to complete, you can always get in touch with Checkr to know your status. Or you can check your status here if you live in the United States.
How Do You Make Money With Doordash?
You make money with Doordash as a food delivery driver. With restaurants and convenient stores from over 5,000 cities already working with Doordash, the platform is a good option for you if you would like to turn your car into a moneymaking machine.
One thing that you'll love about being a Doordash driver is that the company never deducts money from you the same way they do from the partnering stores and restaurants. In other words, you get to keep 100% of the delivery fees, and Doordash doesn't mind if you get tips from customers.
You can even earn bonuses as you continue to grow with Doordash. All you have to do is to make sure you offer the best delivery services to your target customers. In fact, making sure you give customers the best delivery service is the surest road on how to make $500 a week with Doordash.
How Much Can You Make As A Dasher?
The answer to this question will never be in black and white. If anything, how much you make per day will depend on the number of hours you put in, your location, and how well you serve your customers.
According to Doordash, the minimum delivery fee stands at $10/hour, which is quite a good starting point. Then depending on how fast you're and how many customers you can serve in your location, you can earn as much as $25/hour.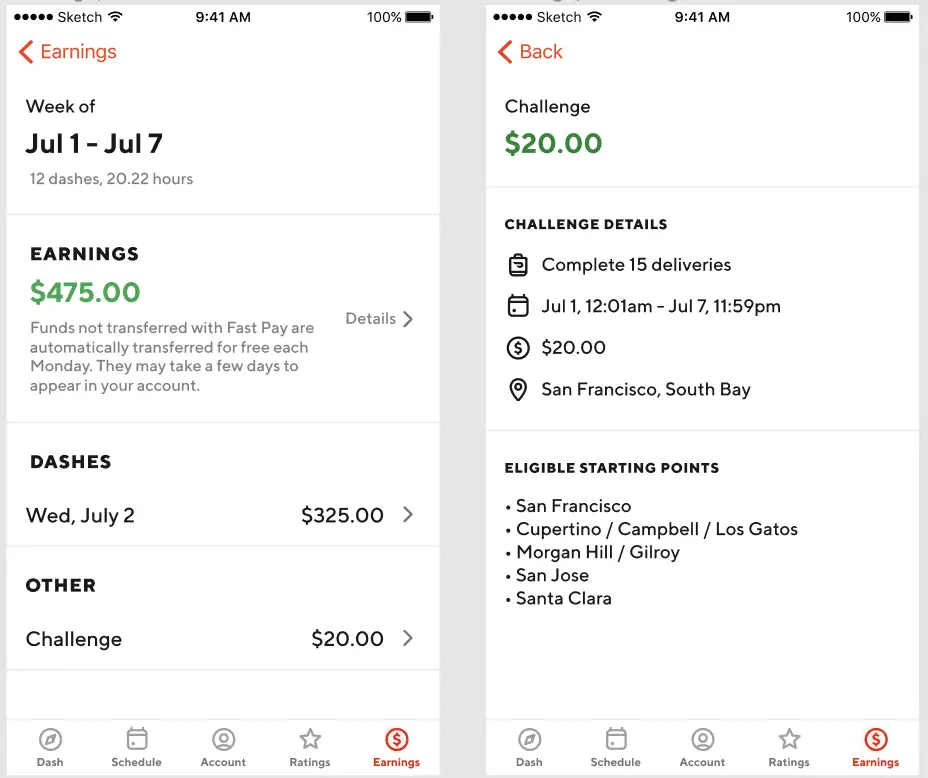 Assuming you work as a dasher for at least 4 hours a day, you can make a clean $100. Add the occasional customer tips that you get here and there throughout the week and you can see that it's possible to make good money on the platform.
To be clear, you can't cast these figures in stone. Often, you can make more than $500 a week if you put in more hours of work and provide the best customer service.
Based on my research and findings from different online communities, some dashers make as much as $750 or even $1,000 a week.
When Does Doordash Pay Dashers?
The best thing about working with Doordash as a delivery driver is that you don't have to wait for too long to get a payment.
The business pays every Monday via direct deposit for every delivery made in the previous week. But depending on the bank you use, it can take up to three business days for the money to reflect in your account.
It doesn't end there.
Doordash has a policy, which states that any dasher who has been in the business for two weeks and made over 25 deliveries within that period qualifies for the Fast Pay program.
The dashers eligible for the program should also have added their credit cards 7 days before the day they wish to cash out and not have altered their information in the last 7 days. Although this option allows you to cash out your payment any time, you'll have to incur a service fee of $1.99.
There's even a Dasher Direct payment plan where you can request for a payment on a daily basis without incurring any service fee.
What You'll Love About Doordash
There are a few things that make Doordash stand out from the many food delivery apps out there. You will love the platform because:
1. Doordash Has Minimal Requirements
Looking and apply for a new job is as hard as life itself.
You know the drill, don't you?
Read a job post ad
Write an application letter
Spruce up that resume
Use the documents to apply for the job
Wait for days for a reply  (or no reply at all)
Attend an interview
Wait even more days for the results
That's quite tedious.
It's a different case with Doordash. You simply create an account, wait for the background and auto check to complete, and you start your job as a dasher.
It's that simple.
2. Work At Your Own Time to Earn $500 a Week With Doordash
You know how it is like with the 9 to 5 jobs. Everything about your career is in scripted form, with a lot less flexibility and probably no opportunity for growth.
It almost feels like everything you, from the time you get to work to the moment you leave for home, is cast in stone. 
And sure, it is.
It's different with Doordash. Here you choose your working hours and no one even cares whether you work or not.
With the kind of flexibility that Doordash gives you, you can at least appreciate the room for growth. Just imagine earning $500 to $1000 a week part time to supplement your primary source of income.
3. There's Room For Growth With Doordash
I have read on countless blog posts that Doordash can't be a primary source income. Whether that's true or otherwise is obviously subject to debate. 
But the one thing that's for sure is that the company offers dashers the opportunity to grow their income potential. As long as you know how to deal with customers and provide the best customer service, there's no reason why you shouldn't be successful with the dasher program.
Furthermore, Doordash continues to expand into new cities, and new restaurants and stores are signing up to work with the brand. That means there's work for you to do, and that's for as long as Doordash exists.
4. You Can Earn Referral Bonuses
Another way to earn from Doordash is by referring friends to become dashers. Of course, this won't add a lot of money to your bank, but every dollar you earn goes a long to make a big difference as far as making money part or fulltime is concerned.
Be sure to check out Doordash terms for referral program to determine if you're one of the dashers that qualify for the program.
Final Thoughts: Make $500 A Week With Doordash
It's not difficult to make $500 a week with Doordash. As with every other opportunity that allows you to make money full or part-time, the key to maximum your earning potential is to put in the working hours to earn the most money.
I've seen some people argue that Doordash isn't a dependable source of income. But from where I sit, making over $500 a week means you're going to cash in at least $2,000 a month, which is good money.
And as I said, your income level with Doordash isn't cast in stone. For what it's worth, I want to believe that you can make $200 to $500 a day in good days, which is close to $6,000 a month minimum on average.
How to make $500 a week with Doordash?
Doordash gives you the opportunity to earn up to $25 an hour delivering food to customers who order at partner restaurants. So if you work hard, you can easily earn $500 a week.