Would you like to make 2K a day but you have no idea how? Or maybe you have some ideas but you're not confident they can make you that much money within 24 hours? You've come to the right place.
You can make $2,000 a day by doing a combination of jobs that make that much money. To do this, you'll have to be flexible, focus on one task at a time for a given period, and be more realistic about your monetary goals. Some opportunities require upfront work, but they're equally rewarding.
These are awesome ideas that you can turn into profit. But you need to put in the hard work upfront to get to the point where you make $2,000 a day without struggling.
I need you to understand that $2,000 is a lot of money to make in a day. So unless you sell an item worth that amount because you need that much money right now, you're going to have to exercise some bit of patience to get to that point.
In other words, making 2K a day isn't impossible, but it's going to be somewhat challenging at first. But if you're someone who view challenges as exciting opportunities, it shouldn't be difficult to get to the point where you make $2,000 in just 24 hours.
How to Make $2,000 a Day: 5 Ideas to Turn Into Profit
Whether you need money for an upcoming mortgage payment, you want to pay off your debts fast, or you just want to make more money overall, here are some helpful ideas that you can turn into profit:
1. Start a Dropshipping Business
Dropshipping is huge. If you execute it well, you can make a lot of money in daily profit.
Getting started seems difficult for most people, though. And that's often because they think it requires a lot of capital to make money in this ecommerce line.
The truth is:
You can start dropshipping with a small startup capital and some bit of hard work. Once the business starts to pick up well for you, you can invest more money back and build the business into a brand that makes you a lot of money every day.
In dropshipping, merchants buy products from third-party suppliers when customers place orders. The supplier ships the products directly to the customer, so the seller doesn't handle the products directly.
With this business model, a merchant doesn't have to stock products or fulfill any order in any way or under any circumstance whatsoever. Instead, it's the third-party supplier that fulfills the order on the merchant's behalf.
What's more?
You don't need as much capital to run an online store as you would a brick-and-mortar setup. You operate 100% online, where you get products from suppliers who already have established warehouses packed with a wide range of products.
Dropshipping is a good business idea that you can turn into a profitable venture because it's easy to setup, it doesn't require you to establish a physical business, and it's a flexible business model that's easy to scale once you start making profits.
And the best part is?
Dropshipping can earn you anywhere between $50 and $5,000 in daily profit. It means you can make at least $2,000 a day with this business model, particularly if you promote products that have high recurring sales. Some of the items with high recurring sales include office supplies, beauty products, food, and clothing. 
As with any business model, dropshipping also comes with its own challenges.
To be clear, dropshipping always has slim margins in the initial setup stage. While that doesn't mean the business isn't profitable, you shouldn't expect to make much in the early stages of the business.
Processing orders can also be a big challenge, especially in the case where you're working with more than one supplier. Notably, every supplier has a uniquely sophisticated shipping solution, which can be challenging for you and your customers.
2. Become an Affiliate Marketer
Affiliate marketing is a profitable business model that can earn you $2,000 a day. But many people fail in this because they approach the process with the wrong approach.
Let me set the record straight by saying that affiliate marketing is not some get-rich-quick scheme. It's not the kind of plug-and-play business where you invest your time and money now to get a payday tomorrow.
It takes time.
It requires it requires the right system and strategy.
And it demands a lot of patience.
If you look at my blogging journey here, you'll realize that I put in a lot of hard work upfront to nail a $4,000 milestone.
I should make it clear that I did that post about 2 years ago.
And while the earnings report are in the monthly cap, I've linked to the guide to demonstrate clearly what I mean when I say that affiliate marketing takes time.
The truth is you aren't going to make $2,000 a day right now. But if you follow a proven system, such as the Project 24 by Income School, you can easily make up to $60,000 in monthly income.
There's no magic formula or hidden secret to start with affiliate marketing. Really all you need is a tested and proven system that gives you the exactly formula and systematic steps to follow to become successful in the business.
To put it in another way, affiliate marketing requires you to:
Choose a niche you're passionate about or find interesting to explore
Do thorough search analysis to find underserved topics
Create great content that people want to read
Grow your traffic
Monetize the traffic by including affiliate links in your posts
Include ads in the right places
It looks like a lot of work, and it really is. 
But once you get started, and make consistency a habit, it shouldn't be difficult for you to make $2,000 a day in the future.  
3. Create Content for Big Brands
Here's the hard cold truth about content creation:
Many writers never get rich because they price themselves too low. But that doesn't mean writing is a cheap business. 
So if you want to make $2,000 a day just writing content, you have to move away from the $10 per 1,000 words cocoon and price yourself right.
Why?
Because you won't break the $2,000 a day margin if you're still writing high-quality content for cheap.
I like to think of freelance writing as an opportunity to explore and work with brands that pay well for work done. So if you can create the kind of content that can help businesses acquire new customers, generate leads, and make sale, there's no reason to settle for peanuts.
Besides, there are tons of blogs that to pay $200+ for every post you write and therefore settling for less as far as being a freelance writer goes should never be an option on your list.
You can even sell your writing gigs online. Such an option is an opportunity for you to market yourself as a brand that creates content for some of the biggest brands on the web.
And here's something else:
Companies are always willing to work with writers who charge more over those who charge themselves less because they're looking for value.
Keep this in mind if you want to make $2,000 a day as a freelance writer. 
4. Get a Job That Pays $200 an Hour
Another way to make $2,000 a day is to get a job that pays you up to $200 an hour. Then you only need to put in about 10 hours of work to make that much money.
Some jobs that can pay you the 200 dollars an hour rate includes:
TV presenter
Corporate lawyer
Doctor
Investment banker
Software engineer
Data scientist
Dental implant surgeon
Real estate investor
Obviously, these jobs require you have to have related industry skills and experience. So you do need to evaluate your expertise to see if you qualify for the job post.
5. Sell High Value Items You No Longer Need
Here's the deal:
There are many high-value items that you no longer need collecting dust in your home. It could be a TV you no longer watch, an oven cooker you don't use anymore, car spare parts that are still in good conditions, a laptop that no longer serves you because you bought a new one, or anything really.
You can flip them for cash and make at least $2,000 fast.
This idea isn't even complicated to execute and it therefore can take less than 24 hours to have an extra 2K in cash in your hands.
Inspect the items you wish to sell to make sure they're in good condition
Take clear pictures of the products
Create a clearly descriptive listing for the items, which should include the price of the product.
Upload your listing to a marketplace online
It's that simple.
Don't worry about where to sell the items you wish to exchange for cash because there are many marketplaces online where you can do just that.
Apparently, you can post the products on platforms like: 
Facebook marketplace
Craigslist
Decluttr and
Your local listing site.
You do have to be realistic about the quality of your product. So make sure your listing's description clearly indicate the current condition of the item you wish to flip for cash.
Also, price your items well. Don't go too low, or you won't benefit from the value of the sale. And don't go too high because that might scare potential customers away.
Final Thoughts On How To Make 2K A Day
I've shared four great ideas that can make you 2K a day, so I recommend that you pick one that looks more appealing and then put in the effort to make that much money.
It's important to understand that every opportunity requires hard work. And as long as you put in the effort and follow a proven formula that encourages you to be consistent, it shouldn't be difficult to make $2,000 a day.
Eventually all the hard work you do today will pay off. So it's best to start working now so that you can make good money in the future.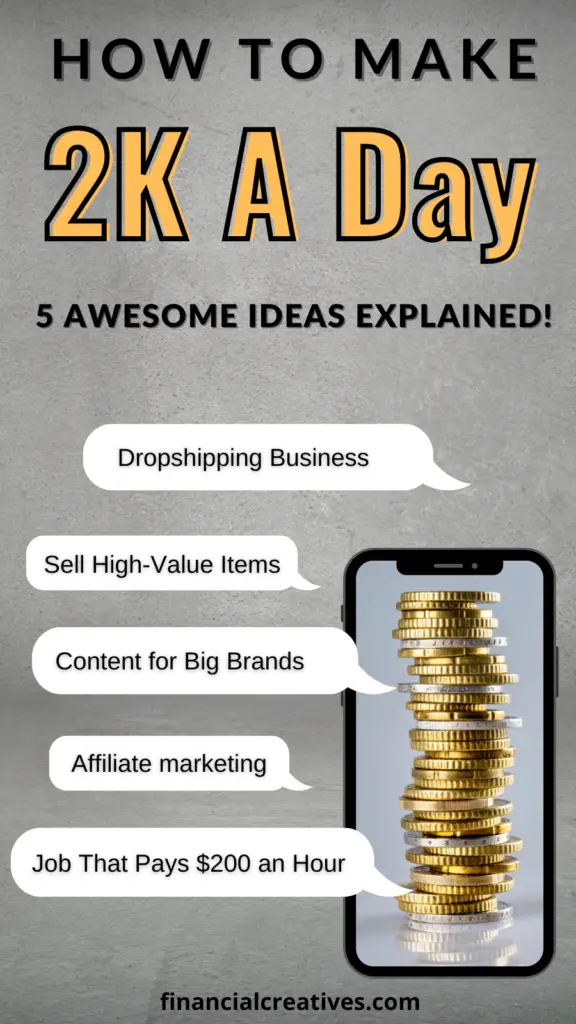 How to make $2000 a day effortlessly?
In order to earn such an amount, in any case, you need to make some efforts, and this will depend on your skills and experience. It's important to be flexible, focus on one task at a time, and be more realistic about your money goals.
What jobs pay $30 an hour without a degree?
There are several jobs that pay $30 an hour or more without requiring a college degree. Some examples include electrician, plumber, construction worker, HVAC technician, commercial truck driver, and dental hygienist. However, these jobs may require certification or vocational training programs.