Your Guide to the best gifts for people who work from home: Do you have a remote worker in mind who you would want to gift this season? Plant a smile on their faces with the most appropriate work-from-home gift.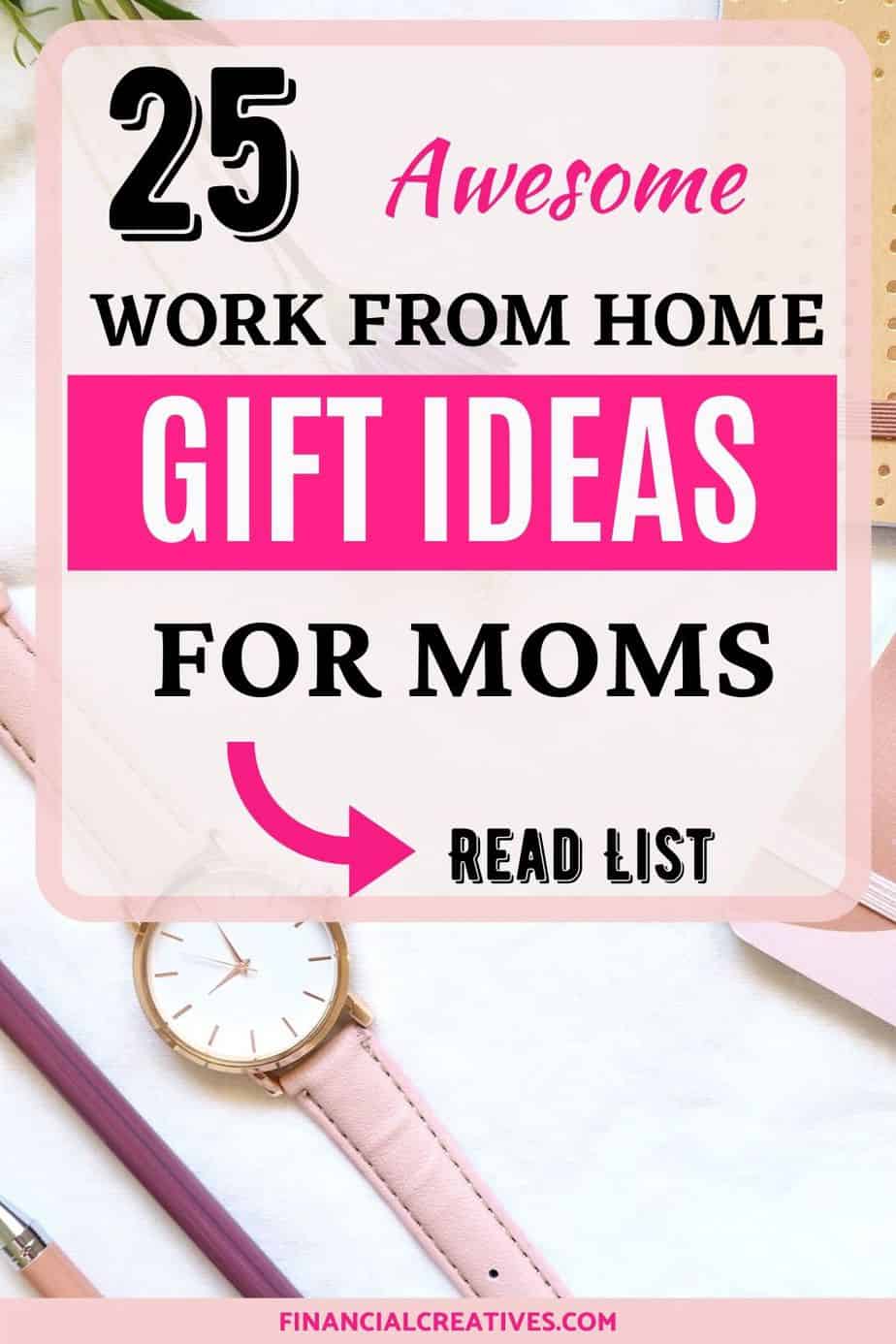 The truth is that working from home can be tough. It sometimes drains one's energy, physically and mentally.  So, if you are shopping for gifts for people who work from home, you have to first get into their shoes.
I'm suggesting you get a gift that can improve their work-from-home experience. It could be something that takes away work stress or one that makes working from home more comfortable and better.
I'm going to suggest 25 ideas and give a gift recommendation for each to help you find your perfect gift. Whether you are looking for a gift for father's day, mother's day, a birthday present, or an all-season gift, you'll find them on my list.
Let's get started:
25 Gifts For Someone Who Works From Home.
1. High-Speed Laptop
A laptop is the most standard equipment among home workers. Most of them cannot do without it, and so they'll always appreciate one more if offered as a gift.
The idea is to buy the best laptop, and I'm not talking about the most expensive. On the contrary, I'm talking about massive storage, fast processing speed, long battery life, and feature-rich.
For that reason, I recommend the Asus Vivo Book L2O3MA Ultra-Thin Laptop. Its highlight features include 4G RAM, 64GB flash storage, HD webcam, just to name a few.
>> Get it from Amazon <<
2. Quality Laptop Bag
If you are buying a laptop as a gift for someone, then you can as well buy a quality bag for housing it. With a laptop bag, the gift recipient can carry work everywhere they go.
When picking the perfect laptop bag, consider a quality material and a stylish look. Such properties are fully embodied on this Mobile Edge Core Gaming Laptop Backpack.
This stylish laptop bag is made from ballistic nylon, thus durable. It features padded shoulder straps for your ultimate comfort and comes with a USB charger port.
>> Find it on Amazon  <<
3. Wireless Noise-Isolation Headphones
Working at home calls for so much concentration and so it can be hard with noise distraction.
Thus, if you are considering work gifts ideas for people who do transcription jobs, customer support, virtual assistance, or online tutorial, getting them some noise-cancellation headphones is a great idea.
Preferably, go for a wireless option like Sennheiser HD 4.40 Around Ear Bluetooth Wireless Headphones. These noise isolation headsets are perfect for noise prone working surroundings.
They feature intuitive controls for volume adjustments and call handling. They are also built with comfort in mind and enjoy a long battery life.

>> Buy them from Amazon<<
4. Smart Wi-Fi Router
It makes sense to gift an at-home worker with a smart Wi-Fi router. This gift for someone who works from home allow multiple users to connect to the internet at ago.
You need to go for a high-speed router and one that connects multiple devices. It should also have a USB port to allow you to connect storage drives and back up your files.
Well, if there is a router that fits the description, it has to be the Netgear R6700 Nighthawk Smart Wi-Fi Router. The router can connect up to 25 devices over 1500 square feet coverage.
>> Get it from Amazon <<
5. Ergonomic Home Office Chair
Everyone who works from home deserves the most comfortable chair. It has to have an ergonomic design to help maintain posture, especially following prolonged sitting.
I recommend the Office Star High Back ProGrid Back FreeFlex Seat. The ergonomic chair has everything you expect from your home office chair.
Its arms and height are adjustable while its back has inbuilt lumbar support. Everything is made to support your spine.

>> Get it from on Amazon <<
6. Adjustable Standing Desk
Prolonged sitting is never good for the back. One should at least stand in between the sittings.
That is fortunately possible with a standing desk. It works both as a regular desk to allow you to work while seated and a standing desk to enable you to work while standing.
A perfect example is the FEZIBO Standing Desk with Adjustable Height. The standing desk is ergonomic in design and comes with a spacious tabletop.
>> Buy this Desk on Amazon <<
7. Under-Desk Elliptical
It's hard to stay active when working from home. So, going to the gym may not be an option for most people. How about you encourage them to work out where they are?
I'm suggesting you get them an under-desk elliptical to allow them to exercise while seated.
On this note, I recommend the Cubii Pro Seated under Desk Elliptical. The workout equipment allows the user to perform low-impact exercises while seated. It pairs well with fitness trackers.
>> Get it at on Amazon <<
8. Smart Fitness Tracker
An under-desk elliptical goes well with a smart fitness tracker. As one exercises to keep fit, they should know how much calories they are losing. They also need to monitor their vital functions like breathing rate and heart rate.
That is possible with a smart fitness tracker, and I endorse the Fitbit Versa – Connected watch.
The smartwatch does more than showing time. It tracks the heart rate 24/7 and is a great workout accessory.
It features 15 plus workout modes and 300 songs to listen to while working out. Moreover, it pairs with the phone to allow one to take calls and read texts without picking the phone.

>> Get it from Amazon. <<
9. Apple Watch
If all you want are gifts for people who work from home, which have multiple applications, consider Apple watches.
These smartwatches not only display the time but also allow one to receive and answer calls, emails, and texts.
So, buying one as a gift is a good idea. It pairs well with an iPhone and can also be used to track one's workout.
I'm particularly impressed with the Apple Watch Series 1. It comes with a heart rate monitor, inbuilt GPS, light sensor, accelerometer, and gyroscope.

>> Buy it on Amazon  <<
10. Click-and-Grow Indoor Garden Kit
Working from home often means spending less time outdoors and away from the beauty of nature. How about you bring nature to where your friend or family member is?
I'm talking about buying them a click-and-grow indoor garden kit. It comes with a few office plants to brighten the working space. The kit also comes with a growing medium and soil to enable hassle-free indoor plant growth.
The ideal recommendation here is the Click-and-Grow SGS1US3 Smart Garden.

>> Get it on Amazon. <<
11. LED Desk Lamp
For someone who works early in the morning or late at night, desks lamps are excellent work from home gift ideas. You shouldn't just get them any desk lamp. It should be energy-efficient and eye-safe.
More to it, it should be made from sturdy construction, and its look should be a stylish one.
I cannot think of any other desk lamp that fits the description than this Lite Source LS-306PS Halotech 8W LED Desk Lamp. Its framework is polished steel and comes with an adjustable shade.
   >> Buy it from Amazon<<
12. Wireless Smart Speaker
Whether it is to listen to their favorite song or podcast, smart speakers are a great gift choice for the special people in your life.
Preferably, the speaker should be Bluetooth-enabled to allow phone pairing. That makes it possible to listen to audio wirelessly.
I cannot find any better recommendation here than the Jabra Speak 710 UC Wireless Bluetooth Speaker. The speaker is a fantastic pick for conference meetings. It allows one to take conference calls and listen to podcast hassle-free.

13. Wireless Smart Charger
Since home workers are likely to have multiple devices at home, you can get them a wireless charger. It eliminates the need to have so many charging cables lying around while also providing a fast way to charge multiple devices at a go.
In that respect, I recommend the Belkin Boost App Wireless Charging Dock for an Apple device owner. Whether it's an iPhone, iPad, or Apple Watch, the wireless charger can charge them all.

14. Powerful Portable Charger (Power Bank)
If the person you are buying a gift for is a frequent traveler and you are running out of working from home gift ideas, consider a powerful portable charger.
It allows them to charge their devices on the go. The gift is also perfect for home workers who often suffer power blackouts.
I'm particularly impressed with the Nimble Ecofriendly 10-Day Fast Portable Charger. From the name, this power bank can store power for ten days and can charge four gadgets simultaneously.

>>Get the power bank on Amazon <<
15. Coffee Maker
We all know what a good cup of coffee can do to our system on a bad day. It not only keeps us alert, but it also energizes us, among many other benefits. So, it's a must-take for most home workers.
Is the person you are buying a gift for a coffeeholic? If yes, they'll love you more for getting them the latest coffee maker.
I endorse the Keurig K-Café Coffee Maker here. It's digitally operated to guarantee the best cappuccino cup.
The programmable coffee maker has a 60-ounce capacity to allow one to brew up to 6 cups of coffee at ago.

>> Get it on Amazon <<
16. Smart Writing Set
Instead of buying someone an ordinary diary and a pen, why don't you go for their digital version? I'm suggesting you get them a smart writing set that features a digital pen and a paper tablet.
The paper tablet is more like an ordinary tablet, and so it needs recharging to use. The smart device allows the transfer of written information into a computer or a storage device. This set is the perfect solution for digitizing analog notes.
If you are looking to buy the best smart writing set, consider getting the Moleskine Ellipse Smart Writing Set.
Click Here You can get it from Amazon.
17. Robot Vacuum Cleaner
Remote jobs can be so demanding sometimes to make someone lazy to even clean the house.
f you have a friend or family member who just can't find the time to clean their house, consider getting them a robot vacuum cleaner.
The equipment can help them get rid of dust, pet dander, and dirt just by the touch of a button.
I recommend Roborock E25 Robot Vacuum Cleaner. It's app-controlled and Alexa-paired and promises a strong suction.

>> Buy it Today on Amazon <<
18. Washable Keyboard
Did you know that there computer keyboards that you can use in the bathtub or anywhere where there is spillage?
Yes, they are available online and are perfect work from home gifts for working mothers with young kids.
So, if you have a stay-at-home mom who works online, there is no perfect gift to get her than this.
A perfect pick is the Logitech Washable Wired Keyboard K310 that goes for less than $100 on Amazon

>Buy it Now<<
19. Wireless, Rechargeable Keyboard
For someone who owns a Mac computer, a wireless rechargeable keyboard is a good investment. The magic keyboard connects via Bluetooth to enable wireless connections at home.
This keyboard comes with a powerful built-in rechargeable battery to facilitate portability at home. Its typing experience is enhanced even if you are using a small laptop.
I like the Apple Magic keyboard as it has everything one needs in a wireless keyboard.

>>Get it from Amazon <<
20. Laptop Radiation and Heat Shield
The truth is that a computer is never safe on our laps, especially when you have to use it for long hours. It emits radiation and heat that can have serious health complications in the long-term.
So, if you are looking for a gift for a homeworker who places his or her laptop on the laps most times, consider getting them an anti-radiation shield.
I recommend the DefenderPad Laptop Radiation Protection & Heat Shield. It goes for around $105 on Amazon and can be used with a MacBook, Notebook, or Chromebook.

>>Buy it Now<<
21. Productivity Planner (Smart Journal)
Sometimes, juggling between work and home duties can be confusing and overwhelming, especially for stay at home moms. So, if you are looking for perfect home office gifts for her, get her a productivity planner.
The smart journal will help her stay organized at all times and get to plan for work and home duties hassle-free beforehand.
And if you are looking for an exceptional productivity planner to buy, consider the SELF Journal By BestSelf.
The smart journal is scientifically designed and tool-packed to enable her to achieve her goals and overcome procrastination.

>> Buy it on Amazon <<
22. Handheld Massager
It's never easy to sit all day behind a computer. The chances are that your neck, back, shoulders, and feet will start aching and feeling stiff.
But since it may be hard and expensive to sign up for regular massage therapy, having handheld massaging equipment is a good idea.
You can get it for a home worker, and the best pick is Mighty Bliss Deep Tissue Back and Body Massager. The equipment massages the whole body, and you can:

>> get it on Amazon today <<
23. Amazon Kindle (E-reader)
An e-reader is always a great addition to the working tools of a remote worker. Not only does it read eBooks, but it also plays back audiobooks.
While shopping for one, you need to consider an option that is lighter, sleek, water-resistant, and one with a powerful battery.
I cannot think of any e-reader with such a description as the Amazon Kindle Paperwhite.
Click HERE to buy it on Amazon.
24. Electric Fireplace
Are you looking for the perfect winter gift for a remote worker? Consider getting him or her an electric fireplace.
The heat source will keep their working places warm to enable them to work even when it's freezing outside.
I recommend the Duraflame 3D Infrared Electric Fireplace Stove. It comes with a remote controller for adjusting the indoor temperature, humidity, flame color, lighting speed, and brightness.

Get this electric fireplace from Amazon.
25. Gift Card
Lastly, a gift card is a perfect gift for anyone who likes shopping, and you can give it any day or time.
It gives them the freedom to buy whatever they want from a particular store provided it's within the set budget.
And since we've been talking about Amazon, consider this e-gift card from them. You have the option of picking any amount starting from $25 to enable the recipients to buy whatever they want on Amazon.  You can even add a message to personalize the gift.

Conclusion
With the above list for the best gifts for people who work from home, it should be easy to plant a smile on someone's face this season.
Consider the options carefully as you also factor in the interests of the gift recipient.
The gift that you pick should make their working-from-home experience much better. So, pick a gift a recipient will find useful and inspiring.
Liked this post? Share it on Pinterest!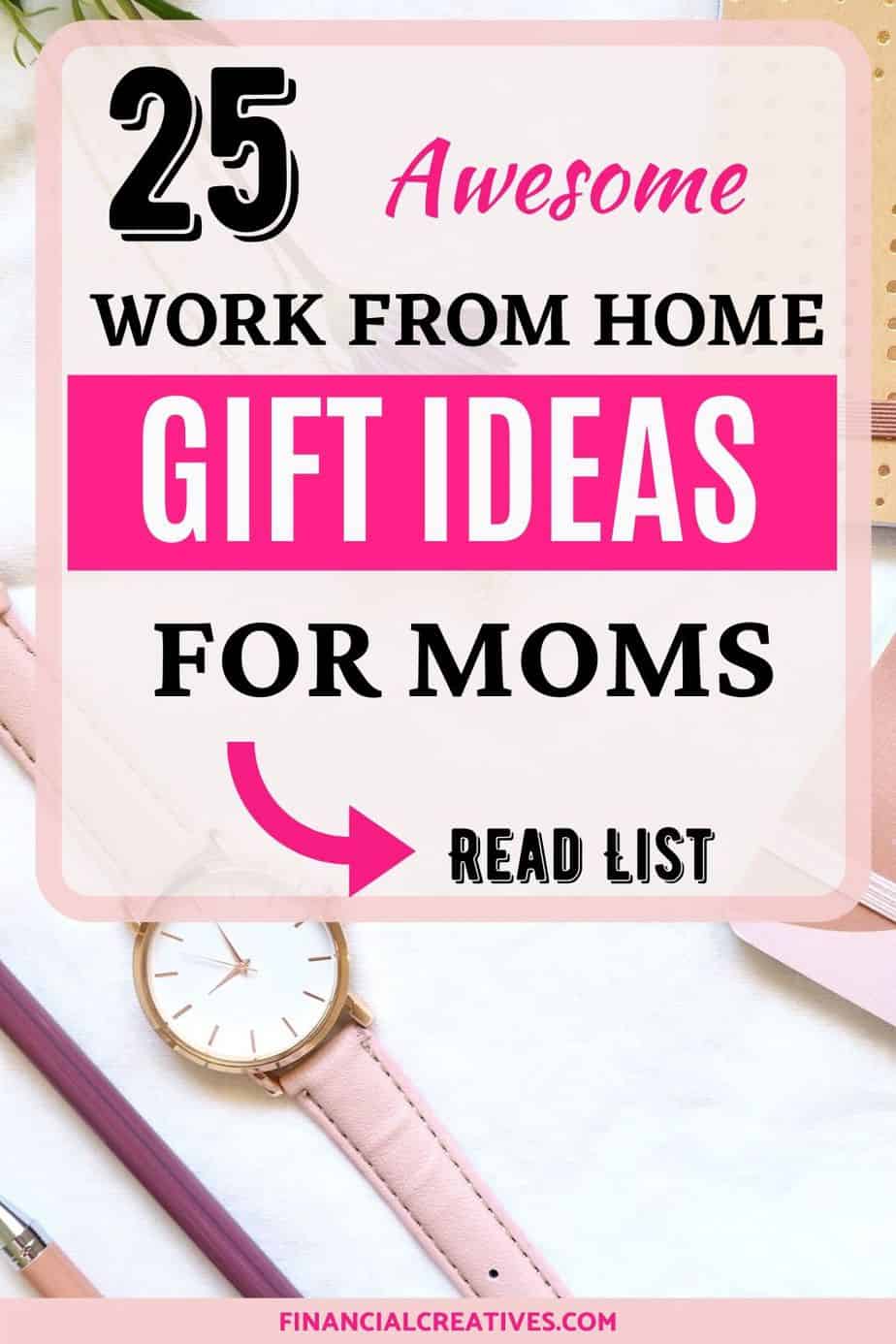 Robot vacuum cleaner is a good gifts for people who work at home?
Definitely, the robot vacuum cleaner can easily get rid of dust, pet dander and dirt at the touch of a button. You will not need to be distracted by cleaning and you will be able to devote more time to work.
How to choose gifts for someone that works from home?
Choosing gifts for someone who works from home can be tricky, but there are a few things to keep in mind. Consider practical items that will help them stay organized and comfortable, such as a comfortable chair, a desk lamp, or noise-canceling headphones.