Creating a site is a complex and at the same time interesting process that requires a lot of effort from you. You may have completely different motives for creating a site from maintaining a personal diary to creating a large business using a website. But the algorithm for creating a quality site is one. You need to decide on the niche in which you will work, choose good keywords to attract traffic and create high -quality and unique content. But if you have the goal of attracting a large audience, then this may not be enough. Since in the world all people speak different languages, your site should also be clear to all languages. In this article, we will walk you through the best ways to create a multi-language site on WordPress.
Multisite WordPress
WordPress is a platform where multilingualism is not a key factor. Therefore, if you are faced with the task of creating a site in different languages, then for this you need to try and use different plugins or use proxy transfer tools. You can also use a theme that supports multilingual features.
There are basic options for developing a site in two or more languages. For example, you can do the translation yourself or use automatic translation using programs and tools. Tools can be paid and free. Each of the options has its own characteristics.
What are the main ways to make a multi-language site on WordPress?
If your goal is to attract an audience from all over the world, then you need to move towards multilingualism. In order to create such a site, there are many different ways, so everyone can choose the best for themselves.
Here are the most effective ways:
Using a ready-made theme with a built-in multilingual system.
Installing the multilingual plugin.
Creation of a site in the Multisite mode.
Using proxy services for localization and translation.
The choice of solution depends on many factors:
type of translation: machine or manual;
affordable budget and acceptable cost;
the need for technical support;
site size;
whether it is necessary to translate all pages and make transitions between translated articles as in the original;
Your status: site owner, freelance translator, or translation agency.
When performing a translation, various URL formats can be used. Please note that the SEO strategy should be built with multilingualism in mind.
What is the cost of creating a multi-language site on WordPress?
If you prefer to create a site on your own using a template that supports the multilingual system, it will cost approximately $ 60 – this is the average cost of the template + the cost of hosting and domain for a year. Additional costs are also possible when using premium plugin for translating or creating a network of sites. This option will save you from unnecessary troubles and nerves and will also allow you to fully index the content in Google. The cost of the site in any case depends on your budget. You may not save and invest enough funds in your website so that it will bring you even more than you expect. In this case, this amount will pay off very soon. And your business will go uphill.
What is the way to choose?
There is definitely no better or worst solution to translate the site on WordPress into one or more languages. Everything very depends on many factors, including the required functionality, budget, level of accuracy of translation, simplicity of work, the availability of technical support, SEO-optimization, and so on.
You can use special plugins with support and constant updates, or premium topic with an integrated Multilingual system.
If you have a small or average site, then select WPML, or if your site is larger, it is best to use plugins for Multisite mode.
If the linking between the pages does not matter much, you can safely choose the Multisite mode without plugins. If it has, then it is worth using plugins for the Multisite or WPML mode.
For a high degree of optimization for search engines, you should not use a translation made by tools with a Google translator. It is better to be able to independently carry out translation and edit machine.
If you provide professional translation services, use the decision with the proxy.
In general, if there is a need for a really professional decision, it is better to give preference to paid options. Free ones will not be able to provide the same level of support that the premium -class solutions "WordPress" multilingual site has. Nothing can definitely compare with them.
In the next article, we will tell you what the best options for topics and templates for creating a multi -language site on WordPress.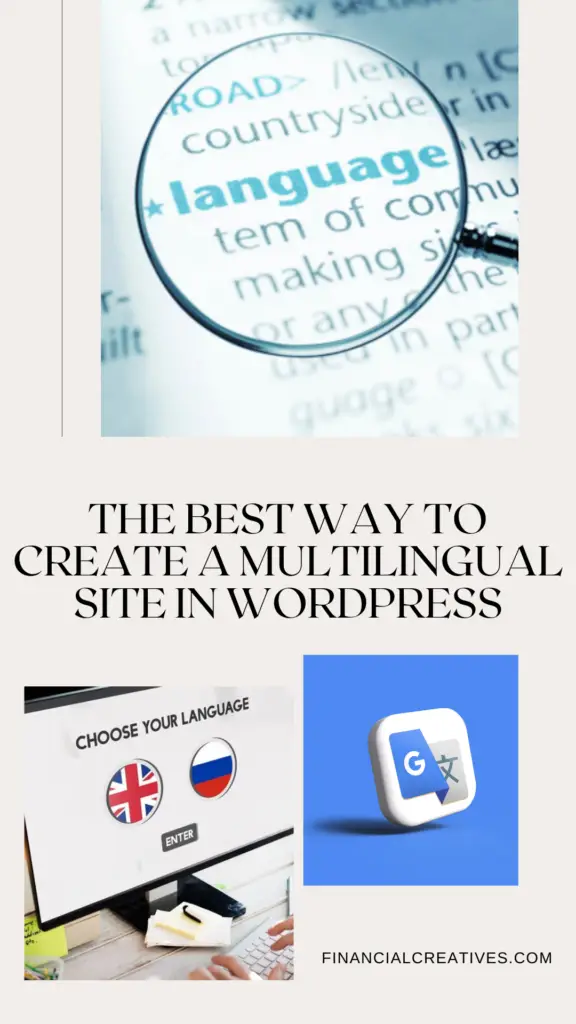 How can I manually translate my content on WordPress?
If you prefer to manually translate your content, you can use the WordPress editor or a translation management system like Weglot or Bablic. To manually translate your content using the WordPress editor, you'll need to create a new page or post for each language you want to support and manually translate your content within each page or post.