Teaching Work From Home Jobs: A Guide to Finding the Perfect Fit
The rise of technology and the internet has opened up a new world of possibilities, including the ability to work from home. For teachers, this means the opportunity to continue their passion for education without the constraints of a traditional classroom. In this article, we'll explore the various teaching work from home jobs available and provide tips for finding the perfect fit.
1. Online Tutoring
Online tutoring is one of the most popular work from home jobs for teachers. It involves working with students one-on-one or in small groups, providing personalized instruction and support. Online tutoring is typically done through video conferencing software, such as Zoom or Skype, and requires a reliable internet connection and a quiet, distraction-free workspace.
2. Course Creation
Course creation involves developing educational content for online courses. This can include creating lesson plans, recording instructional videos, and designing interactive activities. Course creators can work for online learning platforms or create their own courses to sell on platforms like Udemy or Teachable.
3. Virtual Teaching
Virtual teaching is similar to traditional classroom teaching, but it's done entirely online. Virtual teachers work for online schools or educational companies and deliver lessons via video conferencing software. This job typically requires a teaching certificate and experience in the subject area.
4. Curriculum Development
Curriculum developers create educational materials, such as textbooks, lesson plans, and assessments. This job typically requires a background in education and experience developing curriculum for specific grade levels and subject areas.
5. Test Scoring
Test scoring involves grading standardized tests, such as the SAT or ACT. This job can be done from home and typically requires a bachelor's degree and some teaching experience.
Tips for Finding the Perfect Teaching Work From Home Job:
Determine your skills and interests: Consider your teaching experience and the subjects you enjoy teaching the most.
Research job opportunities: Use job search websites like Indeed or Glassdoor to find work from home teaching jobs that match your skills and interests.
Update your resume: Highlight your teaching experience and any relevant skills or certifications that make you a strong candidate for work from home teaching jobs.
Prepare for interviews: Be prepared to talk about your teaching experience, your ability to work independently, and your experience with technology and video conferencing software.
Network: Reach out to other teachers who work from home and ask for their advice and guidance. Join online communities for work from home teachers to connect with others in the field.
In conclusion, teaching work from home jobs offer an exciting opportunity for educators to continue their passion for teaching while enjoying the benefits of working from home. With the variety of job opportunities available and the tips provided in this article, finding the perfect fit for your skills and interests is within reach.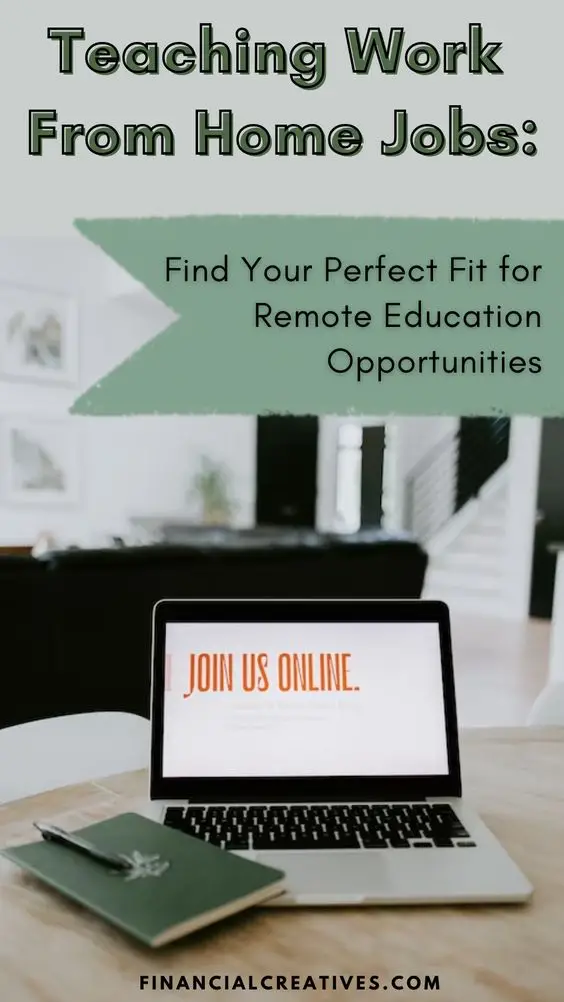 How much money can I expect to make in a work-from-home teaching job?
The amount of money you can make in a work-from-home teaching job depends on factors such as your qualifications, the subject you're teaching, and the employer you're working for. Generally, online English language teachers can make between $14 and $25 per hour, while online tutors and subject-specific teachers can make between $20 and $50 per hour.