I've worked online long enough to know that there are many digital payment solutions you can use. While the likes of Apple Pay and Google Wallet are great contenders, PayPal and Cash App have taken a great lead.
In this PayPal vs Cash App guide, I'll do a front to back comparison to help you understand how the two compare.
The main difference between PayPal and Cash App is on the payment method, credit and debit fee, transfer limits, and transaction period. Both platforms have an immense consumer base because they're safe and easy to use. Send up to $10,000 with pay, but only $7,500 per transaction on Cash App.
One thing that stands out to me about the two platforms is that the payments you send and receive are instant. So, you never have to wait longer for money, particularly if you're on an emergency sprint and urgent need for instant cash.
One thing that's worth noting is that Cash App works with digital currency, so you can buy Bitcoins with your Cash App money if you want to. On the other hand, PayPal gives you the option to place buttons on websites for making payments. 
One thing that makes PayPal an ideal option for making payment is the option to make offline payments.
PayPal vs Cash App Comparison Table
| | | |
| --- | --- | --- |
|   | PAYPAL APP | CASH APP |
| Compatibility | Web, iOS and Android | Web, iOS and Android |
| Payment Methods | Back transfer, Debit, Credit | Credit, Debit |
| Credit Fee | 2.9% + $0.30 | 3% |
| Debit Fee | 2.9% + $0.30 | Free (1.5% for Instant Transfers, Minimum $0.25) |
| Transfer Fees | Free (1% for Instant Transfers) | Free |
| Limits of Transfer | $10,000 | $7,500 |
| Transaction Period | 1 to 3 Business Days | 1 to 2 Business Days |
Getting Started with PayPal and Cash App
Getting started with PayPal and Cash App is easy. It doesn't take more than 20 minute to set up your account.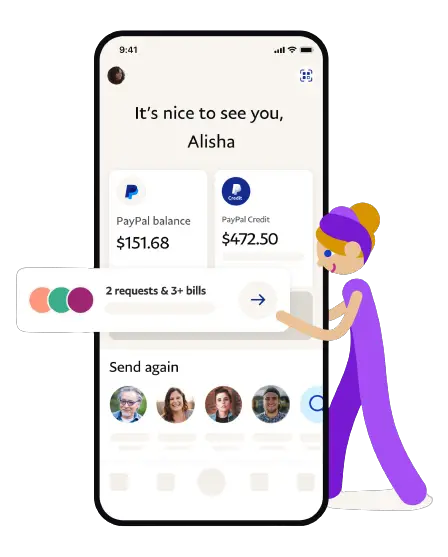 To open a Cash App account you will need to do the following:
Download the PayPal app from Google Play Store or Apple Store, depending on the type of phone you use.
Enter either your email or phone number to register an account.
If you sign up using your email address, Cash App will send you an activation link in your email's inbox. Similarly, if you use your phone number, you will get an activation code sent to your phone immediately.
Enter the code sent to your email address or phone number to confirm your identity.
Link of a number you will use to receive or send money. Cash app refers this pay-name as "Cash tag".
With that done, you are ready to start sending and receiving money to and from anyone around the world.
Like the Cash App, signing up for a PayPal account is easy and does not take much of your time.
Follow these steps to open an account with PayPal:
Download the PayPal app from Google Play Store or Apple Store, again depending on the type of phone you use. You can also access the PayPal site on the desktop browser.
Unlike Cash App, PayPal doesn't include the option of registering with a phone number. You can only register an account with your email address and then add your phone number later for 2FA.
Provide your debit or credit card details. This one is optional for people who don't find it necessary to add card details to sites and apps.
Link your PayPal account to your bank
Activate your PayPal account by clicking the activation link set to your email.
Both PayPal App and Cash App have websites that you can access on your computer if your smartphone isn't within reach. 
Connecting Cash App and PayPal with Your Bank Account
Connecting your bank account with Cash App is as easy as signing up for account itself. Follow these steps below to establish the connection:
Launching the App
Go to Settings
Select Bank Account and tap "link bank account"
Fill out your bank details 
Tap Continue to connect Cash App with your bank
To connect PayPal with your bank account:
Open the PayPal App.
Tap Wallet and then Add Bank Account.
Enter your banking information
Tap Add Bank Account to connect.
Check the code sent to your email. Enter the code in the prompt provided to verify the connection between PayPal and your bank account.
You can also add a card to your Cash App or PayPal account.
PayPal lets you add both debit and credit cards. Cash App, on the other hand, only lets you add cards that allow you to withdraw and deposit money. Both apps don't allow customers to add prepaid cards.
Sending and Receiving Money on Cash App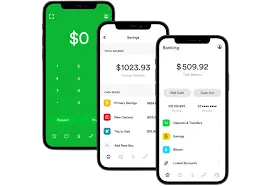 To send money to someone using Cash App:
Tap and open the app on your phone
Input the amount of money you wish to send. The Currency on Cash App is always in form of dollar.
Input the "Cashtag" name of the person you want to send the money to
You can write a note of the payment for easy reference, but this is optional
Tap pay.
A confirmation pop will show. In put your PIN and have the money sent to the receiver.
To request money on cash app:
Open the Cash App.
Input the Amount of money you want to you would like to request 
Scroll all the way to the bottom and tap the "Request Pay" button
Type in the name of the person you wish to get money from
Write the reason for the pay request, but you can skip this part if you find it unnecessary
Tap the Request button the top left corner. A notification will pop saying your request has been sent
Tap done and wait for your payment to reflect in your account
Sending and Requesting Money on PayPal App
Requesting for a PayPal payment is easy, too. All you need is the email address or the phone number of the person from whom you would like to receive money and you're good to go.
Follow these steps:
Open the PayPal App
Tap Request Money
Enter the email address or phone number of the person you wish to get money from and the amount of money you want sent to you
Choose your reason for the request (can either be Good and Service or Friends and Relatives)
Review your payment request
Tap Request Money and wait for a response.
Sending money to another PayPal user is just as easy as requesting for a payment on the same platform. Again, all you need to know is the recipient's email address.
To make a payment with PayPal: 
Tap the PayPal App
Sign into your account
Tap of Send Money
Input the recipient's email address and the requested amount
Choose how you would like to send the money. You can send money as Friends and Relative or for Goods and Services.
Counter check the details to make sure they're correct
Tap Send Money 
Issuing Refunds on PayPal and Cash App
The reason why may want to request for a refund may be because you have made a payment to the wrong person, bought items you never actually received, or sent a higher or lower amount than the requested.
Cash App guarantees that you can get your money back provided your reasons for wanting to get a refund are legit in the first place. 
To get a refund from Cash App:
Launch Cash App
Tap the Notification icon
Select a payment you made to see more options
Tap Receive, again to show more options
Tap the Refund option and wait for your money to be transferred back to your account.
Similarly, you can get a refund from PayPal for payments for goods that never arrived or digital items you never received.
Launch the PayPal App
Head over to History
Find the transaction which to get a refund from tap the Details option located right next to the transaction
Tap Issue Refund
Input the amount of cash you want refunded back
Review the refund details and then tap the "Issue Refund" button.
With PayPal, you can only receive a refund if you sent the payment under goods and services. You cannot get a refund if you sent the money as for Relatives and Friends. 
Cash App vs PayPal: Transfer Fees
If you want a transaction done fast, you will have to pay a fee of 1.5% of the amount you wish to send. Note that the minimum amount of money that you can send on Cash App is $0.25.
On Cash App, transactions not marked as instant don't incur any transfer fees.
Transactions on PayPal are free but up to some. That means you can send money else's personal account without incurring additional cost.
You can also do an immediate transfer on PayPal, but you will have to pay a $1 fee to activate this option.
PayPal vs Cash App: Bonuses
Cash App has a referral program that wall pay you $5 for every person you bring onboard. The bonus is added to your account as soon as the user that you refer to the platform signs up for an account and starts using the app to send and receive money.
On the other hand, PayPal does not offer its users referral bonuses.
So, if you need an app that allows you to make some bucks by referring people to it, you should start using Cash App today.
Conclusion
As you can see in this our PayPal vs Cash App comparison, both apps are very easy to use. One thing that stands out about the platforms is that they're both safer. Otherwise, millions of people wouldn't be using them in the first place.
When it comes to popularity, though, PayPal is the digital payment that doesn't have any real competitor. From a numbers standpoint, PayPal has 426 registered users while Cash App only has 30 million users at the time of this writing.
Which system has back transfer capability?
If we compare PayPal vs Cash App, then PayPal provides the back transfer function.
What are the main differences between PayPal and CashApp?
There are several key differences between PayPal and CashApp. Differences include transaction fees, international payments, security measures, and user interface.