Do you want to start making money with your website or increase your existing online income? Then, let's dive into the specifics of Evadav's affiliate marketing. Why this particular platform? It has become one of the most popular platforms for both publishers and advertisers. With a user-friendly interface, a wide range of ad formats, and attractive payouts, Evadav provides a profitable opportunity to monetize your website traffic. Below I will tell you in detail how to start earning with Evadav, try it now!
What is Evadav?
Evadav is an advertising network and self-serve advertising platform that enables advertisers to reach their target audience through various formats, including push notifications, native ads, and pop-under ads. It allows advertisers to promote their products or services across a wide network of websites and applications.
Evadav provides a user-friendly interface that allows advertisers to create and manage their campaigns, target specific demographics or interests, and optimize their ad performance based on real-time data and analytics. The platform offers advanced targeting options, such as geolocation, device type, operating system, and more, to help advertisers reach their desired audience effectively. Take advantage now!
For publishers, Evadav offers an opportunity to monetize their websites or apps by displaying relevant ads to their visitors. Publishers can integrate Evadav's ad codes into their platforms and earn revenue based on the number of impressions or clicks generated by the ads.
Evadav serves as a platform that connects advertisers with publishers, facilitating the distribution of targeted advertising content to a broad audience.
How to register on Evadav?
To register on the Evadav platform, follow these steps:
1. Open the Evadav official website.
2. Click on the "Register" or "Sign up" button. It is usually located in the upper right corner of the main page.
3. Select the type of account you need. Evadav offers multiple account options, including advertiser, publisher, or partner.
4. Complete the registration form, which may ask you for the following information: your name, email address, password, and other required information. Make sure you enter valid information.
5. Read and agree to the terms of use and privacy policy. If you agree, please check the appropriate box.
6. Click the "Register" or "Register" button.
7. Upon successful registration, you may be sent a confirmation email to the email address you provided. Follow the link in the email to activate your account.
8. After activating your account, you will be able to log into the platform using your email address and password. And start earning!
Evadav Settings
Log in to your account:
Once your account is verified, log in to your Evadav account using the email address and password you registered with.
Configure your profile:
Upon logging in, you'll be prompted to complete your profile. Provide the necessary details, such as your website URL, preferred payment method, and other relevant information.
Website verification:
Evadav requires you to verify ownership of your website(s) before you can start using their services. Follow the instructions provided to complete the verification process. This usually involves adding a provided verification code or placing a provided HTML tag on your website.
Create an ad campaign:
After your website is verified, you can create your first ad campaign. Click on the "Campaigns" or "Create Campaign" option and provide the required details, such as the campaign name, target audience, ad formats, budget, and targeting options. Evadav offers various ad formats, including push notifications, pop-ups, in-page push, and native banners.
Set up ad zones:
Ad zones are specific areas on your website where ads will be displayed. Configure the ad zones by specifying the size, position, and style of the ads. Evadav provides various customization options to match the ad design with your website's aesthetics.
Generate ad tags or code:
Once your ad zones are set up, you'll need to generate ad tags or code snippets. These tags or codes should be placed on your website where you want the ads to appear. Depending on your website's platform or content management system (CMS), you can typically insert the code into the HTML of your pages or use a specific plugin or module provided by Evadav.
Monitor and optimize:
Once your ads are live, monitor the performance of your campaigns using the analytics and reporting tools provided by Evadav. Analyze key metrics such as impressions, clicks, conversions, and revenue. Adjust your campaigns based on the data to optimize their performance and maximize your ad revenue.
Payment and withdrawals:
Evadav offers various payment options, including PayPal, wire transfer, ePayments, Paxum, and more. Set up your preferred payment method in your account settings. Once you reach the minimum payout threshold, you can request a withdrawal to receive your earnings.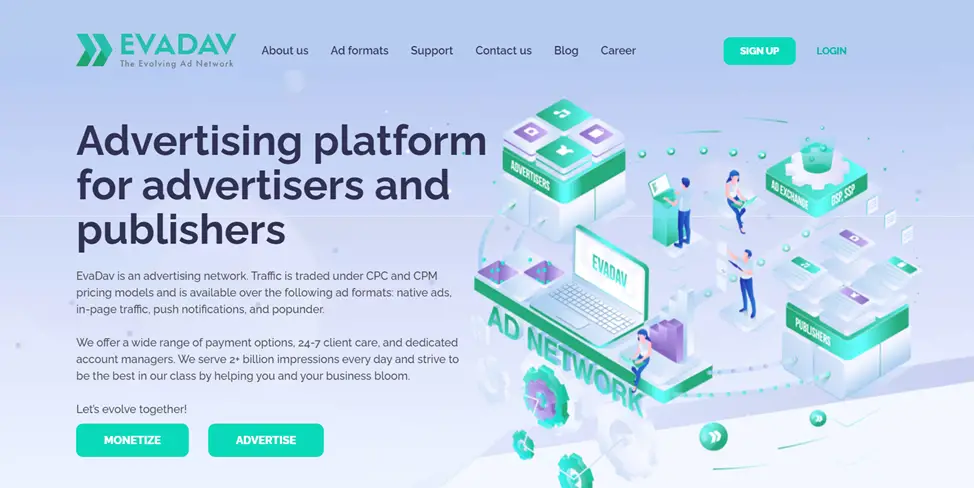 What metrics to track in Evadav?
Evadav is an advertising platform that offers various ad formats and targeting options. When tracking the performance of your campaigns on Evadav, it's important to monitor several key metrics to assess the effectiveness of your advertising efforts. Here are some metrics you may want to track in Evadav:
Impressions: This metric measures the number of times your ads are displayed to users on Evadav's network. Tracking impressions can give you an idea of the reach of your campaign.
Clicks: Clicks represent the number of times users click on your ads. This metric helps you evaluate the engagement and attractiveness of your ad creatives.
Click-through rate (CTR): CTR is the percentage of ad impressions that result in clicks. It is calculated by dividing the number of clicks by the number of impressions and multiplying by 100. CTR provides insights into the effectiveness of your ad copy and design.
Conversions: Conversions refer to desired actions taken by users after clicking on your ads, such as making a purchase, signing up for a newsletter, or filling out a form. Tracking conversions allows you to measure the effectiveness of your campaigns in generating valuable outcomes.
Conversion rate: Conversion rate is the percentage of users who complete a desired action out of the total number of clicks. It indicates the efficiency of your campaign in driving desired actions.
Cost per Click (CPC): CPC measures the average cost you pay for each click on your ads. It is calculated by dividing the total cost of the campaign by the number of clicks. Tracking CPC helps you assess the efficiency of your advertising budget.
Return on Ad Spend (ROAS): ROAS is a metric that measures the revenue generated from your advertising campaign compared to the cost of the campaign. It helps you determine the profitability of your advertising efforts.
Cost per Acquisition (CPA): CPA represents the average cost you pay for each conversion. It is calculated by dividing the total cost of the campaign by the number of conversions. Tracking CPA allows you to understand the efficiency of your ad spending in acquiring customers or achieving specific goals.
Audience engagement metrics: Depending on the ad format you use on Evadav, you may want to track additional engagement metrics such as video view rates, engagement time, or interaction rates. These metrics provide insights into how users interact with your ads and can help optimize your campaigns.
It's important to note that the specific metrics you track may vary based on your campaign objectives, industry, and advertising strategy. Consider aligning your tracking with your specific goals to effectively evaluate the success of your Evadav campaigns. Try it!
How do receive Evadav payouts?
To receive payouts from Evadav, you need to follow these steps:
Sign in to your Evadav account:
Go to the Evadav website and log in using your credentials.
Navigate to the "Payouts" section:
Once you're logged in, find the "Payouts" or "Payments" section. The exact location may vary depending on any updates or changes made to the platform's user interface.
Set up your payment method:
In the "Payouts" section, you will typically find various payment methods available. Evadav offers different options such as PayPal, Paxum, ePayments, WebMoney, Wire Transfer, and Bitcoin. Select the payment method that suits you best.
Enter your payment details:
Depending on the payment method you choose, you will need to provide the necessary information. For example, if you select PayPal, you may need to enter your PayPal email address. If you choose a wire transfer, you may be required to provide your bank account details.
Meet the payout requirements:
Each payment method may have specific requirements you need to meet before you can request a payout. These requirements could include reaching a minimum earnings threshold or adhering to certain terms and conditions. Ensure that you fulfill these requirements before attempting to withdraw your funds.
Request a payout:
Once you have set up your payment method and have met the requirements, you can initiate a payout by clicking on the appropriate button or link in the Evadav dashboard. Follow the on-screen instructions to submit your payout request.
Await processing and receiving your payout:
After submitting your payout request, Evadav will review and process it. The time it takes to receive your payment will depend on various factors such as the payment method chosen and Evadav's processing time. Be patient and keep an eye on your chosen payment method for updates or notifications regarding your payout. Make money with Evadav now!
Effectively monetize your traffic!
Earning with Evadav can be a fruitful endeavor for affiliate marketers and website owners. By following the steps outlined in this comprehensive guide, you can start monetizing your website traffic effectively. Registering on Evadav is a straightforward process, and once you set up your account and integrate the platform into your website, you can begin tracking important metrics such as impressions, CTR, conversion rate, and revenue. When it comes to receiving payouts, choose your preferred payment method, ensure your earnings meet the minimum payout threshold, and follow the payout request process provided by Evadav. Remember to continuously analyze and optimize your ad formats, placements, and strategies to maximize your earnings potential with Evadav. Good luck on your affiliate marketing journey!
FAQ
How does Evadav help maximize earnings?
Evadav provides publishers with a range of ad formats and monetization options to suit their website or app. By integrating Evadav's ad codes, publishers can display targeted ads to their audience and earn revenue based on ad impressions, clicks, or conversions.