I've met people who praise Transcribe Anywhere for the value they've ploughed back to their online business by investing in the course. I also know people who would dare not touch the course for one reason or the other and would gladly consider alternatives instead. But is Transcribe Anywhere legit?
Transcribe Anywhere is a legit course created to help to learn how to convert speech to text. Divided into general and legal transcription, and approved by the American Association of Electronic Reporters and Transcribers, this is the only course you'll ever need to become a transcriptionist.
If the idea of making money online by converting speech to text is something that appeals to you, and you don't have the necessary skills to get you started, you might want to consider enrolling in this endorsed course.
In this guide, we'll tell you everything you need to know about Transcribe Anywhere. Without a doubt, this is hands down the most comprehensive Transcribe Anywhere review you'll ever read online.
Without further ado, let's get to the details.
Is Transcribe Anywhere Worth It?
Transcribe Anywhere isn't the perfect course in the niche, at least not in its entirety. However, the creator packs the bundle with the kind of premium training required to turn you from someone who knows nothing about converting speech to text into a professional transcriptionist.
To be clear, just buying the course alone won't give you any value for sure. You need to invest your time to learn the materials taught in the course and then do a lot of practice to master the process
In fact, if you're not ready to put in the effort to learn the course and engage to the practical lectures, this course may as well not be worth it.
And let's get one thing straight here:
Transcribe Anywhere isn't some get-rich-quick course created to make you succeed right now. It's a course that teaches you to become and succeed as a general and legal transcriptionist by means of learning, practicing, and implementing the lesson so you can succeed.
In other words:
If you want to become a professional transcriptionist, you have to study the ins and outs of the course and practice A LOT.
Remember, no one ever becomes a professional pianist by simply reading a book about pianos. A learner has to get their hands dirty by engaging in constant practice, not to mention make mistakes and learn from them.
Transcribe Anywhere Review (Everything You Need to Know Right Now)
Transcribe Anywhere is a transcription course created by Janet Shaughnessy, a professional transcriptionist with over 10 years of experience in the business.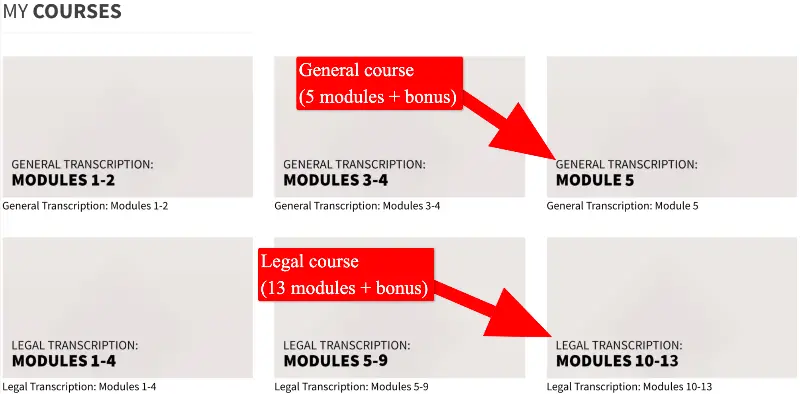 As you can see in the image above, Transcribe Anywhere is a two-in-one course, which covers general and legal transcription. There are 5 modules in the general transcription and 13 modules in the legal transcription.
Once you enroll in the course (if you so choose to) is becomes a personal choice what type of transcription to learn.
My suggestion is that you don't limit yourself. Remember, you're paying for this course, so you might as well take advantage of everything Janet Shaughnessy teaches.
Again, it's best to start from general transcription first so that you get a clear picture of what the job is. By the time you get to the legal transcription module, you'll have learned at least 80% of what you need to know to become a professional in the business.
What Makes Transcribe Anywhere Course Stand Out?
There are a few things that make Transcribe Anywhere stand out from other similar courses online.
1. An Active Facebook Community
Transcribe Anywhere has an active Facebook group filled with like-minded people.
There are at least 3,500 members in the community, about 3 posts published per day, and nearly 90 posts a month on average.
And the best part is?
The group is quite active.
So much so that you get what may almost seem like an instant response when you ask a question. It's just hard not to love how people support each other in the group.
Among the members are those who have already graduated from the course.  They've more than likely faced all sorts of challenges, so they'll be quite helpful in pointing you in the right direction if you ever feel stuck.
2. Professional Customer Support
It's easy to feel lost and sometimes overwhelmed when studying a course material, and that's totally fine.
People get stuck all the time when trying to learn new skills, and that's what makes the journey a lot more interesting.
You'll more than likely find some parts of the general and legal transcription modules to be either quite intense or not easy to understand at all.
All you have to do is to contact support, and Janet and her team will get back to you in the shortest time possible. They're here to help you succeed, so they'll make sure you get all the help that you need to do well into becoming a professional transcriptionist.
How Much Does Transcribe Anywhere Cost?
The general transcript course costs a one-time fee of $797 and the legal transcription costs $897, all for the basic package.
You can get the general and legal transcription for $1, 297. And if you feel like webinars, support, plus live access to the team can help you sharpen your skills, you'll spend $3, 997.
The expensive package includes a done-for-you transcription website and equipment necessary to start and scale your transcription business.
And don't worry if you can't pay the full amount instantly. That's because Transcribe Anywhere has a flexible partial payment plan, where you can make small amount of payments as you continue to learn.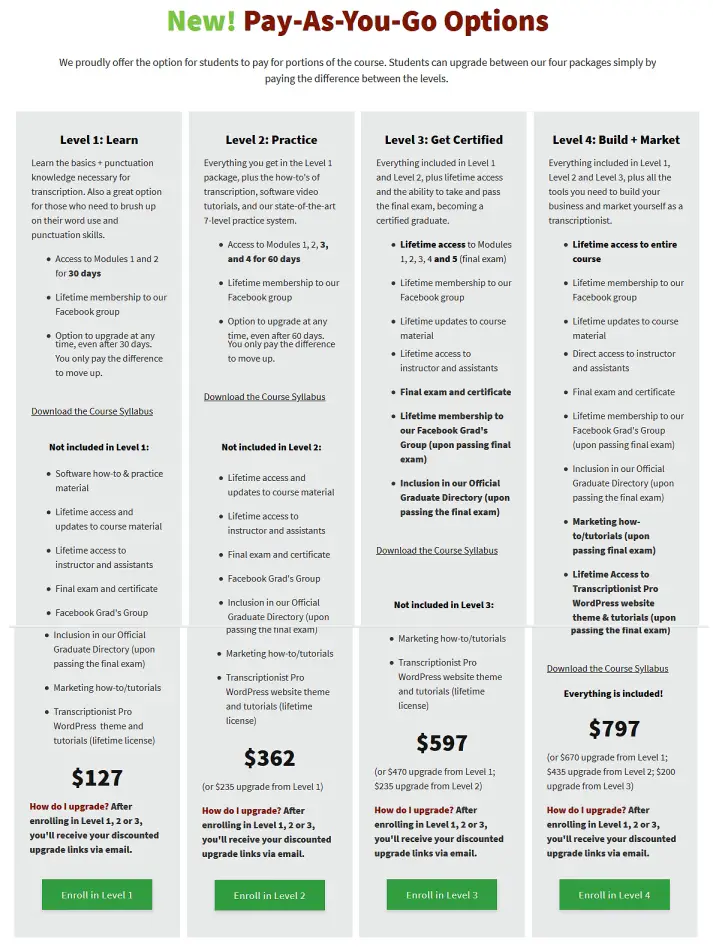 Keep in mind that this is a one-time payment, which gives you a lifetime access to the course.
Is Transcribe Anywhere Accredited?
Transcribe Anywhere is a transcription course fully accredited and endorsed by the AAERT (American Association of Electronic Reporter and Transcriber).
But what does that mean exactly?
It means you're not getting just another random course slammed into your face with a buy now button.
The bottom line is that you're getting a high quality course that will take you from a beginner to a professional general and legal transcriptionist. 
What's Good About Transcribe Anywhere?
There are a few things that make Transcribe Anywhere course better than many similar courses on the Internet.
1. Transcribe Anywhere is a Comprehensive Course
You'll love how Janet Shaughnessy goes into details in ever module.
While you won't find this course interesting in some instances, you will definitely learn everything you need to become a successful transcriptionist without ever having to look anywhere else.
2. You Learn How to Work Fast
Here's the deal:
It takes time to convert speech to text.
The process may feel overwhelming and time consuming if you're just getting started. And to be honest, you might feel like giving up and find something else to do with your life.
Fortunately, Janet gives you some tips and tricks that you can use to get your work completed fast, even if you still very green to the transcription business.
3. The Course Includes Practical Assignments
With Transcribe Anywhere, Janet Shaughnessy puts your learning, skills, and patience to the test with real practice assignments. The goal here is to help you hone your transcription skills so you are qualified enough to take on clients on your own.
The test assignments included in the course come from real clients. You can expect them to be of any kind, from projects with poor audio quality and multiple speakers to tests with speakers that have heavy accents.
I do recommend that you take these challenges seriously because they are good and practical enough to give you the taste of the real world of transcription.
What I Don't Like About Transcribe Anywhere
As good as Transcribe Anywhere course is, there are a few things about it that are either over exaggerated or could use some improvements.
1. Too Much Text to Read
There's just too much wall of text in the course that would be more interesting if broken up with useful graphics and images.
I'm sure some people would even find video explanations even more engaging and descriptive.
But despite the big wall of text, the information provided in both the general and legal transcription module is high quality.
2. Insanely Expensive
Even if you try to look at it from a value point of view, there's no denying that this course is extremely expensive. And if I'm being honest, there are similar courses out there that are equally good and yet cost less than what Transcribe Anywhere requires.
With that said, Janet gives you the opportunity to choose a package that suits you best. For example, you don't need to pay for the most expensive plan if you don't need to build a website for the transcription business.
3. Transcribe Anywhere Doesn't Issue Refunds
Janet puts over 10 years of knowledge and experience in this course, pouring out her everything transcription and all to give you the value for your money.
Then she provides this knowledge to people, but keep in mind that she does so with the strict policy that you won't get a refund once you enroll. So keep that in mind before you become a member.
Final Thoughts
If you're seriously looking for a course that will take you from someone who knows nothing about transcription to a professional making money in the business, then you will find this course useful.
With a growing Facebook community, a reliable support team, and practical tests that engage you to the real-world concept of transcription, there just can't be a better course that can take you from zero to hero in the business.
While it's pricier than many similar courses out there, there's even a flexible payment plan that allows you to pay and learn in bits. And that's a great deal of flexibility.
Why is Transcribe Anywhere course useful?
This course will help you become a professional transcriptionist. This course will teach you how to convert speech to text. It is approved by the American Association of Electronic Reporters and Transcribers.
What courses does Transcribe Anywhere offer?
Transcribe Anywhere offers two main courses: General Transcription and Legal Transcription. The General Transcription course teaches students how to transcribe a wide range of content, including interviews, webinars, and podcasts. The Legal Transcription course, on the other hand, teaches students how to transcribe legal proceedings, such as court hearings and depositions.