I didn't for once think I'd ever write a review about Romwe. But I'm at that point where I can't hold the urge back so I'm going to share my thoughts about the brand with you. So if you've ever asked yourself is Romwe is safe and legit to use, you've come to the right place.
Is Romwe Safe and Legit to Use?
Romwe is a safe and legit online shopping website where women can order beautiful outfit at competitive prices. The brand uses Norton Secure and industry-standard SSL for data encryption. So you can be confident that your personal and financial information is secure.
Keep in mind that Romwe has been in business for over 10 years. In that time, they've gained local and international recognition as one of the best platforms for stylish clothing at fair prices.
I know the prices may somewhat raise a red flag.
But if you think about it, Romwe's commitment to providing value for cheap hasn't withered down over the last 10 years. And for someone who is looking to spend less and still look outstanding, Romwe is no doubt the best place to start.
What's Romwe?
Established in 2010, Romwe is an online luxury fashion brand that deal in high-value outfit at incredibly lower prices. The price tags on brand's deals are so low that you can easily impulse buy if money wasn't a concern.
The brand has worked so hard to give its customer base the best deals over the last 10 years. And it's commitment to providing quality clothing that makes it one of the leading online shop for women.
For what it's worth, Romwe is a user-friendly, easy to navigate shopping website that makes it easy for you to find and buy the items you need.
Is Stuff from Romwe Good Quality?
I've come across the saying cheap is expensive more times than I can count. But to be honest, buying something for cheap doesn't always mean you'll end up with a bad product.
Looking at Romwe reviews on Site Jabber, you can easily tell that their products don't have a bad rating. From where I sit, I can say for sure that the quality of the clothing is good and the customer service is responsive.
So if you're on a right budge, and you're looking forward to buying clothing at competitive prices, Romwe can be a good place to start.
Does Romwe Clothing Run True to Size?
Getting outfit of the right size is essential, but it's not always something you can do online.
It's not the first time I've bought shoes that didn't run true to size, backpacks that didn't have enough compartments or denims that failed to fit.
One thing I've noted about Romwe sizing is that it tends to run small, and that's not a problem at all. Because it's important to get the size that fits well, I suggest going a size up.
Remember, Romwe doesn't accept return of items, except in the case where the product arrived damaged. So going a size up can actually save you a lot of headache.
How Long Does Romwe Take to Ship Items?
I need to make one thing clear:
Romwe hasn't grown big to be at the same business level with big brands like Amazon and Walmart. Maybe that explains why their shipping time and delivery expectations are somewhat skewed.
First, it's not exactly clear how long they take to ship out your order. From what I understand, how long it takes to ship products depends on your demography.
In other words, it takes a shorter time to ship Romwe items within China and more time to ship overseas.
In an effort to optimize shipping and increase delivery speed, Romwe setup five additional warehouses in Dubai, China, Belgium, California, and New Jersey.
Even with five warehouses in different parts of the world, this China-based company hasn't improved shipping nearly as much. So shipping delays is something you will have to deal with if you choose to shop at Romwe.
Here's the interesting part in disguise:
Romwe takes up to 7 days to process an order before shipping. Then, once they pass a package onto a carrier, they CAN'T guarantee how long it will take for the package to reach you.
Having looked at this even further, I found out that paid shipping generally takes between 4 and 10 days. If you decide to take them on their free shipping offer, expect to wait up to 20 days for your package to arrive.
Is Romwe Safe and Legit or a Scam?
In the age where information and money theft is common online, it's not a surprise to ask if a shopping site like Romwe is safe and legit to use. Besides, the folks used to Amazon Fashion are more than likely to ask this question.
Let me say this:
From the reviews I've read and based on the experience I've had with the platform, I can confidently say that Romwe is a safe and legit platform.
However, there's a one big problem with the brand:
Shipping!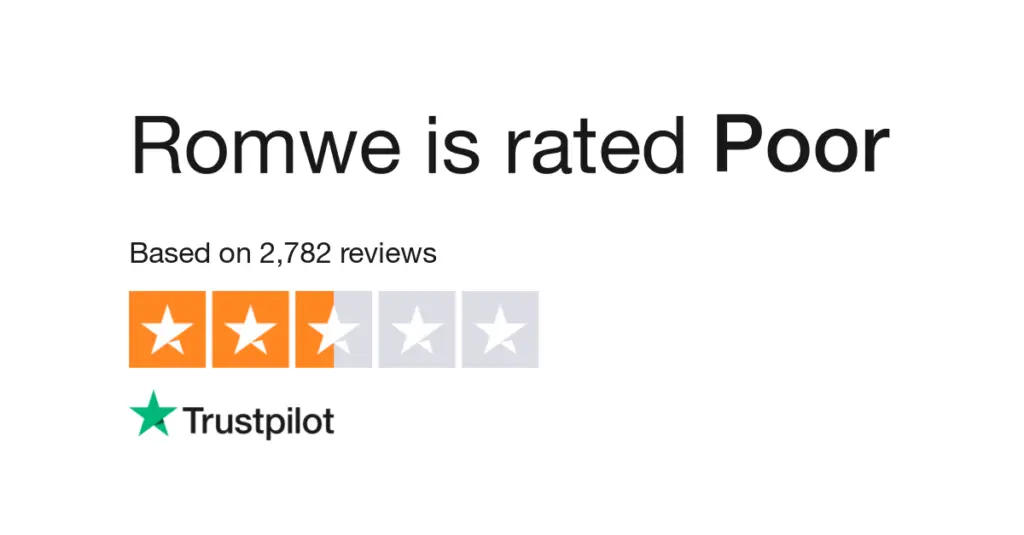 Romwe doesn't seem to honor its shipping policy and tends to delay a lot more than I could count.
I looked at these Romwe complaints on BBB and identified a common thing in over 50 complaints. These customers complained that they placed orders, made payments, but never got their products on time.
That's spooky, seriously.
From where I sit, I don't think that a company that hordes goods for a long time deserves a praise. Because, when I buy goods online, I expect to get the best value for my money, fast.
Delayed shipping is bad for business. And that's currently the biggest challenge that Romwe should look into to continue growing the brand.
What's Romwe's Return Policy?
Here's the deal about shopping for outfits online:
Sometimes you'll order attires that don't fit, shoes that won't run true to size, denims that will feel completely off, or swimsuits that feel too tight to fit.
And you're going to want to return them in exchange for something a lot better – or get your money back.
The question is:
Does Romwe has a favorable return policy in place to ensure you get a replacement for what your money is truly worth?
Yes, they do, but they're particularly clear about what you can return. You should check this article to know their return policy, making sure you take a closer look at the items that you can't return.
Keep in mind that Romwe's return policy isn't similar to other similar brands. Businesses operate differently, so expect the policies to differ to a great extent.
To be very precise, Romwe mostly accepts returns of packages that arrive at your doorstep damaged or if there was an error in shipping.
Is It Safe to Order from Romwe?
It's safe to order you outfit from Romwe. All you have to do is to identify the items that you would like to buy and place your order.
Protected by Norton Secured and industry-standard Secure Socket Layer, you can order with confidence knowing that your financial information won't be compromised.
Is Romwe Safe for Credit and Debit Cards?
Romwe is completely safe for credit and debit card transactions. You can use Discover, American Express, MasterCard, Diners Club, or Visa debit or credit cards.
Keep in mind that the brand doesn't collect personal information. And they don't get access to your debit or credit card numbers.
Final Thoughts
As you can see, Romwe is safe and legit to use. Because it's a platform that lets you buy stylish outfit at affordable prices, Romwe makes a good option for the women who're on a tight budget.
Their biggest problem seems to be order approval and shipping. It can take up to 30 days from the time you place an order to receive a package at your doorstep, and that's a long time to wait.
Is Romwe bad quality?
No, their clothing quality is good and customer service is responsive. Check out their rankings on the Jabber website and see for yourself.
What is the Romwe express shipping time?
Romwe express shipping time can vary depending on the destination and shipping method chosen at checkout. However, in general, Romwe's express shipping usually takes around 3-7 business days to deliver. It's always best to check the estimated delivery time at checkout for a more accurate estimate.