If the thought of making money online has ever hit you, then you might have considered joining Primerica. However, there are questions and stories you might hear about this company. One of these can be; Is Primerica a pyramid scheme?
Technically, Primerica is not a pyramid scheme. It is a registered and approved company that is considered legal in many countries. Additionally, it deals in real products that individuals sell, unlike in pyramid schemes where clients are paid to recruit new members into the program.

Therefore, if you want a detailed answer to that question and more, keep on reading.
Is Primerica a Pyramid Scheme Or Scam?
Pyramid schemes are illegal businesses. You wouldn't want to associate yourself with them, especially when fully aware. Therefore, before joining Primerica, you might pose and ask yourself if it is a pyramid scheme.
Primerica is a legitimate multi-level marketing company based in America. Since 1977, when the company was founded, it has grown its popularity to the largest financial and insurance service organization in North America.
Within the 44 years, they have been in service, Primerica has not been shut down or even had issues with FTC.
However, most people have had issues with the company due to its organization and how it works. Primerica uses representatives to sell its products by recruiting more people online.
Moreover, people think of it as a scam because of the upfront fee of $99. The upfront fee is not a registration charge but is used for official Primerica license and background checks.
After this amount is paid, you are also required to pay an extra $25 every month for training and material marketing.
Even though these charges might make Primerica look like a pyramid scheme, they ensure only sales representatives with solid backgrounds join the company. It is essential to note that the upfront fee is refunded if you don't get an opportunity with Primerica.
Over the years, the company has made a good name in its markets and accumulated 120,000 independent representatives in the US and Canada.
Additionally, in 2015 the company was ranked one of America's 50 trustworthy financial companies. In MLM rankings, the company is among the best and the fastest-growing companies, with $1.9billion in revenue by 2018.
However, this doesn't mean that you shouldn't find out how they operate as a business.

Is Primerica an MLM?
What comes to mind when you hear of an MLM company? Perhaps you think of recruitment of individuals who sell goods or services on behalf of the company.
Primerica is one of the MLM companies. It uses this system to pay the agents.
However, they might deny it. Therefore, the next time you meet a Primerica agent inviting you for a presentation for them to recruit you into their program, don't be shocked.
Is Primerica Legit?
Every time you seek recruitment from an established business, you want to ensure it is legit. You wouldn't want to get scammed, would you?
Wondering whether Primerica is legit or not? Primerica is a legit company. It has been in the business world for a long time now and has legitimate financial records too.
Normally, a business that scams individuals would take your money and disappear with it or give out information and promises that it doesn't fulfill and meet. Since Primerica doesn't do this, you can trust it as legit.
However, this doesn't mean the company has had a good reputation throughout. For instance, it has set aside millions of dollars to settle cases. In the year 2014, it had 238 lawsuits. This can surely make you have second thoughts about it.
As you still debate on trying it or not, you can assure that Primerica has been in the business for far too long to be a scam.
What is Primerica's Product Line?
Getting involved in a business in which you are clueless about the products it sells can be a hassle. Therefore, staying informed gives you a measure of power.
Primerica offers six major products, namely;
Term Life Insurance
Financial Investments
Credit Monitoring
Long-term Care Insurance
Debt Monitoring Plans
Auto &Home Insurance
These products each have different branches and options you can choose from. For instance, when dealing with financial investments, Primerica will offer you financial services.
Therefore, Primerica does a lot, from selling insurance, debt products to investment.

What Does a Primerica Agent Do?
If you have ever thought of working as a Primerica agent, knowing what to expect doesn't hurt.
A Primerica agent deals in selling products such as mutual funds, annuities, and life annuities. Importantly, you need a license to represent the company and push its products in the market.
Every time you make sales and recruit new people, you get a commission. The more people you recruit, the more the sales and revenue.
As an agent, there are three ways in which you can earn money from Primerica.
1. Insurance
The most common way of making money online with Primerica is by selling insurance and earning a commission. It's more like any other insurance company or any other sales job.
2. Commission From Financial Products
Primerica provides its sales representatives with a wide range of products, including debt management, credit monitoring, and auto and home insurance. Once you sell any f these products, the company pays you a given percentage.
3. Overrides
Just like most insurance companies, you can earn a 10% override commission from your Primerica downline.
The amount of money paid to you through override commission increases as your downline grows.
Is Primerica Worth Working For?
Knowing whether or not Primerica is worth working for can depend on your goal and motive.
Primerica is worth working for if you want to become a financial planner or advisor. Additionally, if you want to get recruited in their system, you can do so.
Working as a financial planner in Primerica will require you to study and do some exams, which you will need to pass. Since your work will involve talking to clients about insurance, you must be licensed as an insurance agent.
Importantly, you should be ready to work. Plus, if you ever think of enjoying the ranks in Primerica by having a promotion, you should prepare yourself for a security license.
Can You Really Make Money with Primerica?
Every time you join any online business, you aim at making money. Primerica is no different. Therefore, you might ask yourself if it allows you to make money or not.
Yes, you can make money with the company. All you need to do is sell the products.
However, before you get too excited about this, you should know the average earning possibility.
The amount of money you earn from the company depends on your sales rank. As a normal sales representative, you earn up to 25% commission while seniors earn up to 35%.
Once you have grown to the ranks of districts, divisional or regional leader, you are likely to earn more than 50% in commission and an additional bonus.
In Primerica, the highest commission rank is the senior vice president, who earns 95% commission and additional bonuses.
Importantly, you should note that making money with Primerica isn't an easy task. You have to make sales to get the money. Those who don't do this usually complain about not making money with the company.
Furthermore, the company can make huge revenue, with some representatives making lots of sales, and others making none at all. So, what could be the problem?
The fact that the company mainly focuses on recruiting more individuals, sales representatives might be focused only on this, rather than focusing on getting retail customers. Eventually, they end up earning less from the network.
Is Primerica Trustworthy Company?
Yes, Primerica is a trustworthy company because it has an A+ rating in the Better Business Bureau. After serving for more than 40 years, the company has made a good name and accumulated many positive reviews.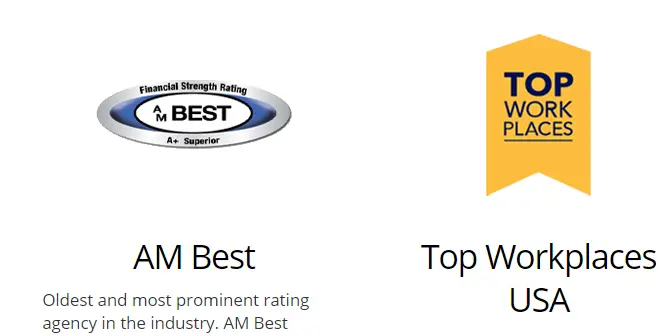 You can trust the company because it provides a reasonable unparent fee. If the job is not right for you, this amount is refundable.
Primerica also ensures that people who join their system go through a screening process. Most MLM companies recruit anyone willing to join them, but Primerica makes sure representatives do not have any criminal or untrustworthy records.
Frequently Asked Questions
Does Dave Ramsey Recommend Primerica?
Dave Ramsey does not recommend Primerica. According to his Twitter account, the cost of insurance in Primerica is extremely high.
Is Primerica Good to Invest With?
If you find managing your investment is a hassle, Primerica is a good option for you. Also, if you don't have the time, why not have the services of Primerica?
Additionally, investing with Primerica is easy since they have a simple service; handling all issues with your finances and investing without you offering help. With Primerica, you don't have to keep managing your funds online.
Moreover, since their website is user-friendly, you can easily track your funds and get the information you need with simple clicks.
Can I Quit Primerica?
Yes, it is possible to quit Primerica online. You can also keep the account and switch to a free subscription.
If you have an online Primerica account, you can edit the account setting to switch to a free monthly plan through the company's website.
Once you log into your online account, check "my account" and click on service selection. Choose the free option and save settings.
To completely quit Primerica, you have to contact the company at 1-888-737-2255. Once you ask the company representatives to cancel your subscription, they will provide you with instructions to follow and send you an email once the process ends.
However, this can be a real hassle due to long customer service queues. If you want to skip that frustration, you can also use the DoNotPay website. Once you open it in any browser, all you need to do is type Primerica and cancel the service.
Conclusion
Every time you get a chance to earn money online, it is common for you to wonder if the service or company is legit.
If you ever searched Multi-level Marketing companies, you are likely to have found Primerica. If so, or you have learned of it today, you definitely wondered is Primerica a pyramid scheme?
You do not have to worry because Primerica is a legit multi-level marketing company with excellent BBB reviews for the past few years. The company has also accumulated more than 120,000 independent representatives.
The company allows you to make money by selling insurance and financial products as well as override commissions.
However, before you decide to work for Primerica, it is essential to know that the amount of money you make depends on your sales. For you to make more money, you also have to grow in commission rank.
Even though the company has a lot of good reviews, it also has more than 200 active or closed cases.
Also Read: Is Cutco A Pyramid Scheme?
Resources
What products does Primerica a pyramid scheme offer?
Primerica offers term life insurance, financial investments, credit monitoring, long term care insurance, debt monitoring plans, and auto and home insurance.
Is Primerica a multi level marketing company?
Yes, Primerica is a multi-level marketing (MLM) company that sells financial products and services such as life insurance, mutual funds, and debt management plans through a network of independent representatives who earn commissions on their sales and the sales of their recruits.