I'm not a big fan of testing things online. But when it comes to doing it for cash, I'm all in. I've used Userlytics, earned a couple of bucks from User Testing, and lately taken PlaytestCloud for a test ride. But Is PlaytestCloud legit? Does it actually pay you to test games or should you opt for options like User Testing instead?
PlaytestCloud is a legit business that pays you to test Android and iOS games. You pick a game, test it for fun and user experience, and share your feedback to help developers improve their game development. It doesn't have a higher earning potential, but you at least earn something for the feedback you provide.
After testing PlaytestCloud for a week, I can confidently say that the platform is easy to use. Not to mention it has a variety of games that you can explore.
In this PlaytestCloud review, I will tell you everything you need to know about the business. You will learn:
What it is
How it works
How to use
Its pros and cons
Let's get started:
What is PlaytestCloud?
PlaytestCloud is a platform that connects mobile game developers with enthusiastic players with one purpose: to test and improve games before release to the market.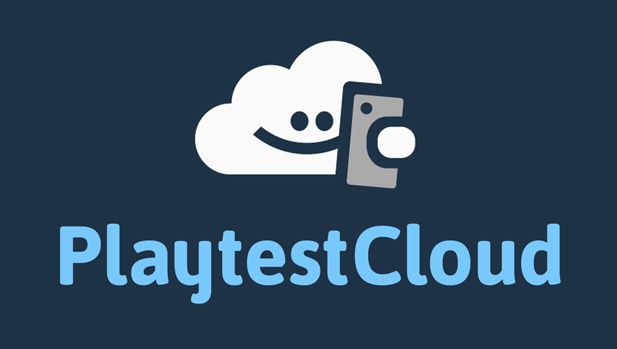 Here's the thing:
Mobile game developers work hard to ensure that every game they develop to Google Play and Apple Store is good enough to pack the punch soon after debut. But they can't be so sure that what they've built is good enough unless by thorough testing.
Unfortunately, it's hard for them to do debugging and user experience testing on their own. And even if they would, it would be hard to zero in on the best user experience. Not to mention that testing, debugging, and fixing errors are three things that consume a lot of time.
To ensure the games they develop are suitable for their target audience, these developers hire testers through PlaytestCloud to do the job.
As such, PlaytestCloud create an opportunity for you to not only have a good time playing mobile games but also earn some money from the feedback that you provide.
Take it from me when I say that valuable information isn't free.
That's why these developers are willing to pay you for your feedback through every stage of game development.
You can earn by evaluating prototype, identifying bugs, testing games for usability during soft launch, and assessing fine-tuned game apps post release to the market.
Sounds great, or doesn't it?
How Does PlaytestCloud Work?
Think of PlaytestCloud like a social medium where people meet and interact. Only in this case, the platform is niche-targeted, which means that the focus is only on game development and testing for quality assurance.
The working concept is quite simple:
You create a free account
Test mobile games developed for Android and iOS
You get paid
That's how PlaytestCloud works.
How to Get Started with PlaytestCloud
As someone who has interacted with people who've used PlaytestCloud and even earned money from it, I'm excited to share how you, too, can benefit from such a well-built platform.
I should warn you, though:
As good and legit and PlaytestCloud is, it doesn't offer you the best income potential. It's good for earning a few bucks on the site, not a full time source of income.
With that in mind, here are the steps to get you started:
1. Meet the PlaytestCloud's Membership Requirements
PlaytestCloud isn't available to ever Tom, Dick, and Harry. So it's important to know what it takes to become a paid tester with them before signing up for an account.
At the time of this writing, joining PlaytestCloud requires that you meet the following conditions:
You should be fluent in written and spoken English
Have iPhone 5 or higher, or Android 5.0 or higher
You must be living and working in the United States, UK, or Canada
Be comfortable to record your voice when testing games
You can still sign up if you live outside the countries that I've stated above, but it's highly unlikely that you will get testing opportunities.
2. Sign Up for an Account
Are you eligible to register with PlaytestCloud?
Great!
You can click here to create an account.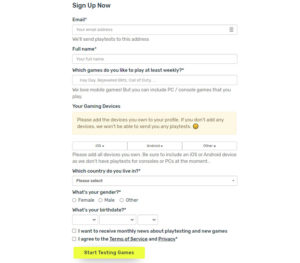 Fill out the form properly, making sure you provide all the required details.
3. Take a Qualification Test
PlaytestCloud only works with the best tester. So every new member has to take an unpaid test to determine how good at testing games and providing feedback.
The test is short. It involves playing a test game and verbalizing your thoughts thereafter. It should take you 10 minutes to complete the test or at least 5 if you're fast.
The best thing I love about this test is that PlaytestCloud even gives you some tips that you can use to pass.
In my point of view, you can increase your chances of passing the test by not only talking while playing the test game but also by making sure you mention the features you liked and what you disliked about the game.
Plus, there's almost zero pressure, so you might as well take your time and do a good job instead of rushing the task.
4. Get Game App Testing Invites
PlaytestCloud will let you know if you've passed the unpaid test by sending you an email about the test results
You can start testing games, giving your feedback, and earning money if you passed the test.
And don't worry if you failed. That's because PlaytestCloud will send you an email indicating why you failed. Not to mention you can retake the test as many time as you like.
What I like about this platform is that it sends periodic emails about available testing opportunities. The testing invite email that you receive will include the following information:
Link to down the app
A walkthrough for the game
Instructions on how to upload your recording
An after test survey
Payment details
5. Test the App, Submit Your Review, Earn
Read the invite email to know what PlaytestCloud wants you to do.
You can ignore the invite if you feel like the test is not worth it. However, don't leave money on the table if the invite is interesting and particular if it's in a category of your favorite games.
I like to spend some time playing the game first and then giving a feedback later.  But you can also play and take some pauses in between to write down and record your point of view.
Whichever approach you use, make sure that the information you provide is clear, meaningful, and helpful to the game developer who is looking for feedback on their development.
The testing session for many games takes about 20 minutes, which should be enough time to complete the task.
The feedback you provide will vary from one game to the other. But there are at least a few common things that your feedback should address.
You should at least mention:
The user interface elements that you like and dislike
Possible bugs in the app
Features that you would like added as well as those you'd like removed
What confuses you
Is PlaytestCloud Legit and Safe to Use?
I hate installing apps and software solutions whose safety measurements aren't clear to me. The last thing I want is to get my personal data stole.
And I know I'm not the only one.
So I understand if you're wondering if PlaytestCloud is legit and safe to use.
I can tell you for sure that PlaytestCloud is completely safe. So you can install the app without worrying about your personal information being compromised.
Plus, they always pay their testers on time, down to the last coin. So as long as you've accepted a test invite and completed it, you can be sure that PlaytestCloud will release your payment.
Pros
Potential to earn up to $36 per month
Free to join
PlaytestCloud always pays on time
You earn real cash, not gift cards
Cons
You won't get test invites ever day
Only available in three countries
You won't get a payment for the qualification test
FAQs
1. Is there a deadline for PlaytestCloud tests?
There no tight deadlines for the test invitations. But you need to remember that for a system that works on first come first serve basis, it's best to complete the test in the shortest time possible.
2. How much does PlaytestCloud cost?
PlaytestCloud pays approximately $9 per test. It's not the best rate I've seen as far as testing apps and websites is concerned, but it's still something.
3. Does PlaytestCloud record your face?
The PlaytestCloud video recording software doesn't record your face. Instead, it captures what you play on your screen. The company clearly states that the technology doesn't record your face, as they cannot show it on the screen.
4. Is PlaytestCloud available worldwide?
Unfortunately, PlaytestCloud isn't available worldwide. You must be living in UK, Canada, or United States to participate.
PlaytestCloud claims that you can sign up even if you live outside these countries. However, it's highly unlikely that you'll get test invites.
Final Words
I haven't tested this platform for long, but I can tell you based on my experience that PlaytestCloud is legit and safe to use.
You won't make a lot of money on PlaytestCloud because there isn't a good flow of test invites. But you can make a little something on the site in your free time.
Why do I need a playtestcloud qualification test?
This test is required to determine your qualifications and skills, and how well you test games and give feedback. This is done in order to work only with the best testers.
Is game tester legit?
Yes, game tester is a legitimate profession in the gaming industry. Game testers are responsible for identifying and reporting bugs, glitches, and other issues in video games before they are released to the public. They play a crucial role in ensuring that games are of high quality and meet the expectations of gamers.