Offerup has been a household name ever since it first appeared. Rated by 4 million iOS users and 982,000 Android users, there's no denying that it's such a popular platform on the web. But is Offerup legit or should you avoid it completely?
Offerup is a legit platform for selling used items online because of its millions of users. With over 85 million downloads, it iOS and Android apps are the well-known selling platforms. However, with the growing popularity of the platform, exercise caution so you don't become subject to scams.
Offerup's model isn't something new. If you've stumbled on platforms such as Decluttr and Craigslist online, then you know how it works already.
It's all about buying and selling online. So if you have used stuff lying around, from outdated DVDs collecting dust in the shelves to an old phone that looks as if it's from the 80s, Offerup is a great place to sell.
Since it's an easy to use platform, with a user interface that's more friendly than many similar apps, selling items on this platform is as easy as clicking a few buttons here and there.
But what is Offerup and how does it work?
What is Offerup?
Founded by Nick Huzar and Arean Van Veelen in 2011, Offerup is a well-built, user-friendly platform built to help you sell items you no longer need. It's available on the web, Android, and iOS platforms and it's 100% free to use.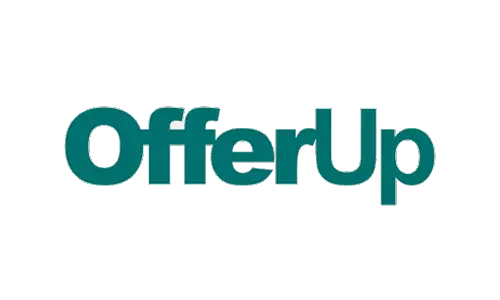 You can sell just about any item on Offerup, from already used books and outdated electronics to old model cars and mountain bikes.
With more than 85 million registered accounts, at least at the time of this writing, Offerup is no doubt one of the most popular platforms for selling goods locally online.
How Does Offerup Work?
Offerup takes away the need for you to have a garage sale by giving you a platform that you can use to sell anything you no longer need.
And it's very easy to use:
Sign up for a free account to get started
Take a few nice pictures of the items you wish to sell
Create a listing that clearly indicates details about the items you wish to sell as well as your location
Publish your listing
It's that simple.
Now all you have to do is to wait for a potential buyer to find your listing and make you an offer for the item.
Offerup has a robust algorithm that allows prospect to filter items by location and price, save items they like, and even communicate online.
There are two ways to accept payments on offer up:
You can do transactions in person. That means you'll schedule a meeting with a prospect and exchange items for cash face-to-face if you accept their offer.
Your buyer can make the payment via Credit Cards or Apple Pay if you chose to ship the items to them instead.
Note that Offerup doesn't allow buyers to make payments via Prepaid Debit Cards or gift cards.
How Does Offerup Make Money?
In addition to having hundreds of thousands of active monthly users, Offerup also has a higher valuation, which makes it one of the most profitable business for the two founders.
But how exactly does it make money?

From what I understand, this business makes its money in two ways:
1. Shipping Fees
Remember, Offerup is a business that allows you to sell locally online. So you can get them to ship your items for you on your behalf. You will pay a shipping fee based on the weight of the item you would like to ship. If your item sells, the business deducts the shipping fees and sends you the rest of the money via Credit Card or Apple Pay.
2. Display Advertisements
Offerup gets hundreds of thousands of visitors every month, which makes sense considering the high number of iOS and Android app downloads.
Offerup monetizes this traffic with display ads from other retailers. Also, Offerup allows sellers to place premium listings and they make money from these.
In 2018 alone, Offerup had a value of $1 billion mark, making it one of the most profitable venture even for the company itself. In March 2020, the brand raised $120 million in funding with the support of the OLX Group.
Is Offerup Legit and Safe? (3 Reason to Use Offerup)
As the number of Offerup users continue to increase, it's possible that hundreds, if not thousands, of buyers and sellers are highly likely to question the legitimacy of the platform.
While I'm more than willing to admit that Offerup can be a great platform to do business, it's always important to proceed with caution, no matter how small the transaction involved is.
I've interacted with friends who've benefited from Offerup, read horror stories of folks who lost money on the platform, and heard of transactions cut short. And while that means transactions can go either way, Offerup isn't a bad platform to use if you can exercise vigilance.
Here's why I strongly believe that Offerup can be a good place to do business:
1. Offerup Allows You to Sell Anything You Don't Need
Have a PS4 you'd like to sell because you upgraded to the latest version? Maybe you just bought a new Samsung phone and you would like to sell the old one? What about that speed bike that's collecting dust in your motor store because nobody uses it anymore?
Go to Offerup, promote your listing, find a potential buyer, and close a deal.
Like Craigslist, Offerup allows you to sell anything you want to sell. And you do so through direct buyer-seller interaction.
2. Offerup has 85+ Million Members
When it comes to selling used items online locally, I had rather choose a platform with hundreds of prospects. Offerup offers you that option.
In fact, with 85+million registered users and hundreds of thousands of active monthly users, it's easy to find one time or regular buyers willing and able to buy just about anything that you have on sale.
All you have to is to create a listing. Someone who's interested in a product similar to yours will find your offer and initiate a transactional conversation with you.
3. Offerup is Free to Use
You will love Offerup because it's free to use. All you have to do is to create a free account and you're ready to get started.
Once you activate your account by clicking a link sent to your email, you can complete your profile and start selling locally online.
Remember to take clear and "nice" photos of the items you wish to sell. Pictures are worth a thousand words and good ones will more often than not speak for themselves.
Pros of Offerup
Offerup doesn't charge you to list your item (unless you need a premium promotion)
The app is very easy to use
You can see buyers' ratings. This enables you to determine whether they're easy and safe to deal with
Includes an in-app messaging system for easy communication between buyer and seller
Cons of Offerup
Offerup doesn't have a customer support system in place
It's easy to get scammed on the platform as Offerup doesn't have a way to filter out scammers from the system
Frequently Asked Questions
1. Can I get scammed on Offerup?
You can easily get scammed on offer up if you're not careful. It's important to exercise vigilance when dealing with a potential seller. It's safer to discuss a deal on the platform and then conduct a transaction in person.
For your safety, make sure you do your transactions in a public place. Even better, bring a couple of friends with you as witnesses of the transaction.
2. Is it safe to buy on Offerup?
Offerup doesn't disclose their buyer and seller protection policy, at least not apparently. However, they've invested in making the app as secure as possible, making it a safe platform for both buyers and sellers.
For example, the TruYou is an identity verification feature used to boost trust between buyers and sellers. It requires that one submit an image copy of their state-issued identification card, a selfies, and an active phone number.
Moreover, their in-app messaging system is safe for buyer-seller communication, and they strongly recommend that you use the system to communicate.
Plus, Offerup never shares your personal information with anyone, unless you give them the authorization to do so.
3. How do you know if someone is legit on Offerup?
Offerup makes it easy for you to identify is someone is legit on the platform or not. Accordingly, you will know that someone is a scam if:
They ask you to message them outside the app.
They request you for a verification code to verify your listing. Note that Offerup will never ask you for this code.
They send you a link that prompts you to login
Their interaction with you suggest that they're interested in an investment opportunity
Conclusion: Is Offerup Legit?
Offerup is a legit platform that allows you to sell items that you don't need. But you have to be very careful when dealing with buyers as well as sellers so you don't easily fall into scams.
How to get paid on Offerup?
There are two main ways to accept payments. You can make transactions in person by scheduling a face-to-face meeting with the buyer and getting paid. Or you can get paid with credit cards or Apple Pay.
Is shipping on Offerup safe?
It is generally recommended to exercise caution and take appropriate safety measures when using any online marketplace platform, including OfferUp. These measures may include verifying the identity and reputation of the seller or buyer, etc.