Bluehost and GoDaddy have been in the web hosting business for well over a decade and a half. They're fierce competitors who host millions of websites for hundreds of thousands of customers. But is Bluehost better than GoDaddy?
Bluehost is better than GoDaddy because it offers better customer support and value for money. Their uptime guarantee is 0.01% higher than GoDaddy's. Their basic package includes 50GB of storage whereas GoDaddy's offers 25GB. You can host unlimited sites on Bluehost but not on GoDaddy.
As you can, each of these companies has its strengths and weaknesses. So it's important to break these down to help you decide which hosting company to use for your website.
Is Bluehost Better than GoDaddy? Bluehost vs GoDaddy Comparison.
This is the complete, up to date Bluehost vs GoDaddy comparison right now. So if you're confused on which hosting platform to choose between the two, this guide is for you.
To ascertain the quality and authenticity of this review, we hosted one demo site on Bluehost and one on GoDaddy and tested them for 12 weeks. In that period, we looked at the uptime guarantee, performance in traffic spikes, ease of use, and security to see how they compare.
Here's what the three months of testing revealed:
1. Uptime Guarantee
We were generally impressed with the uptime guarantee offered by Bluehost and GoDaddy. In numbers, Bluehost ensured our website was up 99.98% of the time and GoDaddy ensured the site was up 99.97% of the time.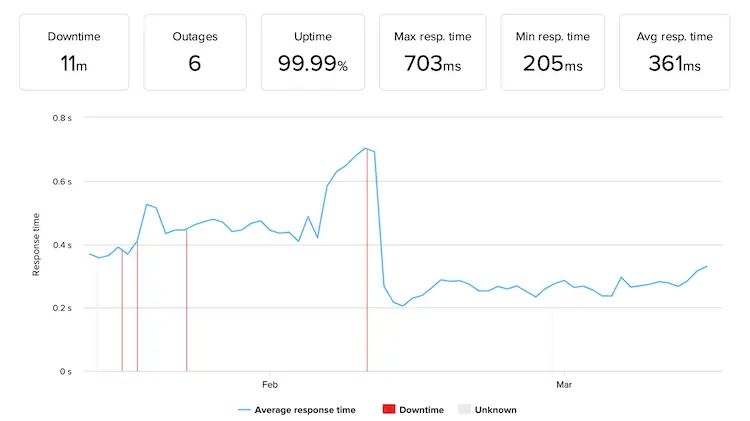 As you can see, the difference is just 0.01%, which, in our opinion, is quite insignificant.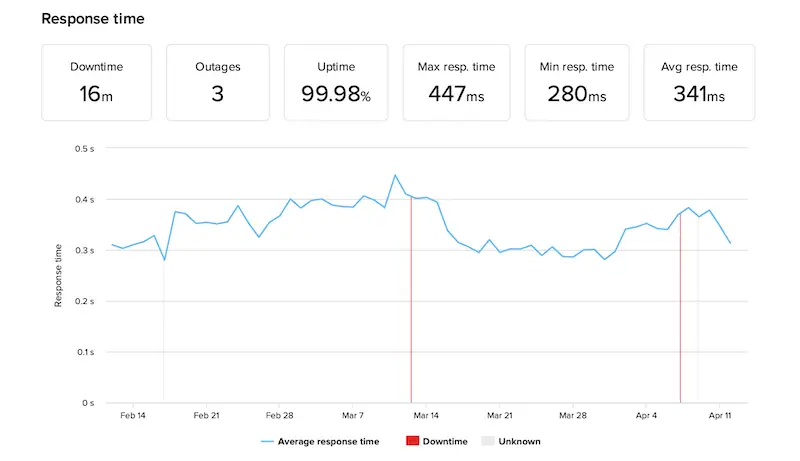 Based on a deeper analysis, both websites experienced less than 40 minute of downtime per month, which isn't a bad experience at all.
2. User Interface
Both companies use the refined version of the cPanel, which is currently the industry standard for at least 80% of web hosting companies in the market.
We like that the user interface of the Cpanel is great, with every tool places in just the right location for ease of access.
Bluehost has its interface more polished, but that's not exactly a deal breaker as far as GoDaddy is concerned. Ease of use is the key thing here, and both companies seem to keep up quite well to be honest.
3. Disk Space
This is where things start to get interesting.
While our demo sites didn't require a huge hosting space, we do know that disk space is an important factor for those who wish to start small and grow their websites into something big.
Hosting companies usually assign disk space to customers depending on the annual subscription plans that they choose. Some agencies offer unlimited disk space, which allow you to store as many files as you want. Other agencies offer limited space for the same.
With Bluehost, you get quite a decent amount of disk space, which is good enough to host one site. This is one the basic package.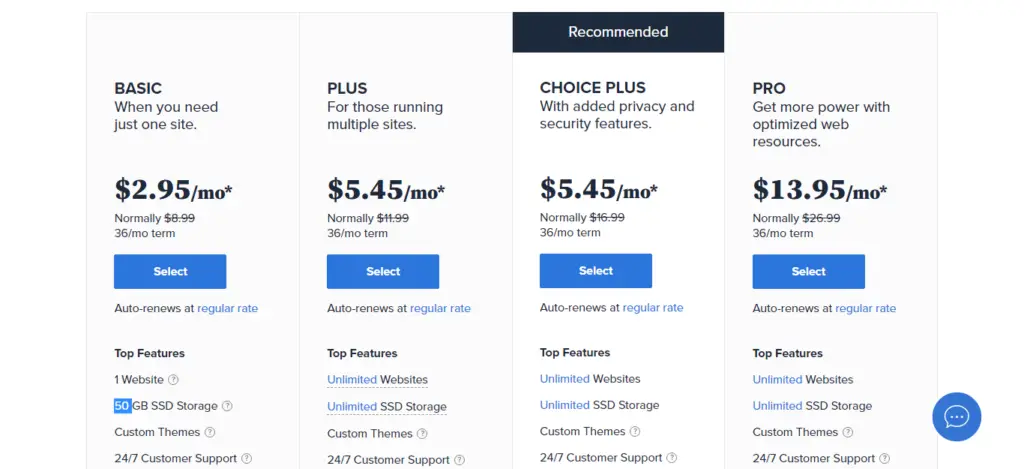 Interestingly, the Plus, Choice Plus, and Pro packages include unlimited SSD storage. So you never have to worry about storage limit as long as you're with Bluehost.
What's more? Bluehost allows you to host unlimited websites with the Plus, Choice Plus, and Pro hosting plans, which can be great if you wish to expand your website portfolio in the future.
GoDaddy, on the other hand, doesn't offer you unlimited disk space on any of its plans. With its economy plan, you get 25GB storage, which is half what you get from Bluehost's basic package.
4. Price
We like that both Bluehost and GoDaddy are reliable businesses built on the premise of trust and performance. But companies operate at different price margins and these two are not an exception.
When we compare the cost for shared, WordPress, WooCommerce, VPS, dedicated, and reseller hosting, we notice that Bluehost offers a more comprehensive and competitive pricing plan than GoDaddy.
If you're on a budget and looking for a hosting company that can accommodate you, particularly if you're just getting started, you should get started with Bluehost now.
The one thing we noticed when signing up for both hosting plans, for the purpose of testing and review, is the bombardment with tons of add-ons. From what we know from building dozens of sites, you don't necessarily need these extras and they can actually be a waste of investment.
Unless you strongly believe that an add-on will make a difference, which is highly unlikely, we recommend that you uncheck them and just stick to domain and hosting plans instead.
We like that the two companies have a 30-day money-back guarantee. So if you've tested their services but you feel like they aren't exactly what you expected, you can always get your money back and look for an alternative option.
5. WordPress Hosting
We set our demo sites on WordPress with both hosting plan. Chances are you will, too, especially if you just want to make money blogging.
Both Bluehost and GoDaddy allow you to host WordPress websites. But we strongly recommend Bluehost because it's a more intuitive, stable, and comprehensive option compared to GoDaddy.
Even WordPress.org recommends Bluehost as one of the three hosting company for sites powered by WordPress. Other options recommended for WordPress website hosting include SiteGround, Dreamhost, Namecheap, and WP Engine, but Bluehost leads.
As far as WordPress goes, Bluehost even has engineers that work so hard behind the scenes to give you the very best WordPress web hosting experience.
The one thing we love about Bluehost for WordPress is the quick installation process. It took us about 2 minutes to install WordPress on Bluehost and double the amount of time to do the same on GoDaddy. 
Frequently Asked Questions
1. Is GoDaddy and Bluehost The Same?
GoDaddy is not the same as Bluehost. They are separate web hosting companies started at different times and headquartered in different locations.
Started by Matt Heaton in 2003, Bluehost is a hosting company headquartered in Utah, United States. Endurance International Group currently owns it, and it powers more than 2 million websites on the web.
Founded by Bob Parsons in 1997, GoDaddy is also a UB-based web hosting company that powers over 5 million domain names since its founding.
2. Is GoDaddy Cheaper Than Bluehost?
GoDaddy isn't cheaper than Bluehost. And while they have been in the hosting business for a long time already, they don't have the budget-friendly plan that a beginner can benefit from.
Bluehost is more affordable, not to mention that they're feature rich despite their low cost plans for the Basic, Choice Plus, Plus, and Pro plans.
So if you're on tight budget, and you're looking for an affordable hosting plan, click here to get started with Bluehost.
3. Is Bluehost Really the Best?
The word best is quite subjective. In our eyes, what we consider to be the best may not exactly be so for other website owners.
However, based on the experience that we've had with Bluehost vs GoDaddy, we strongly believe that Bluehost is much better than GoDaddy.
So if you're looking for a web hosting company that can give you the best value for your money, a company that can give you the customer support that you need, consider Bluehost.
4. Can You Switch From GoDaddy to Bluehost?
You can switch from GoDaddy to Bluehost if you've decided that it's time to change your hosting service provider. To do this:
Buy a hosting plan with Bluehost
Backup and download your WordPress website and export database from GoDaddy
Change the nameservers from GoDaddy to Bluehost
Transfer the domain to Bluehost
Assign your website files to Bluehost hosting account
Move the database to Bluehost and configure the connection
Save changes
Make sure to follow these steps one after the other to make the transfer of your website from GoDaddy to Bluehost successful.
Final Thoughts
So is Bluehost better than GoDaddy? Our study doesn't attempt to sweep GoDaddy under a rag. Our experiment and experience shows that Bluehost is far much a better option, which is why we recommend it.
Even our friends over at WordPress.org have tested Bluehost, and they recommend it as one of the best hosting platforms for WordPress. In fact, they put it right at the top of the list.
Which is better to choose by price: Bluehost or GoDaddy?
If you are on a tight budget to choose a hosting company, then you should look into Bluehost. Since it is he who offers a more comprehensive and competitive tariff plan.
If compare Bluehost to GoDaddy, which is better for blogging?
Both Bluehost and GoDaddy are popular web hosting providers, and both can be suitable for blogging. However, Bluehost is generally considered to be the better option for blogging due to its ease of use, affordable pricing, and reliable performance.