In today's fast-paced world, many teens are looking for ways to earn money while staying at home. With the rise of remote work, it's easier than ever for teens to find home jobs that fit their schedules and interests. Whether you're looking for a side hustle or a way to make a full-time income, there are plenty of home jobs for teens available.
Here are some of the top home jobs for teens:
Online Tutoring
If you excel in a particular subject, you can use your knowledge to help others by becoming an online tutor. There are many platforms that connect tutors with students, such as Chegg, TutorMe, and Wyzant.
Virtual Assistant
As a virtual assistant, you can help businesses and entrepreneurs with a variety of tasks, such as email management, social media scheduling, and customer service. Many virtual assistant jobs are part-time, which makes them a great option for teens who are still in school.
Freelance Writing
If you have a way with words, freelance writing could be the perfect home job for you. You can write blog posts, articles, and other content for businesses and websites, and get paid for your work.
Online Surveys
While taking online surveys may not be the most lucrative home job, it can be a great way to earn some extra cash in your spare time. There are many survey websites that pay you for your opinions, such as Swagbucks and Survey Junkie.
Social Media Manager
If you're a social media whiz, you can use your skills to help businesses and influencers manage their online presence. Social media managers create content, post updates, and engage with followers on behalf of their clients.
Graphic Design
If you have an eye for design, you can offer your services as a freelance graphic designer. You can create logos, website designs, and other visuals for businesses and individuals.
Dog Walking and Pet Sitting
If you love animals, you can make money by offering dog walking and pet sitting services. You can advertise your services on social media or through websites like Rover and Care.com.
E-commerce
If you have an entrepreneurial spirit, you can start your own e-commerce business by selling products online. You can start small by selling items on eBay or Etsy, and then scale up as your business grows.
Photography
If you have a talent for photography, you can sell your photos online through stock photo websites or by offering your services as a freelance photographer.
YouTube
If you're comfortable in front of the camera, you can start your own YouTube channel and make money through ads and sponsorships. You can create content on any topic that interests you, from gaming to beauty to cooking.
In conclusion, there are many home jobs for teens available, ranging from online tutoring to YouTube content creation. The key is to find a job that aligns with your interests and skills, and that allows you to balance work with school and other commitments. By exploring different options and finding what works for you, you can start earning money from the comfort of your own home.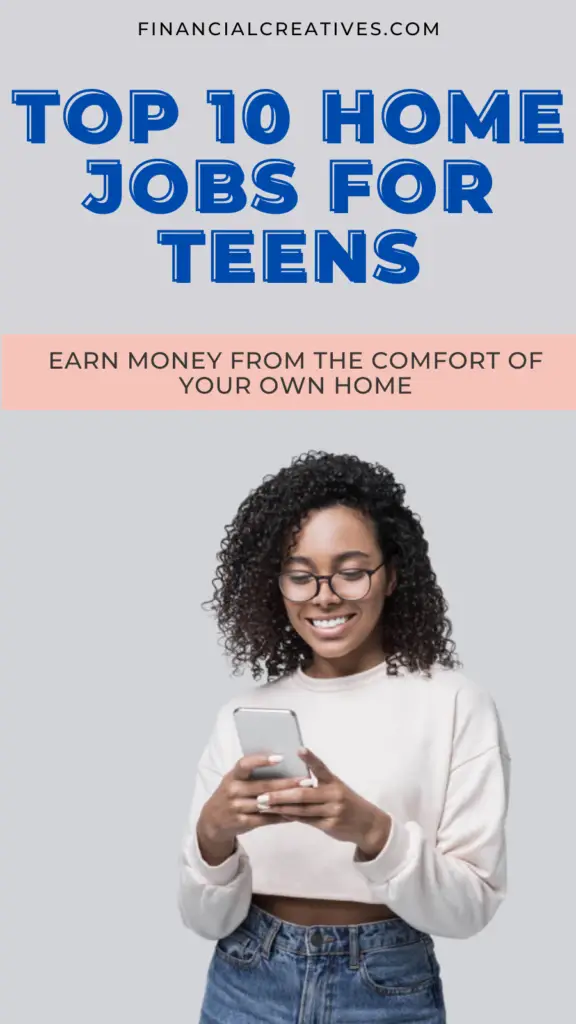 How much can at home jobs for teens earn?
The amount that teens can earn through at-home jobs varies widely depending on the type of job, the amount of time dedicated to the job, and the individual's skills and experience. In general, these jobs can pay anywhere from a few dollars per hour to a few hundred dollars per week or month.