Welcome bloggers and publishers! Let's be honest, blogging and writing articles is about revealing the inner world, it's about personal experience and impressions. Of course, we are pleased with the appearance of regular readers, receiving feedback and approval. But would you like to start earning with the help of your favorite pastime? I delved into this query and found a solution and want to share it with you. Meet Evadav, an innovative website monetization platform. Be brave and start earning now!
What is Evadav?
Evadav is a cutting-edge advertising network that offers a unique and comprehensive solution for publishers and advertisers alike. It stands out from traditional advertising networks by providing a native ad format, which seamlessly integrates with the content of a website, thereby enhancing user experience and boosting engagement.
How does Evadav work?
Evadav works by connecting publishers with advertisers through its platform, facilitating the delivery of native ads to the publisher's website. Here's how it operates:
1. Publisher Integration:
Publishers need to sign up on the Evadav platform and integrate the provided code into their website. The integration process is straightforward and can be completed within minutes.
Once integrated, Evadav starts analyzing the publisher's website content to provide relevant native ads that align with the audience's interests.
2. Native Ad Placement:
Evadav's native ad format seamlessly blends with the website's content, appearing as a part of the organic content flow.
The ads are designed to be non-intrusive, ensuring a positive user experience while still catching the reader's attention.
3. Advertiser Bidding and Targeting:
Advertisers bid on ad placements within the Evadav network based on their targeting preferences.
Evadav utilizes advanced targeting algorithms to display ads to the most relevant audience, optimizing engagement and conversion rates. Try this!
Ad formats Evadav
Evadav is an advertising network that offers various ad formats to its users. Here are some of the ad formats provided by Evadav:
Push Notifications:
Evadav specializes in push notification ads. These are small messages that appear on a user's device, typically as a notification in the corner of their screen. Push notifications can be highly effective in engaging users and driving traffic to websites or landing pages.
Native Ads:
Evadav also offers native ads, which blend in with the content and design of the platform where they are displayed. Native ads aim to provide a seamless user experience by appearing as organic content within websites or mobile apps.
Popunder Ads:
Popunder ads are displayed in a new browser window or tab beneath the currently active window. They are not disruptive to the user's browsing experience but catch their attention when they close the current window, revealing the ad underneath.
In-Page Push:
This ad format combines elements of both push notifications and native ads. In-page push ads appear as push notifications but within the browser window itself, rather than as a separate system notification. They have higher visibility and engagement compared to traditional banners.
Interstitial Ads:
These are full-screen ads that appear between content transitions, such as when a user navigates from one webpage to another or during app transitions. Interstitial ads are highly noticeable and can deliver impactful messages to users.
Banner Ads:
Evadav offers traditional banner ads in various sizes and formats. These are displayed within the content of websites or mobile apps, typically at the top, bottom, or sides of the screen.
These are some of the ad formats provided by Evadav, but it's worth noting that ad formats may evolve and change over time. It's always a good idea to visit the official Evadav website or contact their support team for the most up-to-date information on available ad formats. Go now!
Advantages of Evadav
1. Native Ad Format:
Evadav's native ads mimic the look and feel of the website's content, resulting in higher user engagement and improved ad performance.
The non-intrusive nature of native ads leads to a more positive user experience and reduced ad fatigue.
2. High CPM Rates:
Evadav offers competitive CPM (Cost Per Thousand Impressions) rates, allowing publishers to maximize their revenue potential.
The platform attracts advertisers from various industries, ensuring a diverse range of campaigns to monetize different types of websites.
3. Multiple Ad Formats:
Alongside native ads, Evadav supports other ad formats, including push notifications and interstitial ads.
This flexibility enables publishers to experiment with different formats and optimize their revenue streams.
4. Easy Integration:
Evadav's integration process is user-friendly and quick, requiring minimal technical expertise.
Publishers can seamlessly integrate Evadav with their websites, without disrupting the user experience or causing significant downtime.
Disadvantages of Evadav
1. Limited Ad Control:
As Evadav is primarily an automated platform, publishers have limited control over the specific ads that are displayed on their websites.
While Evadav ensures ad relevance, some publishers may prefer more granular control over the advertisements.
2. Ad Blocker Compatibility:
Native ads delivered by Evadav may face challenges with ad blockers, reducing their visibility for users who have installed such software.
However, Evadav implements countermeasures to minimize the impact of ad blockers and maximize ad impressions.
Evadav's Requirements for Publishers
Quality Website Content:
Evadav seeks publishers with high-quality websites that offer valuable content to their audience.
Websites should have a significant number of monthly visitors to attract advertisers and generate substantial revenue.
Ad Placement Compliance:
Publishers must comply with Evadav's ad placement policies to ensure optimal user experience.
Ads should be placed in areas where they blend seamlessly with the website's content, without causing confusion or disrupting the natural flow of information.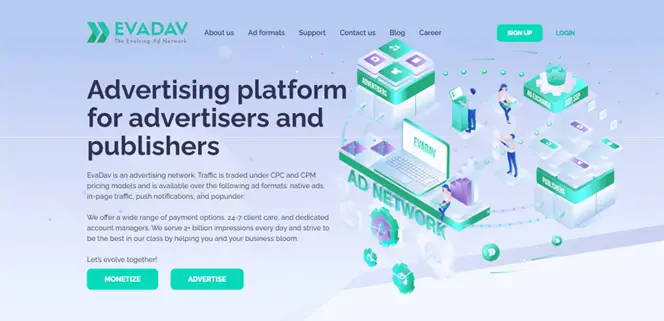 Traffic Volume:
While Evadav does not specify a minimum traffic requirement, publishers with higher traffic volumes are more likely to attract advertisers and generate substantial earnings. Start earning!
Publishers should focus on growing their website's traffic to maximize the potential of the Evadav platform.
Advertiser-Friendly Niche:
Evadav caters to a wide range of niches; however, certain niches may be more appealing to advertisers.
Publishers operating in popular and advertiser-friendly niches, such as technology, finance, lifestyle, and entertainment, have a higher likelihood of attracting advertisers and receiving relevant ad campaigns.
Evadav Payouts
Evadav offers publishers a flexible and transparent payout structure. Here are the key aspects of their payout system:
1. Revenue Models:
Evadav operates on a CPM (Cost Per Thousand Impressions) revenue model, where publishers earn revenue for every thousand ad impressions displayed on their website.
Additionally, publishers can also earn revenue through referral programs, where they receive a commission for referring other publishers or advertisers to the Evadav platform. Try the referral program!
2. Payment Schedule:
Evadav follows a consistent payment schedule, ensuring that publishers receive their earnings on time.
The payment schedule varies depending on the chosen payment method and can range from weekly to monthly payments.
3. Payment Methods:
Evadav supports multiple payment methods, including PayPal, Payoneer, WebMoney, ePayments, and Wire Transfer.
Publishers can choose their preferred payment method based on their location and convenience.
4. Minimum Payout Threshold:
Evadav has a minimum payout threshold that publishers must reach before they can withdraw their earnings.
The minimum payout threshold may vary based on the chosen payment method and is typically set to a reasonable amount.
Optimize your website revenue!
Evadav stands out as a revolutionary ad network that offers publishers a unique opportunity to monetize their websites with native ads. With an easy integration process, competitive CPM rates, and multiple ad formats, Evadav is an attractive platform for publishers looking to optimize their revenue streams.
While Evadav provides many benefits, such as built-in ad integration and high CPMs, it's important to consider limited ad control and potential ad blocker compatibility issues. However, for publishers that are compliant with the platform and are willing to use native advertising, Evadav offers a promising path to increase monetization and improve user experience.
As the online advertising landscape continues to evolve, platforms like Evadav are providing publishers with innovative solutions to navigate the ever-changing marketplace and capitalize on the revenue potential of their websites. Let's start earning!
FAQ
Is there a minimum budget required to start advertising on Evadav?
Evadav does not have a minimum budget requirement, allowing advertisers to start advertising with any budget they are comfortable with. This flexibility makes it accessible to advertisers of all sizes, including small businesses and individual marketers.